Mayo is widely recognised as one of Ireland's most beautiful counties and for good reason! Here is our top 10 places you must visit in County Mayo.
10. Moyne Abbey
Moyne Abbey has to be one of most impressive ecclesiastical ruins in Mayo and it has been recognised as a National Monument. It was built by the Burke family and consecrated in 1462, it is located north of Ballina on the west side of Killala Bay. Like its neighbour, Rosserk Friary, it was burnt by Sir Richard Bingham, Elizabeth I of England's governor of Connacht, in 1590 in reformationist zeal. The friary was built in the late Irish Gothic style and has extensive ruins, consisting of a church and domestic buildings situated around a central cloister. Its west doorway is a seventeenth insertion. Its east window displays fine switchline tracery.
9. The Coffin Ship
This piece of art by John Behan is called "Coffin Ship". It is an impressive monument showing a ship full of skeletons – a symbol to remember all the people who died on the ships to America when they wanted to escape Ireland's potato famine in the 19th century. The monument was unveiled in 1997 to mark the 150th anniversary of the famine.
8. Achill Island
Achill Island is the largest island off the coast of Ireland, and is situated off the west coast. It has a small population of 2,700 in an area of 148 km2 (57 sq mi). Achill is absolutely beautiful and is attached to the mainland by Michael Davitt Bridge. This island is well worth a visit and is a worthy entry to the top 10 places to visit in County Mayo.
7. Famine Valley
The Doolough Valley  is one of the most breautiful valleys in Ireland. This site draws some resemblance to Glendalough with its green hills on each side. The area is bogland which is uninhabited except for the intrepid sheep who seem quite content to have it to themselves. The bog grass has a beautiful reddish hue. Many small waterfalls flow down both sides of the valley. This is a beautiful site which can be hard to find but well worth the journey!
6. Clew Bay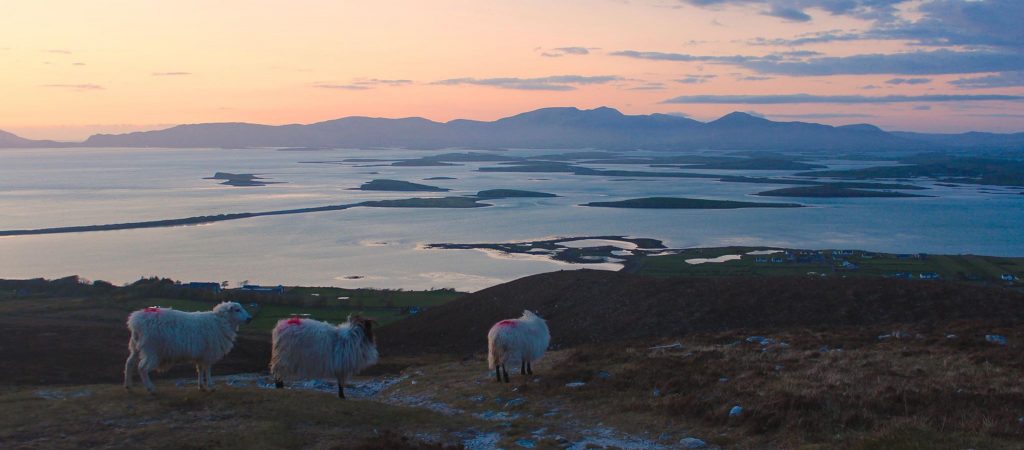 Want to see an amazing island formation without having to travel to the Caribbean? Then go to Clew Bay. Clew Bay is a natural ocean bay in County Mayo which contains Ireland's best example of sunken drumlins. The bay is overlooked by the famous Croagh Patrick mountain to the south and the Nephin Range mountains of North Mayo. The view from above is absolutely sensational as you can see from the photo. It is deserving of a place on the top 10 places to see in County Mayo.