Belfast is a city with a vibrant nightlife to cater for all tastes. If you are single and are on a night out with friends and want to get the shift, you've come to the right city. Here is our top 10 list of places in Belfast where you can get chatting to your future other half.
10. Kelly's Cellars
This historic pub is still one of the best watering holes in Belfast. Popular with tourists, this historic bar has been opened for hundreds of years and has had many famous people in for a pint over the years including The United Irishmen and The Dubliners. There's regular live music at this venue. The bar has a big outdoor area where you can enjoy a pint and get chatting to people.
9. Thompsons Garage
Thompsons is one of Belfast's longest running nightclubs. It has legendary status as anyone under the age of 40 in Belfast has been here for a big night out. This place is popular with students and as a result, the crowd here is usually between the ages of 18-23, so it is ideal for the shift if you are in this age bracket but maybe not if you are in your 30s!
8. Limelight
The Limelight has been around for many years and has changed with the times. The venue has live music gigs throughout the week and the venue is run as a nightclub at weekends. The nightclub nights attract a younger crowd and is an excellent place for the shift if you are a student or under 25s.
7. The Duke Of York
The Duke Of York is one of the most famous and popular bars in Belfast. The bar has an excellent outdoor alleyway area where you can have a pint and chat to the smokers. The bar is extremely social. and you can end up having conversations with people from all over the world.
6. The Harp Bar
This is another very popular bar in the Cathedral Quarter. It is the ideal location to get chatting to loads of new people and tourists. This bar has a great vibe and live music regularly so you are guaranteed a great night! Rory McIlroy and other local celebs have been spotted here having drinks.
5. Ollie's Club
Located underneath the Merchant Hotel in Belfast, Ollie's Club is popular with very popular students and under 25s. The venue has an excellent smoking area and on occasions an acoustic singer in the smoking area. The dress code in this place is more formal than other venues in Belfast so make sure you are well dressed to get in or you won't get the shift!
4. The Botanic Inn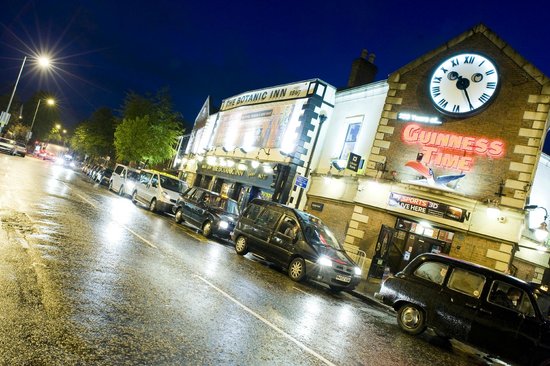 'The Bot' has legendary status among students. Located in close proximity to Queens University, The Bot has been one of the go-to places for students in Belfast for decades. If you're looking the shift, your best bet is to go here on a busy Saturday night.
3. Filthy McNastys
Another bar popular which is very popular with students and under 25s. Filthy McNastys attracts a crowd every night of the week but it's probably best to go on a Friday or Saturday night. The bar has regular live music in the front room and one of the best smoking areas in Belfast in the back named 'The Filthy Quarter.'
2. The Kremlin
The Kremlin is Belfast's most famous and longest-running Gay Club. It is a club which is open to all and as a result, many straight people also go here for a big night out. There is usually cheap drink offers and people are generally very chatty so it's a great place to go if you are looking the shift!
1. Laverys
Laverys has established itself over the years as one of the best venues for a night out in Belfast. Ever-changing and adapting with the times, this place has 3 floors of entertainment catering for all ages and tastes. The best night to go is on a Saturday night when all the floors are open. This place has 3 fantastic smoking areas which are very social if you want to get chatting to your future lover.
Get featured on Ireland Before You Die
Do you want to get your Irish business more online exposure? Especially to those interested in travelling the best places in Ireland? Then why not get a dedicated feature on Ireland Before You Die. Find out more 
here.