As a much-loved pastime and sport in Ireland that boasts a strong history, horse riding anywhere on the island is always a good choice.
There is no better place to embrace the freedom of horse riding than in the Irish countryside. Some incredible opportunities await here for you in the best of Irish landscapes. 
Ireland has such a long history of breeding and training horses, so there is no better country to saddle up and ride away on a horse-riding adventure.
We have compiled the top ten places for horse riding in Ireland. So, you can sit back, relax, and know that you are about to have the best Irish experience ever.
10. Longs Horse Riding, Co. Kerry – a fantastic way to see the Dingle peninsula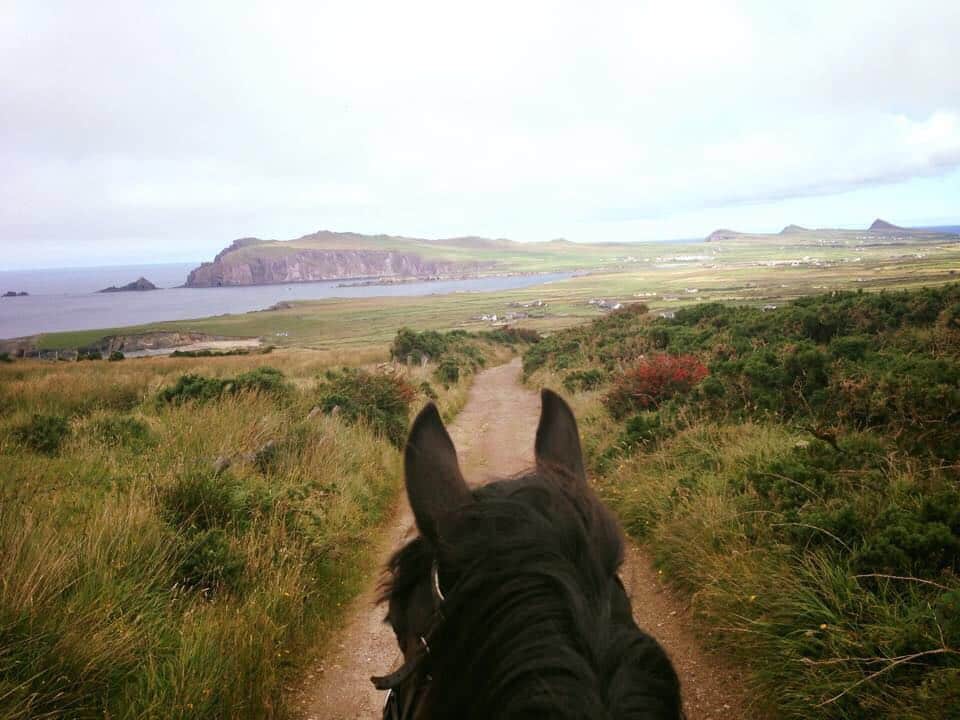 Choose from the beaches, rugged coastlines, or the mountains – or all three – for your horseback ride around the famous Dingle peninsula.
This has long been a place popular for its charm, natural beauty, and old school feel. So, why not take it upon yourself to saddle up and enjoy Dingle the old-fashioned way?
Address: Kilcolman, Ventry, Co. Kerry, V92 WF82, Ireland
More info: HERE
9. Croagh Patrick Stables, Co. Mayo – one of the best places for horse riding in Ireland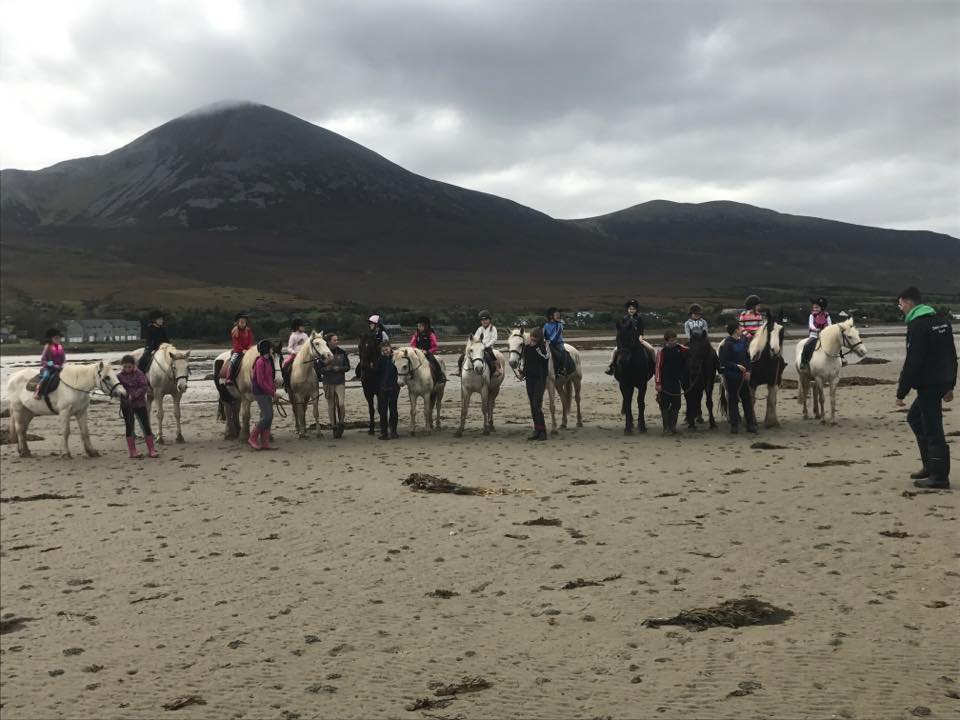 County Mayo is home to Croagh Patrick Stables, which offers some fantastic horse riding in this very popular and ultra-scenic part of the country.
Perfect for all levels and all ages, this is a great adventure to take down onto the beach from the stunning grounds. Plus, kids will love it.
Address: Murrisk, Westport
More info: HERE
8. Knockilaree Riding Centre, Co. Galway – Connemara on horseback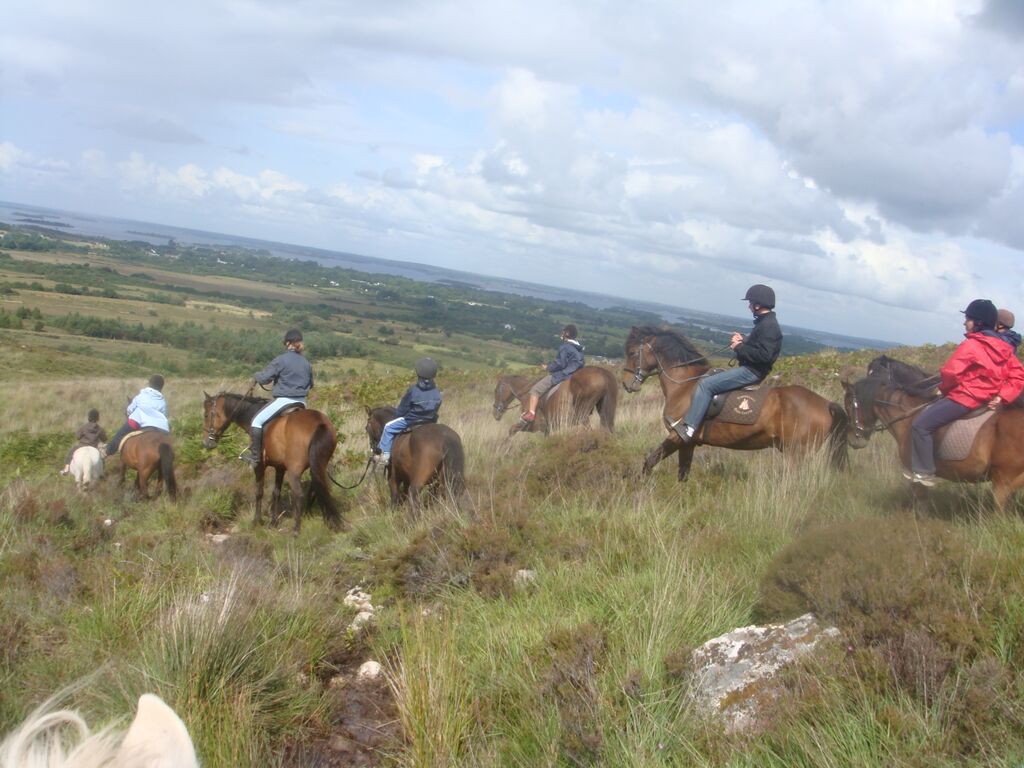 Is there a better place to explore on a beautiful horse than the mesmerizing region of Connemara? We think not. And there are plenty of opportunities to do so from the selection of horses.
This is one of the most beautiful parts of the country and, with Knockilaree Riding Centre on hand to offer lessons, treks, pony camps, and more, this will be an unforgettable journey.
Address: Rusheeny Road, Cregg Rd, Oughterard, Co. Galway, Ireland
More info: HERE
7. Laurel View Equestrian Centre, Co. Antrim – for the best range of facilities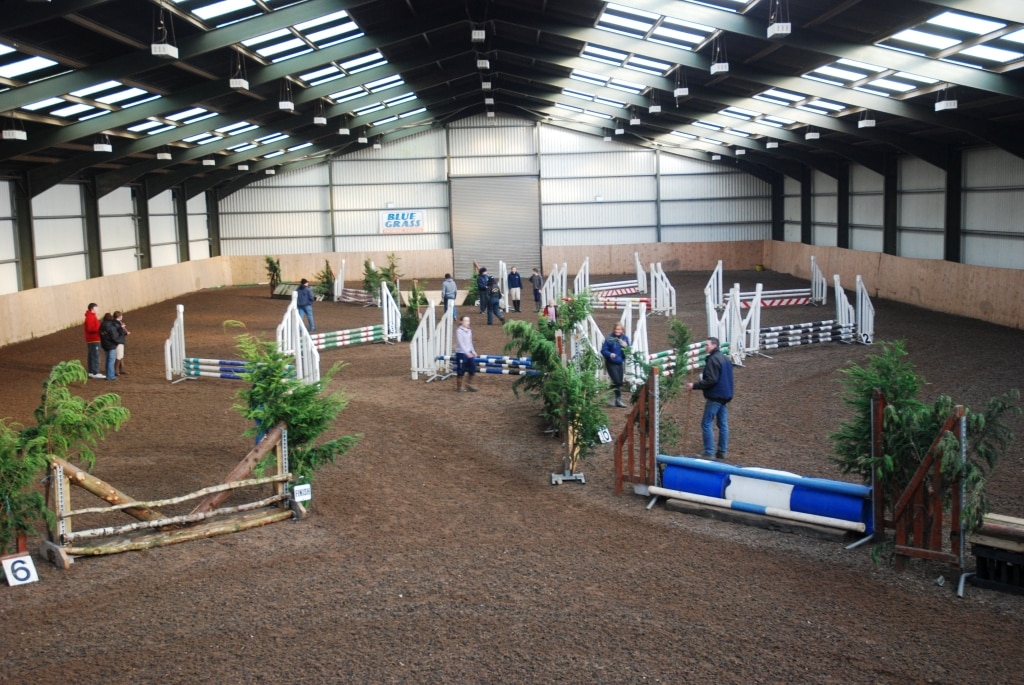 Situated just a stone's throw from Belfast, Laurel View has some amazing facilities, including a riding school, a competition centre, an indoor arena, and a cross country course on site.
Here, you will find great organisation, very helpful staff, and experience the real buzz of horse riding in County Antrim, where beautiful landscapes surround you.
Address: 18 Knowehead Rd, Templepatrick, Ballyclare, Northern Ireland BT39 0BX
More info: HERE
6. Castlefergus Equestrian, Co. Clare – explore Clare on horseback
Strategically located a few minutes from Dromoland Castle in beautiful County Clare, novice or advanced horse riders can expect to have a wonderful country experience.
You and your horse, which has been perfectly matched to you and your abilities from a variety of horses, can explore over 100 acres of true Irish farmland.
Address: Castlefergus, Quin, Co. Clare, V95 Y7ND
More info: HERE
5. Dingle Horse Riding, Co. Kerry – a haven for horse riders and nature lovers
For an unbeatable horse trekking adventure and a superb personal riding experience in the famous area of West Kerry, look no further than Dingle Horse riding, which has a rich history.
This not only offers you some fantastic vistas of the Dingle Peninsula on horseback. Rather, it also takes you down onto some of the most glorious beaches and up into the rugged mountains.
Address: The Stables, Baile na Buaile, Dingle, Co. Kerry, Ireland
More info: HERE
4. Donegal Equestrian Centre, Co. Donegal – ride the Wild Atlantic Way
At the top end of the Wild Atlantic Way, start your adventure with a horse riding journey in Donegal Equestrian Centre in Bundoran. You can choose from a selection of horses. 
This will feature idyllic beach rides with panoramic views, pony camps, and riding lessons, making this one of the best places for horse riding in Ireland. Plenty of photo opportunities here!
Address: Finner Rd, Finner, Bundoran, Co. Donegal
More info: HERE
3. Sheans Horse Farm, Co. Antrim – for the buzz of an off-road thrill
This five-star rated horse riding centre in County Antrim is the ideal place to have fun and enjoy the thrill of riding some of the best and most expansive off-road horse-riding facilities on the island.
They host a wide range of awesomely themed rides and cater to special celebrations, too. It is one of the best-known iconic locations for horse riding in Ireland. 
Address: 38 Coolkeeran Rd, Armoy, Ballymoney BT53 8XL
More info: HERE
2. Corballis Farm, Co. Dublin – a serene horse riding experience in Dublin
For those looking for an amazing horse riding opportunity in Dublin, don't miss out on Corballis Farm. Here, you can ride some beautiful horses in your personalised lesson.
You will ride along Donabate Beach or in the serene woodlands nearby. Both types of trails offer a memorable experience for anyone with a passion for horses.
Address: Corballis Cottages, Corballis Road, Corballis, Donabate, Co. Dublin
More info: HERE
1. Castle Leslie Equestrian Centre, Co. Monaghan – a world-class equestrian centre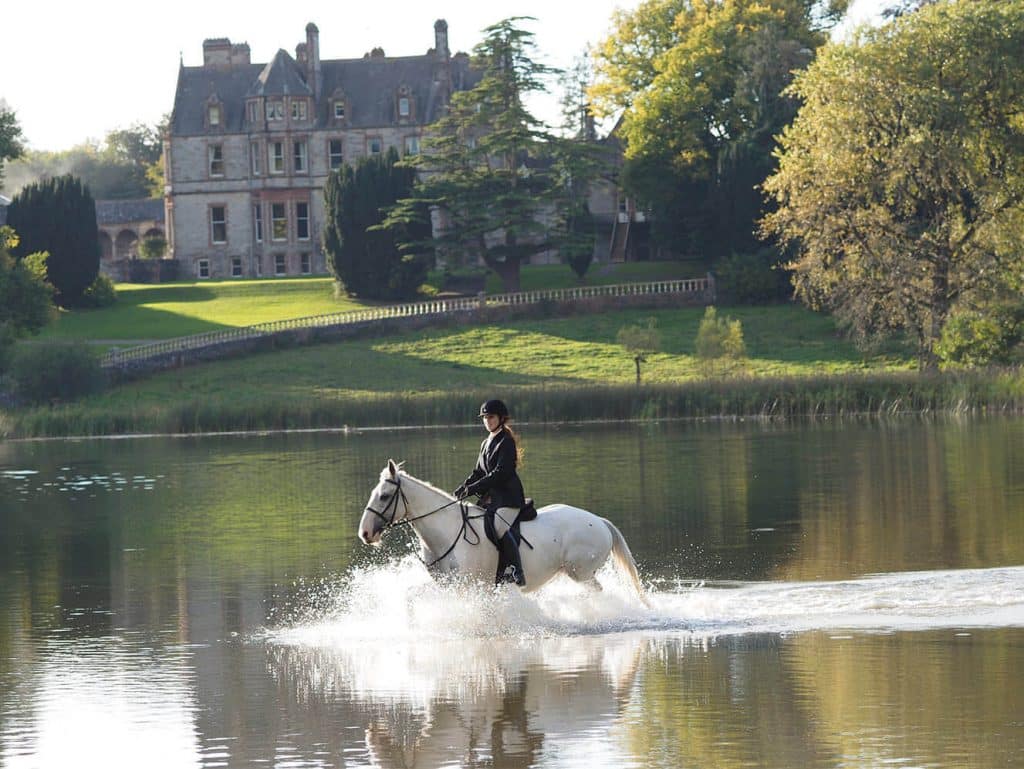 Located in County Monaghan, the fabulous and ancient Castle Leslie Estate hosts its very own world-class equestrian centre, which appeals to horse riders of all levels. This includes advanced riders, novice riders, and experienced riders.
You can expect to avail of 1,000 acres of countryside, including ancient woodland and stunning lakes that can all be explored on horseback on your estate ride.
Address: Castle Leslie Estate, Glaslough, Co. Monaghan, Ireland
More info: HERE
Other notable mentions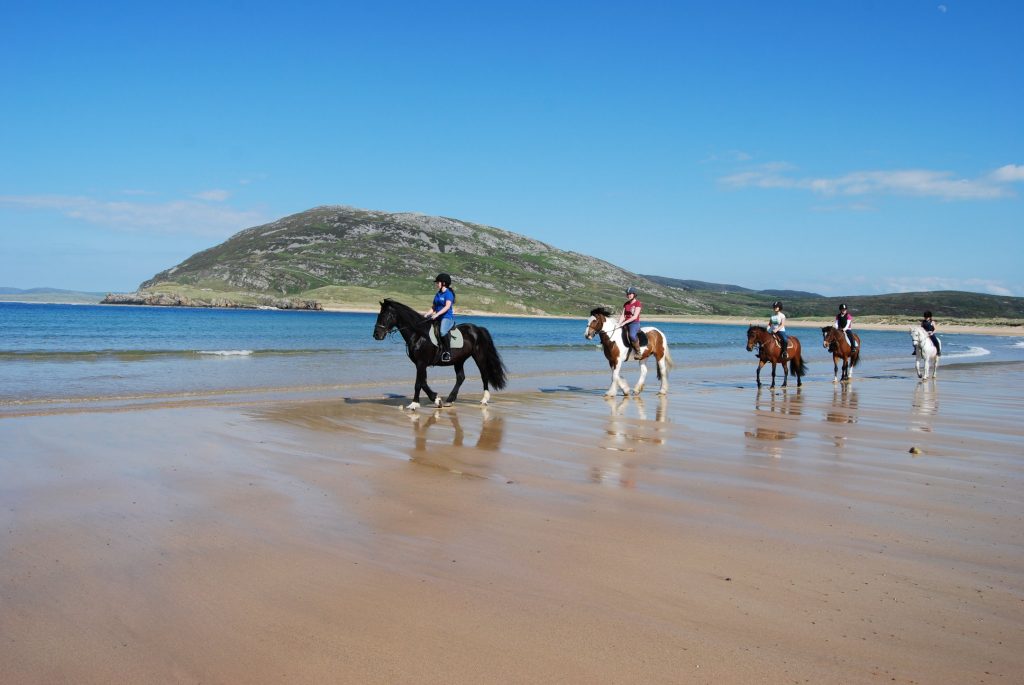 Tullagh Bay Equestrian Centre: A family-run riding centre in Donegal, which features lessons, trekking, and pony camps for all levels, with a range of horses.
Mountain View Horse riding centre: Your one-stop shop for the ultimate riding adventures along the Wild Atlantic Way, offering the perfect base to explore the surroundings atop Irish horses.
The Paddocks Riding Centre: A wonderful equestrian centre located in the majestic Dublin Mountain range, offering treks through the region, as well as catering for special occasions.
Island View Riding Stables: Think Irish bogland, wild beaches, rural countryside, and rugged cliffs, and you can experience all of this on horseback at Island View in Sligo.
FAQs about horse riding in Ireland
Is Ireland good for horse riding?
Ireland has a long and steep history with horses and with the sport of horse riding, so there is no better place for a riding adventure than the island of Ireland.
How much does horseback riding cost in Ireland?
Private one-hour treks start from €50 per child to €60 per adult but differ between each riding centre. This can be your introductory ride, hour lesson, or personalised lesson.
Can you ride a horse on the beach in Ireland?
Yes, many beaches allow horse riding in Ireland, and many equestrian centres will feature this as an option when booking. This is a fantastic experience and you are sure to have an awesome time. 
So, if you are planning a horse riding adventure, we hope you have been inspired by these ten best places for horse riding in Ireland, which will prove to be an unforgettable experience.
Get featured on Ireland Before You Die
Do you want to get your Irish business more online exposure? Especially to those interested in travelling the best places in Ireland? Then why not get a dedicated feature on Ireland Before You Die. Find out more 
here.
Legal Disclaimer
We cover articles relating to many activities. Some of our articles showcase gaming and gambling as activities. While we do not take money for bets or own any gambling venues, we feel it is important that our readers know the risks of such venues or sites that we may mention in our articles. Gambling involves risk. Please only gamble with funds that you can comfortably afford to lose. See our legal disclaimer for more info.