From carvery to brunch, sandwiches to soup, and everything in between. You name it, Limerick's got it. Here are the best places for lunch in Limerick.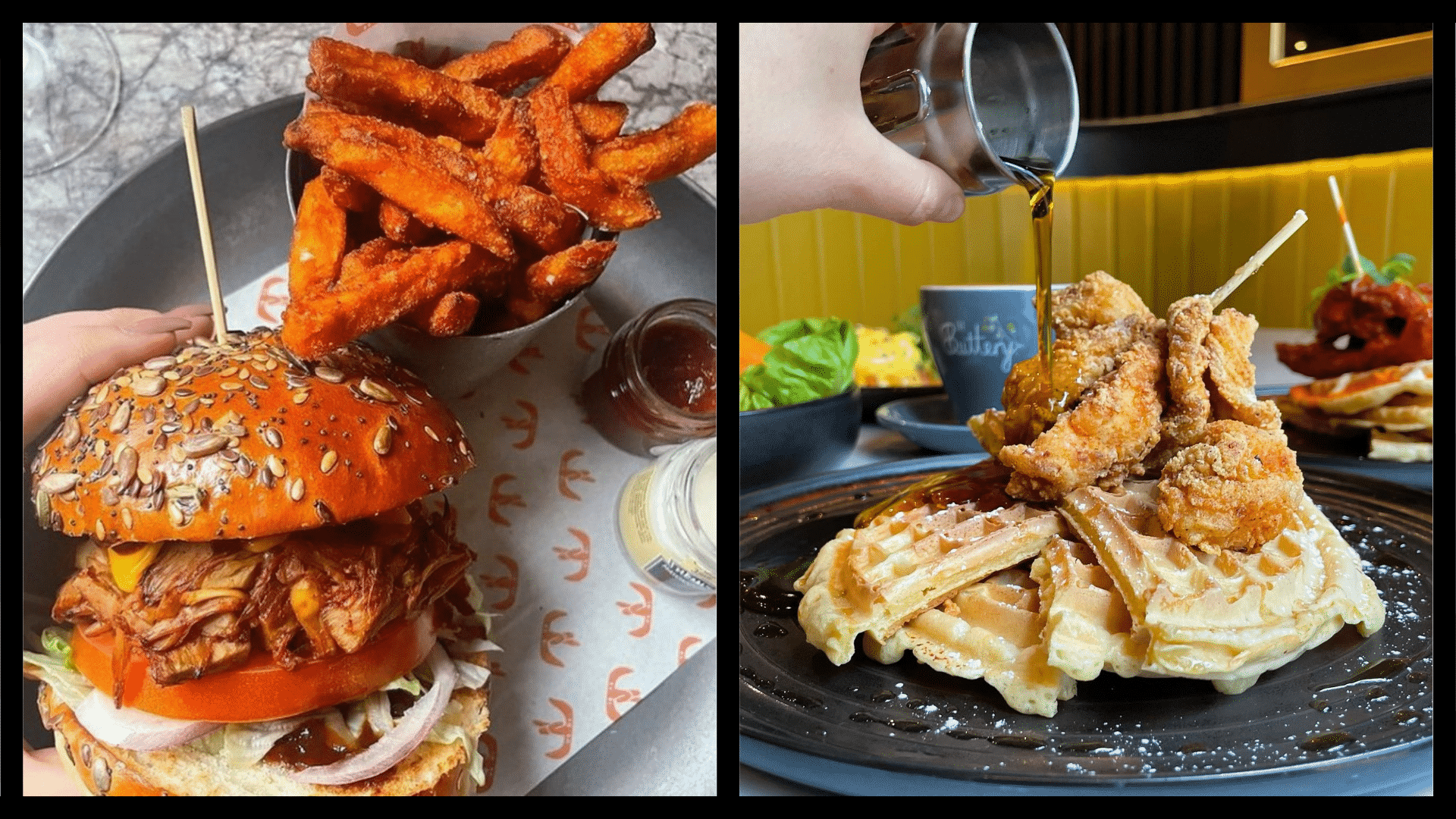 If you're coming to Limerick soon or already live here and are reading this coming up to your lunch break, we have some fantastic lunch spots for you to visit.
The Treaty City is home to many award-winning and beautiful restaurants that you must try. Their memorable menus consist of fresh Irish food, seasonal ingredients, and classic dinner dishes.
Classic European cooking techniques can be found in abundance in top restaurants around Limerick. Not to mention warm hospitality and atmospheric dining wherever you go.
Whether it's fine dining you are seeking or a more casual spot with a welcoming atmosphere, we have something for you on our list of the top ten places for the best lunch in Limerick.
10. House Limerick – a delicious brunch menu and artisan food suitable for all 
Located on the Shannon Riverside, House Limerick is one of the finest eateries Limerick has to offer. If you want a luxury dining restaurant experience without the outrageous price, treat yourself to their wide variety of food here.
Their memorable menu features food highlights, such as a Guinness and treacle braised Irish beef bap and West Clare beer-battered fish and chips. We'll take both, please!
Address: Howley's Quay, Limerick City, Ireland
9. Russells Select Bar – one of the most popular spots for fresh food in the suburbs
If you want to stay out of the city, Russells Select Bar is a great spot for the best lunch in Limerick. This beautiful restaurant serves carvery lunch daily.
You can also choose from their wide range of Irish dishes on their A La Carte menus, such as refreshing salads, roast chicken, and scrumptious burgers. You can bet you'll enjoy great food and great prices at Russells Select Bar.
Address: Racefield Centre, Father Russell Rd, Gouldavoher, Limerick City, V94 F542, Ireland
8. Off The Bone Gastropub – one of Limerick's top family restaurants
For all the meat lovers, our top lunch recommendation is trying Off The Bone Gastropub. This restaurant, located just outside the city, beside the South Court Hotel, is the perfect family restaurant or a spot to enjoy a meal with friends.
Serving a variety of mouth-watering classic dishes with the freshest ingredients, Off The Bone is an ideal place to enjoy a delicious lunchtime meal.
From succulent steaks to a wonderful brunch menu, the stellar food offered here makes this one of Limerick City's top family restaurants.
Address: Raheen, Limerick, V94 E77X, Ireland
7. The Cornstore – one of the most famous Irish restaurants boasting over a decade of success 
If you really want to treat yourself to a decadent meal, The Cornstore fits the bill. This award-winning restaurant, situated in Limerick City, serves food of the highest quality while maintaining a vibrant atmosphere.
From seafood to steak, they offer a wide variety of options to suit all tastes. In particular, we recommend their locally sourced beef and seafood dishes.
As well as that, they claim to have the best dry-aged steaks. So, of course, you will have to sample these while you're here. This is certainly one of the top spots for the best lunch in Limerick.
Address: 19 Thomas St, Limerick City, V94 XR44
6. Papa'z Bistro – delight your tastebuds at this atmospheric restaurant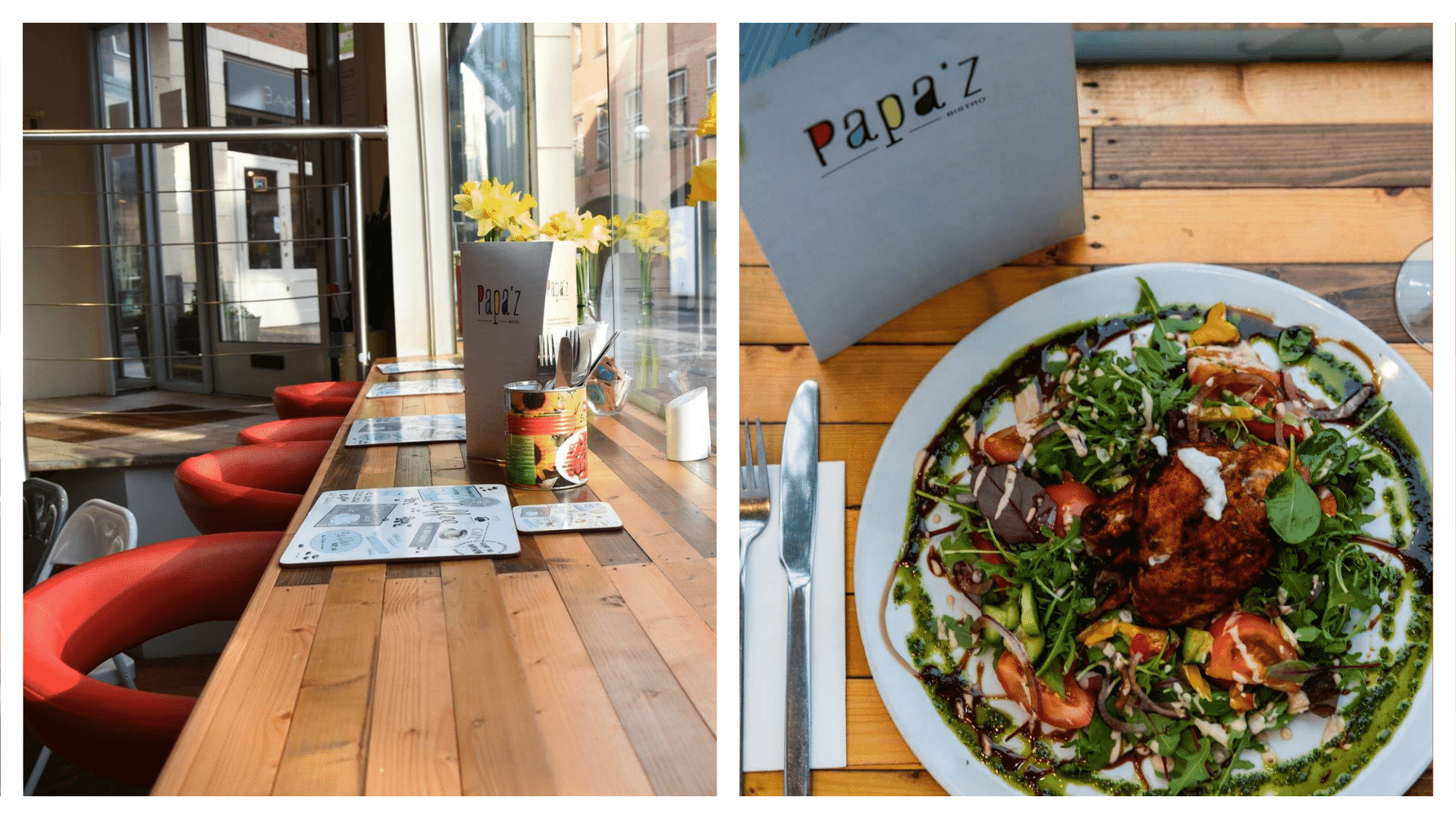 Blink, and you'll miss this trendy cafe-restaurant located right in the heart of Limerick City. Papa'z, as it's locally called, is a fun, casual dining experience taking a modern twist on traditional salads and sandwiches.
They've even put their own stamp on much loved Italian dishes by serving unique pizzas and old classics. Papa'z is a great option if you're trying to stay on the healthier side, too. Given the small size of the place, you can always find a lively atmosphere at Papa'z.
Address: 10 Denmark St, Limerick
5. The Good Room Café, Adare Village – for an ever-changing menu and artisanal coffee
Nestled inside a thatched cottage in the picturesque village of Adare, found just outside Limerick City, is The Good Room Café. It's a combination of cafe, bistro, and in-house bakery.
This is an ideal spot for a quick bite, delicious cups of coffee, and sweet treats. You can take away a pastry to eat while you stroll around the beautiful Adare Village and maybe catch a glimpse of the magnificent Adare Manor.
Address: Church View, Blackabbey, Adare, Co. Limerick, V94 N6DC
4. The Buttery – one of the top places for the best lunch in Limerick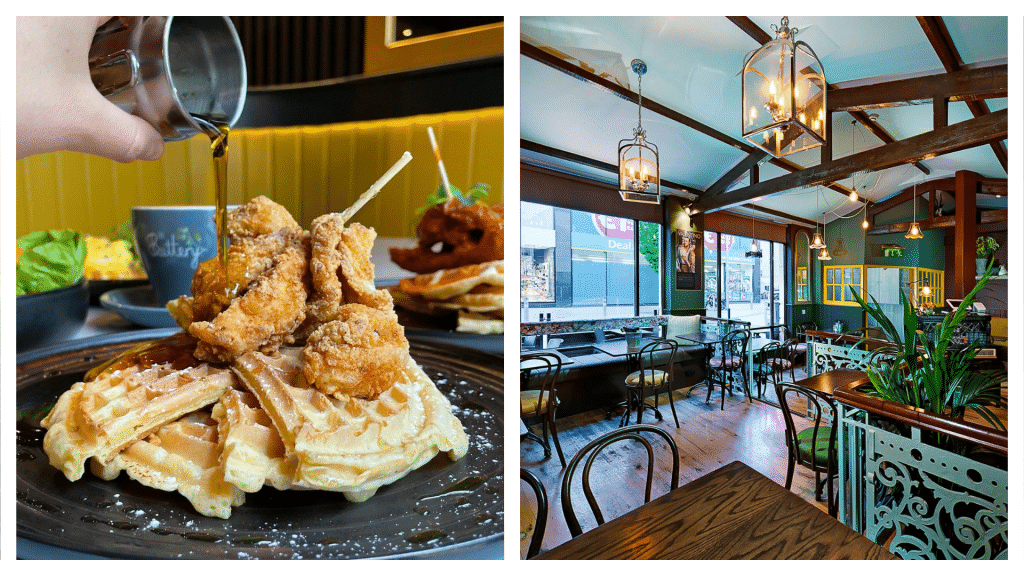 Since 2014, The Buttery has taken the Limerick food scene by storm. There is always a queue out the door, but we can assure you it is worth the wait as the food is exquisite.
They serve a popular brunch menu, including staples like Eggs Benedict, pancakes, chicken and waffles, delicious burgers, salads, and sandwiches all day long (yes, you can get pancakes at 4 pm if you would like).
Head into The Buttery for a truly gourmet food experience.
Address: 10 Bedford Row, Limerick, V94 A667
3. Coqbull – enjoy the best burgers in town at this popular restaurant
Do you consider yourself a burger connoisseur? If so, we've got a great place for you to put your expertise to the test. Beef or chicken, these guys know how to create a stellar burger.
Fresh chicken breast is another speciality on the lunch menu at the edgy city-centre restaurant, making it an ideal spot to grab a bite to eat for your lunch. Make sure to try out their cocktails while you're there.
Address: 50 Thomas St, Limerick, V94 P8P2
2. The Curragower – for lunch with a view
Lunch at the famous Curragower Bar will give you great food paired with spectacular views.
Enjoy the best of locally sourced Limerick food here, and while you dig into their drool-worthy range of dishes, you can admire King John's Castle from across the way.
Our recommendation has to be their sensational chicken wings. Thank us later.
Address: Clancy's Strand, Limerick
1. The Spitjack – what is the secret ingredient in dishes here?!
You can smell the artisanal food from simply walking past this restaurant, although we don't know how you would have the self-control to walk past and not go in.
The Spitjack is not only one of the top places for the best lunch in Limerick, but they also have a delicious evening menu.
With summer approaching, you can take advantage of their outdoor tables situated on one of Limerick's most bustling streets. However, no matter where you sit, you're guaranteed incredible food.
Address: 6/7 Bedford Row, Limerick, V94 VY76
Notable mentions:
The Locke Bar: This popular spot offers outdoor tables to sit on a nice day and enjoy a bite to eat. With a variety of options and an amazing breakfast menu, this is certainly one of Limerick's top family restaurants.
Rossi's: Formerly Azur Restaurant, Rossi's offers some fine Italian food and unbelievable Italian cooking. Certainly one of Limerick's top family restaurants.
Dolans Pub and Restaurant: Dolans is a traditional Irish gastropub with gorgeous vegan options. With a casual dining restaurant onsite, you can enjoy a hearty dinner from their stellar food menu.
Sash Restaurant: Sash Restaurant at No. 1 Pery Square offers a truly unforgettable dining experience. Specialising in seasonal ingredients, No. 1 Pery Square's Sash Restaurant is a must.
The Maigue Restaurant: This fantastic restaurant is located in the Dunraven Arms Hotel. It is an absolute must-visit for some of the best lunch in Limerick.
FAQs about the best lunch in Limerick
Where can you get a carvery lunch in Limerick?
The Hi-Way Bar, Collins Bar, Russells Select Bar, and Bobby Byrnes are some of the places you can get a carvery lunch in Limerick.
Where can you find the best sandwich in Limerick?
Any of the places named above serve very tasty sandwiches.
What are the best fancy restaurants in Limerick?
The best fancy restaurants include The Cornstore, The Oak Room at Adare Manor, 1826 in Adare Village, The Hamptons, and Freddy's Bistro.