Afternoon tea may be an early 19th-century custom, but it is not going anywhere any time soon! We have selected the top 10 places to enjoy afternoon tea in Belfast.
Who could resist the opportunity to tuck into a selection of delicate pastries, freshly-baked scones, fluffy cakes, and dainty sandwiches, all exquisitely presented on a shiny silver-tier cake stand? As you sip on the finest tea or glass of champagne, there is nothing quite like it.
We know that Northern Ireland's capital, Belfast, will have you spoiled for choice when it comes to afternoon tea, so we have carefully selected locations that offer something particularly unique.
Whether you're organising a special occasion or simply want to treat yourself (we aren't judging!), we can vouch that any of our top 10 places for afternoon tea in Belfast will satisfy that sweet tooth!
10. The Ivory Champagne Café Bar – the perfect panoramic view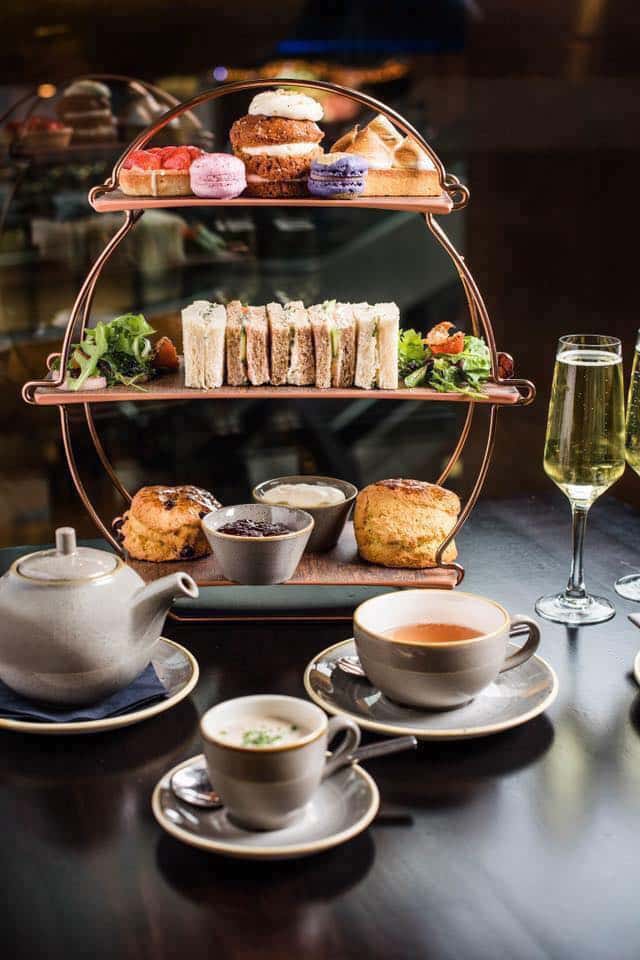 Watch the hustle and bustle of Belfast city centre from afar as you chat over a delectable afternoon tea at The Ivory. Delight in an incredible panoramic view of Northern Ireland's premier shopping destination, Victoria Square, from the third floor of the luxurious Frasers department store.
For £22.95, kick off your meal with a demitasse of soup, followed by a tasty selection of the classics. If smoked salmon, handmade macaroons, salted caramel tart, and a scone served with clotted cream make your mouth water, this is the place for you! Why not add champagne to your experience for an additional £10?
Afternoon tea is served daily here, but don't forget to pre-book!
Website: https://www.theivorybelfast.com/champagne-bar/menus/afternoon-tea
Address: 3rd floor, House of Fraser, Victoria Square, Belfast BT1 4QG
9. Merchant Hotel – for a luxury feel
Sophistication, luxury, and elegance sum up the Merchant Hotel's afternoon tea experience. Relax and unwind in The Great Room Restaurant's plush surroundings for £29.50 Monday to Friday or £34.50 on Saturday and Sunday.
Order from a tempting menu of patisserie goodies, savoury delicacies, fluffy scones and other sweet treats, alongside a steaming pot of sweet tea.
We recommend you try a refreshing herbal infusion or one of their delicious rare teas! On Fridays, a live pianist adds to the aura, and The Merchant Trio play on the weekends. The Merchant's menu also caters for a number of dietary requirements. Be sure to visit their website for their champagne and cocktail options too!
Website: https://www.themerchanthotel.com/bars-restaurants/afternoon-tea/
Address: 16 Skipper St, Belfast BT1 2DZ
8. Café Parisien – overlooking Belfast City Hall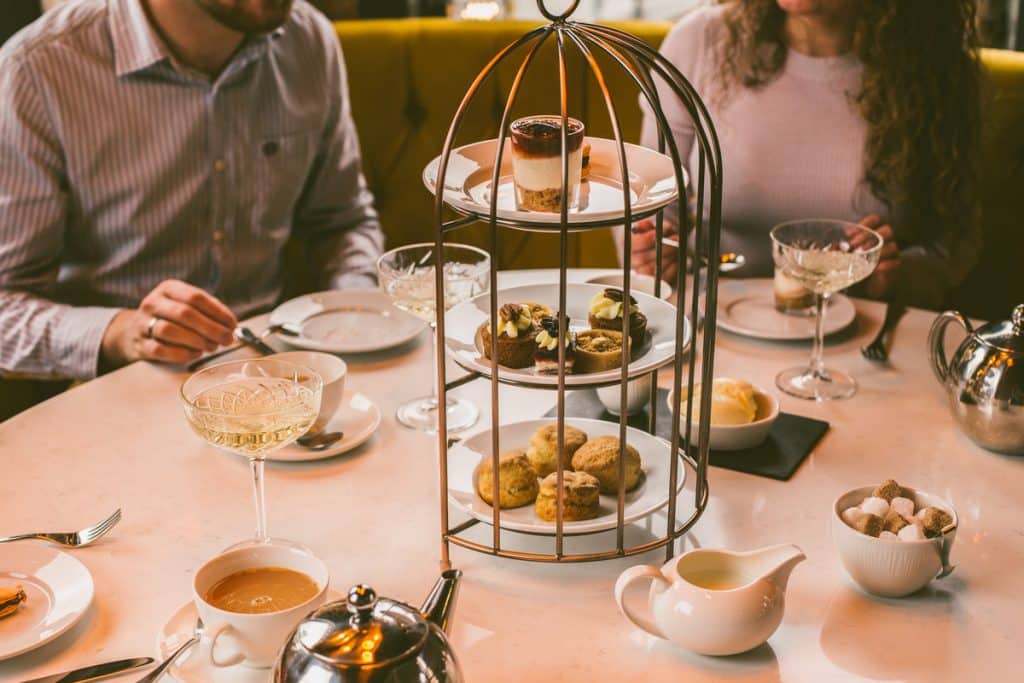 Inspired by the RMS Titanic's Café Parisien, this spot for afternoon tea in Belfast is not to be overlooked! Located in the stylish Robinson and Cleaver building, directly opposite the City Hall, Café Parisien is popular for its terrace view of the heart of Belfast.
Enjoy a fruity tea or a freshly brewed coffee as you sample their range of classic scones, finger sandwiches and French pastries. Munch on a tortilla wrap, nibble on a blueberry scone and devour a Victoria sponge iced diamond cake (gracefully, of course!).
Their traditional afternoon tea costs £20.95 during the week and £22.95 for a weekend indulgence. Café Parisien's menu changes seasonally, so keep an eye on their website.
Website: https://www.cafeparisienbelfast.com/winter-afternoon-tea-1.htm
Address: Cleaver House, 56 Donegall Pl, Belfast BT1 5GA
7. Malmaison – 5-star indulgence
Take a seat in one of the beautiful booths in the Chez Mal Brasserie at Malmaison, a chic, boutique hotel in Belfast city centre that boasts a distinctive take on this great British tradition. Their talented chefs have refined their own version of afternoon tea, proven by their scrumptious sweet and savoury creations!
A dark chocolate mousse, a lemon meringue cupcake, a Mal slider, and an oak-smoked salmon, cucumber and cream cheese on dark rye are just a few of their treats. Sip on one of their speciality teas next to a plain or fruit scone. Get all this for £19.95, and if you want to add some fizz, avail of their champagne, prosecco or cocktail options. Gluten-free and vegan menus are also on their website.
Website: https://www.malmaison.com/media/2050398/21721-chez-mal-afternoon-tea.pdf
Address: 34-38 Victoria St, Belfast BT1 3GH
6. Titanic Belfast – a legendary location
Get a glimpse into what it was like to dine on the Titanic herself at Titanic Belfast. Sit at the foot of the Grand Staircase replica, while you savour delicious afternoon tea treats inspired by menus of the past era. Served on Sundays in the lavish Titanic Suite, the live jazz band will make your experience feel all the more splendid.
The sumptuous menu features an assortment of finger sandwiches, sweet bites, savoury nibbles and scones with fresh cream. The replica White Star Line crockery adds another touch to the ambience. For £28.50, we think that this is a fantastic deal, with an equally yummy children's afternoon tea menu for £12.50. If you want to booze it up a little, add a glass of prosecco for £35.50 or champagne/cocktail for £39.00.
Website: https://titanicbelfast.com/BlankSite/media/PDFs/Sunday-Afternoon-Tea-Menu-2019.pdf
Address: 1 Olympic Way, Queen's Road, Belfast BT3 9EP
5. Babel – quirky rooftop surroundings
Have a nothing-short-of-fabulous afternoon on Belfast's skyline, at Babel's quirky rooftop bar and garden. Aptly named Tipsy Tea, Babel prides itself on incorporating its signature cocktails and other alcoholic beverages into traditional afternoon tea.
Treat your taste buds to an array of delectable sandwiches, brioche buns, mini doughnuts, cakes and more, all while taking in the breath-taking views of Belfast. Choose a gin or champagne cocktail, priced at £29.50 and £44.50 respectively. You can even top these up with your very own tipsy teapot (how cute!).
Tipsy Tea is served on Fridays and Saturdays, and a vegetarian option is now available, with a vegan menu also in the works.
Website: https://bullitthotel.com/eat-drink/tipsy-tea/
Address: 70-74 Ann St, Belfast BT1 4QG
4. Europa Hotel – every guest is a VIP
Fashionably furnished, the interior of the Piano Lounge at the iconic Europa Hotel is one of elegance. Proud to have hosted some very prominent people, such as US President Clinton and the First Lady Hillary Clinton in 1995, the Europa knows how to treat every guest like a VIP.
Feast at a table wrapped with white linen and prepared with silverware. The afternoon tea menu is of prime quality, incorporating local Irish ingredients into the sandwiches, savouries, and classic pastries. For that sweet tooth, tuck into sticky tartlets, and fruit scones with clotted cream and jams. Treat yourself for £30.00, or choose their Sparkling Afternoon Tea option for £40.00.
Website: https://www.hastingshotels.com/europa-belfast/afternoon-tea.html
Address: Great Victoria St, Belfast BT2 7AP
3. Maryville House Tea Rooms – Victorian elegance
Now an upscale bed-and-breakfast, Maryville House is one of Belfast's most elegant Victorian period homes. Artisan bread and pastries are crafted in their very own bakery, so you will find freshly-prepared sandwiches, homemade scones and canapés (with cream and jam of course) alongside patisserie treats served on a three-tier cake stand.
Sip a freshly-prepared barista coffee or one of their premium loose teas served in fine china. Maryville's menu varies seasonally, but you can expect to pay around £19.95 Monday to Thursday and £21.95 Friday to Sunday for traditional afternoon tea. Check out their Bed and Breakfast afternoon tea packages!
Website: https://www.maryvillehouse.co.uk/menus
Address: 2 Maryville Park, Belfast BT9 6LN
2. AM:PM Restaurant – bohemian vibes
Credit: AM:PM Belfast
Situated in the heart of the city, AM:PM is known for its bohemian charm and local cuisine. Surrounded by the quirky décor, dine on an enticing range of finger sandwiches (such as ham and mustard), freshly-baked scones with clotted cream and homemade strawberry jam, as well as miniature Irish pastries and glazed fruit tartlets for £19.50 per person.
Their lemon-cream-filled madeleines, shortbread, panna cotta, and chocolate fondant sponge sound divine! Wash it down with one of their black, green, white or herbal teas or an alcoholic beverage. They have some great deals at the moment for groups of up to 4, such as their prosecco option that is down to £19.95 from £26.50 at the moment, so book in quickly!
Website: https://ampmbelfast.com/shop/afternoon-tea-with-prosecco/
Address: 38-42 Upper Arthur St, Belfast BT1 4GH
1. Grand Central Hotel – for a celestial cityscape
Experience an afternoon to remember in The Observatory at the Grand Central Hotel. Celestial Afternoon Tea is served daily on the 23rd floor of this stunning building, giving you the chance to marvel over a breath-taking panoramic view of the city as you indulge on deliciously designed and handcrafted nibbles.
Wash it down with a locally-blended Thompson's tea or one of the finest loose-leaf teas from Kenya and Assam, or perhaps a UCC crafted coffee. Sip on champagne for an additional £10.00, or splurge on a champagne cocktail for an additional £15! Here you will pay a little higher than average, but you are guaranteed an exceptional experience, so go on, spoil yourself!
Website: https://www.grandcentralhotelbelfast.com/dining/afternoon-tea/