Ireland is an abode for tourists as it boasts of rich countryside, villages and coastal cliffs and also some of the best UNESCO World Heritage Sites. We bring to you a list of the top 10 places that you will have to visit in Ireland!
10. Aran Islands
This is a wonderful car-free island and is away from the typical developments in mainland. You will get an amazing countryside experience in these islands.
9. Glenveagh National Park
The second largest national park in Ireland spreads over 14,000 acres; it is popular among hikers and fisherman from all over Ireland. You will get to see some rare wildlife in this national park and the formerly extinct Golden Eagle has also been reintroduced in this park.
8. The Burren
For an experience like walking on the moon, the karst landscape of this landscape is the best bet. It also houses some of the rarest plants and insects along a few colorful flowers emerging out from the cracks during spring.
7. Connemara National Park
One of the best national parks in Ireland, Connemara is famous for Connemara Ponies and the wild countryside spread across the Twelve Bens mountain range. Three of the Twelve Ben Mountains lie on the border of the National Park and it also houses one of the most beautiful castles of Ireland.
6. Cooley Peninsula
Located at the North Eastern tip of Ireland, it is below Northern Ireland and is rarely inhabited. You can view the lush forests on Mourne Mountains or walk on the windswept coastline, making it one of the most promising destinations to visit in Ireland while you are there.
5. Skellig Islands
Another UNESCO World Heritage Site, it is close to the Ring of Kerry and is a pair of small rocky mounds emerging from the sea near Portmagee. These two islands; Skellig Michael and Little Skellig are home to a wide array of wildlife and a 6th-century complex.
4. Glendalough
Also known as the Valley of Two Lakes, it is a prominent monastic site and is nestled in the midst of Wicklow Mountains and gives you a wonderful experience of the countryside of Ireland.
3. Cliffs of Moher
Rising up to 214 meters above the Atlantic Ocean in Western Ireland, these cliffs are frequented by tourists and offer incredible views all along the 8 km stretch from Hags Head to Doolin spanning over Galway Bay and the Twelve Pin mountain range.
2. The Giant's Causeway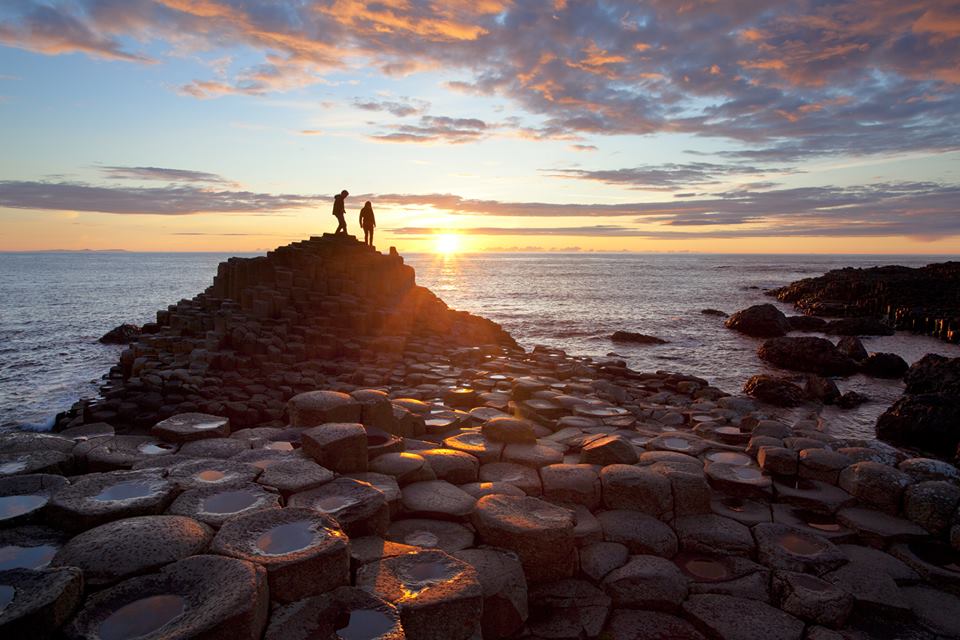 One of the few natural wonders present on Earth, it comprises of 40,000 polygonal basalt rock columns and is created by volcanic landscape that spreads over gigantic stepping stones, making it a beautiful pathway.
1. Ring of Kerry
One of the most scenic tourists trails and spread over 120 miles; Ring of Kerry offers spectacular views of meadows, lakes and rugged mountains. It is the longest and oldest walking route of Ireland and a UNESCO World Heritage biosphere reserve.
Find out what the Crazy Tourist thinks are the 25 best things to do in Ireland HERE.