Looking for the best spots in Ireland's capital city to brighten up your Instagram feed? Look no further because here are the ten most photo-worthy locations in Dublin.
Ireland is home to some exceptionally photogenic spots, and the island's capital city is no exception.
From historical halls and cathedrals to modern bars and street art, there are plenty of spots throughout the city that will have you reaching for your camera.
To save you some time searching for the perfect place to snap a photo for the 'gram, we have put together a list of the most Instagrammable places in Dublin.
So here are the top ten photo-worthy locations in Dublin you must visit.
10. Trinity College – for the most beautiful library in the world
Founded in 1592, Trinity College Dublin is the oldest surviving university in Ireland. Situated in the heart of Dublin City Centre, it's super easy to find, and the college architecture looks good from every angle.
Some highlights include the campanile bell tower, college green, and the front square.
While you're here, make sure to head to the Long Room, Trinity's 18th-century library, which has often been listed as the most beautiful library in the world.
The floor-to-ceiling oak bookshelves house over 200,000 books and provide for the perfect photo opportunity.
Address: College Green, Dublin 2, Ireland
9. Temple Bar – for an iconic Dublin photo
Temple Bar is up there with Dublin's most iconic tourist stops – no visit to the city is complete without at least one pint in the famous bar!
The bar and the surrounding area also provide numerous great photo opportunities with the bar's bright red painted façade, cobbled streets, and flower arrangements filling the windows of many of the surrounding buildings.
Address: 47-48, Temple Bar, Dublin 2, D02 N725, Ireland
8. St. Patrick's Cathedral – for an impressive gothic cathedral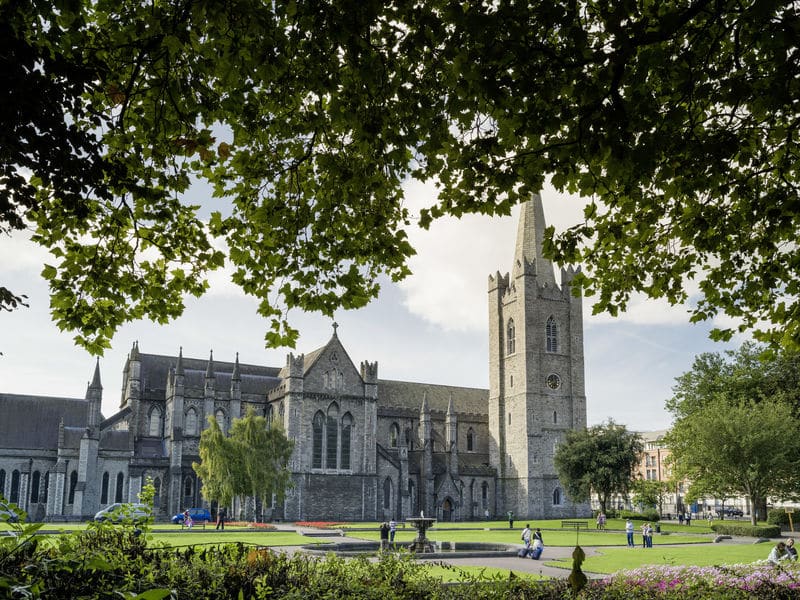 Built in the 12th century, St. Patrick's Cathedral in Dublin City Centre is an impressive piece of Gothic architecture that would look great on any Instagram feed.
If you're visiting in the spring, you'll also be greeted by the beautiful floral gardens and blossom trees that fill the surrounding area.
Address: St Patrick's Close, Dublin 8, A96 P599, Ireland
7. St. Stephen's Green Shopping Centre – for a unique shopping experience
Situated beside the stunning St. Stephen's Green, an urban escape at the end of Dublin's busiest street, is St. Stephen's Green Shopping Centre.
Walk up the steps at the front of the shopping centre to snap a great picture of the unique art-deco style interior featuring a giant antique clock right at the centre.
Address: St Stephen's Green, Saint Peter's, Dublin, D02 HX65, Ireland
6. Grand Canal Docks – for Dublin's more modern side
Five minutes from Dublin's Georgian centre, you'll find the ultra-modern Grand Canal Docks.
Situated on the redeveloped River Liffey waterfront and designed by American landscape designer, Martha Schwartz, the square is home to plenty of great photo opportunities.
Some of the highlights include the chequered façade of the prestigious Marker Hotel, the Bord Gais Theatre, and the glowing red sculptures littered across the square.
Address: Square, Docklands, Grand Canal Quay, Dublin Docklands, Dublin 2, D02 CK38, Ireland
5. Ha'penny Bridge – one of the most photo-worthy locations in Dublin
Constructed in 1816, this cast iron bridge not only takes pedestrians across the River Liffey from Temple Bar to O'Connell Street, it is also one of Dublin's most photogenic spots.
As one of the most famous bridges in Europe, you can't miss this spot on a trip to Dublin. For the perfect shot, head here in the evening when the bridge is lit up.
Address: Bachelors Walk, Temple Bar, Dublin, Ireland
4. Grafton Street – for some great photo opportunities
One of Dublin's most popular shopping streets has so much more to offer than just great shops and cafés, it's also one of the most Instagrammable places the city has to offer.
This vibrant and colourful street is home to plenty of photo opportunities, including the iconic and luxurious Brown Thomas department store, as well as the great view down a narrow side street of St. Ann's Church, which features on many tourist brochures for Dublin.
There is always something going on around Grafton Street, so for more info on events, check out What's On in Dublin.
Address: 88-95 Grafton Street, Dublin 2, D02 VF65, Ireland
3. Zozimus Bar – for a brightly decorated street
Anne's Lane and Zozimus Bar almost feel like they were designed with the perfect Instagram shot in mind.
The street just outside the bar is lined with brightly coloured umbrellas that make for the best photo opportunity.
Meanwhile, the bar's art-deco style interior also provides plenty of spots to snap a great photo.
Address: Centenary House, Anne's Ln, Anne St S, Dublin, D02 AK30, Ireland
2. St. James' Gate, Guinness Brewery – for great beer and great photos
Dublin's Guinness Brewery is undoubtedly one of the city's most popular tourist destinations, but before you go on your tour, make sure to snap a picture at the iconic St. James' Gate.
The gate features in many adverts for the famous stout, and it's easy to see why.
As if that wasn't enough, you can also get some great pictures overlooking Dublin in the brewery's Gravity Bar at the end of your tour, which is a bar in Dublin many celebrities have been to.
Address: 53 James's Street St James's Gate, Dublin 8, Ireland
1. Georgian Dublin – for iconic Dublin architecture
Georgian Dublin has to be one of the most accidentally photo-worthy locations in Dublin.
Dublin is famed for its Georgian architecture and its easy to see why as you walk down the beautiful red brick streets.
One of the best things about Georgian Dublin is the colourful doors on all of the buildings.
No matter what colours you're wearing, there's sure to be one that won't clash with your outfit.
We would also recommend heading to 46 Fitzwilliam Square, where you will find Dublin's most photographed door.
Address: 46 Fitzwilliam Square West, Saint Peter's, Dublin 2, D02 PY01, Ireland