After recently embarking on an epic road trip along Ireland's west coast with two pubescent children I feel more than qualified to advise anyone preparing a similar jaunt.
Our first courageous step was not only agreeing to pack up the car and add 500 miles to the clock but also to make the somewhat rash decision to ban all screens, game boys, DS or anything else that would make our lives remotely easier.
And so we set off on a quest to find as many outdoor activities for kids with the sole purpose of tiring out our backseat cargo for as long as possible.
Here is our tried and tested top 10 list…You're welcome!
10. Cliffs of Moher cruise – for stunning views
So this may not be the most exuberant activity but it is a great place to start and gets kids out in the fresh Atlantic air (may cause drowsiness – whoop!) Cruises leave regularly from Doolin pier and cost around 10 euro per person for an hour.
The views of the Cliffs of Moher are spectacular from the ocean and lots of species of bird can be spotted both on the cliffs and the water. Dolphins often make an appearance too so get the kids to keep a close lookout, especially for locally known 'Dusty', a bottlenose dolphin often seen around Doolin harbour.
Address: Cliffs of Moher Cruises, Fitz, Teergonean, Cross, Co. Clare, Ireland

9. Explore the Burren – where kids can run free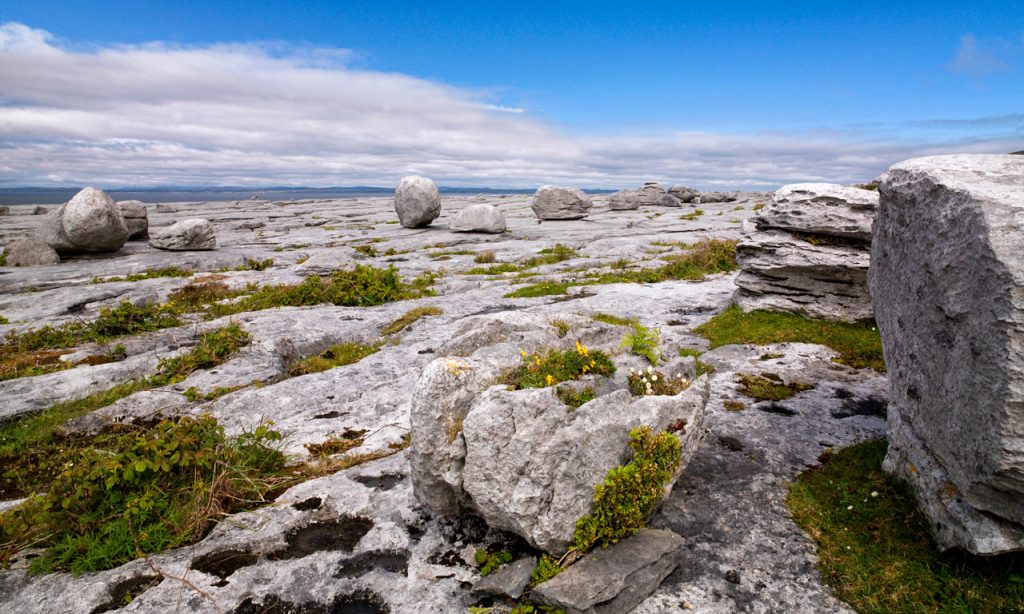 A good pair of walking boots and a rain jacket is all you need to explore the Burren. The lunar-like landscape is unique and vast enough to allow children to run wild.
There is so much to discover along any chosen trail with The Burren National Park open all year round and free access. Hire bikes are also an option for any budding cyclists.
Address: The Burren National Park, 2 Church St, Knockaunroe, Corofin, Co. Clare, V95 T9V6, Ireland
8. Caving – for an educational experience
Doolin Cave is a great day out for children. Home to the longest stalactite in Europe, it is an educational experience for all, not to mention a jaw-dropping sight.
Hanging at an impressive 7.3 meters in length and weighing around 10 tonnes, it is a natural wonder that can only be appreciated up close.
The tour takes around 1 hour where you get to see the magnificent stalactite suspended from a mere crack in the ceiling. The grounds have a nature trail to stretch your legs once outside the cave and lead to a very special entrance and a magical fairy garden.
Address: Craggycoradon East, Craggycorradan East, Doolin, Co. Clare, Ireland
7. Climbing – for thrill-seekers
The west of Ireland is a popular spot among rock climbers of all ages with the Burren landscape offering super outdoor activities for kids.
Nevsail's Outdoor Group offers lots of adventure in climbing and abseiling with qualified instructors ready to help.
For kids (or adults) who may not feel ready to brave the elements, there is an indoor climbing wall at Lahinch adventure centre for just 10 euro per hour.
Address: Promenade, Dough, Lahinch, Co. Clare, Ireland
6. Bodyboarding – for energy burning
Summer activities for kids can take their toll on parents' wallets so there is nothing more refreshing than finding a cheap alternative to a day out.
Bodyboards are fantastic for a day at the beach. Children can spend hours splashing around in the sea on a bodyboard – burning energy.
The average bodyboard costs around 25 euro and will last years once kept in a dry place during the winter. Throw in some homemade sandwiches and a picnic blanket and you have a fun-packed day without the expense.
5. The Aran Islands – another world
A trip to one of the Aran Islands is a must-do on a trip to the west. A 15-minute boat trip from Doolin pier will transport you to unspoiled sands and tranquil surroundings.
Kids can play on the beach, hire bikes to explore the islands or even ride the waves of Inis  Mór (translated Big Island). Steeped in Irish mythology and tradition, any of the Aran Islands are perfect for making family memories.
Address: Doolin Ferries, Ballaghaline, Doolin, Co. Clare, Ireland

4. Swimming in Kilkee – for a dip with a difference
Taking a dip in the ocean often depends on the tide and strength of currents, especially when it comes to child safety. But in Kilkee, southwest Clare, there are safe areas to swim most of the day.
The horseshoe bay and soft sand minimize risks for young swimmers, although keeping in eyeshot of lifeguards is always advisable.
Kilkee is probably most famous for the Pollock Holes – sheltered pools of clear, calm seawater fantastic for swimming and 'water bombing' from a height – one of the most popular outdoor activities for kids in the west.
Indoor wall climbing can also be done in Kilkee for anyone not in the mood to get his or her hair wet.
Address: W End, Kilkee Upper, Co. Clare, Ireland
3. Kayaking – for more spectacular landscapes
Kayaking can be tried from lots of different spots along Ireland's west coast. Kilkee, Doolin and Lahinch are just a few of the places where people of all ages and abilities can kayak.
It is a fantastic activity for the whole family and really wears children out, although adults will need to be fairly fit too if they want to use their arms the next day.
Address: North Clare Sea Kayaking, Teergonean, Doolin, Co. Clare, Ireland
2. Scuba diving – for true water babies
A scuba diving lesson was one of our more extravagant activities but well worth it. It was held in the pool at the Dive Academy in Lahinch and the children absolutely loved it.
Ola welcomed us and explained what was involved while Maeve and Simon were our instructors and guided us through each step from how to wear the oxygen tank to breathing underwater. They were so professional and patient with the children, making the experience really special.
We are already planning our next lesson in the special scuba tank at the Dive Academy before heading out into the ocean.
Address: Dive Academy – Scuba Diving School, Promenade, Dough, Lahinch, Co. Clare, Ireland
1.Surfing – the ultimate workout
Lahinch beach has been recognised as one of the best places to surf in the world. The reef breaks to the south and smaller beach breaks to the north makes it perfect for surfers of all abilities.
Ben's surf school runs lessons all through the year but gets particularly busy during summer. Once the tide goes out, the long stretch of sand on Lahinch beach transforms into a surfers paradise.
A two-hour surf lesson is arguably one of the best outdoor activities for kids, not to mention being a great workout for adults. The current can be strong; pushing you to work extra hard and beginners will be left refreshed, exhausted and eager for next time.
A skilled instructor made the children feel super safe in the water and the whole family experience extremely fun (Thanks Tom!) It was by far the highlight of our road trip.
Address: Ben's Surf Clinic, Promenade, Dough, Lahinch, Co. Clare, Ireland