Ireland is truly a place of many opportunities wrapped into vast landscapes of gorgeous, rolling green hills and spectacular coastal views. Whether you're looking to take it easy or go on an active adventure, there are things to do that fit every lifestyle and budget.
In this small island country, it is a good idea to explore and experience. There are many little unknown hidden gems all across Ireland and here is a countdown of our top 10.
10. Inis Oirr, Co. Galway
The Aran Islands provide an authentic Irish experience that is unmatched in most other parts of the country. You will have a quaint, charming experience on the smallest of the Aran Islands, Inis Oirr.
With a population of just about 260 people in one of the only areas left in the entire country that regularly speaks Gaelic (Irish), the limestone pavements, grikes, and clints form a unique landscape that is easy to navigate by foot or a horse and buggy ride. Have lunch and a pint in one of the few pubs on the island for a delicious pitstop where you will likely meet friendly locals.
9. Sherkin Island, Co. Cork
Artists and writers rejoice; this tiny island with a regular population in the low 100's located south of Cork is a haven for quiet but stunning inspiration. The small island provides a welcoming environment and is, perhaps, most beautiful in the summer months when fuchsias are in full bloom.
There are castles dating back to the eleventh century and a fort dating back to the Celtic Iron Age of 600 B.C.E. to 400 A.D. This is a day trip you don't want to miss.
8. The Barrow Way, Co. Kildare
Hikers and cyclists will adore Barrow Way. As one of Ireland's most peaceful trails, Barrow Way is a 113 kilometre (70 miles) trail that runs alongside the River Barrow (which can also be travelled by canoe). There are different stages to the trail for those that only want to do a section, which is the most common way to hike this beautiful trail.
Barrow Way passes the gorgeous Wicklow mountains, old architecture, Maganey bridge, the ancient monastic St. Mullin's, and plenty of wildlife. There are many places to stop for libations and food along the trail. On the Barrow Way, you will truly feel at peace among nature.
7. Inishowen, Co. Donegal
This peninsula in County Donegal has something for everyone. Active types can cycle, hike, surf, horseback ride, or kayak along beautiful beaches, golden strands, or scenic hills. History buffs will love Mesolithic rock art, Viking battlegrounds, and medieval castles and forts.
The landscape consists mostly of bogland and coasts; the latter of which is where most of the residents in Inishowen reside. Don't forget to check out Glenevin Waterfall in Clonmany!
6. Kilfenora, Co. Clare
Situated in the Burren of County Clare, Kilfenora embodies the epitome of Irish charm. This small village is known as the "City of Crosses" due to the number of highly decorated stone crosses dating back to medieval times. The village is bursting with reminders of its history; from medieval ruins to fascinating graveyards to local tales and myths. With plenty of lovely pubs, it is a great place to get lost and relax for the day.
5. Glenveagh National Park, Co. Donegal
Deemed as one of Irelands most beautiful and peaceful parks, there is plenty to do in the lush, mountainous landscape. With hiking trails, an eighteenth-century castle, picturesque gardens, and quaint tea rooms, it is a day trip worth taking regardless of weather. Look out for magnificent wildlife including ravens, golden eagles, red deer, and the red-throated diver.
4. Brigit's Celtic Garden, Co. Galway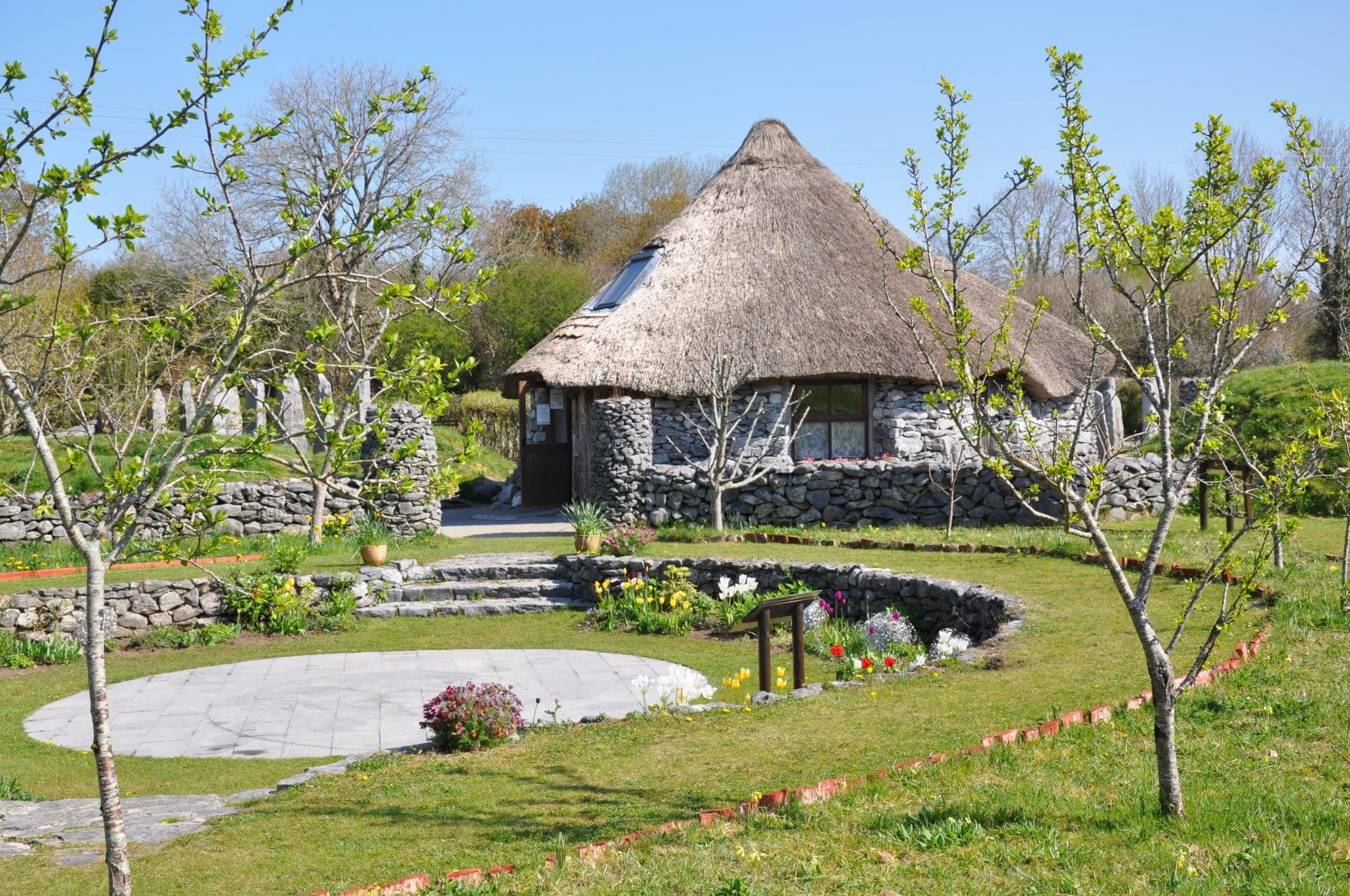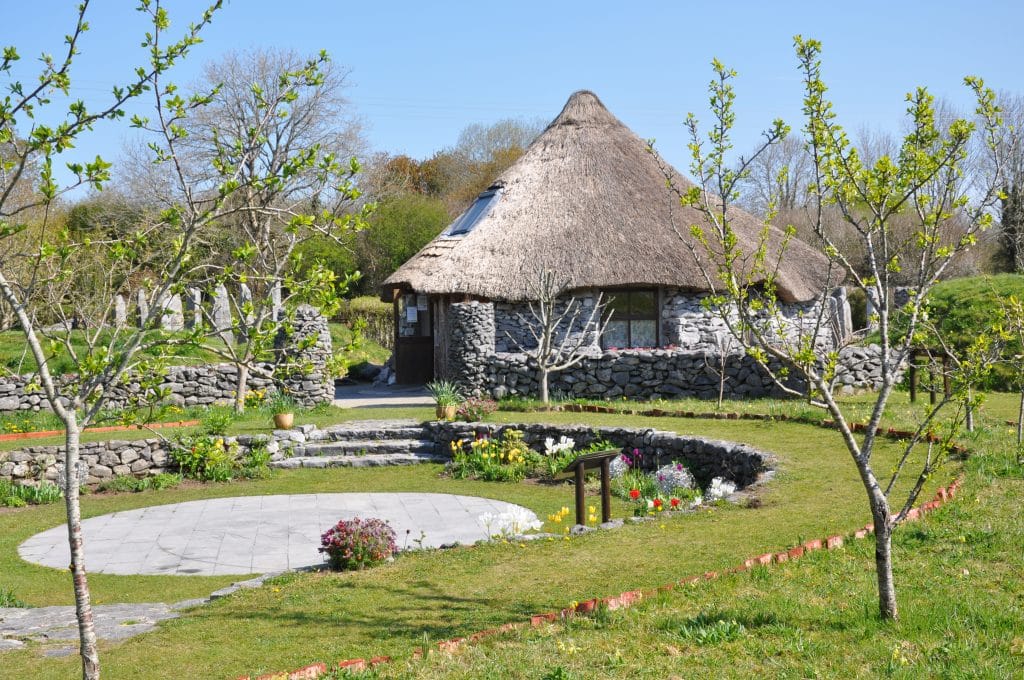 An eleven acre, bewitching garden demonstrates the beauty of Celtic heritage. This day trip is family-friendly with a discovery trail designed for children. In addition to the beautiful gardens, visitors can explore a fairy fort (an ancient ring fort), lovely nature trails, the largest calendar sundial in Ireland, and thatched roundhouses with crannog. Brigit's Celtic Garden is a truly magical experience that should not be missed!
3. Dunmore Cave, Co. Kilkenny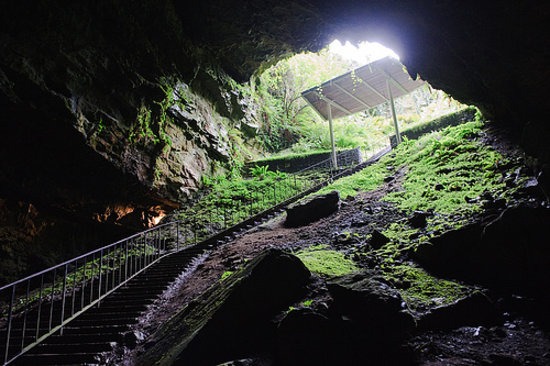 A limestone show cave that is open to the public, Dunmore Cave boasts a rich history of archaeological discovery originating from a Viking massacre in the year 928. Ireland has many caves open to the public, but Dunmore is unique in its interesting history and calcite formations. With a quarter of a mile of passages, there is plenty of geological history within the echoing cave walls.
2. Fiddaun Castle, Co. Galway
Once one of Irelands largest castles built in 1574, Fiddaun Castle is perhaps among of the best-preserved castles in the entire country. The castle is not easily accessible, but after a short hike, you will be rewarded with a castle that is so intact that you can explore every corner at will. The stairs are steep, narrow, and slippery, so it can be dangerous, but it is well worth the trip to catch a genuine peek into Ireland's history.
1. Dun Aonghasa, Co. Galway
This Iron Age fort on a seaside cliff in Inismor is worth the trip to the largest of the Aran Islands. With breathtaking views in every direction and a well-preserved fort, it becomes clear what life must have been like for the early Irish that settled here. It is believed to have been first built in 1100 B.C.E. with more added over the centuries. Archaeologists have spent many years studying the unique formations. It is truly a unique stop that will leave you with a thirst for knowledge.