If you're looking to get off the tourist trail and discover something different in Northern Ireland, here are ten Northern Irish towns you must visit before you die.
There are a few things that come to mind when most people think of Northern Ireland: Belfast, the Giant's Causeway, and Game of Thrones.
However, there are plenty of small towns around the north of Ireland that are well worth a visit.
From gorgeous seaside towns to colourful little parishes, these little hidden gems offer plenty to enjoy. So, here are ten Northern Irish towns you must visit before you die.
10. Castlewellan, Co. Down – for a fantastic forest park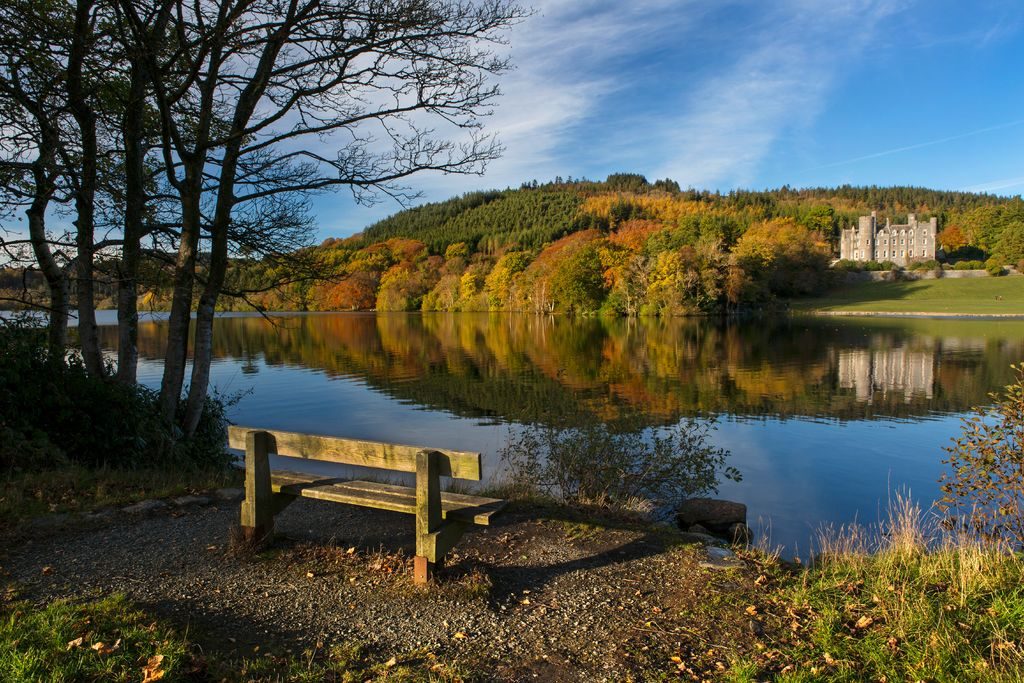 Castlewellan is a small rural town in the heart of County Down.
With the fantastic Castlewellan Forest Park and lake, offering mountain biking, canoeing, and paddleboarding, among other fun activities, this is the perfect place for a sunny day with incredible views.
The town itself is home to many small shops and cafes, where you can grab a tasty bite to eat and check out the local wares.
9. Armagh, Co. Armagh – for one of the most historical places in Northern Ireland
Armagh is, in fact, a city. However, it gives off a small-town feel, and you can see most of the main attractions in just one day.
This historic spot is the perfect place to discover the history of St Patrick, visit the famous orchards, and have a lovely leisurely lunch. Gosford Castle is a must-see while you're here.
Armagh is undoubtedly one of the Northern Irish towns you must visit before you die.
8. Holywood, Co. Down – on the outskirts of Belfast
One of the most affluent areas in Northern Ireland, Holywood in County Down (not to be mistaken with Hollywood in California), is a must-visit.
Not far from Belfast City, with lots of small businesses, cute cafes, and a prime location on the shores of Belfast Lough, a day spent in Holywood will be good for the soul.
7. Hillsborough, Co. Down – the official royal residence
The village in Hillsborough in County Down flies under the radar of many tourists. However, it has so much to offer that it should be added to everyone's bucket list.
From Hillsborough Castle and Gardens, the official royal residence in Northern Ireland, to Hillsborough Forest Park, which is one of the best parks for families in Northern Ireland, there's lots to see and do here.
6. Enniskillen, Co. Fermanagh – a beautiful island town
Set at the heart of Lough Erne, Enniskillen, County Fermanagh, is a lovely island town bursting with history.
From exploring the historic Enniskillen Castle or Castle Coole to taking to Lough Erne on a paddleboard or canoe, Enniskillen has plenty to offer visitors. You could even check out Lough Erne Resort if you want to treat yourself!
5. Newcastle, Co. Down – one of the Northern Irish towns you must visit before you die
For unhindered views of the fantastic Mourne Mountains, you need to take a trip to Newcastle in County Down.
Known as the spot where the mountains sweep down to the sea, visitors can take a walk along the beach, walk through one of the forest parks, go for a hike, or try their luck at the amusements with stunning views surrounding them.
4. Carrickfergus, Co. Antrim – check out the historic Carrickfergus Castle
Set on the shores of Belfast Lough, Carrickfergus in County Antrim is home to a fantastic Norman Castle.
If you're a history buff, you can take a tour of the castle and hear all about its defensive position on the lough. Just north of Belfast, there are also lots of shops, cafes, and restaurants to discover here.
3. Bangor, Co. Down – explore the harbour
Bangor, which is one of the best seaside towns in Ireland, has been time and time again named as one of the best places to live in Northern Ireland.
With easy access to the beach, a brilliant harbour on Belfast Lough, and lots of shops, restaurants, and cafes, there's lots to explore in this County Down town. We also recommend taking a trip to Ward Park if you're a nature lover!
2. Portrush and Portstewart, Co. Antrim and Co. Derry – for the ultimate day at the seaside
Portrush and Portstewart are two separate towns, but really, you can't visit one without visiting the other. Two seaside towns set along the Causeway Coast, these stunning towns are often overlooked by those visiting the main attractions along this route.
However, they are a must-visit for great ice cream, friendly locals, small shops, and fun-filled amusements. Plus, the beaches here are some of the best in Northern Ireland.
1. Ballycastle, Co. Antrim – a historic seaside town on the Causeway Coast
Topping our list of Northern Irish towns you must visit before you die is Ballycastle in County Antrim.
Overlooking Fair Head on the north-easternmost coastal tip of Ireland, Ballycastle is a gorgeous seaside town with a stunning beach, harbour, playpark, and Kinbane Castle, which is on your journey from Belfast to the Giant's Causeway. Plus, you can even hop on the ferry here to Rathlin Island.
Other notable mentions
Glenarm: Glenarm is a village in County Antrim, Northern Ireland. It lies on the North Channel coast and is a quaint place to enjoy a walk along the water or a pint in a cosy pub.
Rostrevor: Rostrevor is a village and townland in County Down. It lies at the foot of Slieve Martin on the coast of Carlingford Lough and has some lovely views by the coast.
Dundrum: Dundrum is a small town in County Down. It is best known for its old castle, Dundrum Castle, which is popular among locals and tourists alike.
FAQs about Northern Ireland
What counties make up Northern Ireland?
Antrim, Armagh, Derry, Down, Fermanagh, and Tyrone are the six counties that make up Northern Ireland.
What is the population of Northern Ireland?
The population of Northern Ireland is approximately 1.9 million.
What is the capital of Northern Ireland?
The capital of Northern Ireland is Belfast.