Fancy an adventure and a bit of a scare? Read on to discover the top ten most haunted places in Northern Ireland that will creep you out.
Spooky season is well and truly upon us. So, if you want to seek out some paranormal spirits, here are the most haunted places in Northern Ireland.
With a rich history of ghost stories, fables, and haunted happenings, there are many spooky spots to discover around the north of Ireland.
From banshees to vampires, werewolves to ghosts, connect with the paranormal this Halloween at the most haunted places in Northern Ireland.
10. Dobbins Inn, Co. Antrim – home to the ghost of Maud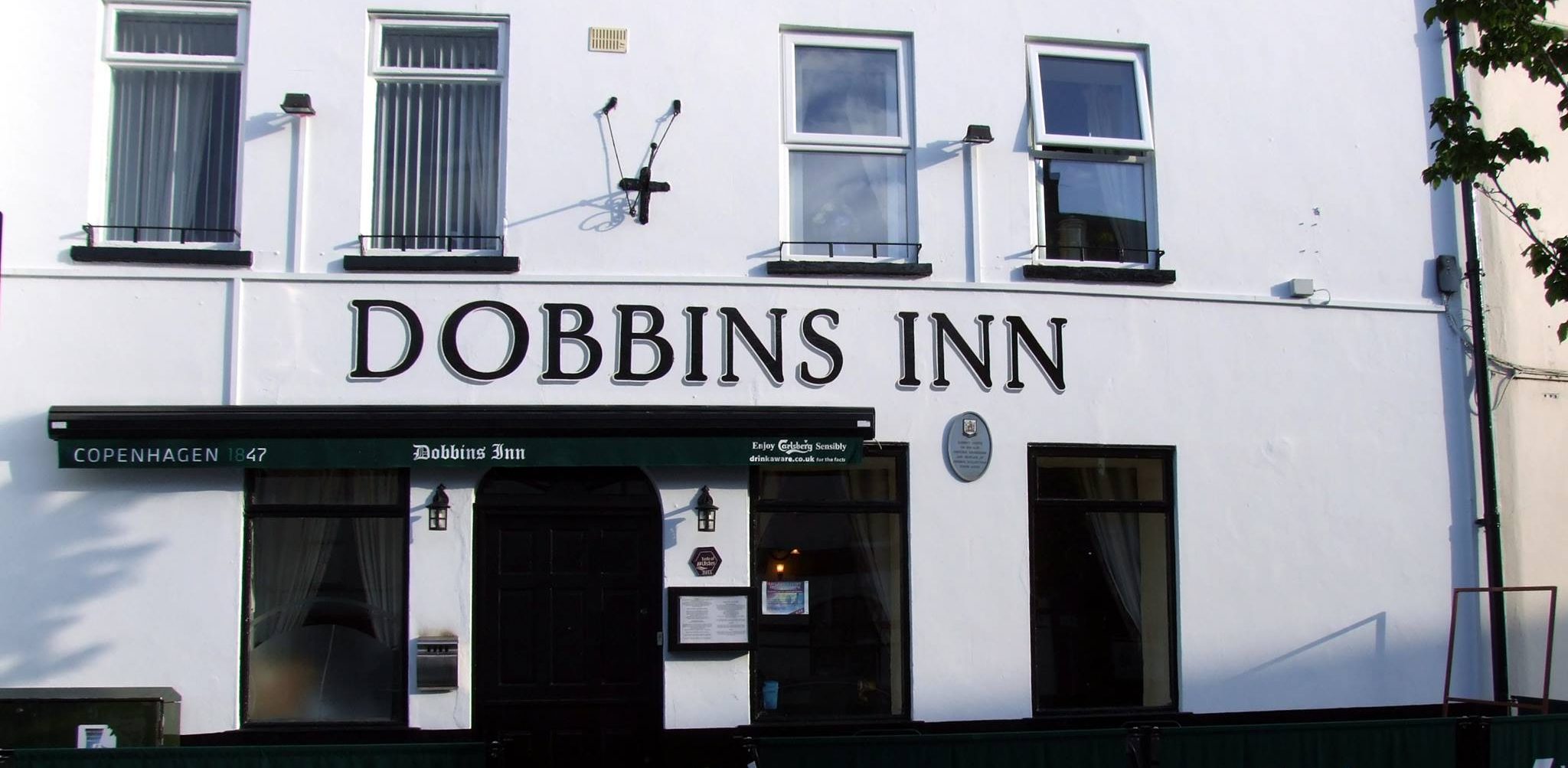 Kicking off our list of the most haunted places in Northern Ireland is the Dobbins Inn Hotel in Carrickfergus.
This family-run hotel is over 500 years old and is reportedly haunted by a ghost called Maud. Maud has been said to wander the hotel's rooms, even stroking guests' faces in their sleep.
Address: 6-8 High St, Antrim St, Carrickfergus BT38 7AF
9. Ballygally Castle, Co. Antrim – a haunted hotel on the coast
Ballygally Castle on the Antrim Coast is one of the most famous haunted locations in Northern Ireland and one of the most haunted castles in Ireland.
Guests at the hotel can climb the spooky spiral staircase to the haunted bedroom at the top of the hotel. The air becomes eerily cooler when you enter the room, clear that spirits are present.
Those staying at the hotel have even reported that the ghost of Lady Isabella walks the corridors knocking on doors at night.
Address: Coast Rd, Ballygalley, Larne BT40 2QZ
8. Crom Estate, Co. Fermanagh – a stunning yet spooky spot
County Fermanagh's Crom Estate is not just a stunning 2,000-acre estate, complete with islands, lakes, woodlands, and wildlife. Instead, it is reportedly one of the most haunted places in Northern Ireland.
To discover the paranormal activity of this magnificent estate, take part in the Crom Ghost Walk. You will be guided through the old castle ruins and even discover one of the oldest yew trees in Ireland.
Address: Upper Lough Erne Newtownbutler County Fermanagh BT92 8AJ
7. Springhill House, Co. Derry – home to a famous and friendly ghost
Thanks to its famous resident ghost, Olivia, this 17th-century plantation home has been named the best Halloween destination.
Not to worry, however, as Olivia is said to be a friendly ghost who captures the hearts of those who visit.
Address: 20 Springhill Rd, Moneymore, Magherafelt BT45 7NQ
6. Crawfordsburn Country Park, Co. Down – the home of a scary gnome
Crawfordsburn Country Park, just outside the town of Bangor, which is one of the best seaside towns in Ireland, is one of those places you don't want to hang around after dark.
Past parkkeepers have reported hearing strange animalistic noises screamed at them through trees, slamming doors, and disembodied voices calling their names. Numerous people have also reported sighting a terrifying gnome-like figure with razor-sharp teeth.
Address: 32 Bridge Rd S, Helen's Bay, Bangor BT19 1JT
5. Castle Espie Wetland Centre, Co. Down – watch out for the Victorian girl
Castle Espie Wetland Centre in Comber, County Down, might seem like an excellent place for a family day out. However, what you may not know is that it's actually one of the most haunted places in Northern Ireland.
Voted among the top ten most haunted historic sites in the U.K., legend says that a ghostly figure wrapped in a shawl has been spotted carrying a baby in one hand and a flickering lantern in the other.
Address: 78 Ballydrain Rd, Comber, Newtownards BT23 6EA
4. Grace Neill's, Co. Down – haunted by a former owner
Grace Neill's pub in Donaghadee first opened in 1611, making it one of the oldest surviving pubs in Ireland. Boasting over 400 years of history, it is also the site of many paranormal happenings.
Grace Neill ran the pub in the late 19th and early 20th-centuries, and it is said that her ghostly apparition keeps a watchful eye over the pub to this day.
Visitors and staff have reported many paranormal happenings, including unexplained noises and moving objects.
Address: 33 High St, Donaghadee BT21 0AH
3. Crumlin Road Gaol, Co. Antrim – Belfast's most notorious prison
As Belfast's most notorious prison, it may be no surprise that Crumlin Road Gaol has reportedly been the site of much paranormal activity.
If you're brave enough, you can book one of their ghost tours for those looking for the ultimate fright!
Address: 53-55 Crumlin Rd, Belfast BT14 6ST
2. Glenuilin, Co. Derry – the vampire of Derry
In fifth-century Derry, a local chieftain Abhartach, who was notoriously cruel to members of his tribe, died and was given a chieftain's funeral.
However, the following day, the story goes that Abhartach returned to the village demanding blood. Another chieftain, Cathain, was called upon to kill Abhartach.
Killing him unsuccessfully three times, Cathain turned to a holy Christian hermit for help. The hermit instructed Cathain to kill Abhartach using a sword made of yew and bury his head first, weighed down by a stone.
Cathain followed these instructions, and Abhartach never reappeared. However, a spooky feeling remains in the area to this day.
Address: 24-16 Brockagh Rd, Garvagh, Coleraine BT51 5DG
1. Cairndhu House, Co. Antrim – one of Northern Ireland's most haunted places
Cairndhu House is often regarded as the most haunted house in the north of Ireland. Located just off the coast road in the small seaside town of Glenarm in County Antrim, visitors have reported spooky goings-on at this one grand Victorian manor.
It has become quite a usual spot for ghost sightings. With overgrown gardens, dilapidated wooden boards, and graffiti-covered walls, a spooky feeling fills the air here.
Address: Coast Rd, Glenarm, Ballymena BT44 0BB
Notable mentions
The Giant's Ring: The ancient land area called Giant's Ring in Belfast dates back to 2700BC when it was used as a pre-Christian religious site.
People who have visited these Neolithic graveyards have reported several unsettling happenings, such as a strange mist that appears out of nowhere and makes people get lost easily.

Belvoir Park Hospital: Nowadays, a luxury housing development, Belvoir Park Hospital was initially founded as a Fever hospital in 1906.
Until its closing in 2006, security guards reported numerous supernatural activities, such as eerie noises, strange shadows moving through the corridors at night, and the sounds of a young boy crying.

The Crown Bar: The Crown Bar in Belfast has been a trendy bar with tourists and locals alike since it was renovated back to its Victorian glory in 1885.
This gin palace boasts of having two apparitions on site, the first being Michael Flanagan the man who renovated it, and the second being a woman called Amelia. She mysteriously died after falling down the stairs.
It is said that sightings of both happen on a regular occurrence.
FAQs about the most haunted places in Northern Ireland
Do Irish people believe in ghosts?
While most Irish people believed in the supernatural in the past, it would be safe to say that the majority don't anymore.
However, that's not to say that there isn't a sizable minority that still does believe.
Where is the most haunted place in Ireland?
In our opinion, the most haunted place in Ireland is Loftus Hall in Wexford.
Are there many haunted places in Ireland?
Yes, there are many haunted places throughout the four corners of Ireland, from houses to castles and graveyards to old buildings.