Halloween originates in ancient Ireland, so there's nowhere better to spend the holiday. Here are the top ten most haunted places in Ireland to visit this Halloween.
Halloween comes from the pagan festival of Samhain – translated as Summer's End – with 31 October being 'Oíche Samhain', or Samhain night, marking the end of harvest time.
For the Celts, Halloween represented the start of a new season with old fires being re-lit by the Druids, crops gathered for the winter, and animals brought in from the fields. It was also a night when the souls of the dead would return to their final dwelling before being released to the spirit world.
With all the paranormal activity on Halloween night, it is thought the boundaries between our world and the other side are compromised, leaving spirits free to roam.
To ward off evil ghosts, the Celts would light bonfires and wear scary costumes, a Halloween tradition that still happens in Ireland.
But if these theories about Halloween are true, any haunted place in Ireland is particularly terrifying on 31st October.
If you're brave enough to check one out for yourself, then here are the ten most haunted places in Ireland to visit this Halloween. Good luck!
10. Kilmainham Gaol, Dublin – for the ultimate scare behind bars
It is believed that most Emerald Isle jails are haunted, and Kilmainham Gaol – being one of the creepiest – does not disappoint. Not to mention that it is one of the top places to visit in Ireland.
Built in 1796, prison conditions were grim where men, women, and even children were forced to share cells with poor bedding and little light.
Leaders of the 1916 Easter Rising, among others, were executed at Kilmainham Gaol. And despite closing its doors as a jail in 1924, it is now open to the public as a museum.
There have been several reports of paranormal activity over the years with visitors experiencing several cold spots, evil forces near the chapel balcony, voices, unexplained noises, and an uneasy feeling of being watched.
During tours, some folk have reported sightings of people in period clothes and a feeling of being pushed. Children have also been known to freeze at the gates, too frightened to go in. Would you be brave enough to visit this Halloween?
Address: Inchicore Rd, Kilmainham, Dublin 8, D08 RK28, Ireland
9. Grace Neill's Bar, Co. Down – where you're never drinking alone
The charming lady herself, Grace Neill, ran this spooky bar as The King's Arms, for many years. She died in 1916, but rumour has it her ghost still keeps a close eye on things.
Her portrait dons the walls, and members of staff have reported strange activity from the original snug.
Moving glasses and books, lights switching on and off, and footsteps heard from upstairs all suggest Grace Neill still considers herself an important landlady.
Our biggest fear is the pubs will still be closed for Halloween – now that would be scary!
Address: 33 High St, Donaghadee BT21 0AH
8. Dunsandle Castle and Woods, Co. Galway – where one ghost got very attached
One of our many castles is often a great place to start when hoping to check out the most haunted places in Ireland. Dunsandle Castle in Galway is just one of them and, yes, it is believed to have a ghost.
Legend has it that a tall man attached himself to one of the mantelpieces in the house in an attempt to stop a stonemason removing it.
The ghost travelled with the ancient find and began to haunt the workshop until the man returned the piece of stone to its rightful place.
You can take a tour of the castle and surrounding woods – just avoid getting too cosy by the fire because there may already be someone there.
Address: Dunsandle, Co. Galway, Ireland
7. Grand Opera House, Belfast – because everyone loves a drama, even when they're dead
With the reputation of the most haunted building in Northern Ireland, the Grand Opera House in Belfast is next on our list of most haunted places in Ireland.
Sightings of a figure in a long robe around the stage area and faces peering from the upstairs windows all link to paranormal goings-on.
Entertaining the public since 1895, the Grand Opera House is bound to have witnessed a tragedy or two – and we all know how dramatic ghosts can be.
Perhaps take a peep for yourself on a visit to Belfast this Halloween.
Address: 2-4 Great Victoria St, Belfast BT2 7HR
6. Loftus Hall, Wexford – 'the most haunted house in Ireland'
Referred to as 'the most haunted house in Ireland', Loftus Hall in County Wexford is one spot sure to cause goosebumps this Halloween.
Legend has it that the woman who originally lived there welcomed a strange man into her mansion one night.
Only after he entered did she notice a cloven hoof where his foot should be before recognizing him as the devil himself.
Not only that, but he left her stuck in that very room until her death a few years later. Loftus Hall now lies derelict, but some people believe both the woman and the devil still haunt it today.
Address: Hook Head, New Ross, Co. Wexford, Ireland
5. Hellfire Club, Dublin Mountains – for one of the most haunted places in Ireland
In 1725, aristocrats with too much time on their hands built a hunting lodge in the Dublin Mountains. And as the saying goes, 'idle hands are the devil's playthings.'
The group was known as the Irish Hellfire Club with a secret code hiding a multitude of mystery.
Legendary tales include dining with the devil, animal sacrifices, and satanic rituals before the lodge was burnt down years later.
The creepy remains now lie still, watching the capital from Montpelier Hill.
Reports of weird smells and a sense of evil have come from a few people crazy enough to walk there after dark. We have no doubt a stroll around the Hellfire Club on 31st October would be terrifying.
Address: Montpelier Hill,County Dublin, Ireland
4. Old Barnagh Tunnel, Limerick – where you might find more than track marks
Once the highest point of the Irish rail system, Barnagh Tunnel in Limerick is also known for something far creepier.
Legend has it, in the 19th-century, a woman called Moll O'Shaughnessy murdered her husband and child in the Barna area.
She was later executed for her crime by being rolled down a steep hill in a barrel full of nails.
Sightings of her ghost were reported many times, and one man was even thrown to his death by his frightened horse.
It is said that a priest blessed the tunnel soon after, freeing her spirit. But can we be sure? Perhaps a walk down Old Barnagh Tunnel on Halloween night might suggest otherwise.
Address: Ballymurragh East, Co. Limerick, Ireland
3. Cabra Castle, Co. Cavan – fancy staying a night in the second scariest hotel in the world
Cabra Castle is definitely among the most haunted places in Ireland, and has even been voted the second scariest hotel in the world!
It is popular among American visitors, but one particular guest in 1893 caused quite a stir…and might still be doing so today.
The story started when a young woman called Kate Morgan checked into the hotel to meet her husband. He was a doctor and had her cancer medication. But when he didn't show she shot herself in one of the bedrooms.
Guests have reported hearing screams in the night, corpses wandering the corridors, and paranormal activity around the 'hanging tree' outside. Yikes!
Address: Carrickmacross Rd, Mullantra, Kingscourt, Co. Cavan, A82 EC64, Ireland
2. Charles Fort, Co. Cork – where the Lady in White mourns her husband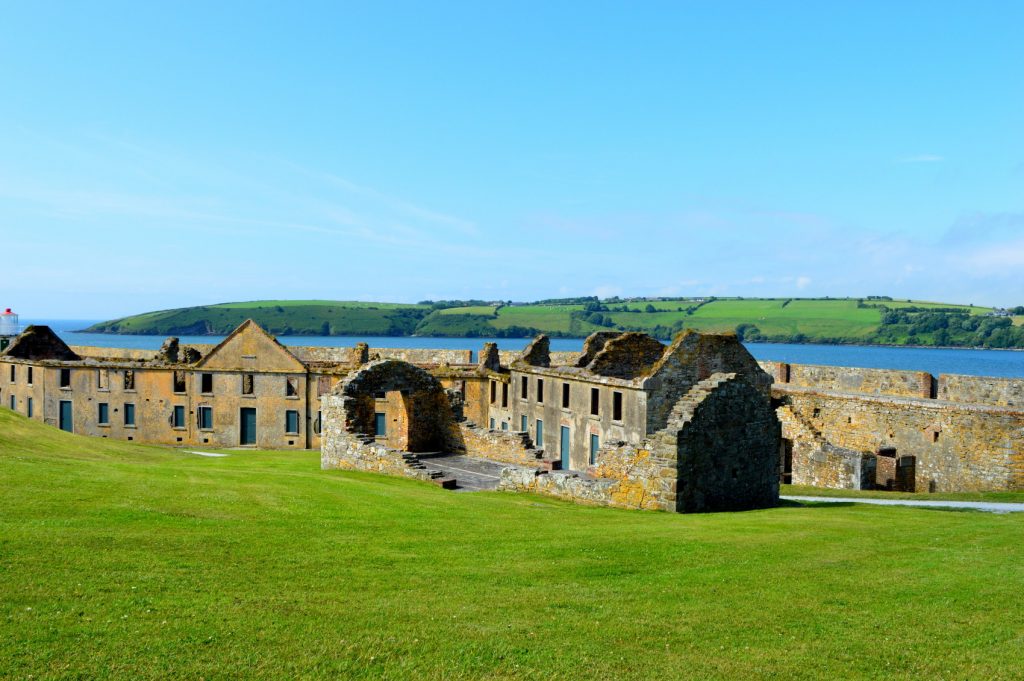 Many Irish ghosts appear from tragedy, and the haunting silhouette of Kinsale's 'Lady in White' is no exception.
A tale of immense loss and heartache, the young bride awoke the day after her wedding to find not only her husband's body on the fort but also her dead father on the rocks below.
Overcome with grief, the widow jumped to her death, leaving her heartbroken spirit to wander Charles Fort in desperate mourning.
At dusk, just as evening becomes night, the 'Lady in White' can be seen in her wedding dress haunting the abandoned fort. Head to Cork and check out this perfect spot for a Halloween adventure.
Address: Summercove, Kinsale, Co. Cork, Ireland
1. Leap Castle, Offaly – for a tour around the 'world's most haunted house'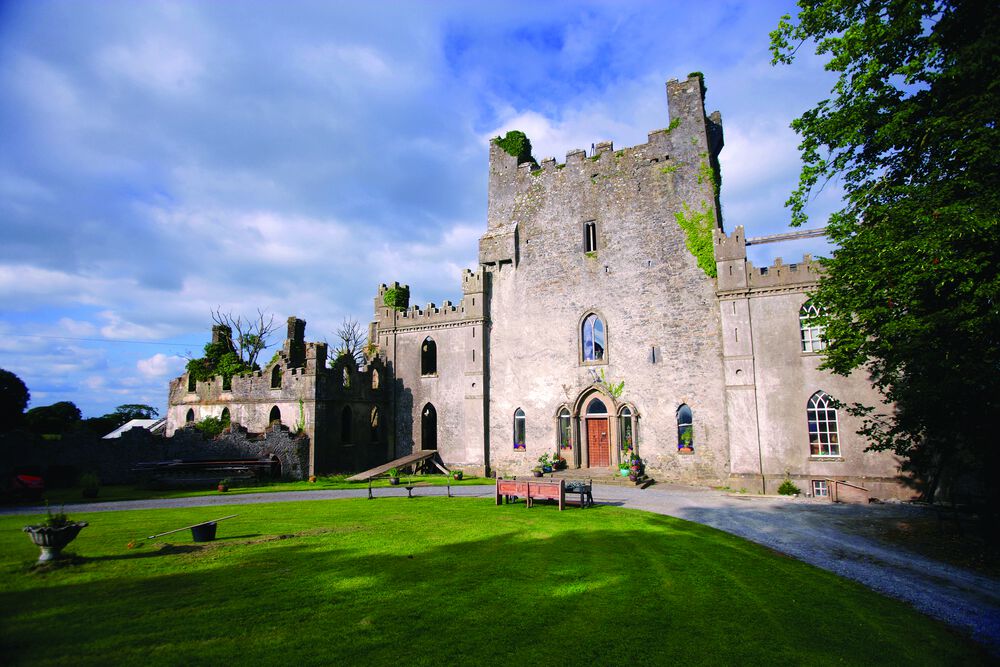 Leap Castle is not only one of the most haunted places in Ireland, but it is also known as the 'world's most haunted house'.
Currently occupied by the Ryan family, father Sean can confirm regular paranormal activity in his home.
With a dark history of murderous family feuds, Leap Castle holds many secrets and is believed to harbour lots of troubled souls from its past.
Emily and Charlotte, two children who lived here in the 1600s, are also spotted regularly playing in the main hall.
The creepy ruins of 'The Bloody Chapel' is said to be the most haunted part of Leap Castle. It is where a former resident, who was also a priest, was brutally murdered by his brother.
And if that's not enough to keep you away, there are plenty of other horrors to explore with the owner, Sean, who is only too happy to share some spooky tales.
Address: R421, Leap, Roscrea, Co. Offaly, Ireland