Belfast has been the home of many famous figures throughout the years. Today, we are counting down the ten most famous people buried in Belfast City Cemetery.
Belfast City Cemetery is a cemetery in west Belfast. It lies within the townland of Ballymurphy, between Falls Road and Springfield Road, near Milltown Cemetery.
Maintained by Belfast City Council, it is the final resting place of some of the most famous people to live in the city.
Check out our list of the top ten most famous people buried in Belfast City Cemetery.
10. Samuel Cleland Davidson (1846 – 1921) – an Irish inventor and engineer
Davison was an Irish inventor and engineer and one of the most famous people buried in Belfast City Cemetery.
Throughout his career in the tea import business, he invented and patented several industrial machines and developed the earliest air conditioning systems. He founded the Sirocco Works in Belfast in 1881.
9. Edward Harland (1831 – 1895) – of the iconic Harland and Wolff
Sir Edward James Harland, 1st Baronet, was a British shipbuilder and politician. He founded Belfast's Harland & Wolff shipbuilding company that made the Titanic.
In 1846, aged 15, he took an apprenticeship at the engineering works of Robert Stephenson and Company in Newcastle upon Tyne.
Afterwards, he worked in Glasgow and again in Newcastle before moving to Belfast in 1854 to manage Robert Hickson's shipyard at Queen's Island.
Four years later, he bought the yard and renamed the business Edward James Harland and Company.
In 1861 he formed a business partnership with Gustav Wilhelm Wolff, his former personal assistant, creating Harland and Wolff. Later, Harland recruited William James Pirrie as another partner.
Edward Harland, Gustav Wolff, and William James Pirrie maintained a successful business. They received regular orders from the White Star Line before Harland's retirement in 1889. Thus, leaving Wolff and Pirrie to manage the shipyard.
Outside his company, Harland served as a Belfast harbour commissioner. In 1885, Harland was granted a knighthood and a baronetcy.
Harland was a member of the Conservative and Unionist Party and served as Mayor of Belfast; later, he moved to London and served as Member of Parliament for Belfast North until his death.
8. John Hopkinson (1849-1898) – a famous physicist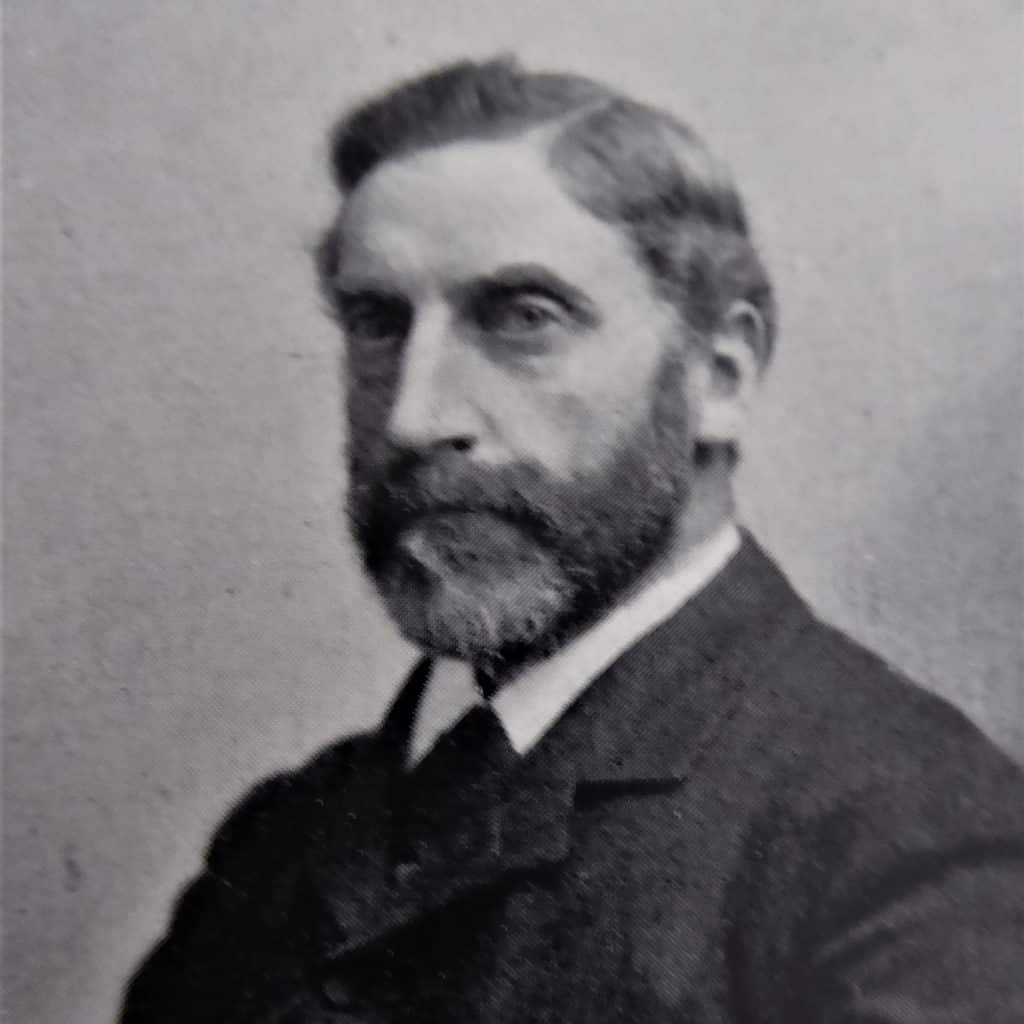 John Hopkinson, FRS, was a British physicist, electrical engineer, Fellow of the Royal Society, and President of the IEE (now the IET) twice in 1890 and 1896.
He invented the three-wire (three-phase) system for the distribution of electrical power. For this, he was granted a patent in 1882.
He also worked in many areas of electromagnetism and electrostatics. In 1890, he became professor of electrical engineering at King's College London. Here, he was also director of the Siemens Laboratory.
Hopkinson's law, the magnetic counterpart to Ohm's law, is named after him.
7. Daniel Joseph Jaffe (1809-1874) – founder of Belfast's first synagogue
The Jewish quarter of the City Cemetery is the final resting place of the founder and organizer of the city's Jewish congregation, Daniel Joseph Jaffe.
Jaffe built Belfast's first synagogue and was the father of Otto Jaffe, former Lord Mayor of Belfast.
Born in Hamburg on 19 August 1809, Daniel Joseph owned a substantial mercantile business in Hamburg. In 1845, he visited Belfast to open a linen house and shipped linen products back to his other firms in Europe and America.
Daniel Joseph's son Martin held the first Jewish services in Northern Ireland in his Holywood home under the auspices of the British chief Rabbi.
Yet, it was his father who, on 7 July 1871, laid the foundation stone of the synagogue in Great Victoria Street, with a Hebrew congregation of no more than 55 people.
Jaffe erected the Jaffe Memorial fountain in 1874 to commemorate his father, who had funded the building of Belfast's first synagogue at Great Victoria Street. The memorial is a noticeable landmark in Belfast City Centre.
6. Robert Wilson Lynd (1879 – 1949) – an Irish writer and essayist
Robert Wilson Lynd was an Irish writer, urbane literary essayist, and strong Irish nationalist.
He was born and educated in Belfast and settled in Hampstead in London as a contributor to many publications. Lynd is among the most famous people buried in Belfast City Cemetery.
5. Thomas Macknight (1829 – 1899) – newspaper editor, biographer, and publisher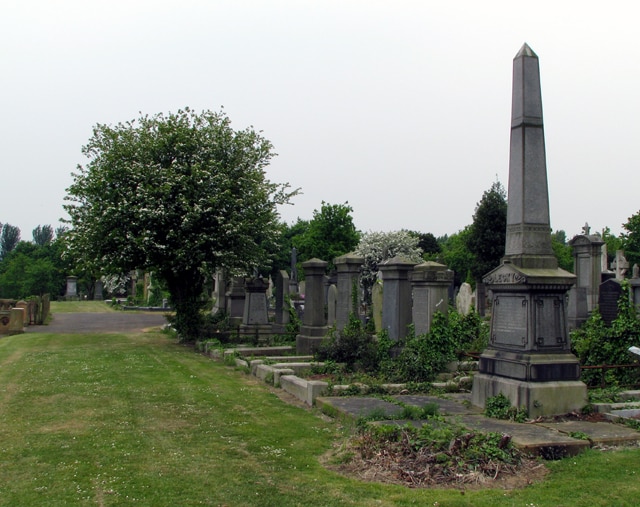 Thomas Macknight was an Anglo-Irish newspaper editor, biographer, and publisher.
He was the originator of the Two Nations Theory in 1896. This argues that the Ulster Protestants are a distinct Irish nation.
You could argue that without this man, the Northern Irish state would not exist.
4. Valentine McMaster (1834 – 1872) – a recipient of the Victoria Cross
Surgeon Valentine Munbee McMaster VC was a recipient of the Victoria Cross. This is the highest and most prestigious for gallantry in the face of the enemy that British and Commonwealth forces can receive.
It is ironic that he is buried in the Republican heartland of the Falls Road, west Belfast.
3. Bernard McQuirt (1829 – 1888) – another recipient of the Victoria Cross
Bernard McQuirt VC was born in Donaghcloney near Lurgan, County Armagh and was also a recipient of the Victoria Cross.
When he was about 29 years old, he was a private in the 95th (Derbyshire) Regiment of Foot (later The Sherwood Foresters) in The Nottinghamshire and Derbyshire Regiment, British Army.
He was part of the forces fighting the Indian Mutiny on 6 January 1858 at the capture of Rowa, India, for which he was awarded the VC.
Bernard McQuirt died in Erney Street off the Shankill Road in Belfast on 5 October 1888. No one knew where he was buried.
In 1993, while working for the Belfast City Council (City Cemetery), Robert Burns found Bernard McQuirt's registration burial site in a Catholic plot of the City Cemetery Belfast.
As there was no gravestone, Robert contacted the Sherwood Foresters Museum in England. They proposed to pay for a stone.
Robert asked for permission to erect the stone in the graveyard. However, the Catholic Church refused as the plot was a poor plot with many other remains in the grave.
Robert then approached the City Council for permission to erect the memorial stone on a wall in Erney Street (off Shankill Road), where Bernard McQuirt VC died in 1888. The council rejected this proposal.
Then, Robert approached locals from Donaghcloney to erect the memorial stone in the local village square beside the WW1 and WW2 war memorial. This was also rejected.
Finally, in 1995, a local Anglican Minister offered Robert Burns access to the local Donaghcloney Church graveyard to erect the memorial stone.
In 2000, a British Army colour party from a regiment based in Northern Ireland finally dedicated the stone in memory of Bernard McQuirt VC.
2. William Pirrie (1847 – 1924) – one of the most famous people buried in Belfast City Cemetery
William James Pirrie, 1st Viscount Pirrie, KP, PC (Ire) was a leading Irish shipbuilder and businessman.
He was chairman of Harland and Wolff shipbuilders between 1895 and 1924. Simultaneously, he served as Lord Mayor of Belfast between 1896 and 1898.
He was ennobled as Baron Pirrie in 1906 and appointed a Knight of the Order of St Patrick in 1908. He also became Viscount Pirrie in 1921.
1. Denis Donaldson (1950 – 2006) – former IRA member and Sinn Féin politician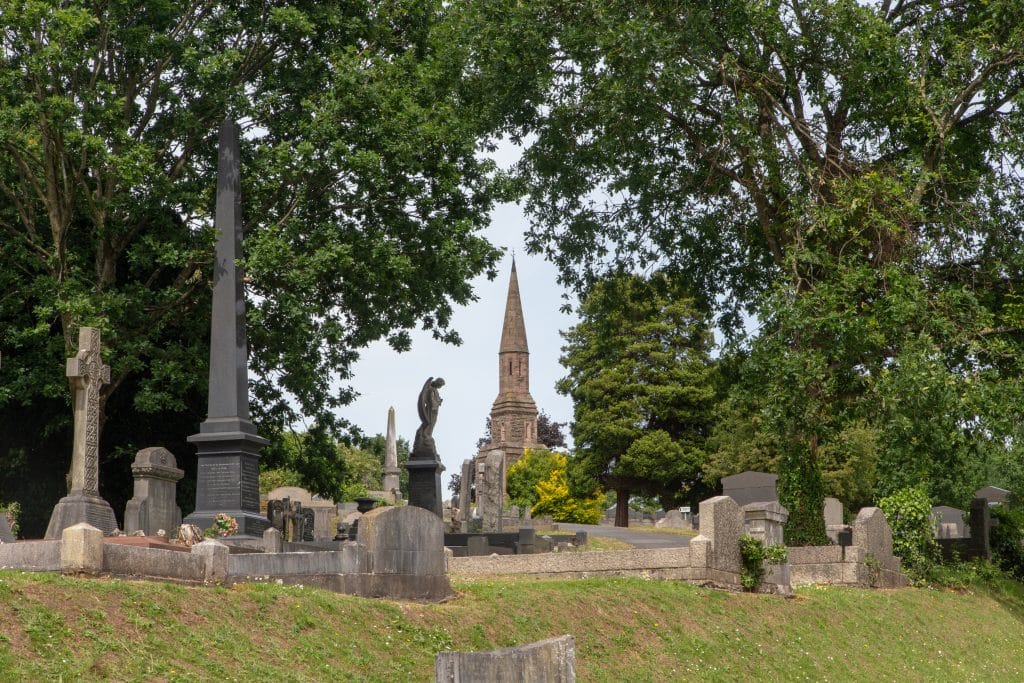 Denis Donaldson was a volunteer in the Provisional Irish Republican Army (IRA) and a member of Sinn Féin.
He was murdered following his exposure in December 2005 as an informer in the employ of MI5 and the Special Branch of the Police Service of Northern Ireland (formerly the Royal Ulster Constabulary).
Many initially believed that the Provisional IRA were responsible for his killing. However, the Real IRA claimed responsibility for his murder almost three years later.
Address: 511 Falls Rd, Belfast BT12 6DE