For an island as small as Ireland, it is remarkable how many famous Irish people there are. Here are our top 10.
The Emerald Isle has produced many famous Irish people who have all made their mark on the world in one way or another. From famous actors to presidents and political leaders to sports stars, there is no shortage of famous Irish people who have come to be recognized for their efforts and the impact that they have made.
In this article, we will list who we believe to be the best known famous Irish people of all time, both living and deceased. Whether you love or loathe them, you can't deny that they have become well-known across the world.
Ireland Before You Die's interesting facts about famous Irish people:
Did you know Oscar Wilde once said to a customs agent once arriving in New York for a lecture tour, "I have nothing to declare but my genius?"
An interesting fact about Michael Collins, the Irish revolutionary leader, is that he established Ireland's first indigenous film industry while serving as Minister for Finance.
Mary Robinson, the first female president of Ireland, served as the United Nations Special Envoy on Climate Change after her presidency.
U2 frontman Bono has been a prominent advocate for various causes, including human rights, global health, and social justice.
Did you know Liam Nesson originally aspired to become a teacher? Neeson attended college to study physics and computer science.
10. Enya – singing sensation
Enya was born in Gweedore, County Donegal, on 17th May in 1961. Enya became a singing sensation and went on to win seven World Music Awards and four Grammys, and her song "May It Be," which she wrote for the first film in the Lord of the Rings trilogy, was nominated for an Academy Award and a Golden Globe.
9. Oscar Wilde – literary great
Oscar Fingal O'Flahertie Wils Wilde was born on 16th October in 1854, in Dublin to a well-to-do family. He read Greats at Trinity College Dublin in the 19th century.
Oscar Wilde went on to become a literary great and rose to fame as a London author and playwright and wrote many celebrated works such as The Picture of Dorian Gray and The Importance of Being Earnest.
READ MORE: Top 10 facts about oscar wilde that you probably never knew.
8. James Joyce – influential writer
James Joyce was born on the 2nd of February in 1882 in Dublin and went on to become one of the most important and influential writers not only in Ireland but the world itself. Widely regarded as one of the most important writers of the 20th century, Ulysses author Joyce is often credited as helping to revolutionize fiction writing.
READ MORE: Top 10 facts about James Joyce you didn't know revealed.
7. Mary Robinson – Ireland's first female president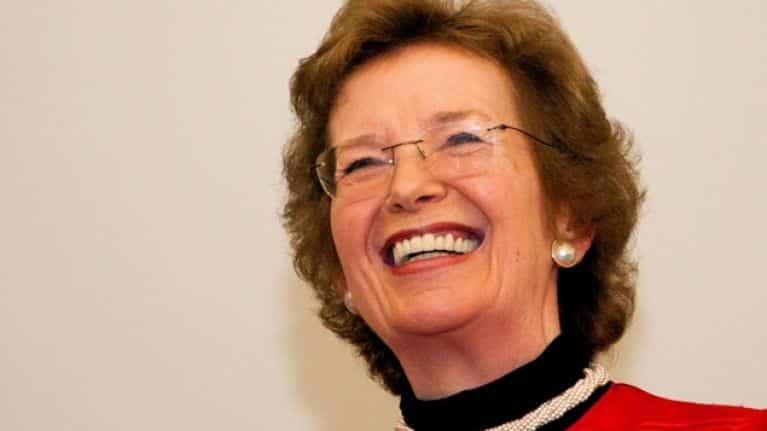 Mary Robinson was born in Ballina, County Mayo, on 21st May in 1944. She became famous for being the 7th president of Ireland and the first-ever female president of Ireland.
Mary, who studied law at Trinity College Dublin, has been praised for her time in the presidential office. She is credited with positively contributing to the transformation of Ireland into a modern country.
RELATED: Presidents of Ireland all heads of state listed in order.
6. Katie Taylor – inspiring female boxer
Katie Taylor is without a doubt the most famous female boxer in the world and probably the best female boxer in the world at the moment too. Katie was born in Bray, Wicklow, on 2nd July in 1986 and began boxing from the age of 11. Katie went on to win gold in the Olympics before entering the realm of professional boxing, which she is now taking by storm.
5. Maureen O'Hara – star of the silver screen
Perhaps the most famous Irishwoman to ever grace the silver screen, Maureen O'Hara was born in Dublin on the 12th of August 1920. Maureen went on to became a famous singer and actress in America and became renowned for her performance in fierce and passionate roles in westerns and adventure movies.
CHECK OUT: Top 10 best Maureen O'Hara movies of all time.
4. Micheal Collins – revolutionary leader
Michael Collins was born near Clonakilty, County Cork, in 1890, and he has become arguably the most influential figure in Irish history.
Michael Collins took part in the 1916 rising, and following it he ascended to the ranks of Director of Intelligence for the IRA, Minister for Finance, Chairman of the Provisional Government, and Commander-in-Chief of the National Army.
He was killed in August 1922 during the Irish Civil War, and his legacy is still felt and honoured to this day.
3. Liam Neeson – acting sensation
Liam Neeson is a famous Irish actor who was born on the 7th of June in 1952 in Ballymena, County Antrim. Liam Neeson was somewhat of a late bloomer as an actor, as he was in his 40s when he really began to make a breakthrough, but from then on, he had success after success as he starred in many great films and received Oscar, BAFTA, and Golden Globe nominations.
2. Conor McGregor – controversial fighter
Perhaps he is one of the most controversial figures on our list, but whether you love him or love to hate him, you can't deny that Conor McGregor has become famous across the world. Conor McGregor was born on the 14th of July in 1988 in Dublin and has become one of the most famous fighters in professional mixed martial arts.
1. Bono – global rockstar
Bono was born in Dublin on 10th May in 1962 and joined the band U2 when he was in secondary school. After they recorded their sixth album "The Joshua Tree", they hit mainstream success and become international stars. Bono, U2's lead singer, has used his celebrity status to aid philanthropic causes, such as addressing the issues related to world poverty and AIDS.
This concludes our list of who we believe to be the most famous Irish people ever. If there are any others who you think deserved to be on this list, let us know!
Other notable famous Irish people
Irish actor Pierce Brosnan, known for his role as Secret Agent James Bond, is one of the most famous people from Ireland. Physicist John Tyndall (1820 – 1893), or the main who gave the first scientific explanation for why the sky is blue and discovered the greenhouse warming effect of gases, was born in County Carlow.
Playwright George Bernard Shaw and satirist Jonathan Swift were born in Dublin. Meanwhile, former One Direction band member Niall Horan was born in Mullingar. Singer Sinead O'Connor is another famous Irish person, as is Edward Bransfield, whose name was given to Edward Bransfield Island, Mount Bransfield, Bransfield Rocks, and Bransfield Trough in Antarctica. Dr James Barry, who performed the first ever cesarean section, is one of the most famous people from Ireland.
Michael Fassbender, who grew up in County Kerry, is one of the most famous Irish actors. Other honourable mentions include television presenter Graham Norton, actor Brendan Gleeson who portrayed Alastor Moody in the Harry Potter films, boxer Barry McGuigan, Bob Geldof of the Boomtown Rats, and physician and philanthropist Thomas John Barnardo, among many others.
Your questions answered about famous Irish people
Who is the most famous Irish person today?
After gaining international fame as part of the rock group U2, Bono may be considered the most famous Irish person today. Alternatively, Irish-American actress Saoirse Ronan is steadily rising in prominence in Hollywood.
Who is the richest Irish person?
Shapoor Mistry, who controls the Shapoorji Pallonji Group, is currently the richest person in Ireland.
Who is the best Irish actor?
Hard to say, but some of the best are Pierce Brosnan, Cillian Murphy, Maureen O'Hara, Saoirse Ronan, Brendan Gleeson, and Chris O'Dowd.