Lakes have long been a significant attribute of Ireland. Our little island is home to no fewer than 12,000 lakes, including major lakes such as Lough Corrib, Lough Neagh, and Lough Derg.
Lakeside towns are amongst the most picturesque in the country – there are fewer pleasures more simple and beautiful than watching the sunset on the water as the day draws to a close. Lakeside towns also offer an abundance of attractions such as fishing, boating, and water sports. Here we list the top 10 lakeside towns in Ireland which are perfect for a road trip, family day out, or even a weekend away.
10. Enniskillen, Co. Fermanagh
Enniskillen lies at the centre of the county, nestled between the upper and lower sections of Lough Erne. If you have just one day in Enniskillen, make sure to spend it in the magnificent Florence Court Forest Park. The park has several walking routes of differing lengths and difficulties which reward walkers for their efforts with fantastic views of Fermanagh.
Top places of interest in the sprawling park include the Lady's Well, the Florence Court House, and the historic Deer Park, where the Earl of Enniskillen kept his deer back in the 1800's. The park is both historic and beautiful and has justly earned Enniskillen its place as one of our top lakeside towns!
9. Boyle, Co. Roscommon
Based beside Lough Key, Boyle is a town which has truly embraced their lakeside status. Lough Key Forest Park is a major attraction and is an entertaining day out for families and friends alike. The centre is a park and activity centre overlooking the majestic lake and provides many parkland walks which are an ideal way to explore the flora and fauna that reside by the water.
The adventure park will prove to be a hit for children and adults of all ages – there is a section of the park set in the treetops which provide obstacles and challenges to overcome. There is also a substantial indoor challenge area known as The Boda Borg Experience, where groups must work together to solve mental and physical challenges. Be it rain, hail, or shine Boyle is one not to be missed!
8. Coleraine, Co. Derry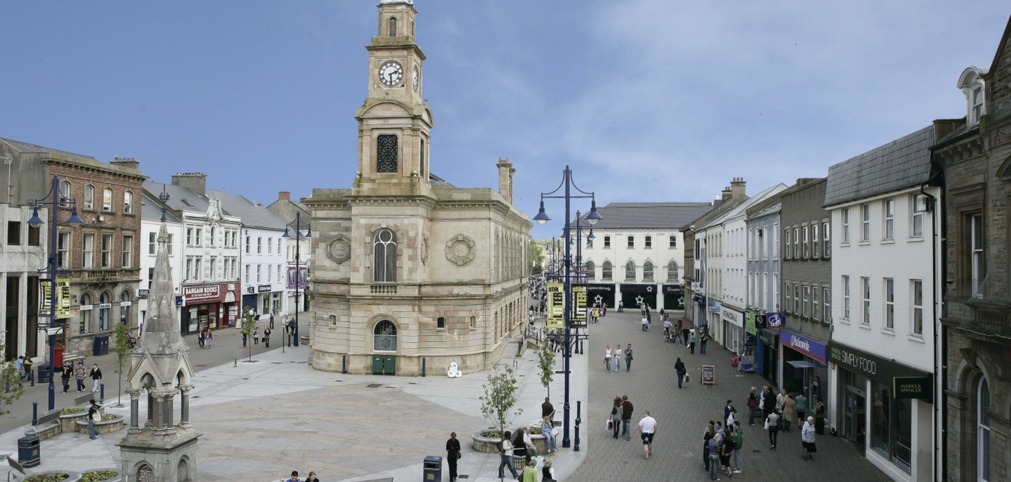 Coleraine is a large town located near the mouth of the River Bann. On your visit to Coleraine make sure to include the renowned Mountsandel Forest – a forest famous throughout the country as it contains the Mount Sandel Fort.
This fascinating fort has been claimed as the site of the earliest human settlement in Ireland. Coleraine is a gem of a town, so much so that it features on the breath-taking Causeway Coast which stretches from Belfast to Derry. You may not embark on the entire route, but make sure to pay a visit to Coleraine!
7. Athlone, Co. Westmeath
Known by locals as "the heart of the Midlands", Athlone has risen in popularity in recent years thanks to its vivacious nightlife and ample shopping opportunities. However, if you travel just outside the town itself, you will experience all that Lough Ree has to offer. The neighbouring area of Coosan is an excellent spot to spend a family day out. Located right beside the lake, Coosan boasts a fantastic playground for kids, a short woodland walk, and plenty of space to enjoy a picnic. The Lough Ree Inn is the resident pub and restaurant which is popular amongst locals and equally welcoming of newcomers.
Portlick is another must-see lakeside venue just 10 minutes drive from the town. Portlick is a large wooded area with plenty of different trails suitable for families and walkers of all kinds and offers visitors idyllic views of the lake at several points throughout the region.
6. Dromineer, Co. Tipperary
Located just 10km outside of Nenagh, Dromineer is a postcard-pretty town situated on the shores of Lough Derg. Dromineer harbour is a haven for boating fans, with fishing and rowing boats available to rent from Shannon Sailing. Shannon Sailing also offers sailing lessons for any water-sports fanatics.
A trip to Domineer is the perfect opportunity for avid walkers to breathe in the natural beauty of a lakeside town – pop on the hiking boots and challenge yourself to the Sli Eala. This walk translates to "The Way of the Swan" and is a tranquil 10km walk which allows participants to immerse themselves in the sheer beauty of the lake lands.
5. Donegal Town, Co. Donegal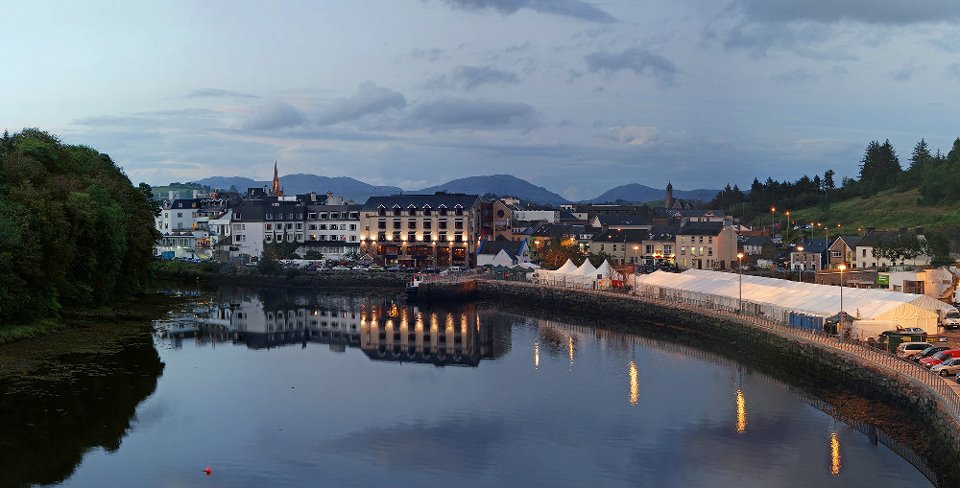 Based at the mouth of Lough Eske, Donegal town has long been a reliable choice for family breaks and weekend catch-ups with friends – and it is simple to see why! There is a wide array of attractions to enjoy, including Donegal Castle and the Abbey of the Four Masters – don't forget to bring a camera to capture the views!
Why not take full advantage of the amenities and try your hand at kitesurfing or kayaking? There are some watersports establishments in the town. If you're not quite so brave then book a boat trip – it may be less of an adrenaline rush, but it still acts as the perfect opportunity to experience the waterways of Donegal in all their glory.
4. Kinsale, Co. Cork
Traditionally a fishing town, Kinsale is undoubtedly one of the most beautiful places on our list. The views of the harbour are nothing short of captivating, and a rainbow collection of houses, shops, and café overlook the waters. Kinsale is home to the impressive Old Head of Kinsale Golf Links, which provides golfers with an 18-hole course surrounded by spectacular views.
Kinsale is also home to a wide range of water sports such as scuba-diving and kayaking, which operate from Kinsale Yacht Club. After an action-packed day you can choose from a variety of quality restaurants to refuel in – our personal favourite is Jim Edwards Restaurant and Bar. A traditional style establishment, the venue specialises in fresh lobster and has been providing patrons with succulent dishes since its humble beginnings in 1971, and continues to be a crowd-pleaser today.
3. Killaloe, Co. Clare
Killaloe is situated on the banks of Lough Derg and is connected to the town of Ballina, Co. Tipperary by the bridge. Killaloe is the busiest fishing and boating area in the Clare region. There are plenty of facilities in Killaloe which give an insight into a lakeside life – there are lakeside parks, boats available to rent, and even lake cruises available.
If you're in the mood for an adventure, look no further than The Ring of Lough Derg. They are a company who will plan your lakeside endeavours for you – think organised fishing trips, hill walking, and water sports. Such activities have proven popular with large groups such as hens and stags, so for a celebration with a taste of the great outdoors make a beeline for this Clare-based lakeside town!
2. Portumna, Co. Galway
Lough Derg, the third largest lake in Ireland, runs through the stunning town of Portumna in south-east Galway. Portumna attracts boaters from all over the country as the town has two significant harbours – Connacht Harbour and New Harbour. Portumna also boasts Portumna Castle and the vast Portumna forest. The lush forest is spread across a massive 600 hectares and runs adjacent to Lough Derg. It is the perfect spot for families, dog walkers and runners who can drink in the lakeside views during their endeavours.
The people of Portumna are justly proud of their lakeside status, and each June the town holds "Portumna's Great Outdoors Festival" which celebrates the lake and the surrounding natural beauty of the town.
1. Killarney, Co. Kerry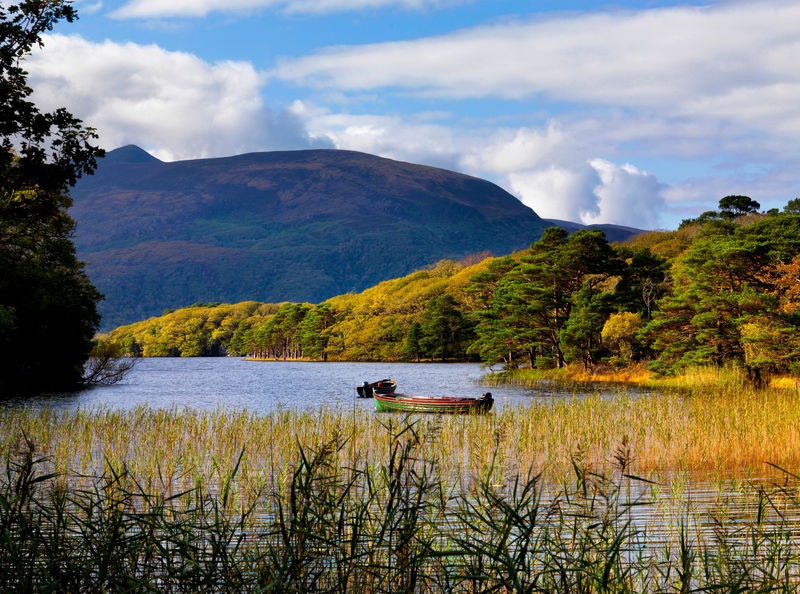 Lying on the northeast shores of Lough Leane, Killarney is one of the most dazzling towns in "The Kingdom". Killarney is a town rich in history and heritage, and its prolific points of natural beauty have cemented Killarney as a popular destination for tourists all over the world.
There is no better town in Ireland to experience lakeside living. Killarney is home to the MacGillyCuddy Reeks (a mountain range which includes the highest peaks in Ireland), the Gap of Dunloe, and Torc Waterfall. It is also the start and finishes point of the now famous Ring of Kerry. The Ring of Kerry is 179 km long tourist route incorporating the most breathtaking parts of the county – this route is for drivers only, but there is also a designated cycle path and a walking path known as The Kerry Way. Killarney is a taste of heaven on earth, and this lakeside town should be on everyone's bucket list.