Each county has a lot to offer, so narrowing it down to the ten most beautiful counties in Ireland to live in is no easy job.
There are 32 counties on the island of Ireland. However, not all were made equal. Through a rigorous selection process, we have done our best to narrow Ireland's counties down to the ten most beautiful counties to live.
Read on for the ten most beautiful counties of Ireland to live.
10. Co. Sligo – small, but beautiful
County Sligo is one of Ireland's smallest counties, yet, it has a lot of beauty to offer.
Benbulben and Mullaghmore are areas of outstanding beauty, and are some of Ireland's most distinctive natural landscapes. It also has a long history for traditional Irish music, affirming the well-loved Irish charm in the county.
All of this means County Sligo takes a spot on the top ten most beautiful counties in Ireland to live in.
9. Co. Down – a county of tremendous beauty
County Down is located north of the Irish border and is a place of tremendous beauty.
Places like the Mourne Mountains and Strangford lough are simply breathtaking. It also contains the gorgeous Ards peninsula and the Lecale peninsula.
It's no wonder it's made the list, as pictures simply do not do this county justice for its beauty!
8. Co. Clare – more than just home to Father Ted
County Clare is the home of Father Ted's (real) house, but the county has much more to offer.
The Burren is located here along with The Cliffs of Moher, which is Ireland's most visited natural attraction.
It also has strong links to music, holding many music festivals, one of the most popular being the Willie Clancy Summer School.
7. Co. Galway – one of Ireland's biggest counties
It's no wonder why Ed Sheeran decided to write about this stunning County. Galway is one of Ireland's biggest counties, and it is packed with beautiful places.
The best spots within this county include Connemara and the Aran Islands, but there is so much more to discover. Don't forget about this county if you're in search of one of the most beautiful counties in Ireland to live in.
6. Co. Mayo – unforgettable rural landscapes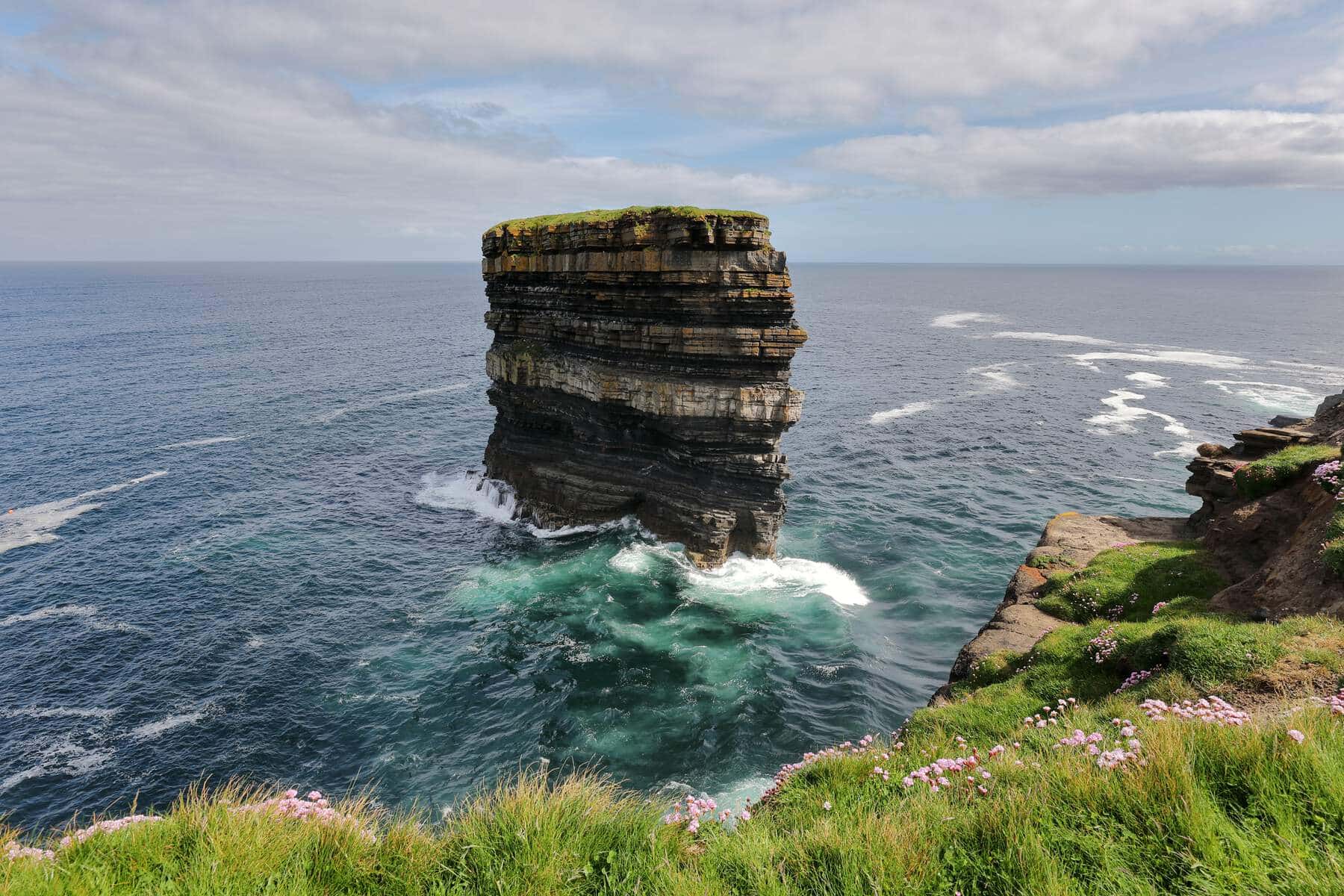 Mayo is a scenic county located on the west coast of Ireland.
The county is mostly rural and sparsely populated, but it is packed with beautiful places, including Downpatrick Head and Achill Island.
If you're looking for a scenic breathtaking scenic spot to live, County Mayo is not one to be missed.
5. Co. Wicklow – a place of beauty, from coast to hills
Wicklow is a phenomenal county that isn't too far from Ireland's capital city, Dublin.
It's actually the last of the 32 counties, which makes it even more impressive that it has established itself as such a major County in Ireland.
This place is full of beauty, from the coast surrounding Wicklow town to the Wicklow Hills, and of course, Glendalough. It truly is one of the most beautiful counties in Ireland to live in.
4. Co. Cork – Ireland's largest county
Cork is Ireland's largest county, so it is not hard to imagine the number of beautiful places that can be found here.
The 'Rebel County' has much to offer for those looking to settle around Ireland. The highlights of this county include the coast around Mizen Head, the hills of West Cork, and Beara.
3. Co. Kerry – a hub of Irish tradition
Kerry is one of Ireland's most southern counties, bordering Cork.
This beautiful part of the country is well-known for 'The Ring of Kerry', a very scenic circular road which goes through mountains and the coast.
Co. Kerry is well-known for retaining its Irish cultural traditions through the years, finding itself being a hub for Irish language, music, and dance.
The Dingle Peninsula is also found in this county. Impressively, it has been named as one of the most beautiful places in the world by National Geographic.
2. Co. Antrim – the choice for all, from holidaymakers to major TV producers
County Antrim is well-known for being home to Belfast, but it is also home to many other beautiful places.
Portrush is a hotspot for eager holidaymakers, who flock due to its coastal beauty and family attractions. But for those who want to stay a while, it has proved itself to be one of the most beautiful counties in Ireland to live in.
Co. Antrim is also the county of choice for Game of Thrones creators. They have used its unique scenic landscape to film many iconic scenes within the show.
From the Glens of Antrim to the Giants Causeway, this place is magical!
1. Co. Donegal – a holiday hot spot
Donegal is a favourite for holidaymakers, and for very good reason.
It is bursting with spectacular places to see, including Malin Head, the Slieve League Cliffs and Portsalon beach, to name just a few. If you haven't been to this county, you need to go.