These spas in Ireland are guaranteed to bring a bit of magic into your life.
Beautiful scenery, a history of holistic healing rituals, and a growing contemporary hospitality trade make Ireland the perfect place for luxurious spas. No wonder there are so many of them, all filled with unique treatments set deep in nature, against the backdrop of the Emerald Isle.
Need Valentines Day inspiration? Here's our top ten luxurious spas in Ireland from ten different counties, guaranteed to give you a quintessentially Irish dose of relaxation.
10. Galgorm Spa & Golf Resort, County Antrim – 4 stars
Based on the grassy glens of Antrim, this spa knows how to do luxury. They showcase the beautiful nature surrounding them through offers highlighting the seasons of Ireland at an affordable price. Check out their Spring Reviver package for £75 per person.
You can spend time in their Thermal Spa Village, where they have an orangery and a snow cabin. You can chill in the hot tub, have afternoon tea in the restaurant, or have a forest therapy treatment. It's also an excellent base to explore the beautiful Causeway Coast, just off the motorway from Belfast.
9. Slieve Donard Resort and Spa, County Down – 4 stars
Sea View? View of the Mournes? Sign us up! Slieve Donard Resort and Spa is also a short drive from Belfast, and their spa is renowned in the industry. You can have various Celtic-ritual treatments catering for the mind and body, or do something different like a bamboo joint release session where they use heated bamboo sticks to alleviate joint pain.
Spend the morning in the spa and have lunch in their "Spa-tisserie" and juice bar. A haven after hiking the Mournes or after a chilly walk on the beach. This is definitely one of the most luxurious spas in Ireland.
8. Lusty Beg Resort and Spa, County Fermanagh – 4 stars
If you want to stay on an island enchanted with faeries in the middle of sleepy Lough Erne, Lusty Beg is the spa you need. Stay in their wooden lakeside cabins instead of a built-up hotel complex, and visit the Island Spa, where you can have bespoke skincare treatments, massages, and experience the strange delight of a seaweed bath.
These baths are known to slow down signs of ageing and will make you feel like a mermaid. You can also join in activities designed for the whole family, such as archery, canoeing, and exploring the fairy trail. They are also pet-friendly!
7. The Ice House Hotel, County Mayo – 4 stars
If you want to explore the Wild Atlantic Way and take a break from the icy winds of the west coast, the Ice House Hotel will suit you well. They boast a riverside spa with floor to ceiling windows that will make you feel like you're floating.
Enjoy their outdoor cedar-wood hot-tubs with views of the estuary, and take a break in their thermal suite, which they call a "sensory sanctuary". You can have a champagne afternoon-tea with the girls, or go there on a couple's retreat.
6. Lough Eske Castle Hotel and Spa, County Donegal – 5 stars
There's no better way to experience Irish culture than to stay in a spa in a castle. Visit their Cara Spa which is located in the original Glass House of the estate, with a gorgeous conservatory pool. They have a holistic approach to skincare, with treatments designed for men and women.
You can swim in their hydrotherapy pool, enjoy the ice fountain, or have a healthy marine-mud wrap. You can experience the natural beauty of Donegal's Bluestack Mountains from the comfort of a castle.
5. Park Hotel Kenmare, County Kerry – 5 stars
Experience a bit of Irish history by staying in Park Hotel Kenmare, a Victorian landmark dating back to 1897. This hotel boasts views of Kenmare Bay, as well as the Cork and Kerry Mountains for guests to enjoy. Their spa is named SÁMAS, a word coming from old Gaelic meaning "indulgence", and their treatments focus on evoking this indulgence from their guests with deep tissue massages, and ritualistic treatments for a range of maladies.
After a relaxing morning at the spa, guests can enjoy an 18-hole golf course, as well as explore the heritage town of Kenmare. This is the perfect base to explore the Kingdom of Kerry.
4. Zero Gravity Spa, County Cork – 5 stars
Another of the most luxurious spas in Ireland is a bit different from your typical day spa, but a unique and unmissable experience nonetheless. The FLOAT pods they use here for zero gravity treatment are backed by American neuroscientist's research, and use sensory deprivation for complete relaxation.
Their REST treatments (Reduced Environmental Stimulation Therapy) reduce the effects of stress on the body, stopping it from causing heart disease, cancers, cirrhosis of the liver, and other stress-related ailments. They quieten the body and mind in a futuristic manner under an electronic starlit ceiling, and you and a partner can float for 60 minutes for €45 each.
3. The Marker Hotel, County Dublin – 5 stars
The Marker Hotel is an escape from the hustle and bustle of Dublin's busy streets and offers treatments that quieten the mind after a day of urban life. They boast a 23-metre infinity pool and a eucalyptus-infused steam room designed to calm the nerves.
You can engage in modern skincare practices, such as chemical peels, facials, and massages. Their Urban Escape Package starts at €155 per person and is guaranteed to give you the relaxation you need after a busy day in Dublin City.
2. Powerscourt Hotel, County Wicklow – 5 stars
Powerscourt Hotel is an institute well known to the people of Ireland for its leading role in tourism, and their spa is a big part of that. Treatments include ESPA Sleep Rituals, salt and oil scrubs, and soothing body wraps. You can have breakfast overlooking the Sugarloaf Mountains, take a swim in their 20-metre Swarovski crystal-lit swimming pool, or take a yoga class.
In the evening you can have a candlelit dinner in their renowned Sika restaurant with complimentary bubbles included in most packages. Powerscourt's reputation lends itself to the price, with their cheapest package starting at €200 per person.
1. The Monart Hotel and Spa, County Wexford – 5 stars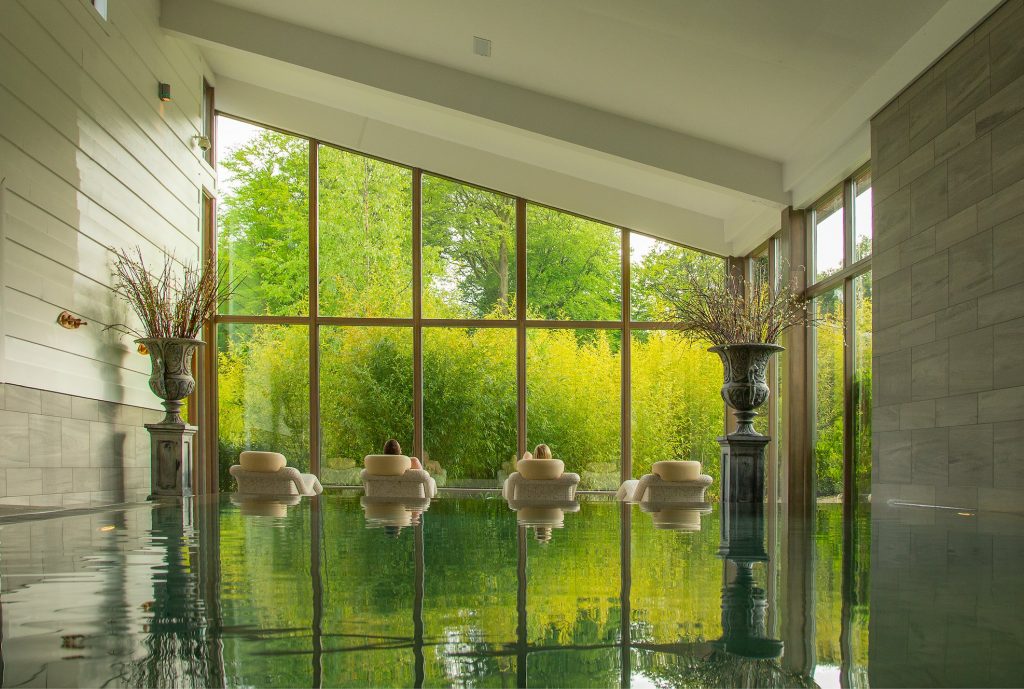 The Monart puts Ireland's spa trade on the global stage, ranking in Forbe's top ten spas, and having been recognised by other major publications such as the Irish Tatler and Condé Nast for its contribution to the world's relaxation. Their property is adults-only, and their highly skilled therapists perform treatments from all over the world.
They are best known for their "Detox" programmes, and they are home to Masters who trained in the Shaolin Temple in China.
They teach guests about the importance of relaxation and inner stillness through meditation classes. The range of their packages is enormous, stretching from their cheapest at €199 per person to a whopping €895 package encompassing the very best of all their treatments, practices, and experiences. It's one for the bucket list for sure.
The range of spas in Ireland means there is plenty to suit every budget and taste, with various twists that are designed to let you experience the magic of Ireland in your body and soul. We hope you give some of these most luxurious spas in Ireland a try.