Warning: this article may cause excessive mouth watering.
Ireland has a lot offer as a country, stunning vistas, friendly locals and endless charm it's often easy to forget what cuisine we have to give. So, if you fancy yourself as a bit of a foodie and maybe a free meal or even just up for a challenge then why not try one of these gut-busting dishes to be found around the country. Here are 10 of Ireland's Toughest Food Challenges.
1. Four Star Man V Pizza Challenge (Four Star Pizza, Multiple Locations)
We'll start with an easy one. One 24 inch pizza in less than 20 minutes. €20. And you can have a friend help you. Not too bad. We've all eaten a 12-inch pizza and wanted another one immediately afterwards, haven't we…?
2. 64oz Steak Challenge (Judge Roy Beans, Newbridge)
This one's not for the faint of heart. You'll be faced with a 64oz steak served in four 1-pound portions with coleslaw or mash and vegetables. You have one hour to complete it and you are not allowed to leave your seat. Fail to do so and you'll be footing the bill of €59.95. Not a chance of running out on that, so!
3. Flamin' Pizza Challenge (The Parlour Bar, Belfast)
A 10-inch pizza to be eaten in under 30 minutes, easy, right? Wait until you find out what the sauce is. This deceptively easy task comes topped with 'Bhut Jolokia' also known as The Ghost Pepper which, until 2012, was crowned the hottest chilli on earth.
Clocking over 1 million on the Scoville scale! (That's more than 100 times hotter than a jalapeno!) But, it's not completely heartless, you will be given a nice glass of water to go with it.
If you make it through and prove you can handle the heat, you'll receive a flamin' pizza t-shirt and a certificate of completion to fan yourself with afterwards.
4. Hot Wing Challenge (Hogs and Heifers, Swords)
Find a home for 10 hot chicken wings coated in spicy ghost pepper sauce in ten minutes and you've got yourself a free meal. But be prepared for the ten-minute afterburn, too. Hey, you'll get a t-shirt and place on the Wall of Fame, it's worth it.
5. 32 Inches in 32 Mins (Pinheads Pizza, Dublin)
Reckon you could defeat what claims to be Ireland's biggest pizza? All 32 inches of it? In 32 minutes? Oh, and there's two milkshakes to help you along the way. Not bad for a free meal and a place in their hall of fame. Just make sure to give them a heads up if you're going to try and conquer this one, it takes a little time to prep.
6. The Big Lad (Build a Burger, Belfast)
One for the big lads here-The Big Lad. Be warned, over 2500 hopefuls have attempted this, only 70 have been victorious. For this challenge you get to build your own burger, choosing your own sauces and toppings and will have 30 minutes to dismantle the beast. Its costs £20 nonrefundable pounds even if you complete the challenge, so you'll be eating for glory on this one.
7. Revolution Burger Challenge (Revolution Bar, Waterford)
Next up, a 1.5lb pound beef burger with delicious bacon and a helping of chips in under 25 minutes? Look no further than Revolution Bar, Waterford. This one can be deceptive and has left even the hungriest contestants to roll out the door in shame.
8. Harvest Blaa Eating Competition (Harvest Festival, County Waterford)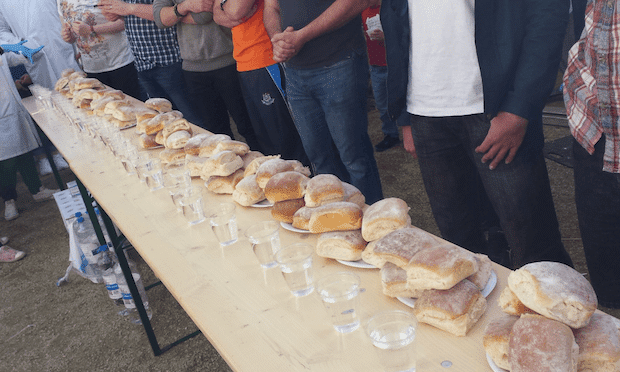 Don't worry if you've missed out on this one, you've all year to prepare as it takes place annually at the Harvest Festival in County Waterford. You'll be pitted against other contestants hoping to prove themselves. Who can eat a plate of floury blaas in the fastest time? My mouth feels dry just thinking about it but they are buttered for flavour!
9. The Big Grill Festival (Ballsbridge, Dublin)
A challenge for those who fear the cold snap coming in as the summer ends. The Big Grill festival hosts a duo of competitions over the course of their yearly four-day run each August.
The first is a chilli pepper eating challenge which is hosted daily, again, The Ghost Chili mentioned above, so watch out. And if that's not enough for you, the second contest is a hot wing eating challenge which occurs on the Saturday and Sunday of the festival.
10. Tony's Bistro, Cork
This one is a tough one, so tough that it demands bullet points for emphasis. This frighteningly large breakfast can be found in Tony's Bistro in Cork:
• Eight sausages
• Six rashers
• One six ounce steak
• Four slices of Black and White pudding
• Four hash browns
• Two bowls of chips
• Two fried eggs
• Two scrambled eggs
• One bowl of beans
• One bowl of fried mushrooms
• Three fried tomatoes
• One bowl of onion rings
• Six pieces of toast
• Three slices of soda bread
• Oh, and a complimentary cup tea or coffee to help you wash it all down
And I thought some of my hangover fry-ups were pushing it! They call this one The Godfather and you've a generous two and a half hours to finish the lot. Maybe that's one offer I could refuse.