Did someone say Irish breakfast? Count us in anytime! However, not everything labelled as the original fry lives up to the hype. Check out the key ingredients of a proper Irish breakfast below.
You've probably heard the adage "eat breakfast like a King, lunch like a prince, and dine like a pauper". In Ireland, we certainly take the first part very seriously.
We consider the first meal of the day to be the most important one – a traditional Irish breakfast with fried eggs, sausages, black pudding, and lots of bread and butter, quickly fills you up until dinner time.
Created initially to prepare the farmers for their heavy-duty work, we technically no longer need that much energy to start our day.
However, we still believe that nothing beats a large cooked breakfast feast, so we like to stick to it, especially on weekends and when we head out for brunch.
We certainly recommend all visitors to Ireland to spoil themselves in the morning at least once. Not sure what to expect? Read on and find out the top ingredients of a proper Irish breakfast.
10. Bread – soak up the breakfast
No Irish breakfast is complete without a generous helping of bread for soakage. The most popular ones used are Irish soda or brown bread.
However, you might occasionally also find toast or fried potato farl (quadrant-shaped flatbread) as substitutes – and in the very best case, you will get a mix of all of them.
9. Butter – the creamier the better
Our morning meal is pretty hearty, so almost everything you'll find on your plate – from bread to the tomatoes and sausages – will be buttered.
However, there will always be some extra put on the side just in case you need more. The traditional Irish butter is known for its high-fat content and bright yellow hue. And, unlike in some other countries, it's usually salted, too.
8. Sauteed mushrooms – the perfect complement to beans
Eat your veggies! Sauteed mushrooms contain vitamins and fibre, a perfect booster for a powerful day. Like pretty much everything on our breakfast plate, they come fried.
7. Hash browns – we love our potatoes
While hash browns weren't originally part of the traditional morning feast, people on the Emerald Isle love potatoes so much that, these days, the pan-fried shredded version is considered by most as one of the key ingredients of a proper Irish breakfast. 
6. Pork sausages – the better the quality, the better the fry
Full Irish breakfasts typically come with one or two medium-sized sausages made from minced Irish pork meat, seasoned with mace, pepper, and nutmeg, and mixed with pork fat – and, while this might not be the most healthy option on the table, kids and adults continue to love them alike.
5. Fried tomatoes – a vital part of any breakfast
Tomatoes add both colour and vitamins to the most important meal of the day – which is probably why they are among the most vital ingredients of a proper Irish breakfast.
Expect one or two fried tomatoes cut in halves or quarters on your plate. So much better than ketchup!
4. Fried eggs – it has to be runny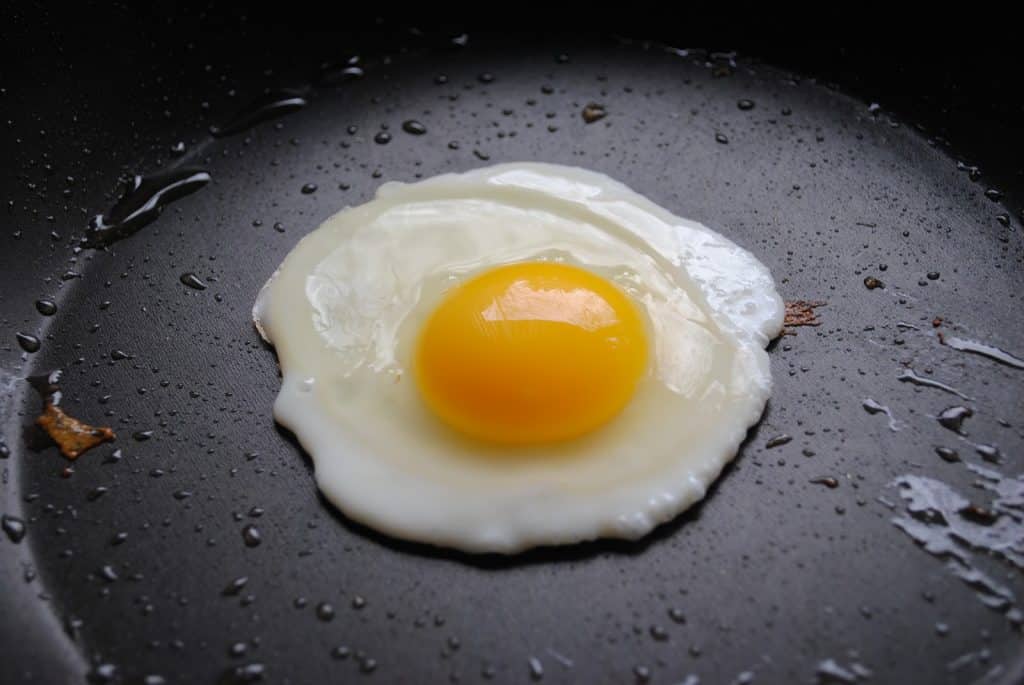 Forget about the fancy eggs Benedict, traditional breakfast in Ireland comes with two fried eggs – and the yolks must be runny!
Scrambled eggs are a somewhat acceptable alternative (even though we personally would always go for the fried ones). However, boiled, hard, and – we can't stress it enough – the hipster version, are not!
3. Black pudding – not for everyone, but still delicious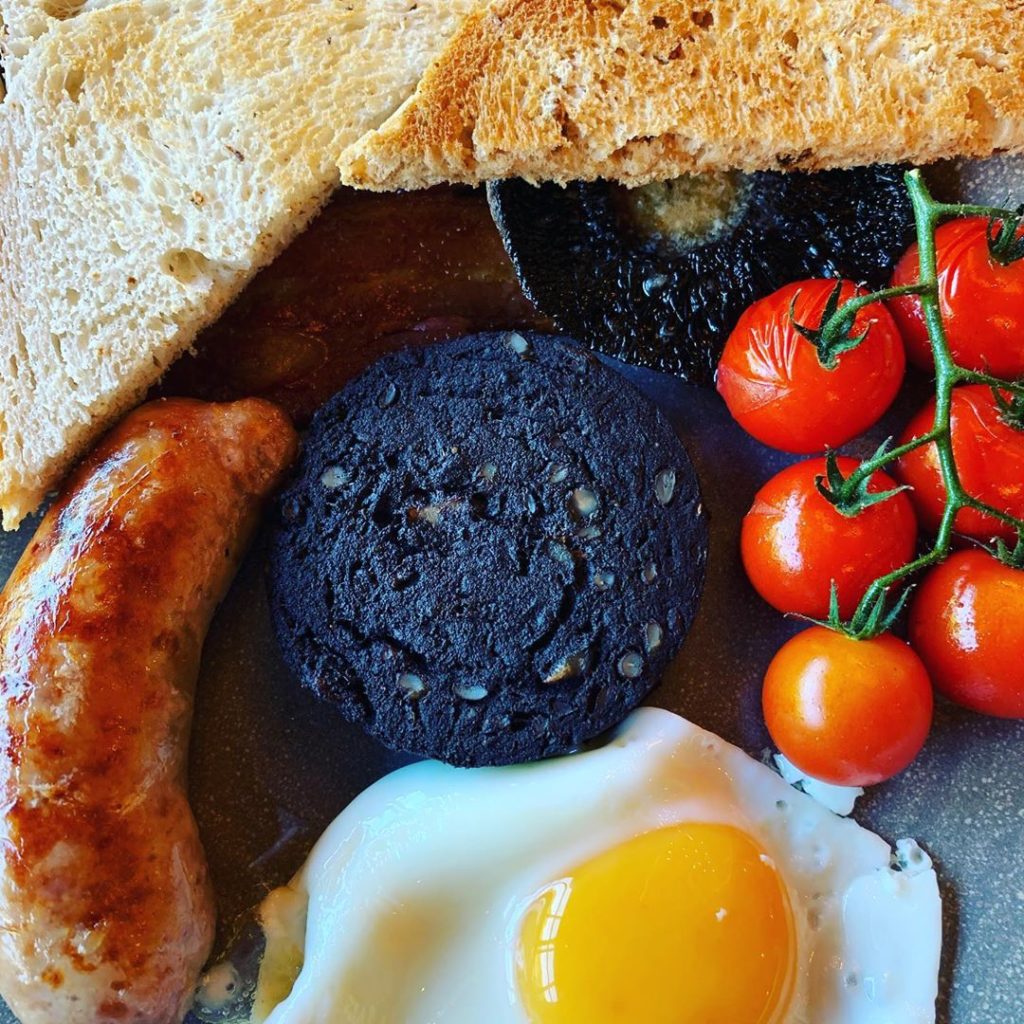 Not to be confused with dessert pudding, this is a sausage made of pigs' blood!
Yes, really! Love it or hate it, black pudding has always been one of the most distinct ingredients of a proper Irish breakfast – so you should probably try it at least once.
2. Baked beans – the original is still the best
Baked beans are high in fibre and protein, making them one of the more healthy ingredients of our hearty morning meal. And honestly, who doesn't love them anyway?
While many restaurants prepare their beans from scratch, we openly confess that we usually go for the Heinz can at home – like pretty much everyone else in Ireland.
1. Bacon rashers – our top pick for ingredients in an Irish breakfast
Ask an Irish person about the most essential ingredients of a proper Irish breakfast and nine out of ten will most likely say crispy bacon rashers.
Yes, we are obsessed with them – and we guarantee you will be too.
That being said, be warned and don't expect the American version when in Ireland. Our bacon typically comes in round shape and is made from the back meat of a pig, not from pork belly like in the States.