Ireland is a hot spot for tourists but also Irish holidaymakers, here are ten incredible seaside towns in Ireland for a staycation.
Ireland has always been popular with staycations, and we can all probably remember at least one memorable family holiday where we packed up the car and headed off to the beach for our summer holidays.
The stereotype that it always rains in Ireland isn't entirely true, in fact, we actually get many sunny days a year, maybe not high temperatures like other parts of Europe, but certainly good enough to enjoy the beach and the outdoors.
We are lucky to have beaches all over the country, providing us with various activities such as surfing, paddleboarding, and kayaking.
We are also lucky to have our pick of absolutely beautiful hotels, Airbnbs, and campsites to choose from, so staycation-ing has never looked so appealing.
Here are the top ten incredible seaside towns in Ireland for a staycation.
10. Portstewart, Co. Derry – a popular staycation for generations
Home to a beautiful Atlantic promenade, which leads to a golden sandy beach, popular for sun worshippers and surfers, this seaside town is a must when in Northern Ireland.
9. Lahinch, Co. Clare – for lovers of water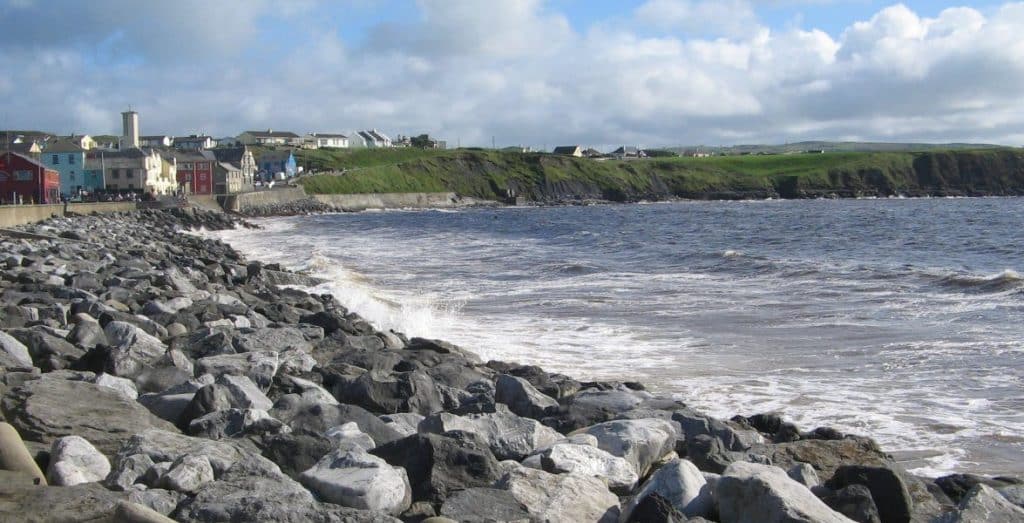 Lahinch is best known for its waves and is a surfing hot spot for beginners and pros. Still, if you love other water activities, this is the place to be, you'll be inundated with watersports to choose from.
8. Tramore, Co. Waterford – one of the nation's favourite resorts
This town is well known for its shopping, food, beaches, and array of activities. It has been a choice for Irish holidaymakers for years.
Located on Ireland's Ancient East coast, this bustling town has big character, and there's lots of fun to be had.
7. Bundoran, Co. Donegal – Donegal's best known seaside town
Think surfing mecca, amusement arcades, carnival rides, and an abundance of places to eat. That's Bundoran, a much loved seaside town for all ages, in the beautiful county of Donegal.
6. Salthill, Co. Galway – Ireland's premier resort destination
This seaside resort lies to the west of Galway City. It provides so much entertainment for families with their array of children's activities and even a golden half-mile of casinos, restaurants, and pubs for the adults.
5. Dingle, Co. Kerry – your active staycation
Dingle town lies on the Dingle peninsula, an area in the south-west of Ireland famed for its rugged coastal beauty.
Here you can go whale watching, rock climbing, cycling, and much more, as well as visit the popular local pubs and restaurants for the best fresh seafood around.
4. Enniscrone, Co. Sligo – Ireland's most popular family holiday
This beautiful spot on Ireland's west coast provides top-class sunsets as well as a huge choice of activities, such as golf, surfing, and horse riding, as well as having many pubs and restaurants in the area.
3. Curracloe, Co. Wexford – something for everyone
Famous for being home to Curracloe Strand, the beach used in Saving Private Ryan and Brooklyn, this town has become a popular spot for Irish people and tourists every summer.
The beach, which is one of the best in the country with its soft sand, lies alongside a nature reserve, which is excellent for nature lovers.
It is situated only 11km from Wexford Town, so you can be sure to have lots to keep you entertained in the evenings.
2. Cape Clear Island, Co. Cork – an island escape
Ireland's most southern island, just off the coast of the stunning area of West Cork, is a gem in the crown that is Ireland.
Not only does it only have 120 inhabitants, making it a hub for peace, nature, and relaxation, but it also has a slightly better climate than the rest of the country.
The island has a lot of history and has a lot to keep you busy on your staycation, from dolphin spotting to kayaking. Get away from it all at Cape Clear.
1. Dunfanaghy, Co. Donegal – one of the best seaside towns in Ireland for a staycation
This quaint seaside town is an absolute must if you want to get up close and personal with the real beauty of Donegal.
It is the perfect spot to base yourself to explore the many nearby secret beaches, including Murderhole beach, which can only be accessed by hiking.
Near national parks, museums, mountains, and, of course, the coast, you'll be spoilt for choice with this fantastic seaside staycation in Ireland.