Each year Belfast plays host to Feile an Phobail (Festival of the People), a summer festival of arts, culture, music, sports, debate and more.
Starting in 1989, Feile is now into its 31st year and welcomes almost 70,000 visitors to Belfast. It will run from the 1 August 2019 to the 11 August 2019.
It is a community orientated but internationally outlooking festival, hosting both local talent and others from around the world to share their views, art and culture.
If you are thinking of taking part in this year's festival, here are the top 10 events we think you can't miss from the Feile an Phobail 2019 lineup.
10. Walking Tours of Belfast
Feile provides an excellent platform for those who love the outdoors, adventure and history. Take a trip through the various nature hotspots in Belfast such as Belfast Hills for the 'Meadows to Mountain Wellbeing Walk'.
For more, take part in the Milltown Cemetery Tours or the Falls Road Murals Tour to catch a flavour of the history unique to the city of Belfast.
9. Phil Coulter
Hosted in the iconic Clonard Monastery in West Belfast is Phil Coulter, one of Ireland's most well-known singer songwriters, who has 23 platinum discs and two Grand Prix Euro vision awards to his name.
The Derryman will play a number of his famous songs and is sure to provide an unmissable evening in this very intimate setting.
6 August 2019 @ 7pm
Address: Clonard Monastery, 1 Clonard Gardens, Belfast BT13 2RL, UK
Tickets: £22.50
Tickets and more info: HERE
8. Lá Eispéireas Spóirt/ Feast of Sport
For a taste of the many sports popular in West Belfast and Ireland, take a trip to the only Irish-medium secondary school in the North for a full day of events.
On hand will be representatives from the sports of Gaelic football, hurling, soccer, cricket, rugby, basketball and handball to explain each sport. Colaiste Feirste's newly built 4G sport surface provides the perfect space to learn your trade.
3 August 2019 @ 10am
Address: Colaiste Feirste, 7 Beechview Park
Belfast, BT12 7PX
7. The Wolfe Tones
One of Ireland's most popular rebel bands, The Wolfe Tones, have announced they are to play at this year's Feile an Phobail.
The Dublin band are no strangers to playing at Feile an Phobail, having played numerous times at the festival, including last year to over 10,000 in Falls Park.
They will are set to play at the Falls Park stage on Sunday, August 11.
Tickets: £12
Address: Belfast BT12 6EQ
Tickets and more info: HERE
6. Carnival Parade and Party in the Park
Feile is a festival for all, and this special event provides a fun day out for kids and families. Commencing at Dunville Park, it will make its way to the Falls Park.
Starting at 1pm will be the Party in the Park, which will include music, inflatables, sporting activities, games, a climbing tower and much more for those involved to make it a day to remember.
10 August 2019 @ 12pm
Address: Commencing at Dunville Park, Falls Rd, Belfast BT12 4NH, UK and Concluding at Falls Park, Falls Road, Belfast BT12 6AN
5. Annual James Connolly Lecture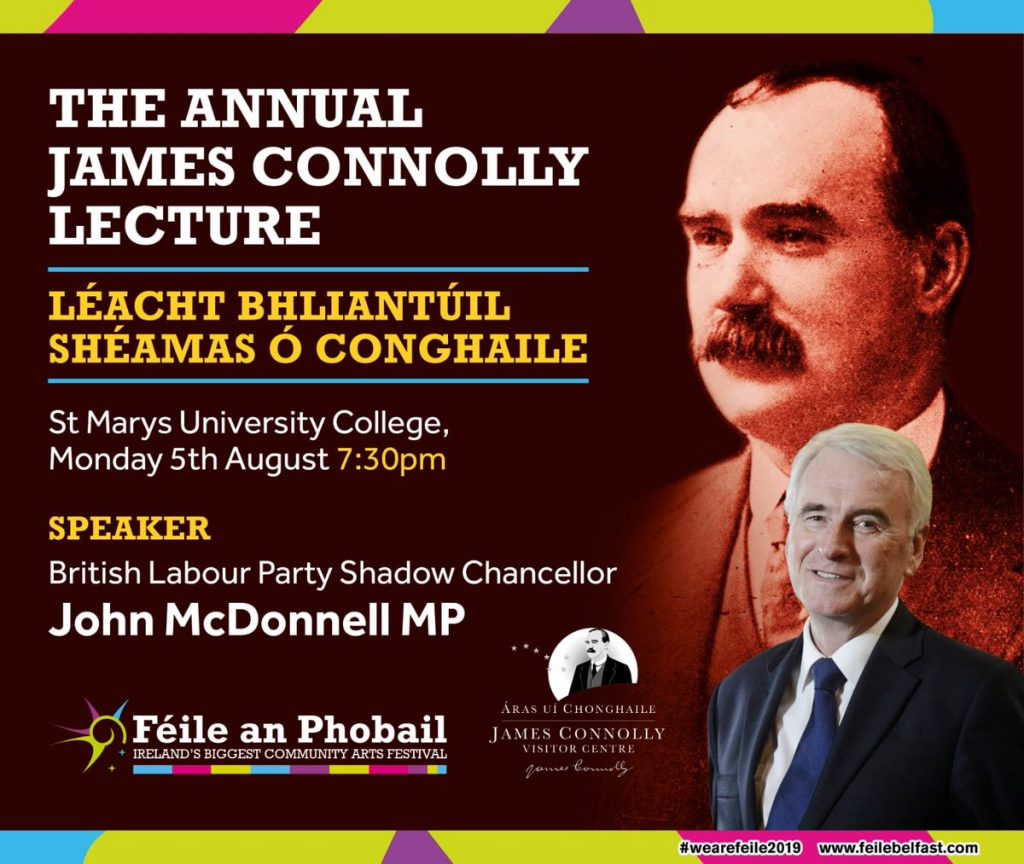 Delivering the first annual James Connolly lecture is current British Shadow Chancellor and high-profile Labour member John McDonnell.
James Connolly is one of Ireland's most revered historical figures and the lecture provided by John McDonnell will be sure to live up to his legacy, made more meaningful by the fact it will take place close to the newly-built James Connolly Centre on the Falls Road.
Address: St Mary's University Belfast, 191 Falls Rd, Belfast BT12 6FE, UK
4. Boyzone
On the back of Olly Murs' outstanding performance in Falls Park last year comes popular Irish boy band Boyzone.
One of the most successful Irish bands with six UK number 1 singles and nine Irish number one singles, Falls Park provides the perfect location to dance to classics such as 'No Matter What' or 'Love Me For A Reason'.
10 August 2019 @ 7pm
Address: Falls Park, Falls Road, Belfast BT12 6AN
Tickets: £22.50
Tickets and more info: HERE
3. Debates and Discussions Programme
Feile is renowned for its level of debate and discussion and once again boasts an impressive array of events this year. Come to one of the many talks relating to politics, the issues affecting the world today, or some of history's most significant events.
Rich in diversity, the topics range from Irish unity, challenges in education, international affairs and climate change. Events such as 'West Belfast Talks Back' or the 'Leaders' Debate' provide a chance to hear the views of the foremost local political and social figures.
2. Big Comedy Night Out
One of the highlights of the Feile calendar is the comedy night, an amalgamation of the best local talent, headlined by the sharp tongue of Jake O'Kane.
Hosted in the main hall at the west belfast bar, the Devenish Complex, let the drink flow as you take in the witty humour, political satire and the direct and honest jokes; just hope you don't become a target for one of the comedians.
2 August 2019 @ 7pm
Address: The Devenish Complex, 33-37 Finaghy Road North, Belfast BT10 0JB, United Kingdom
Tickets: £17.50
Tickets and more info: HERE
1. Michael Conlan v Diego Alberto Ruiz
A testament to Feile's growth is that the festival is playing host to hometown hero Michael Conlan's 12th professional bout in Falls Park against talented Argentinian Diego Alberto Ruiz, which will be broadcast around the world on BT Sport.
With thousands expected to attend and millions to tune in, this is a truly huge event, possibly the biggest from the Feile an Phobail 2019 lineup. The stacked card includes several local fighters, and the vociferous Belfast crowd will provide an atmosphere like no other. This is one not to miss.
3 August 2019 @ 4pm
Address: Falls Park, Falls Road, Belfast BT12 6AN
Prices vary from £33-£205
Tickets and more info: HERE
Feile an Phobail is a true community organisation which will have something for everyone.
If you are travelling Ireland this week make sure to bring yourself to Belfast and take part in any one of the many debates, discussions, films, dramas, days out and events. Be part of Ireland's largest community festival.
Get featured on Ireland Before You Die
Do you want to get your Irish business more online exposure? Especially to those interested in travelling the best places in Ireland? Then why not get a dedicated feature on Ireland Before You Die. Find out more 
here.