You have no doubt heard of Ireland's most popular attractions, such as the Cliffs of Moher, the Giant's Causeway, and the Ring of Kerry. However, we are here to tell you about some secret spots in Ireland you may not already know.
From abandoned shipwrecked to hidden castles, ancient caves to secret waterfalls, there are plenty of lesser-known attractions in Ireland that are just as worth visiting as the main tourist spots.
So, if you're looking to take the path less travelled on your next trip to Ireland, you've come to the right place as we fill you in on our top ten hidden gems in Ireland you won't believe exist.
10. Kinbane Castle, Co. Antrim – the Causeway Coast's lesser-known castle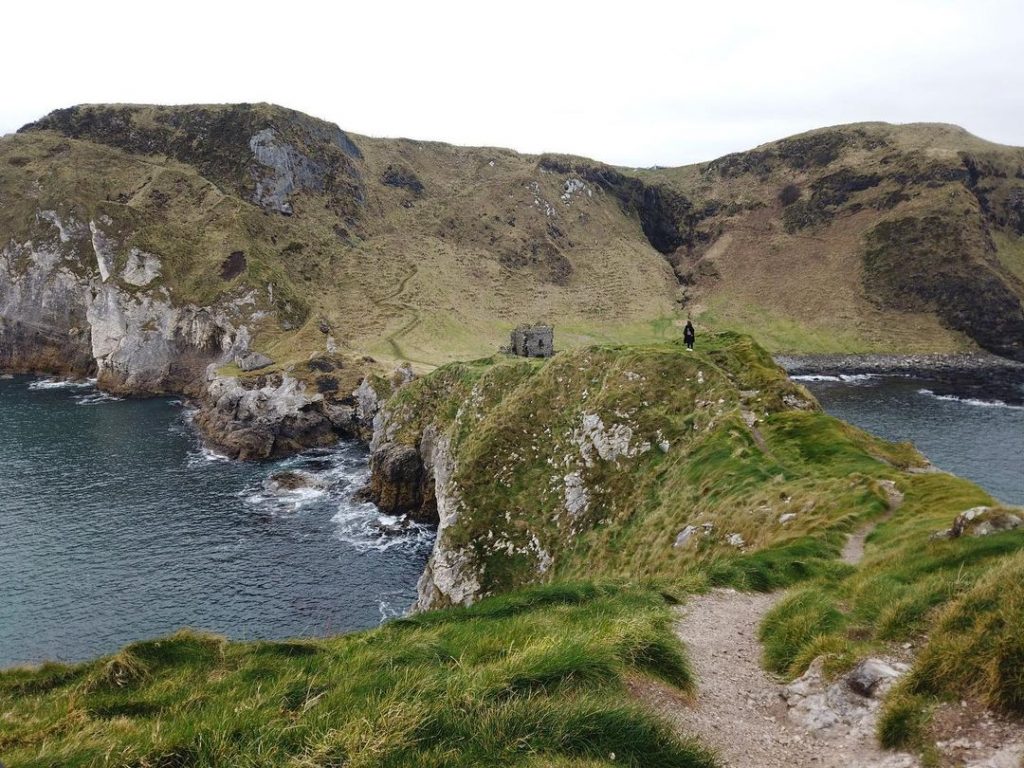 Located just a 30-minute drive from the much more widely recognised Dunluce Castle in Antrim is Kinbane Castle, an impressive castle ruin that sits atop a limestone headland jutting out into the sea.
As well as getting to see the ruin of a 16th-century castle, the views from here are truly breathtaking!
Address: 81 Whitepark Rd, Ballycastle BT54 6LP
9. The Caves of Kesh, Co. Sligo – older than the Pyramids
One of the secret spots in Ireland you need to visit is the Caves of Kesh, or Caves of Keshcorran, in Sligo, a series of sixteen limestone caves with evidence of human habitation going as far back as the Neolithic period!
The caves have featured heavily in Irish folklore, with many oral traditions associating them with the 'otherworld'.
Address: Cloonagh, Co. Sligo, Ireland
8. Derreen Woods, Co. Roscommon – for the bluebells
Derreen Woods in County Roscommon is informally known as Bluebell Woods for the colourful abundance of bluebells that call the woods their home.
A spectacular sight, Derreen Woods is the perfect place to get lost in nature and definitely one to add to the bucket list.
Address: R285, Turlagh, Co. Roscommon, Ireland
7. Classiebawn Castle, Co. Sligo – like stepping into a storybook
Classiebawn Castle is situated in the beautiful surroundings of Mullaghmore Head in County Sligo. The abundance of history and inspiring scenery here is sure to make you feel like you've stepped right into a fairytale.
Bear in mind, however, that the castle is a private residence, so you can't go inside.
Address: Mullaghmore, Knocknafaugher, Co. Sligo, Ireland
6. Largy Waterfall, Co. Donegal – the secret waterfall
Ireland is full of beautiful waterfalls, but when it's a secret one, it becomes a bit more exciting.
One of the hidden gems in Ireland you won't believe exist is the secret waterfall on the Slieve League Peninsula in Donegal that looks like something out of a fantasy film!
Address: Kill, Largy, Co. Donegal, Ireland
5. The Swiss Cottage, Co. Tipperary – a unique experience
The Swiss Cottage is an early 19th-century ornamental cottage in Kilcommon, County Tipperary.
With its thatched roof, timberwork verandas, elegantly decorated rooms, and ornate spiral staircase, this unusual cottage is truly a sight to behold and well worth a visit if you're in the area.
Address: Grange More, Cahir, Co. Tipperary, Ireland
4. Bunbeg Beach Shipwreck, Co. Donegal – a haunting discovery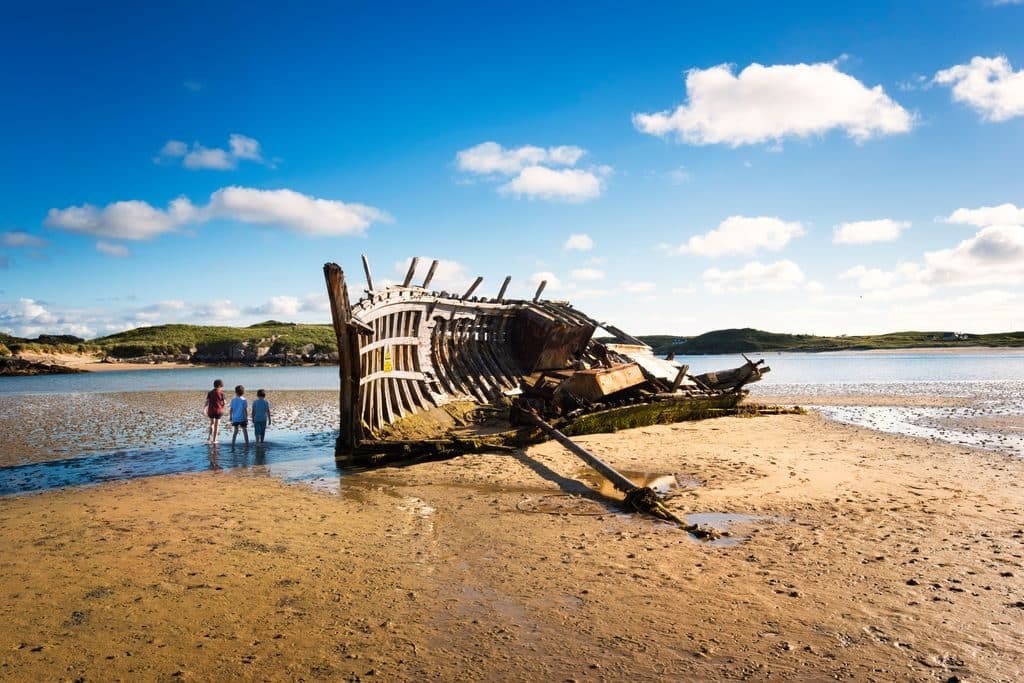 One of the secret spots in Ireland you probably haven't heard of is Bunbeg Beach Shipwreck in County Donegal.
The ship, known as Cara na Mara, was stranded on the beach in the 1970s after bad weather and has remained there ever since.
Address: Magheraclogher, Strand, Co. Donegal, Ireland
3. The Wormhole, Inishmore, Co. Galway – or the Serpent's Lair
Known by many as either the Wormhole or the Serpent's Lair, the official name of this unusual attraction is actually Poll na bPeist.
This strange natural phenomenon looks like a manmade swimming pool due to its perfectly straight edges, and it attracts many visitors who want to go for a dip.
Address: Kilmurvy, Inishmore, Co. Galway, Ireland
2. Blackhead Lighthouse, Co. Antrim – a majestic sight
One of the hidden gems in Ireland you won't believe exist is the majestic Blackhead Lighthouse in Carrickfergus, County Antrim, Northern Ireland.
This early 20th-century lighthouse sits proudly atop the cliffs above Belfast Lough and provides incredible views for miles around.
Address: 20 Blackhead Path, Whitehead, Carrickfergus BT38 9PB
1. Bull Rock, Co. Cork – the 'entrance to the Underworld'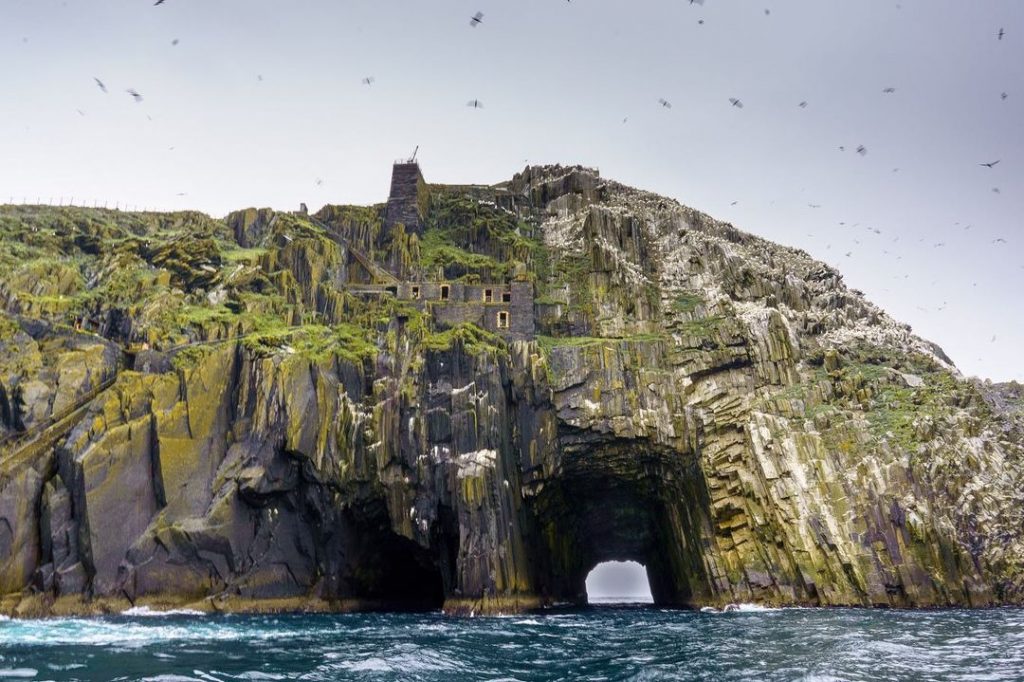 Off the western point of Dursey Island is three rocks: Cow Rock, Calf Rock, and Bull Rock. The last of which is one of the secret spots in Ireland you need to visit.
Best viewed from a boat, this mysterious rock has a natural tunnel through its centre, known as 'the entrance to the Underworld', and an abandoned house built into the side of the rock!
Address: Glandart, Co. Cork, Ireland