If you're a keen artist with Irish roots, it stands to reason that you would want to learn how to draw Celtic art. The distinctive designs of the Celts may look extremely complicated – but once you learn a few simple tricks, you'll be surprised at what you can produce.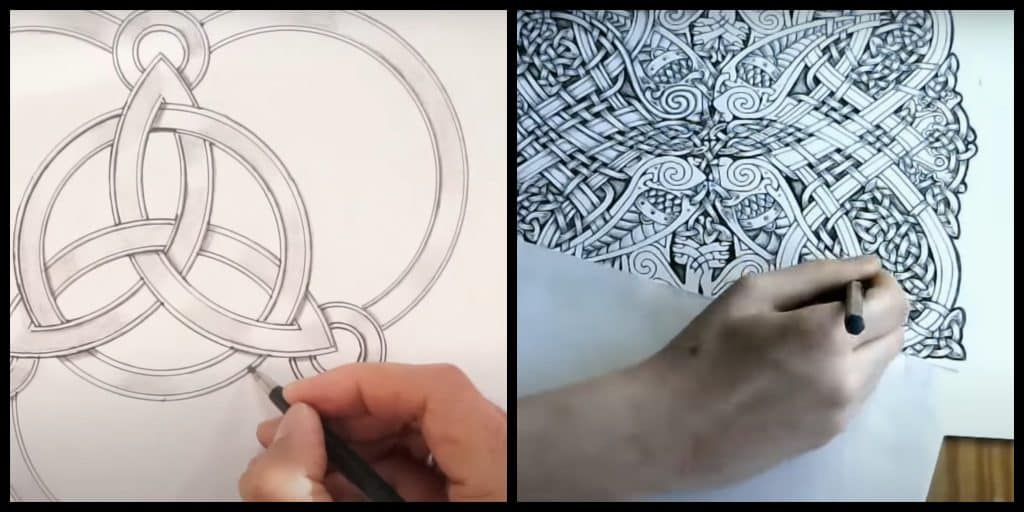 YouTube videos are brilliant ways of watching and learning drawing techniques – you can pause them as you please, and repeat whatever steps you need to. Here are ten of our favourite YouTube videos showing how to draw your very own Celtic art.
10. Celtic knot
This three-minute video will show you how to draw a Celtic knot that looks extremely impressive – trust us, even we could manage this one! The technique is basically just a very elaborate version of a game of join the dots.
In essence, it's a very satisfying feeling to see it turn into a Celtic knot right before your eyes. All you'll need is a dark marker and a pencil for shading.
9. Celtic cross
This one requires a bit more time and dedication than others, as it's a larger design – but we think it's worth it for the end result. A detailed grid eventually turns into the iconic Celtic symbol that is Celtic cross if you just take your time and follow this step-by-step video. This is the type of picture you could frame!
8. Celtic Trinity Knot
The Celtic Trinity Knot represents the Holy Trinity of the Father, Son, and the Holy Spirit. To put this piece together, you'll need a compass to get the circles looking nice and neat – as well as a bit of a steady hand. The end result is a beautiful and meaningful piece of art that you are every bit entitled to boast about!
7. Celtic border circle
This design puts a modern twist on traditional Celtic design principles, and the result is stunning. The grid technique is time-consuming but very meditative – and once you master the idea, you could incorporate it into your own border designs.
We reckon this one could make a lovely frame for a picture – perhaps of an Irish trip!
6. Celtic bird knot
This is not a beginner's design – but if you already know how to draw Celtic art, it's a fantastic challenge to set yourself. The beautiful Celtic bird knot is a nod to the animal worship history of the Celts – but we think if you manage to pull this one-off, you'll gather a few worshippers of your own!
5. Freestyle Celtic knot
This tutorial is perfect for those who don't like being restrained by grids or patterns – an opportunity for the confident artist to put their own flair on the famous Celtic knot. Choose two different colours that complement each other to really set this one off nicely.
4. Linked hearts
This design is perfect for a romantic and thoughtful gift. The best part? It's deceptively easy to draw when you use the step-by-step grid pattern this tutorial shows. All of the brownie points for minimal work? Sign us up!
3. Bigger Celtic knot
You'll need grid paper for this large and elaborate Celtic knot – and maybe some Enya music to play in the background, because you'll be sailing away in your head it's so relaxing. Once you learn the pattern principles, you can keep going as long as you want and make this knot bigger and bigger – you might end up writing your own Book of Kells!
2. Triquetra Mandala
You might think mandalas are an exclusively Eastern design, but here you can learn how to draw your own Celtic twist on the ornamental circular design. It's just as meditative! The white colouring on black paper is especially striking.
1. Complex Celtic design
This is the most ambitious project on the list – but if you're willing to commit to it, you'll produce a piece of art you can keep for years. This time-lapse video shows an artist combining all the different techniques we've looked at throughout the other drawing tutorials to create a breath-taking Celtic design.
If you do try this one, be sure to send us a photo of the finished result!
So there you have it, ten videos on how to draw Celtic art that are sure to keep you busy. Get those pencils sharpened and report back!