The heart and soul of Dublin city is home to a hoard of men's barbershops. But which to choose? Here are ten great barbers in Dublin city centre that will not disappoint.
Dublin city is a hive of activity, with endless entertainment and music venues, pubs, retail, and restaurants. And, of course, barbershops.
Choosing who to trust with your barnet with may not be the easiest feat. That's why we have done the research for you: these are ten great barbers in Dublin city centre.
10. Craft&Co Barbershop – for a friendly experience
As one client put it, they are a 'sound bunch of lads'. Swing by this chop shop and expect to chat away at ease with the staff.
And if you don't feel at home already, you may as well enjoy a beer or whiskey – it's on the house.
Address: 88, 8 Thomas St, Dublin Southside, Co. Dublin, Ireland
9. Men's Grooming Ireland – for elite products and services
Offering a gold standard grooming experience to men in the capital makes this one of the top barbers in Dublin city centre.
Expect style and sophistication at every turn when visiting Men's Grooming Ireland. If a no-frills approach is your type of thing, this will not be for you.
However, if you're looking to be pampered, look no further.
Address: 22 William St S, Dublin 2, D02 YH02, Ireland
8. Ultimate Barbers – the bang for your buck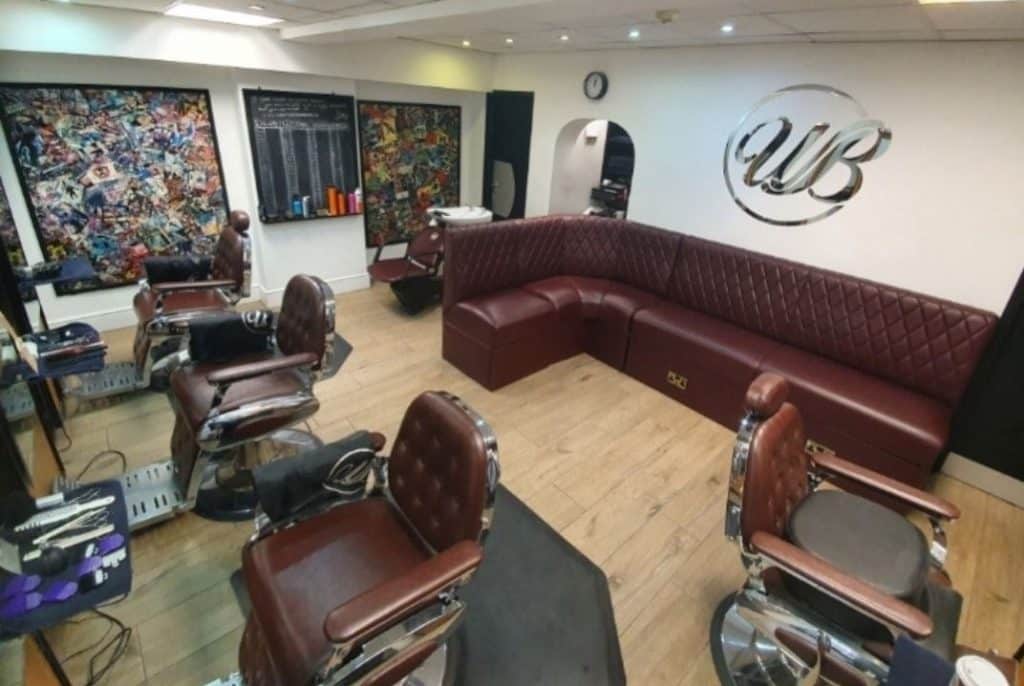 Boasting multiple Irish Barber of the Year awards, no list of top barbers in Dublin city centre would be complete without Ultimate Barbers in the GPO Arcade.
Since opening in 2011, this institution has been regarded for its high-quality cuts as well as affordable prices. A hair cut and style comes in at €25. If in need of a beard trim, it's only an extra €5.
Address: Floor -1, Unit 8 GPO Arcade, Dublin 1, D01 F6Y9, Ireland
7. Beards and Barnets – for the trend-seekers
It's all in the name at this cool Dublin barbers. Beards are its speciality, so if you're looking to tidy up your look, look no further. That being said, they are master hairstylists, too.
With a laid back atmosphere, this is also a great place to have a natter when getting some grooming done.
Address: 3, Temple Lane South, Temple Bar, Dublin, Ireland
6. The Grooming Rooms – the luxury experience
Critically-renowned by top publications in Ireland, The Grooming Rooms raises barbering to that of an art form.
Sit back and relax in stylish surroundings as clients can avail of everything from facial treatments to massages or waxing. And all for a fair price; a hair cut and style is just €35.
Address: 16 William St S, Dublin 2, D02 NY90, Ireland
5. The Best Barber – the no-frills Dublin barber
The Best Barber has two locations, one in Dublin city centre and another in Dundrum.
With a loyal stream of followers and a no-frills approach to male grooming, The Best Barber has firmly established itself as a top contender on our list.
Their key selling point? Lovely staff who love a chat!
Address: 6 Bedford Row, Temple Bar, Dublin, Ireland
4. Waldorf Barbers – for an old school experience
With a traditional approach to barbering, Waldorf Barbers are proof that you don't need to be modern to be relevant.
Boasting professional services, an old school barbershop experience, and fantastic customer service, this is one of the great barbers in Dublin city centre.
Address: 13 Westmoreland St, Temple Bar, Dublin, D02 H048, Ireland
3. Area9 Barbers – the fountain of knowledge
Indeed, Area9 offers the expected services from any given barbers. But, what makes them really stand out from the crowd is their ethos: 'you never stop learning'.
With this in mind, they offer barbering masterclasses and educational events so that they, and other individuals, can continue to grow and polish their craft.
Address: 9 Store St, Mountjoy, Dublin 1, D01 R622, Ireland
2. Sam's Barber – the original Dublin barber
Founded in 1901, Sam's Barber is truly a cornerstone on the Dublin barbershop scene.
Family-run with a personal approach, this is the sort of place that you call people by their first name – and generations of boys and men are loyal customers. A cut and style range between €30-€40.
Address: 28 Ormond Quay Lower, North City, Dublin, D01 V9K8, Ireland
1. Sugar Daddy Barbers – for classic meets cool
Sugar Daddy Barbers is conveniently located on Exchequer Street in the heart of Dublin city.
Blending both old and new, this heritage-style wood-panelled barbershop is complete with a trendy clientele. And with a cut and style by the Master Barber at just €30, it won't break the bank. Arguably, the best barbers in Dublin city centre.
Address: 2 Exchequer St, Dublin 2, D02 T660, Ireland