Food in Ireland, it's not what we've always been known for, but we have, as a matter of fact, some of the finest gourmet and artisanal suppliers around, not to mention that (being a small island) some of the freshest catches on the go. It's no suprise that Irish food festivals are becoming more popular as event organisers take advantage of the island's wonderful produce.
However, which ones are the best and when are they on? Here's our top 10!
10. West Waterford Festival of Food
Set in Dungarvan in Waterford along the coast is West Waterford Festival of Food. Launched a decade ago in 2008, this has steadily become one of the leading festivals for foodies across the Emerald Isle.
The one-day experience offers fun for all the family with a kids' programme, cooking demos, dining experiences, workshops and tastings.
When: 28-29 April 2019
Where: Dungarvan, Co. Waterford, Ireland
How Much: free and ticketed events
9. Savour Kilkenny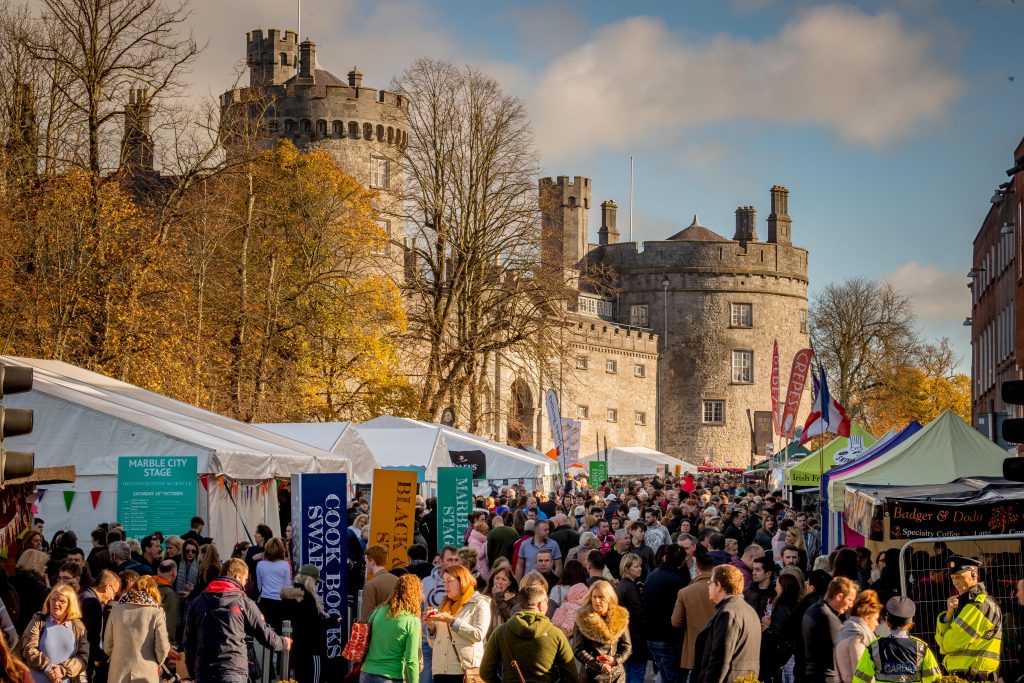 This delicious food festival in Kilkenny is scheduled for 24-28 October 2019. Expect tonnes of things to do and tasty treats along the way. Each year the festival chooses a theme (last year it had an emphasis on healthy food and wellness), and we can't wait to see what they'll pull out of the bag this year!
When: 24-28 October 2019
Where: Co. Kilkenny, Ireland
How Much: free and ticketed events
8. Dingle Food Fest
This much-anticipated Dingle Food Fest will take place throughout a weekend at the beginning of October 2019. Expect endless stalls and gourmet traders, with tonnes of activities all based around food. Set in County Kerry, this will not only be a sight for sore eyes regarding the food offering, but you'll also be in one of the most beautiful places in Ireland.
When: 4-6 October 2019
Where: Dingle, Co. Kerry, Ireland
How Much: €20.00 for a "Taste Trail" booklet allowing 9 tasting tickets
7. Galway Food Festival
In 2019, Galway Food Festival will be in its eighth year and becoming one of the most prominent foodie events on the Emerald Isle. We are awaiting full information on next year's instalment, but the usual festival consists of five days of markets and stalls, events and happenings, all of which are as delicious as the next.
When: 19-22 April 2019
Where: Co. Galway, Ireland
How Much: free and ticketed events
Find Out More
6. Connemara Mussel Festival
This quaint food festival in Connemara is all about celebrating local food, culture and community. Taking place in May 2019 (most likely over the May bank holiday, although that is yet to be confirmed), this festival consists of many days of merriment, activities, food stalls, tastings and demos.
When: May 2019
Where: Connemara, Co. Galway, Ireland
How Much: free and ticketed events
5. A Taste of West Cork
A Taste of West Cork is a yearly 10-day food festival taking place in Cork, in the southwest of Ireland. The buzz here reminds us of the amazing Madrid food market.
Focused on harnessing the unique culture of Cork and its food suppliers equally, this community festival has world-class cuisine, heaps to do for all the family and has even been awarded "Number 1 Foodie Destination" in Ireland by the Restaurant's Association of Ireland in 2017, amongst other accolades.
When: 6-15 September 2019
Where: Co. Cork, Ireland
How Much: free and ticketed events
4. A Taste of Donegal Food Festival
This food festival will return to Ireland in August 2019 and is set to be one of the best all year. With local and international celebrity chefs on hand and demos, tastings, talks and activities aplenty, you'll be spoiled for choice. There'll also be lots of entertainment which will only enhance your experience.
When: August 2019
Where: Co. Donegal, Ireland
How Much: free and ticketed events
3. Bloom
Bloom is Ireland's largest garden festival and is set in Dublin's Phoenix Park. It is also one of the best food festivals on offer throughout the year, with an endless array of food trucks and suppliers, creative chefs and artisan producers on hand to fulfil any possible craving you may have.
When: 30th May – 3rd June 2019
Where: Phoenix Park, Co. Dublin, Ireland
How Much: free (under 16s) – €28
2. Taste of Dublin
Taste of Dublin is Ireland's leading food festival held on an annual basis in the capital of Ireland. From live music and panel discussions to celebrity chef performances, this is one of the most memorable food experiences to be had all year.
When: 13th– 16th June 2019
Where: Iveagh Gardens, Co. Dublin, Ireland
How Much: tickets not yet on sale
Find Out More
1. Dublin Bay Prawn Festival – The Best Catch of Irish Food Festivals
This food festival takes place in Howth Harbour in County Dublin every year and celebrates our excellent seafood that brought in fresh off the fishing boats. This is the ultimate food festival, and although a full line-up has not yet been released, past years have included firework displays, a carnival and the most incredible seafood you could ask for!
When: not yet released (last year it was in March).
Where: Howth, Co. Dublin, Ireland
How Much: free and ticketed events