Keep your eye on this year of festivities with ten festivals in Ireland in 2022 to look forward to.
With countless festivals to look forward to this year, we have put together a list of our top ten festivals in Ireland in 2022.
Plans are still ongoing for all of the festivals, with programs and dates subject to change in accordance with government regulations. However, we remain optimistic that the Emerald Isle will see a return to hosting these fun and exciting festivals.
Here are our top ten festivals in Ireland in 2022 that you should mark on your calendars.
10. Carlow Arts Festival, Co. Carlow – the first summer arts festival in Ireland
Kickstart the summer with a multidisciplinary arts festival that brings passion and fun to the streets of Carlow.
Expect an eclectic mix of art forms, including circus, dance, street art, parade, theatre, and magic. This year's festival will include a combination of in-person, online, and hybrid events so everyone can enjoy!
More info: HERE
When: 7 to 12 June 2022
9. Limerick International Band Championship, Co. Limerick – a spectacular sight
Each year the centre of Limerick City is transformed into a sea of colourful sights and magnificent sounds.
Talented marching bands from across Ireland and the world descend on Limerick for the title of International Band Champions. This is always a great event and fun for all the family.
More info: HERE
When: 20 March 2022
8. Puck Fair, Co. Kerry – an unusual street festival
As one of the oldest street fairs in the country, the annual Puck Fair provides endless street entertainment.
Enjoy workshops, street parties, puppet shows, and more. A unique aspect of this Kerry festival is that one wild goat is crowned King Puck each year!
More info: HERE
When: 10 to 12 August 2022
7. Wild Roots, Co. Sligo – music, performing arts, and adventure festival
Taking place in the ancestral woodlands of Sligo, this four-day festival awakens the adventure in all of us.
Partake in paddle-boarding and kayaking before heading to the stages to watch mesmerising performers. Indulge your tastebuds in a range of food stalls and enjoy a belly laugh or two in the comedy tent.
More info: HERE
When: 3 to 5 June 2022
6. Rory Gallagher International Tribute Festival, Co. Donegal – a tribute festival to the world's greatest guitarist
Rory Gallagher was born in Ballyshannon, County Donegal. So, it seems only fitting that the annual tribute festival would be held here.
Rock and roll fill the streets of this picturesque town each year. Enjoy great headline acts, free open-air concerts, and, of course, guitar workshops!
More info: HERE
When: 2 to 5 June 2022
5. Lisdoonvarna Matchmaking Festival, Co. Clare – perfect for singletons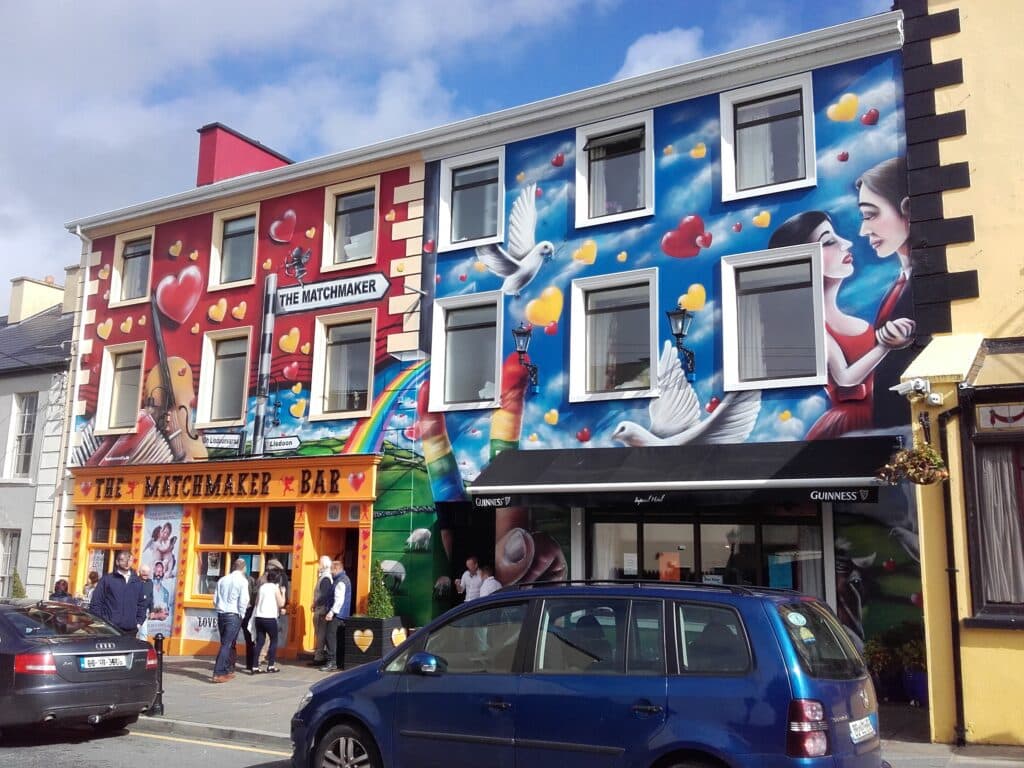 As Europe's biggest singles festival, this County Clare festival attracts people from all over the world who are looking for love.
Meet Willie Daly, Ireland's only traditional matchmaker. Enjoy one of the top festivals in Ireland in 2022 with some music and dancing in every bar from 11 am each morning.
More info: HERE
When: 2 to 30 September 2022
4. Kilkenny Arts Festival, Co. Kilkenny – a celebration of the arts
Each year some of the world's finest musicians, performers, writers, and artists head to Kilkenny to partake in the annual festival.
The many magnificent sites of Kilkenny act as stages for the many breathtaking performances. Enjoy outdoor theatre, dance, and music during this festival.
More info: HERE
When: 4 to 14 August 2022
3. Mayo Dark Sky Festival, Co. Mayo – a spectacular celebration of the earth
Home to Ireland's first international dark sky park, Mayo celebrates this fantastic achievement each year with a festival to remember.
This three-day festival involves a range of talks from experts and workshops. As well as this you can expect some fantastic walks and stargazing opportunities.
More info: HERE
When: 4 to 6 November 2022
2. Spraoi, Co. Waterford – jaw-dropping street art performances
Each year the streets of Waterford are transformed into a variety of street art and spectacle.
The medieval streets provide an atmospheric backdrop to this family-friendly festival. Enjoy contemporary performances with live music, floats and breathtaking special effects.
More info: HERE
When: 29 to 31 July 2022
1. Féile Brian Ború, Co. Clare – one of the top festivals in Ireland in 2022
The twin towns of Ballina and Killaloe pay homage to Ireland's last High King of Ireland, Brian Ború.
Enjoy watersport activities, hoverboarding displays, fireworks, music and performances at this annual celebration. This festival is fun for all the family and is a bucket list experience.
More info: HERE
When: July 2022
We have already put together a list of the best festivals in Dublin and Cork. So, be sure to check them out for even more inspiration.
Get featured on Ireland Before You Die
Do you want to get your Irish business more online exposure? Especially to those interested in travelling the best places in Ireland? Then why not get a dedicated feature on Ireland Before You Die. Find out more 
here.