A visit to Ireland will be a fairy-tale experience, but for the best experience, check out these ten fairy-tale forest lodges in Ireland.
From historic castles to mythical forests, enchanted lakes, and plenty of folklore passed down through generations, Ireland is like something right out of a fairy-tale, with there being many fairy-tale forest lodges scattered around Ireland.
If the magic of Ireland's beautiful natural landscape and captivating history isn't enough, then why not add that little bit of fairy-tale charm to your choice of accommodation?
Stay at the heart of Ireland's enchanting forests in one of these ten fairy-tale forest lodges in Ireland.
10. Cornadarragh Forest Lodges, Cavan – for a fairy-tale stay on a budget
Priced from as little as £15 per person, per night, soak up the magic of a fairy tale forest lodge on a budget at Cornadarragh Forest Lodges in Cavan.
Located in the captivating Cornadarragh Forest Park, these timber-built chalets are secluded from the outside world so you'll have plenty of privacy to enjoy your stay.
The Scandinavian-style Erne River Lodge on the banks of the River Erne offers direct access for fishing, boating, and watersports – what more could you want?
More info: HERE
Address: Cornadarragh (Pleydell), Co. Cavan, Ireland
9. Coolbawn Quay, Tipperary – for a sophisticated lakeside retreat
Located in an idyllic lough shore setting on the banks of Lough Derg in County Tipperary, surrounded by enchanting forest and lush green fields, a stay at Coolbawn Quay is the ultimate escape from reality.
The resort pays particular attention to wellness, and access to amenities is strictly for guests only, so you will leave Coolbawn Quay feeling relaxed, refreshed, and ready to get back to real life.
More info: HERE
Address: Coolbawn Quay, Lough Derg, Nenagh, Co. Tipperary, E45 KV60, Ireland
8. Ard Nahoo Eco Cabins, Leitrim – for an award-winning eco retreat
This award-winning eco retreat nestled in the hills of Leitrim is the perfect escape for those of us who care about our carbon footprint.
Located just the incredible Wild Atlantic Way, Ard Nahoo Eco Cabins are in the perfect spot to explore some of the most magical parts of Ireland.
For the ultimate tranquil experience, try out one of the yoga classes offered here then head to the detox box and hot tub.
More info: HERE
Address: Mullagh, Dromahair, Co. Leitrim, Ireland
7. Finn Lough, Enniskillen – for a unique luxury hideaway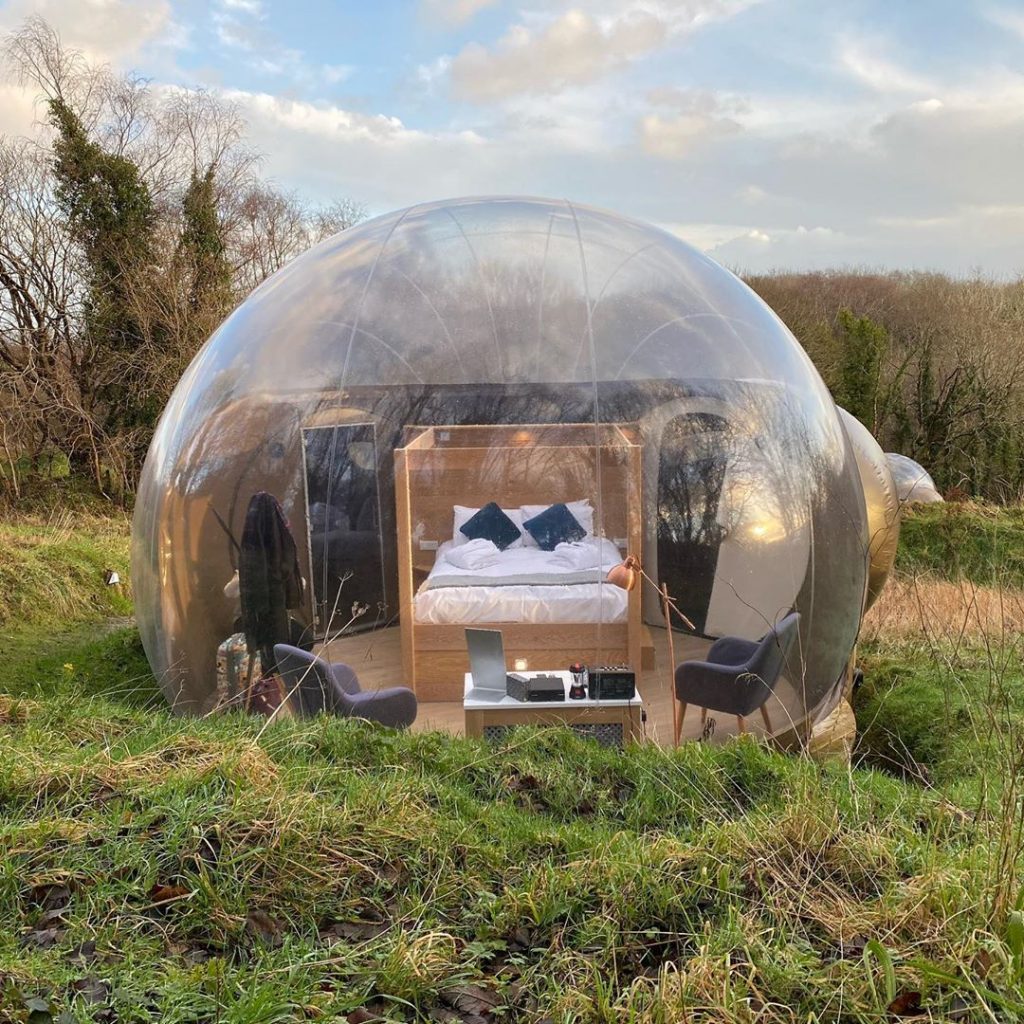 Set in the heart of the beautiful County Fermanagh in Northern Ireland, Finn Lough Resort offers a range of luxury accommodation to meet everyone's needs.
For the ultimate fairy-tale experience, stay in one of the private forest Finn Lough bubble domes, from which you can look up at the starry night sky.
The perfect spot for a romantic break away.
More info: HERE
Address: 37 Letter Road, Aghnablaney, Enniskillen BT93 2BB
6. Corbally Log Cabin, Cork – for one of the best fairy-tale forest lodges in Ireland
Corbally Log Cabin is set in the beautiful countryside of County Cork and fitted with an indoor wood-burning stove, this is the perfect place to cosy up on a stormy evening.
Safely tucked away in the enchanting gardens of a two-story stone house in Kanturk, you'll feel like you've stepped into the pages of a storybook at this cosy cabin.
More info: HERE
Address: Corbally, Ballyarra, Co. Cork, Ireland
5. Mountain Ash Cottage, Kerry – for the best of the Irish scenery
This picturesque stone cottage is located in the stunning countryside of County Kerry, so you're sure to get a real fairy-tale feel staying here.
The cottage itself is over 250 years old. It has retained its traditional style with modern interior touches, which make it the perfect spot for a stay in Kerry.
Situated just five miles from the heritage town of Kenmare, you are never too far from the action, plus you can get great views of Ireland's tallest mountain range, McGillycuddy Reeks! The highest mountain in Ireland is Carrauntoohill, which sits within the McGillycuddy Reeks.
More info: HERE
Address: Gortlahard, Green Lane, Co. Kerry, Ireland
4. Bernard's Log Cabins, Ballyconnell – for Ireland's best-kept secret
Discover hundreds of idyllic lakes, scenic mountain drives, and peaceful walks and cycle routes at Bernard's Log Cabins in Rivervalley, Ballyconnell.
These luxury log cabins are sourced from Finland so you won't find anything like this in the rest of Ireland – a stay at Bernard's Log Cabins is a truly unique experience.
More info: HERE
Address: 42, River Valley, Ballyconnell, Co. Cavan, Ireland
3. Clover Cabin, Kilkenny – for Scandinavian-style luxury
This luxurious Scandinavian-style cabin in Gowran, Co. Kilkenny, is the perfect spot for a fairy-tale stay.
Located in three-acres of beautiful woodland gardens, guests can enjoy the peace and tranquillity of an escape from the hustle and bustle of everyday life.
Just a ten-minute drive from the historic Kilkenny town, history-lovers will have plenty to explore.
More info: HERE
Address: Clover, Kilkenny, Ireland
2. Ballyhoura Forest Luxury Homes, Limerick – for a fairy-tale mountain stay
These luxury five-star holiday homes are set in the picturesque location of the beautiful Ballyhoura Mountains.
The surrounding area is a haven for lovers of outdoor pursuits. Whether you enjoy walking, hiking, cycling, golf, and more, there is always plenty to do.
More info: HERE
Address: Ballyhoura Mountains, Ballyorgan, Limerick, Ireland
1. Lusty Beg Island Resort, Lough Erne – for the ultimate fairy-tale stay
Lusty Beg Island Resort in County Fermanagh is the ultimate in fairy-tale lodges in Northern Ireland.
This unique and charming spot is the perfect place for a romantic weekend away, a trip with friends, or a break for the entire family.
Just a five-minute ferry ride to the island means it is secluded from the outside world but close enough if you want to explore the surrounding area.
Guests can enjoy the enchanting lakeside woodlands, retreat spa, activity centre, nature trail, and fairy-trail, that are all on offer at Lusty Beg Island Resort.
More info: HERE
Address: Boa Island, Kesh Co BT93 8AD
Get featured on Ireland Before You Die
Do you want to get your Irish business more online exposure? Especially to those interested in travelling the best places in Ireland? Then why not get a dedicated feature on Ireland Before You Die. Find out more 
here.