Irish wolfhounds are amazing, and there are so many fascinating facts about them. Here are our top 10 facts about the Irish wolfhound.
Want to know the top facts about the Irish wolfhound? Listen up.
The Irish wolfhound is a fascinating breed of canine in both appearance and character. A native dog of Ireland, this handsome hound is a Celtic symbol of strength and courage that has shadowed the Irish warrior throughout the ages.
Like much of our heritage, the Irish wolfhound appears in many mythical stories and traditional legends.
They often spark a sense of nostalgia to those familiar with childhood tales of Fionn MacCumhaill and Setanta, standing loyal and proud against the rugged backdrop of the rural Irish landscape.
But there is more to the Irish wolfhound than meets the eye, and if you're not familiar with the breed, you might be surprised to find out some less obvious facts. Here are the ten most interesting facts about the Irish wolfhound.
10. Irish wolfhounds are the world's tallest dog breed – they're giant!
The Great Dane is often believed to be the tallest dog in the world, but historically, the Irish wolfhound holds the title.
A male Irish wolfhound can stand as high as three feet tall on all fours, or a towering seven feet on his hind legs.
The female is slightly shorter but still presents a lanky lady. The Irish wolfhound, however, is by no means the heaviest breed, but with the potential to pack an impressive 180 pounds, they're by no means lightweight.
But, despite their impressive stretch, the Irish wolfhound's height is often his downfall, causing many underlying health problems in later years.
9. They held pride of place in ancient Ireland – as they should have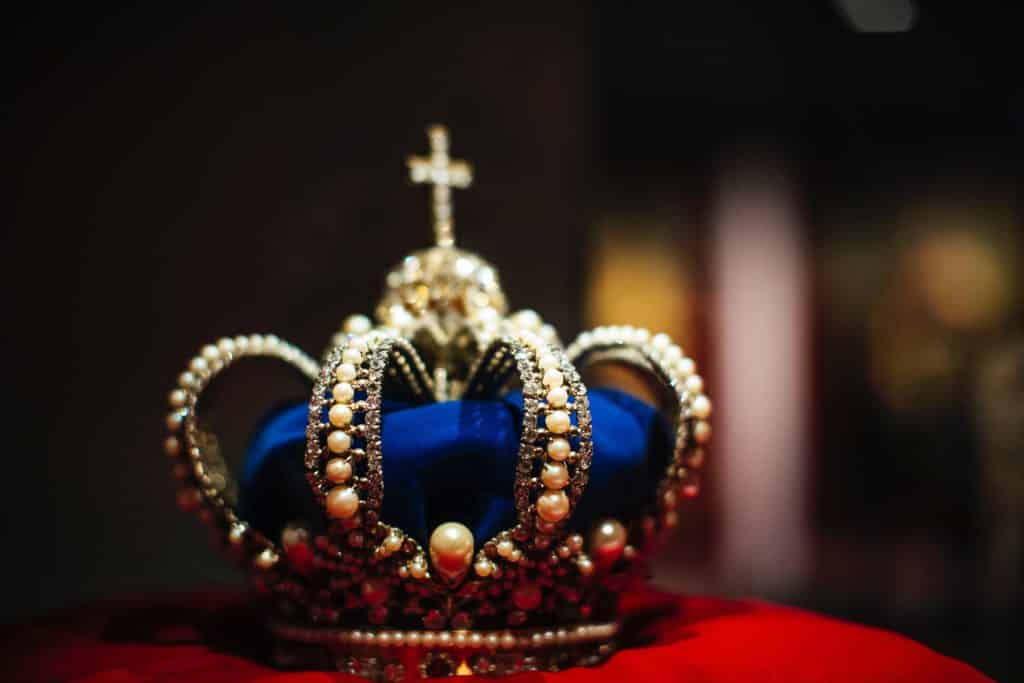 The early Irish Kings left us many clues to how life was on the Emerald Isle, their coat of arms leaving evidence that the Irish wolfhound played a key role.
"Gentle when stroked, fierce when provoked", read the inscription alongside a shamrock and harp, depicting the gentle yet brave nature of their loyal companion.
To this day, the Irish wolfhound maintains strong connections to Ireland's High Kings and can be seen in paintings and tapestries.
At the same time, their presence stands firm in Irish mythology and folklore.
8. They narrowly escaped extinction – we're thankful for that

By the 17th century 'The Great Hounds of Ireland' had become legendary for their stealth in both battle and hunting.
Demand increased, and the Irish wolfhound began to be exported out of Ireland, leading to a risk of extinction in their native land.
In response to this, a ban on the transportation of Irish wolfhounds was issued in 1652, allowing the numbers to recover.
The demand for a sighthound to hunt wolves and elk may no longer be on people's agenda, but the Irish wolfhound is still a popular breed.
They make a great family pet or companion. Just make sure you have plenty of outdoor space!
7. They don't make great watchdogs – gentle, not violent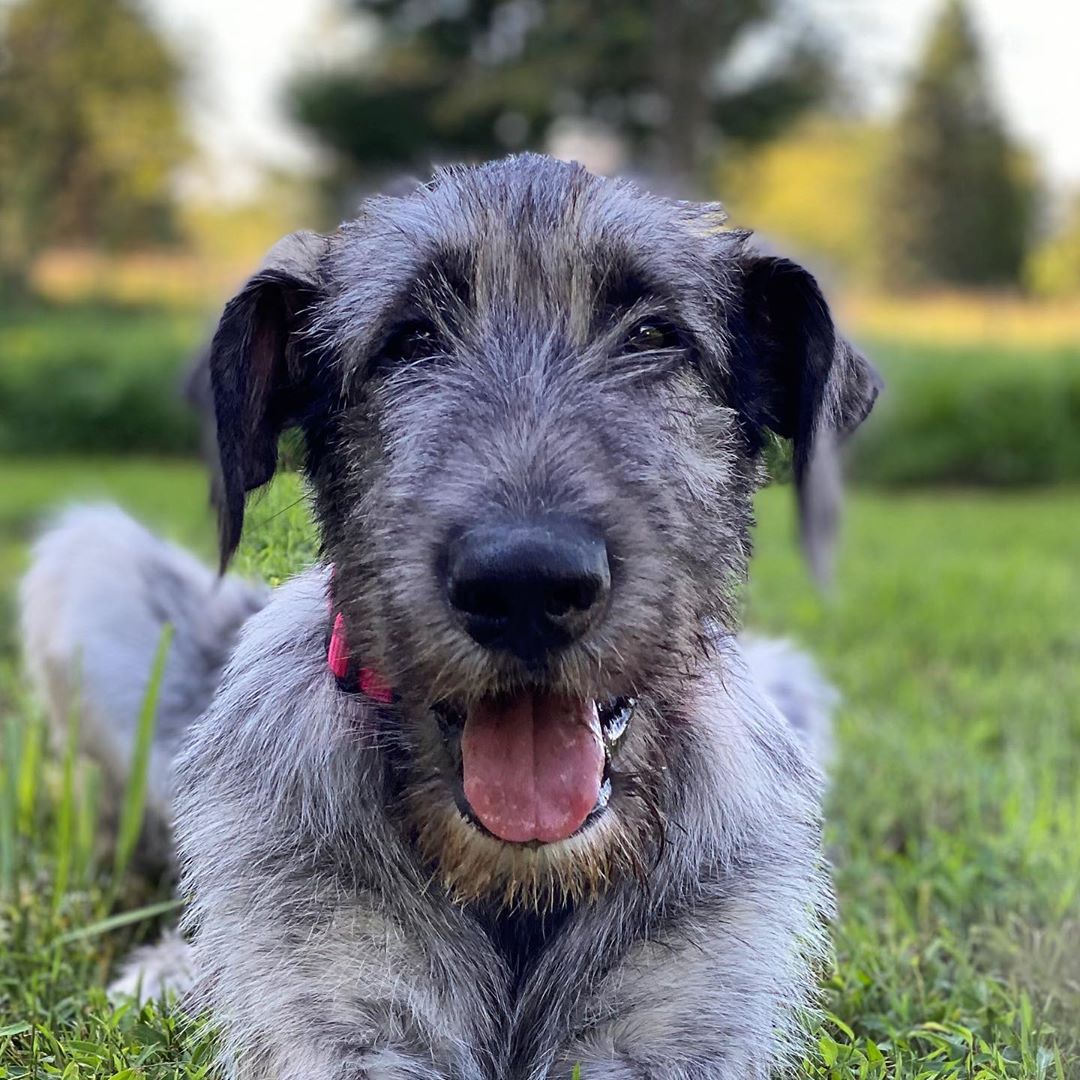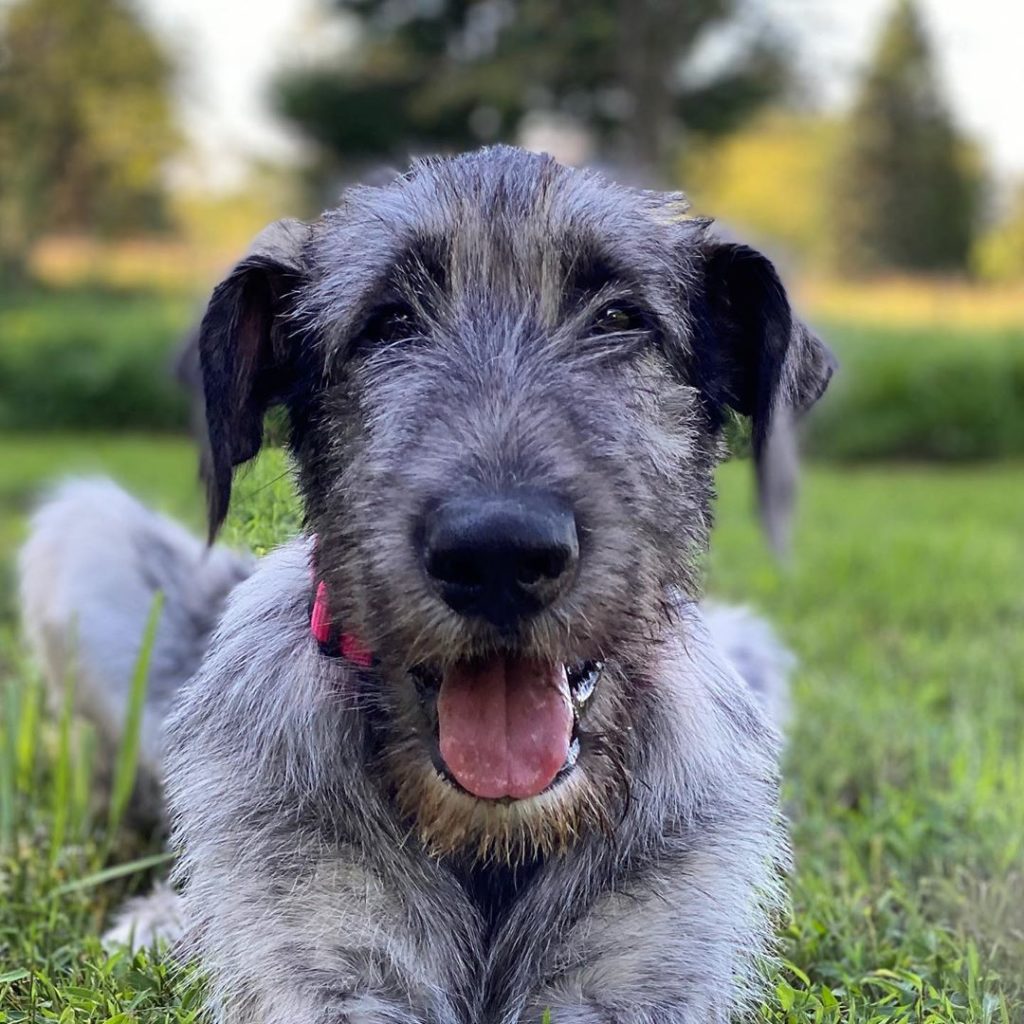 Despite their somewhat overwhelming appearance, Irish wolfhounds don't make very good security.
As long as the intruder has no issue with large animals, they are likely to make friends with your 'watchdog' within minutes.
The breed is not known to bark at strangers and can often be a 'gentle giant' with people they don't know.
They may be brave warriors but not necessarily aggressive in nature, rendering them less effective 'on watch'.
6. They have had many job roles – including man's best friend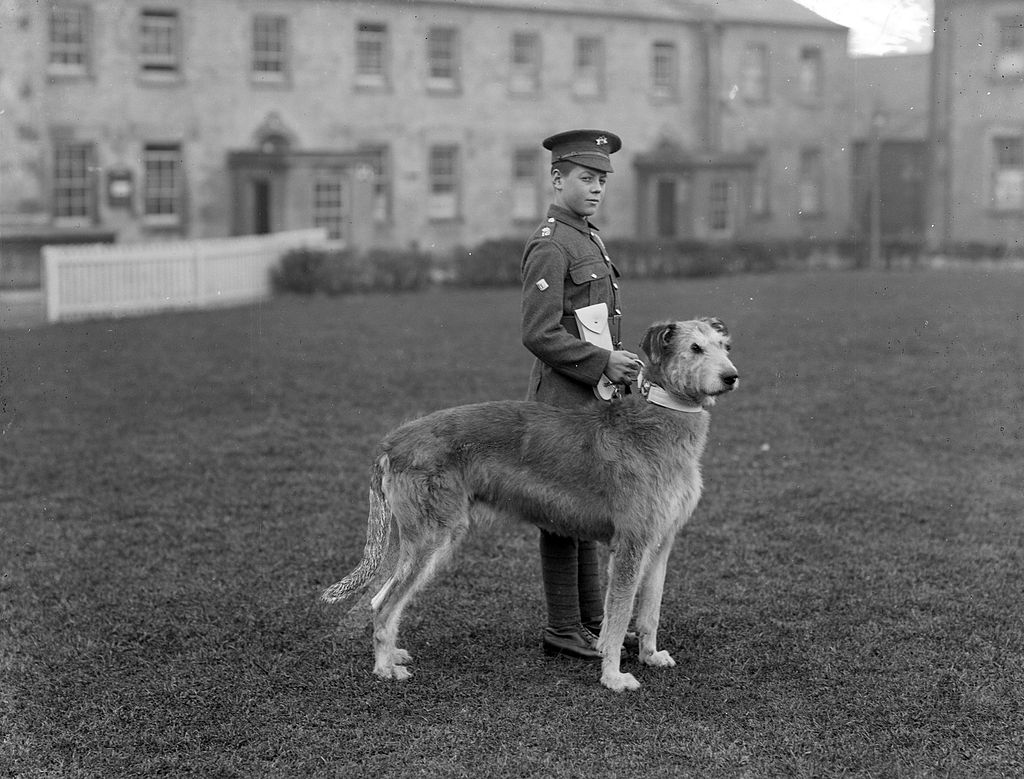 Historically the Irish wolfhound was bred to hunt wolves, Irish elk, and other large prey animals.
They were also used in battle to drag the enemy off horseback.
Ancient art often shows them as companions to their noble master, either standing tall by their side or sprawled across the stone floors of our ancient castles in front of a roaring fire.
In parts of Scotland, Irish wolfhounds were adapted to herd sheep, closely resembling the Scottish deerhound.
Today most Irish wolfhounds have the easier job of either looking fabulous for shows or entertaining the family's children.
5. The breed dates as far back as before Christ – been about since forever
It is believed that the Irish wolfhound could be found in Ireland as far back as 400 BC when stories were revealed from ancient Rome about gifts of seven 'canes scotici' to fight large prey animals like lions and bears.
Scoti is the Latin word for 'Gaels' or 'ancient Irish', suggesting the wolfhounds had already gained a reputation in Europe.
4. The Irish wolfhound is the original 'war dog' – noble and valiant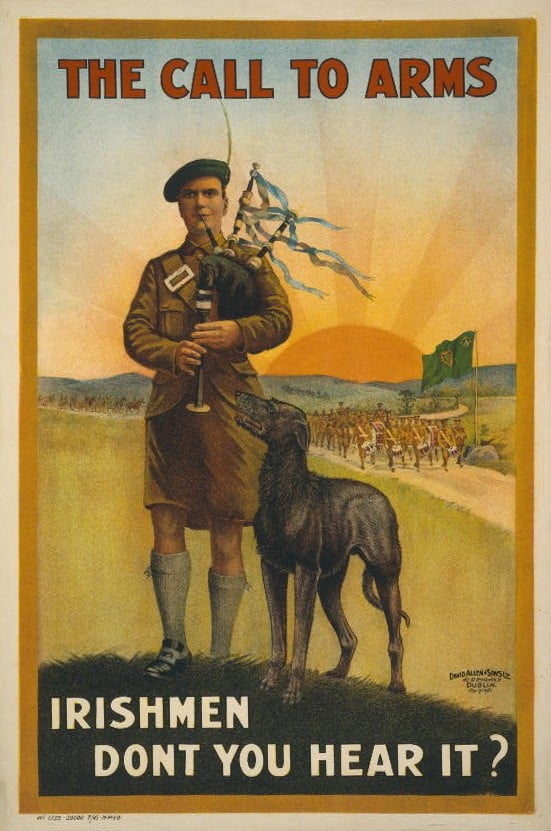 Only royalty and noblemen were permitted to keep Irish wolfhounds in ancient Ireland.
Armies of up to 300 Irish wolfhounds were kept by some of the High Kings of Ireland, and they often led their master into battle.
The energetic breed was trained to drag the enemy off horses and chariots, making him the original war hero of Ireland.
3. They are gentle giants by nature – who doesn't want to hug them?
Irish wolfhounds may appear ferocious beasts, but their temperament is quite the opposite. Often referred to as 'gentle giants', they make great family pets.
The Irish wolfhound is a super breed around children, although they may knock over little people when excited.
As with all dogs, they need regular exercise, but once an adult, a pleasant daily walk, as well as a large garden to potter in, is enough.
They are only too happy to snuggle up on the sofa with you in the evening or loll around the house on a rainy day.
2. Irish Wolfhounds are nicknamed 'the heartbreak dog' – one of the top facts about the Irish wolfhound
To own an Irish wolfhound is a truly special experience, but before embarking on the journey with your new best friend, please consider the number of health issues that can possibly hinder your new fur baby.
Gastric problems, heart disease, and tumours are just some of the life-threatening conditions that occur in giant breeds.
Their elegant height may be what attracts you to these dogs, but with it comes a life expectancy of just six to ten years, leaving a massive hole in your life long before you're ready to say goodbye.
1. Irish wolfhounds are waiting to meet you in Ireland – grab a cuddle if you can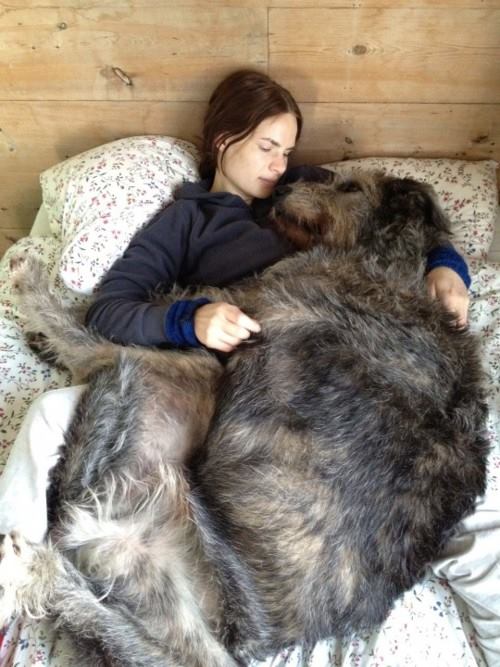 If this article has left you desperate to meet an Irish wolfhound for yourself, head for the west of Ireland.
You can meet resident wolfhounds, Garvan and Cronan, at the stunning Ashford Castle in County Mayo, or travel to County Clare to admire Meabh and Saoirse, two gorgeous dogs living in the grounds of Bunratty Castle and medieval folk village.
These gentle giants can often be found taking a stroll around the castle grounds and are more than happy to be admired and stroked.
We have no doubt you will be left with the same lasting impression this noble Irish breed has had on our heritage throughout the ages.