Happy Birthday, Evanna! The Irish actress turns 30 on 16 August. Read our fun facts about Evanna Lynch below.
Evanna Lynch literally went from zero to hero. Without ever taking a single acting class, she scored the role of Luna Lovegood in the Harry Potter movies and wowed fans around the globe.
These days, she stars both in films and on the stage, advocates for animal rights, and is involved in several charities. Test your knowledge about the Irish birthday girl in our fun facts about Evanna Lynch below.
10. Evanna competed against over 15,000 girls for the role of Luna – and won
When Evanna Lynch auditioned to play Luna Lovegood in the Harry Potter movies, she competed with more than 15,000 other girls equally eager to star in the fantasy franchise. But Evanna quickly made it clear that she was the one.
Before the casting, she even sent a letter to J.K. Rowling, saying she absolutely wanted to play Luna. The Harry Potter author encouraged her to try her luck, even though she had had zero acting experience.
9. She regularly chats with Harry Potter fans – find her on MuggleNet
MuggleNet is the most popular Harry Potter fansite, and chances are you might find yourself discussing Quidditch with Evanna herself. The actress is a regular on the site, one of the facts about Evanna Lynch only die-hard fans are aware of.
She also listens to Muggle-produced Harry Potter Podcasts and once called into PotterCast.
8. Evanna has two cats called Luna and Dumbledore – more proof she is a true Potterhead
It's an open secret that the actress loves Harry Potter, but did you know that she even named her pets after J.K. Rowling's characters?
Evanna has two cats, Luna and Dumbledore. There was also one called Crookshanks that, unfortunately, passed away.
7. She hates travelling – but accepts it's part of her job
Unlike many of her Hollywood colleagues, Evanna Lynch can't stand living out of a suitcase.
"I hate travelling," she admitted in one of her interviews. "I like to have a base. No matter how lovely hotels are, sometimes you come back, and there's no one there. I'd just like to click my fingers, and I'd be home."
6. Evanna had anorexia – Harry Potter saved her life
Evanna developed an eating disorder at just 11 years old and was hospitalised for anorexia several times.
In one of her letters to J.K. Rowling, she said that the Hogwarts series was the only thing that could "pull her attention" from the disease, one of the facts about Evanna Lynch that is equally sad and touching.
The actress even escaped the hospital for an hour to get a signed copy of Harry Potter and the Order of Phoenix.
5. She's doing a lot of charity work – and her fans love her for it
Evanna is involved in several charities, including the Multiple Sclerosis Society of Ireland and the Harry Potter Alliance, supporting issues such as same-sex marriage.
She's also an ambassador for J.K. Rowling's organisation Lumos, supporting children all over the world.
"Without families and without love, children can't be children. You have to do everything you can to keep that family unit in place," she stated.
4. Evanna was in Dancing with the Stars – she made it to the U.S. final
The Harry Potter actress participated in the American version of Dancing with the Stars in 2018 and reached the finals. The audience loved the Irish actress. However, radio host Bobby Bones won in the end.
3. She's also a jewellery designer – and Luna wore some of her pieces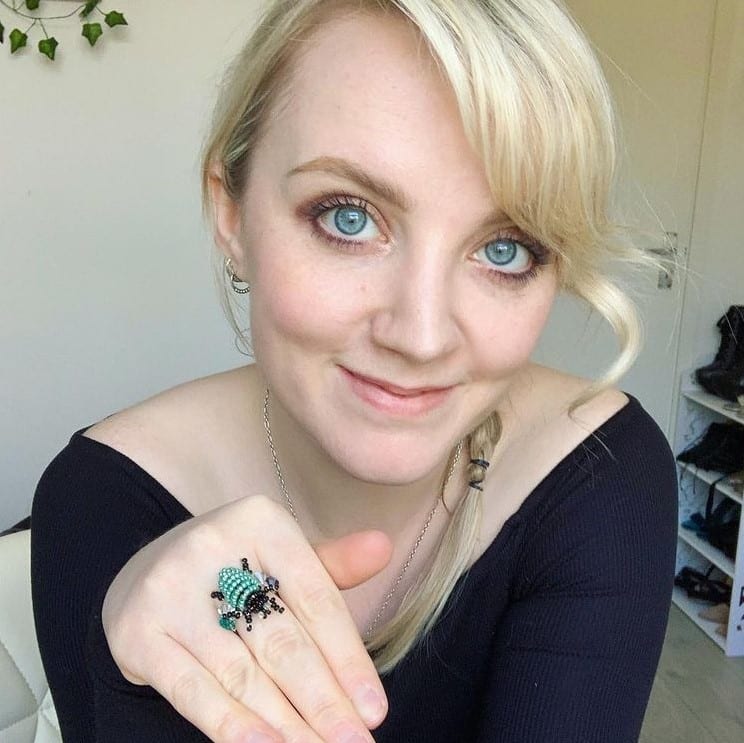 While we certainly hope that the Irish star won't give up acting for good anytime soon, it's one of the lesser-known facts about Evanna Lynch that she also has a couple of other jobs.
Evanna designs jewellery and occasionally clothing. In fact, her Harry Potter character wore a few of them throughout the films. What's more, Evanna is also a passionate dance choreographer.
2. Evanna is a proud vegan – and talks about it in her podcast
Evanna Lynch stopped eating meat and fish at the age of 11 and has since transitioned to eating fully plant-based.
"I believe animals deserve equal respect as humans, that their lives are their own, and our only role in their lives should be as caretakers and companions, where they need it," she said in an interview.
In her popular podcast, The ChickPeeps, she talks about everything vegan and shares her tips and tricks.
1. She calls London home – but her heart remains in Ireland
The Irish actress lived in Los Angeles for five years to work on her acting career. However, she has since returned to Europe to be closer to her family and friends and has made London her new home.
With Ireland less than an hour away, you are equally likely to meet her in London and Dublin. If you do bump into her, let us know how it went!