On 16 June every year, people across Dublin come together to celebrate Bloomsday Festival: commemoration and celebration of the life of prolific Irish writer James Joyce.
To mark this year's Bloomsday Festival and help you get in the spirit, we have compiled a list of the top ten Dublin locations from James Joyce's Ulysses.
Bloomsday Festival is celebrated in Dublin on 16 June annually. It marks the date on which Joyce's 1922 book, Ulysses, was set in 1904. Plus, it is also the date of his first outing with his wife-to-be, Nora Barnacle.
Bloomsday Festival has grown to become a celebration of not just Joyce and his work but a celebration of Dublin City. With an array of performances and events throughout the day, the festival, named after Ulysses protagonist Leopold Bloom, is a must-visit.
10. O'Connell Bridge – stop to feed the seagulls
First up on our list of iconic Dublin locations from James Joyce's Ulysses is the historic O'Connell Bridge.
Here, Leopold Bloom stops to feed the seagulls some Banbury cakes. Even if you haven't read Ulysses, O'Connell Bridge is a must-visit while in Dublin.
Address: Dublin, Ireland
9. Barney Kiernan's, Little Britain Street – meet the Citizen
Now recognisable from its blue painted facade, Barry Kiernan's Pub on Little Britain Street is the scene of the Cyclops episode.
This is when we meet the Citizen character, based on the real-life Michael Cusack, founder of the Gaelic Athletic Association (GAA).
Address: 8 Little Britain St, Smithfield, Dublin 7, D07 NY18, Ireland
8. Ormond Hotel, Dublin – "a youth entered a lonely Ormond Hall"
Located on Ormond Quay on the River Liffey, the Ormond Hotel is not to be missed on your Ulysses tour of Dublin. In the Sirens episode, Leopold Bloom stays in the hotel and even has an afternoon sing-song.
Although it has been completely remodelled since 1904, the hotel displays a plaque commemorating the spot and a Sirens Lounge.
The hotel is currently under reconstruction, so you will not be able to go inside.
Address: 8 Ormond Quay Upper, North City, Dublin, Ireland
7. Davy Byrne's – for a Bloom-style lunch
Fancy trying Leopold Bloom's lunch order of a gorgonzola sandwich and a glass of Burgundy wine? Then you have to make a stop off at Davy Byrne's Pub on Duke Street.
Serving the people of Dublin and beyond since 1798, this spot offers a fantastic menu of delicious food and drinks.
Address: 21 Duke St, Dublin, D02 K380, Ireland
6. National Library of Ireland, Dublin – an iconic Dublin building
The iconic and beautiful National Library of Ireland features heavily in the Scylla and Charybdis scene in the novel.
Designed by Thomas Newenhan Dean in 1877, this iconic building is a must-visit for all things Irish related, from books to manuscripts, photographs, and more.
Address: 7-8 Kildare St, Dublin 2, D02 P638, Ireland
5. Sweny's Chemist – join a Joyce reading group
Sweny's Chemist in Dublin 2 is one of the most iconic Dublin locations from James Joyce's Ulysses.
Today, the pharmacy is home to various reading groups and Joyce-themed events. You can even pick up your very own bar of the lemon-scented soap that Leopold Bloom buys for his wife, Molly.
Address: 1 Lincoln Pl, Dublin 2, D02 VP65, Ireland
4. Glasnevin Cemetery – Ireland's largest non-denominational cemetery
Ireland's largest non-denominational cemetery Glasnevin Cemetery features during the novel's Hades scene.
Several characters, including Paddy Dignam and Michael Cusack, find their final resting place here. As too do members of Joyce's own family, such as his father, John Stanislaus Joyce.
Address: Finglas Rd, Glasnevin, Dublin, D11 XA32, Ireland
3. Sandymount Strand – "Am I walking to eternity along Sandymount Strand?"
Sandymount Strand features several times in the novel. First, during Stephen Deladus' morning walk, and later during one of the book's most controversial scenes when Leopold Bloom watches the firework display with Gertie McDowell.
Address: 83 Strand Rd, Dublin 4, Ireland
2. Summerfield Lodge, Dalkey – going back to school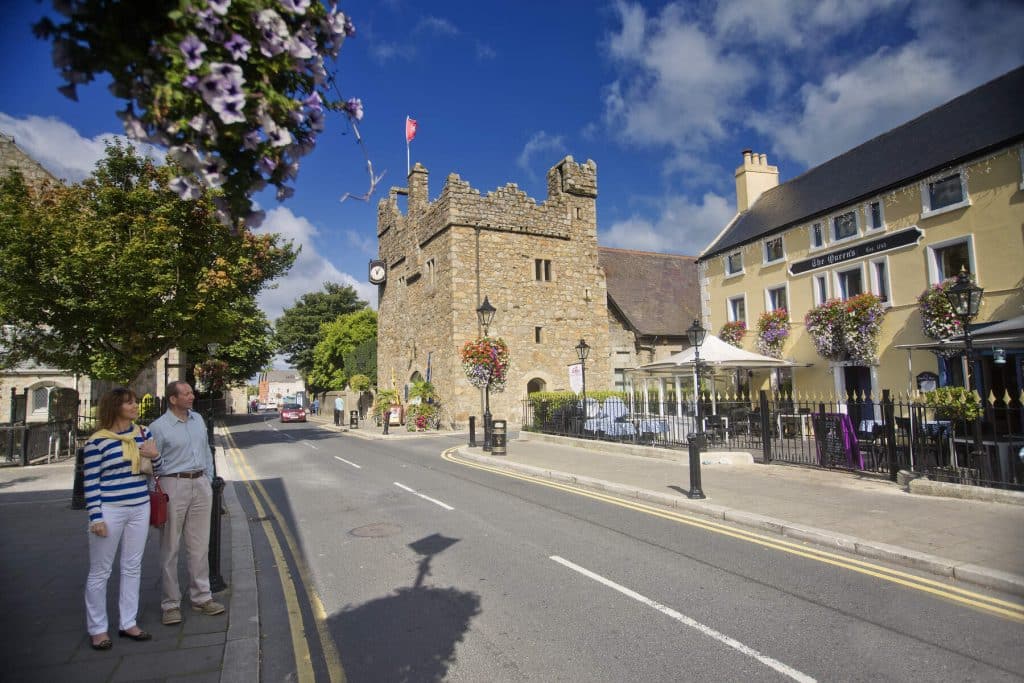 Located in one of Dublin's seaside suburbs, Summerfield Lodge is Dalkey is the school at which Stephen Deladus teaches in the novel.
In Ulysses, the school is named Mr Deasy's school for boys. Plus, Joyce himself even taught history here for one term!
Address: Summerfield House, Dalkey Ave, Dalkey, Co. Dublin, Ireland
1. Martello Tower, Sandy Cove – now a fascinating museum
Topping our list of Dublin locations from James Joyce's Ulysses is the Martello Tower in Sandy Cove.
The novel begins here at 8 am on 16 June 1904, when Buck Mulligan calls his friend Stephen Dedalus to join him in the morning air.
The Martello Tower is now home to The James Joyce Tower and Museum, which showcases Joyce's possessions and memorabilia associated with the novel.
Artist John Ryan, who is responsible for the first-ever Bloomsday Festival in 1954, created the museum and restored many of the tower's rooms to how they would have looked in 1904.
Address: Seapoint, Dublin, Ireland