Looking for some indoor culinary fun? We've rounded up the 10 best cookery schools in Ireland.
Although Ireland may not be immediately associated with fine cuisine, it does have its merits. Organic produce and a history of farming ensure some of the finest produce to be grown on home soil. And with that in mind, some incredible cookery schools exist on the island.
Whether you're looking to bone up on the basics or learn how to impress with a Moroccan feast—if you're keen to woo a loved one or meet some new people—there are cookery school classes for everyone.
Feeling peckish? Here are the top 10 cookery schools in Ireland today.
10. East Coast Cookery School
East Coast Cookery School is a homely spot located in County Louth. The cookery school is run by Cordon Blue-trained Chef, Tara Walker (author of Good Food, No Stress).
Simple and straightforward, this cookery school, not far from Dublin, offers classes to children and adults. A great element to Walker's classes is that they are catered for the client, ensuring students get the most out of East Coast Cookery School.
Address: Cartown Road, Primatepark, Termonfeckin, Co. Louth
9. Cooks Academy Cookery School
A husband and wife team have been running the Cooks Academy Cookery School in for 15 years and work hard to offer the widest range of cooking classes for amateur enthusiasts in the country.
Their classes are friendly and fun and open to all!
Address: 19 William Street South, Dublin 2, D02 KV76, Ireland
8. Belfast Cookery School
Located in the capital of Northern Ireland, Belfast Cookery School is the ideal spot for those looking to enjoy a city adventure while getting your hands dirty and learning your way around a kitchen!
A broad programme of cookery-inspired events like "Oscar Night: A Tribute to Food on Screen," as well as classic cooking classes such as "Mexican Streetfood" or "Indian Banquet" will keep your appetite whet.
Address: 53-54 Castle St, Belfast, BT1 1GH, Co. Antrim
7. Aniar Boutique Cookery School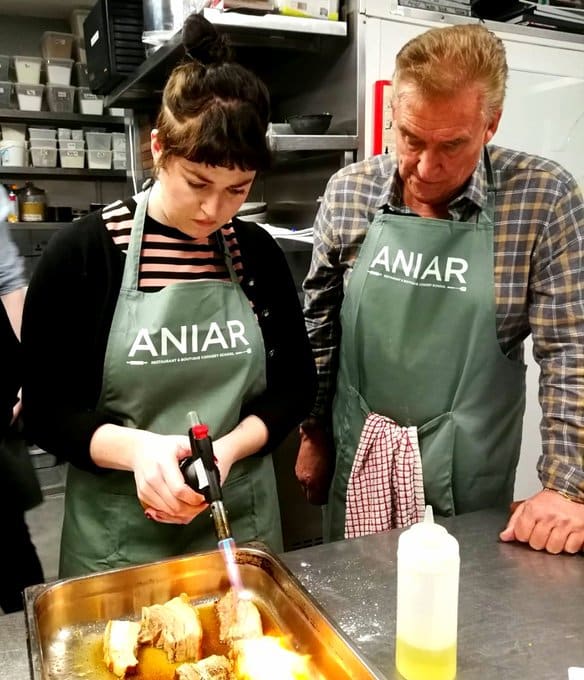 Located in Galway, this boutique cookery school is headed by the renowned chef JP McMahon.
The school offers intensive six-week courses that are bound to be bountiful. Day courses also offer insight to "Planning A Dinner Party," "Tapas at Home," or "The Perfect Fish," accommodating students who are looking to finesse certain skills.
Address: 53 Lower Dominick Street, Galway
6. Howth Castle Cookery School
Set in the enchanting setting of an Irish castle, Howth Castle Cookery is hands down one of the best cookery schools in Ireland.
Whether you're after some one-on-one training, a private party, or corporate team-building event, a day here is sure to feel like a holiday.
Address: Howth Castle, Deer Park, Howth Demesne, Howth, Co. Dublin
5. Ballyknocken House & Cookery School
This charming cookery school is set on the grounds of an old, 280-acre farm in County Wicklow. Celebrity chef and award-winning writer, Catherine Fulvio, spearheads the school.
The property offers four-star farmhouse accommodation to its students also, making this the perfect cookery school getaway.
Address: Glenealy, Ashford, Co. Wicklow
4. Firehouse Bakery & Bread School
Firehouse Bakery & Bread School is located on a remote island just off County Cork, making this the ideal cookery escape on your own or with a loved one.
This award-winning bread school is the ultimate place for those who want to perfect a loaf. Classes include learning how to make loaves, savoury and sweet treats.
Address: Heir Island, Co. Cork
3. Dingle Cookery School
Set in the charming setting of Dingle town in the Ring of Kerry is Dingle Cookery School.
This small seaside cookery school offers everything from "Traditional Irish Cooking" to nailing the "Perfect Sunday Roast."
They even offer an epic "Catch & Cook" experience, which grants students a unique opportunity to hop aboard an Atlantic Ocean fishing boat, snag their supper, and cook it too!
Address: The Wood, The-Wood, Dingle, Co. Kerry
2. Cloughjordan House Cookery School
Located in County Tipperary, Cloughjordan House Cookery School is one of the most wondrous cookery school experiences to be had in all of Ireland.
The stunning stately home and grounds that house this cookery school is just the tip of the iceberg, as in-house grown ingredients and Ballymaloe-trained chef Sarah Baker offer fantastic culinary experiences.
Accommodation can also be provided for cookery school students.
Address: Step Road, Cloghjordanpark, Cloughjordan, Co. Tipperary, E53 VX97
1. Ballymaloe Cookery School
Darina Allen's Ballymaloe Cookery School is without a doubt one of the most popular and widely-regarded cookery schools in Ireland.
A 12-week certificate course is a favourite for aspiring chefs, while more laid-back one-day affairs are available too.
Interesting courses like fermentation food courses and sustainable cooking all support the ethos of Ballymaloe Cookery School, which sits on a 100-acre organic farm.
Address: Shanagarry, Co. Cork