Wild swimming has seen a spark in popularity in recent years, with many wild sea swimming groups and daring lone swimmers taking the dip in Northern Ireland.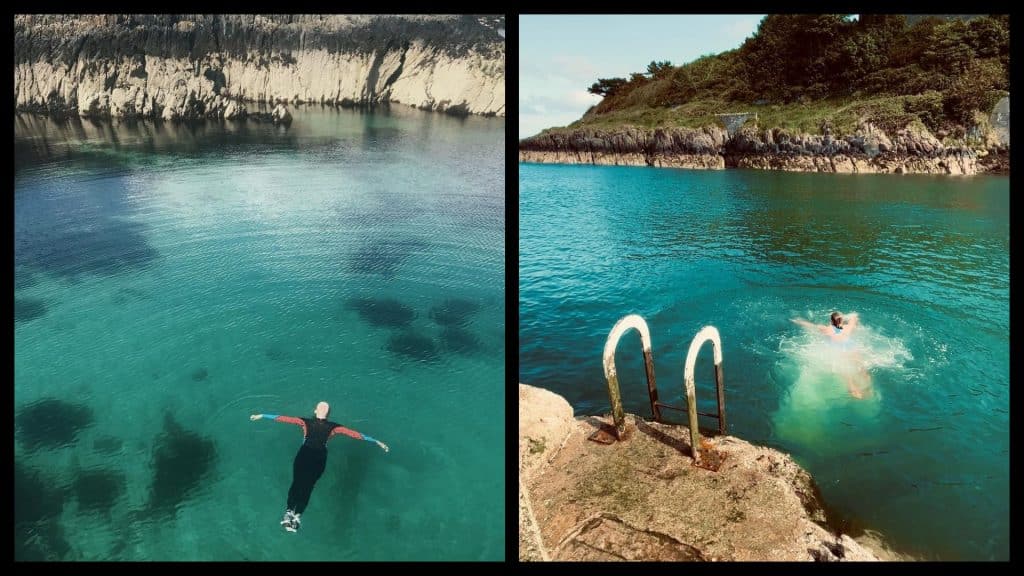 Wild sea swimming offers a unique perspective to explore Northern Ireland's aquatic wonders via stunning coastal points, chilly lakesides, and rolling jetty edges.
However, as wild swimming can be dangerous, you must do your own research before diving in.
It's also a good idea to swim with a group if you're a beginner, to tell someone before you go, or to ensure that the area has a coastguard or lifeguard nearby.
Be sure to look at the local guidelines and rules before swimming in an area. Likewise, check the weather to ensure it's safe to swim and be prepared for the chill of the Northern Irish waters.
If you've got your towel and goggles ready to go, take the plunge with the ten best wild sea swimming spots in Northern Ireland, ranked.
10. Kilclief Beach, Co. Down – stunning views as far as the Isle of Man
Alongside Kilclief Castle is the welcoming stretch of dazzling waters on Kilclief beach.
The beach is situated along the Strangford Lough, treating wild swimmers to the incredible views of the Isle of Man on the horizon and the nearby Angus Rock lighthouse.
Address: 106 A2, Downpatrick BT30 7NR, United Kingdom
9. Brompton Beach/Jenny Watts Cove, Co. Down – find your 'shoal' alongside a local swimming group
Less than 2 km (1 mile) from Bangor town lies the tranquil waters of Brompton Beach, also known as Jenny Watts cove.
If you're in Bangor and looking to take a dip alongside other enthusiastic wild swimmers, think about joining the Brompton Belles&Beaux swimming group.
Address: Bangor BT20 3LE, United Kingdom
8. Gortin Glen Lakes, Co. Fermanagh – swim along an Area of Outstanding Natural Beauty
The Sperrin Mountains have been hailed as an Area of Outstanding Natural Beauty, and nestled amongst them are the Gortin Glen Lakes.
The Sperrins will offer you a kaleidoscopic backdrop of wildflowers and impressive peaks.
Address: Boorin, Gortin, United Kingdom
7. Oxford Island, Co. Armagh – Lough Neagh's soothing waters marry with the island's natural charm
The National Nature Reserve of Oxford Island is a fantastic stop for wild swimmers looking for access into Lough Neagh.
The island holds staggering natural beauty, making it one of the best wild sea swimming spots in Northern Ireland to take a dip.
Address: Oxford Island National Nature Reserve, Craigavon BT66 6NJ, United Kingdom
6. Murlough Bay, Co. Antrim – an area with timeless beauty
Murlough Bay is a beautiful natural wonder offering a breathtaking coastal landscape.
Part of Murlough Bay's allure is the effort that locals have made to preserve the area. The stunning clear waters make this a wonderful spot that is perfect for swimming.
Address: Murlough Bay, United Kingdom
5. Muckross Bay, Co. Fermanagh – a must for locals looking for a wild swimming spot in Co. Fermanagh
Muckross Bay is one of the few areas around County Fermanagh where wild swimmers can come together. Those who gather, however, will not be disappointed by its glistening waters in the quiet, tranquil area.
Being the best spot in the area for swimming, its waters are no stranger to wild swimmers.
The Muckross Lake Swim is regularly held here, and a swimming safety course arranged by the local council took place here just last month.
Address: Muckross, Kesh, Enniskilledn, BT93 1TZ, UK
4. Orlock Point, Co. Down – a private haven with glassy waters
The flourishing wildlife and natural beauty make Orlock Point a favourite for many wild swimmers. This is just one of many reasons why it is one of the best wild sea swimming spots in Northern Ireland.
This area offers a sheltered and stunning spot for wild swimmers to relish in the natural sights of Donaghadee.
Address: Unnamed Road, Bangor BT19 6YU, United Kingdom
3. Ballygally Beach, Co. Antrim – for fishing out a medal during your wild swim
Situated on the Causeway Coast, the picturesque award-winning Ballygally Beach would attract any onlooker. The stunning cliffs and regular dolphin sightings prove Ballygally Beach to be popular with beachgoers and wild swimmers.
For those looking for a challenge, Ballygally Beach holds the annual Ballygally Beach Swim, hosted by the Global Swim Series.
Address: 262 Coast Rd, Ballygalley, Larne BT40 2QX, United Kingdom
2. Lough Shannagh, Co. Down – one of the best wild sea swimming spots in Northern Ireland
As if the Mourne Mountains didn't have enough to offer walkers, it is also an incredible find for wild swimmers.
You cannot compare the striking views of Slieve Doan and Slieve Loughshannagh to when you are enveloped by the refreshing waters of Lough Shannagh.
Address: Newry BT34 4SU, UK
1. Ballintoy Harbour, Co. Antrim – a spot like no other for wild swimming
The picturesque Ballintoy Harbour is a treat for any wild swimmer. The area is stunning and well kept, making it no doubt one of the best wild sea swimming spots in Northern Ireland.
The harbour is hugged by towering cliffs of chalky white, encasing visitors in a private world of golden sands and soothing waters. This is an idyllic backdrop for your wild swim.
Address: Ballycastle BT54 6NB, UK
If you're taking to the waters, you can find more information on the gear you will need here.