Rugged mountains, coastal walks, and lakeside strolls … Clare has it all when it comes to walking routes.
County Clare is renowned across the world for rugged beauty, impressive sites like the Cliffs of Moher, and a matchmaking festival. However, this magnificent county is also home to countless walking and hiking routes.
The Wild Atlantic Way is situated to the west of the county, and the spectacular Lough Derg is nestled on the eastern county border. This variety in landscape means that the best walks in Clare are across different stunning terrains.
Here are our top 10 best walks in Clare, ranked!
10. Dromore Wood Loop — a nature reserve
Nestled in approximately 400 hectares of nature reserves, the Dromore Wood Loop is renowned for its diversity of flora and fauna.
The loop is about 6.4 km (4 miles) in length and passes by magnificent sites. Keep your eyes peeled for a 17th-century castle and two breathtaking lakes as you embark on this two-hour-long hike.
Address: Killian, Ruan, Co. Clare
9. Black Head Loop — a challenging hike
For those in search of a challenge, this 26 km (16 miles) hike is the perfect adventure in Clare for you.
Starting at the picturesque Fanore Beach, the route takes in the karst Burren landscape, rugged coastline, and mountain routes. From the shoreline, you will be treated to impressive views of the Aran Islands and Galway Bay.
Address: Fanore More, Co. Clare
8. Kilkee Cliff Walk — a mesmerising trail
Be treated to jaw-dropping views of the Atlantic Ocean and cliffs on this 8 km (5 miles) hike. Unlike the walks closer to the Cliffs of Moher, this route along the coastline is not protected by walls or fences, so be careful!
If the tide is out, you see the infamous Pollock Holes, which is an excellent spot for some wild sea swimming.
Address: W End, Kilkee Upper, Kilkee, Co. Clare, V15 YT10
7. Bohatch Dolmen — a heritage walk
Situated in East Clare, the walk from Mountshannon Harbour to Bohatch Dolmen is one of the best walks in Clare. This 12 km (7.5 miles) looped walk takes you along quiet country roads and offers spectacular views of the surrounding countryside.
The Bohatch portal dolmen is said to be the burial place of local chieftains over 3,000 years ago.
Address: Lough Derg, Co. Clare
6. Lough Avalla Farm Loop — an enchanting loop
Often overlooked, the wonderful Lough Avalla Farm Loop has something for everyone. Experience the magic of the Burren National Park as you wind your way through this picturesque woodland.
With wildlife galore, incredible vistas and a well rumoured to cure diabetes, this truly is an enchanting place. It's no wonder that somewhere which holds such magic is favoured as one of the best walks in Clare.
Address: Poulnalour, Killinaboy, Co. Clare
5. Parteen Weir Loop — a short but picturesque stroll
Located in the riverside village of O'Briensbridge, this 5 km (3 miles) trail is a great place for an afternoon stroll. The short climb up the embankment is worth it when you get to see the River Shannon in all her glory.
Enjoy views of the historical Parteen Weir hydroelectric dam before walking back along the stunning Headrace Canal.
Address: O'Briensbridge, Co. Clare
4. 12 O'Clock Hills — for magical views
One of Clare's greatest hidden gems has to be the 12 O'Clock Hills. This community initiative looks after and maintains these three East Clare trails.
With routes of varying length and difficulty, and a fairyland trail, there is something for hikers of all ages and abilities here.
Address: Unnamed Road, Co. Clare
3. Dysert O'Dea — an archaeology trail
For those with an interest in history, then the Dysert O'Dea Heritage Walking Trail is an absolute must do in County Clare.
This 5 km (3 miles) trail takes in 25 historic sites spanning 850 years. Some of the historic monuments on this trail include castles, forts, lodges and banquet halls.
Address: Dysert, Corofin, Co. Clare
2. Cliffs of Moher Cliff Walk — a bucketlist experience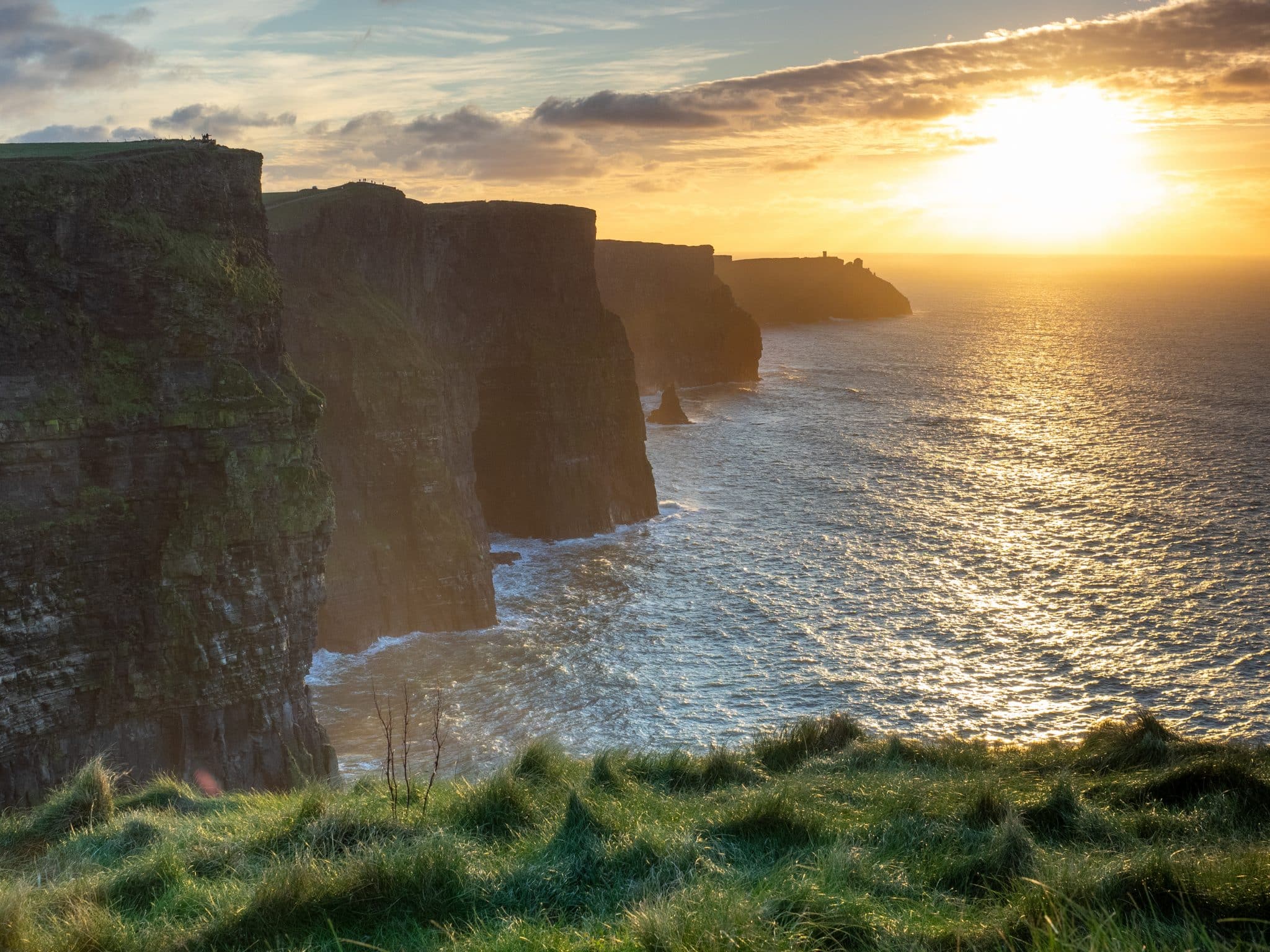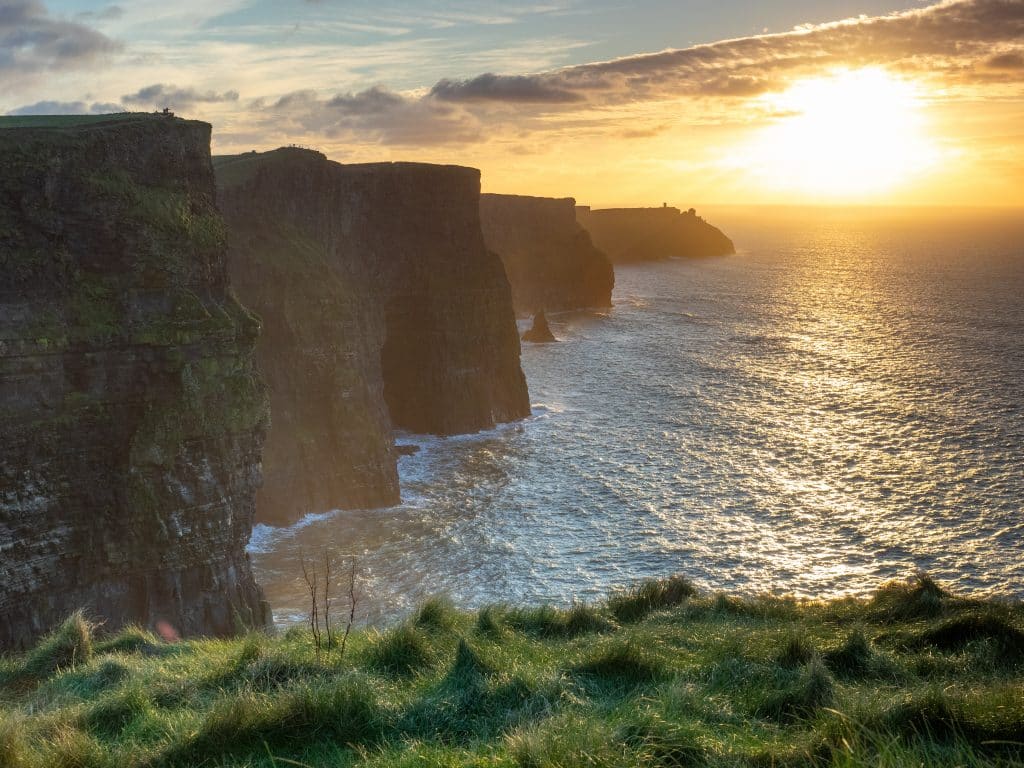 No trip to Clare would be complete without one of the most famous walks in Ireland, the Cliffs of Moher Cliff Walk. Spanning 20 km (12.4 miles) along the west coast, the route offers some of the most impressive views of this popular attraction.
Part of the route takes place on the exposed cliff face, while the path closer to the visitor centre is protected with barriers.
Address: Cliffs of Moher Walking Trail, Fisher St, Ballyvara, Doolin, Co. Clare
1. Moylussa — Clare's tallest mountain
Standing at an impressive 532m (1745ft) tall, Moylussa is arguably the best walk in Clare. Spanning 10.3km (6.4 miles) the views from the summit are truly mindboggling. Enjoy views of Lough Derg and Killaloe in the distance.
If you are looking for a sunrise hike, this is one of the best as you will begin to see the fog lift off the lake below — truly magical!
Address: Craglea, Co. Clare