Fancy a delicious vegan bite to eat in Galway? If so, our ten best vegan restaurants in Galway list is for you.
With more and more people opting for the 'green' way, and we don't just mean the cycle route, there has been a huge change in Irish cuisine in recent years.
With this being said, it means that vegans and vegetarians alike can now have the option to eat many renowned Irish dishes meat-free. Not to mention the delicious international plant-based dishes.
So, no matter what your taste buds crave, we are sure you will find an excellent place to eat vegan in The City of Tribes. Let's take a look at our ten best vegan restaurants in Galway, ranked.
10. The Dough Bros – vegan pizza at its best
While not a fully vegan restaurant, they have some vegan pizzas that are sure to delight. So, for this reason, they have earned their place on our list of the best vegan restaurants in Galway.
They even have a choice of vegan dips, including vegan chilli dip and vegan sriracha. Yum!
Address: Cathedral Buildings, 1 Middle St, Galway
9. Boojum – for a quick Mexican bite to eat
If you want tasty Mexican food with a vegan twist, then head to Boojum and grab yourself a vegan burrito, fajita, taco, or Mexican salad.
Address: 1 Spanish Parade, Galway
8. Lime Asian Fusion – choice after choice of vegan flavours
The only problem you will have here is deciding what to order.
With many vegan options to choose from, including the vegan pad Thai or the Tokyo burger, there's no doubt you'll need to return a couple more times.
Address: Spanish Arch, Galway
7. Mountain Road Kitchen – one of the best vegan restaurants in Galway
Located just outside of Galway City in Moycullen, this country-style spot is a great place to get your soups, spelt wraps, and Buddha bowls.
They even make their own apple juice from apples grown in their very own orchard. Winning!
Address: Spiddal Road, Ballycuirke West, Moycullen, Co. Galway
6. The Bean Tree – you haven't 'bean' to Galway until you've 'bean' here
The Bean Tree is Galway's go-to vegetarian and vegan food centre serving organic dishes.
As you might have guessed, they offer many scrumptious bean-based meals, such as butterbean casserole and leek and lentil bake.
Address: Unit 6 Westside Enterprise Centre, Westside, Galway, H91 H959
5. The Quay Street Kitchen – for a small but quality assured vegan menu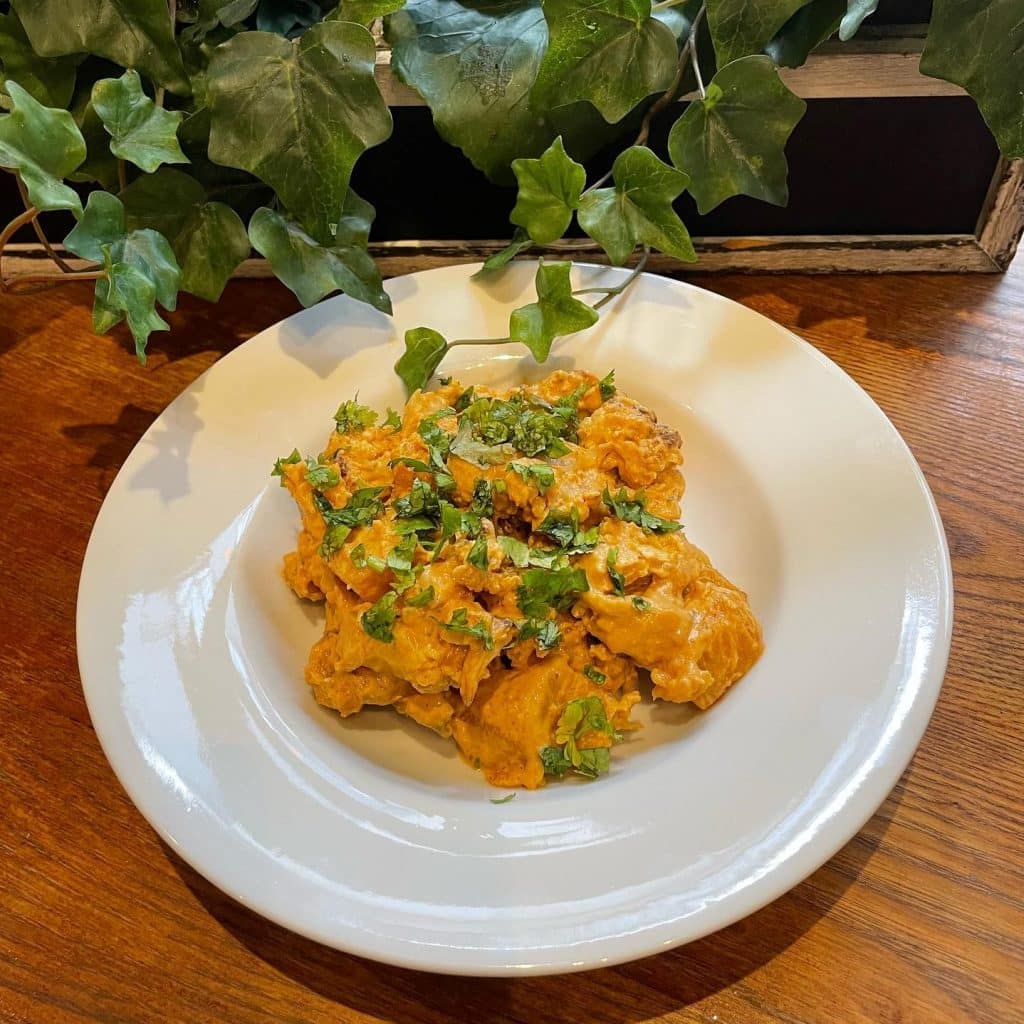 With a fantastic range of vegan options, including vegan mushroom and coconut milk stew and hearty vegan lasagne, this is definitely a must-try when in Galway.
Address: 1 Quay St, Galway, H91 CP22
4. The Lighthouse Café – vegan food fresh every day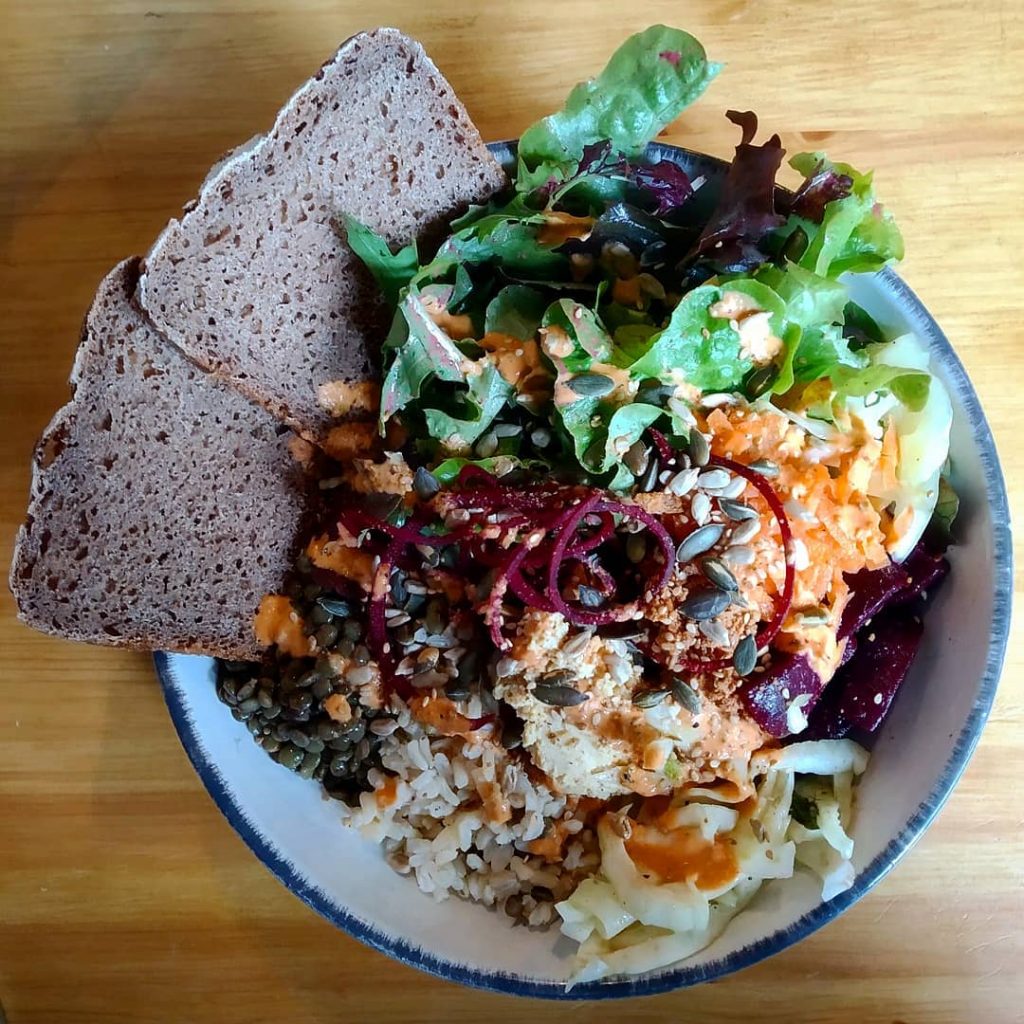 This place has a small but perfected menu with daily specials that always feature fresh plant-based ingredients. Perfect for vegans and vegetarians alike.
Address: 8 Abbeygate Street Upper, Galway, H91 PWX9
3. Dela Restaurant – for a top-class vegan meal
Whether it's brunch or a fancy dinner you're after, this is the place to go to enjoy healthy vegan meals paired with a local craft beer. Certainly one of the best vegan restaurants in Galway.
Address: 51 Dominick St Lower, Galway, H91 E3F1
2. The Gourmet Offensive – for awesome plant-based street food
This ever-popular spot is great for plant-based street food like tasty burgers, falafel, salad, and of course, yummy desserts.
Catch them at their falafel stall at the St Nicholas Market every Saturday and Sunday.
Address: 11 Mary St, Galway, H91 T227
1. Greens & Co. – for a fantastic full vegan menu
With meals such as tofish and chips and mushroom ramen, this place is a hit with vegans, and we can see why.
Don't miss the kimchi cheese fries from Greens & Co., which earn it the number one spot on our list of best vegan restaurants in Galway.
Address: 4 Henry St, Galway, H91 E205
So if your mouth hasn't begun watering just yet, you need to reread our list. Galway has so much to offer, and now you have all these epic eateries to add to your itinerary.
Some are perfect for on the go, and some are more suited for evening dinner and drinks. The choice is yours!
With Galway being one step ahead of itself, there's no doubt that there will be many more vegan restaurants, diners, and cafés popping up on each corner.
Note that some of these restaurants offer stalls at Galway food markets, so be on the lookout for those, too. Bon Appétit.