Ireland offers some of the most exciting activities ranging from wildlife encounters to theme park extravaganzas. Travelling with the family in tow? These are the top things to do in Ireland with kids.
As a small island nation, Ireland prides itself on its electric pub scene, world-renowned arts and culture, enthralling history, and impressive heritage sites.
What it also offers by the bucketload is adventures and activities for the entire family. Whether you're looking for an indoor pursuit or some outdoor exercise, an educational experience, or a wildlife encounter, look no further than the Emerald Isle.
From big kids to little, these things to do in Ireland with kids are sure to have the whole family smiling.
10. Rainforest Adventure Golf, Co. Dublin – for a rainy day
Rainforest Adventure Golf is an epic indoor mini-golf centre that makes for a perfect rainy day activity in Dublin.
Offering two courses (Mayan and Aztec), this 16,000 square foot (4,876 metres) state-of-the-art mini-golf centre is transformed into a tropical paradise suitable for all ages.
Address: Unit 6, Dundrum South Dundrum Town Centre, Dundrum, Co. Dublin
9. Great Western Greenway, Co. Mayo – for a scenic cycle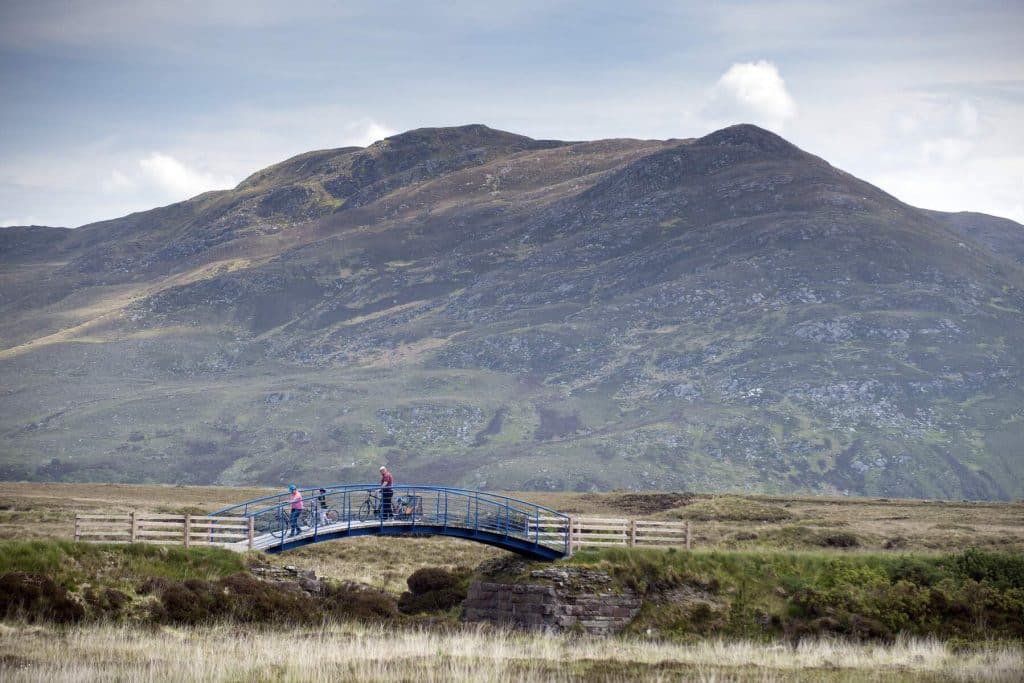 Winding along the west coast through County Mayo, the Great Western Greenway is a 42 kilometre (26 miles) purpose-built walking and cycling trail that is perfect for a day out with the family.
While tranquil waters lap the shore and towering mountains paint the landscape, the Great Western Greenway is a perfect way to enjoy the view while getting some exercise, too.
Trailheads: Westport, Achill Island
8. Dublin Zoo, Co. Dublin – for a piece of Irish history
Dublin Zoo is not only the oldest zoo in the country but the third oldest in the entire world!
It opened in 1831 to visitors with just 46 mammals and 72 birds. Today, however, it covers some 69 acres and vows to maintain the conservation, study, and education of wildlife.
Located in: Phoenix Park
7. Imaginosity, Co. Dublin – for curious minds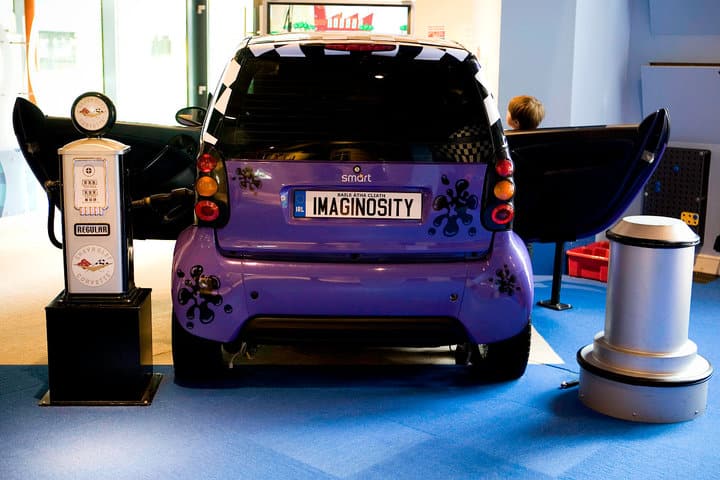 Located in the capital city, Imaginosity is Ireland's only museum dedicated to bright young minds who are curious to learn about the world around them.
That being said, it is a family-friendly experience, so parents are sure to enjoy this as much as the little geniuses at hand!
Address: The Plaza Beacon South Quarter Sandyford Sandyford, Dublin 18
6. Brigit's Garden, Co. Galway – the Celtic garden experience
Inviting visitors on a journey into enchanted Irish woodlands, Brigit's Garden is said to be one of the best things to do in Ireland with kids.
Expect tall tales, experiential activities, and lots to discover at this immersive Celtic garden in County Galway.
Address: Pollagh, Rosscahill, Co. Galway
5. Funtasia Theme Park, Co. Louth – the indoor delight
Funtasia Theme Park in County Louth is Ireland's premier indoor fun park (that includes bowling, arcade games, an indoor waterpark, and theme park attractions).
Free to enter with pay per go attractions, Funtasia in Louth is one of the best things to do in Ireland with kids, no doubt!
Address: Donore Road Industrial Estate, Unit 1 & 2, Funtasia Theme Parks, Drogheda, Co. Louth, A92 EVH6
4. Fota Wildlife, Co. Cork – the leading wildlife experience
Set across 100-acres of stunning wild landscapes is Fota Wildlife in County Cork. This independently-owned wildlife park offers its guests an up-close and personal experience with its primal inhabitants.
Whether you're face to face with a giraffe or petting a kangaroo, this is sure to be considered one of the best things to do in Ireland with kids.
Address: Fota Wildlife Park, Fota, Carrigtohill, Co. Cork
3. We Are Vertigo, Co. Antrim – for thrill-seekers
We are Vertigo is Northern Ireland's most exciting inflatapark and adventure centre.
Not far from Belfast, the indoor experience consists of Wipeout–style obstacles courses that see kids of all ages bouncing, dodging, jumping, and bumping their way around the gigantic bouncy castle-like park.
Address: Newtownbreda Industrial Estate, 1 Cedarhurst Rd, Belfast BT8 7RH, United Kingdom
2. Pirate Adventure Park, Co. Mayo – for a family holiday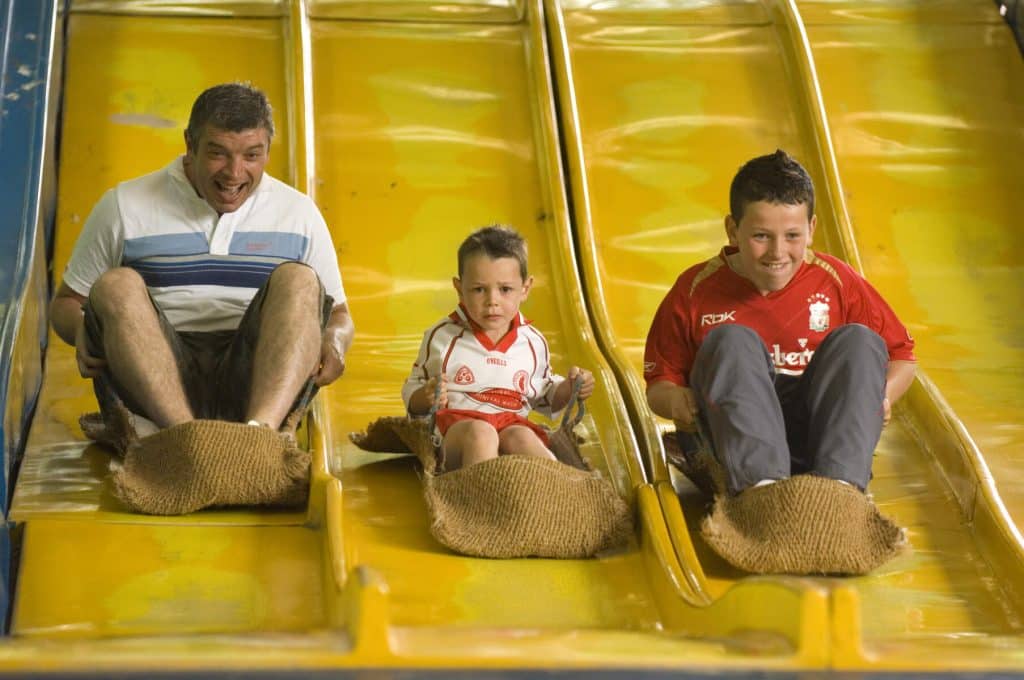 Located on the stunning grounds of Westport House, Pirate Adventure Park is the perfect adventure park to enjoy with the family.
Rides and attractions suited to all ages ensure that there will be smiles all-round; and if you wish to make a holiday out of it, you can avail of one of the many accommodation options on the estate.
Address: Westport House Demense, Golf Course Road, Co. Mayo
1. Tayto Park, Co. Meath – Ireland's premiere theme park
No figure is as dearly beloved in the collective hearts of the Irish community as Mr Tayto – the potato-inspired mascot for Irish crisp brand, Tayto. So, of course, we made a theme park to honour him.
This impressive amusement park is complete with Ireland's only wooden roller coaster, a petting zoo and attractions fit for all ages.
Address: Tayto Park, Kilbrew, Ashbourne, Co. Meath, A84 EA02