Galway is the cultural hub of Ireland and is bursting with charm, history and literary style.
It has so much on offer that a weekend just isn't enough. Tours are plentiful if you need some guidance or simply wander the streets for yourself and discover every nook and cranny at your own pace.
The nightlife is fantastic in Galway with top-notch restaurants and pubs full of life, music and craic. Families are welcome pretty much everywhere and the city feels safe, clean and relaxed.
Here are our top 10 things to do and see in Galway City, bearing in mind there is so much more…
10 – Galway Arts Centre
The Galway Arts Centre is a fantastic building in the city dating back to the 1840s. First inhabited by the Persse family, direct relatives of the famous Lady Augusta Gregory, the walls are steeped in historical charm.
Three galleries offer exhibitions from both local and international contemporary artists and admission is free. If you're staying in Galway for a while the Arts Centre runs lots of literary and art courses at different times of the day and evening.
Address: 47 Dominick Street Lower, Galway, H91 X0AP, Ireland
9 – Shopping
From the bustling Saturday market in Church Lane to Eyre Square Shopping Centre, there is something to suit every kind of shopper in Galway.
Shop Street is pedestrianised and perfect for, yes you've guessed it, shopping!
Quay Street is full of life, gift shops and great places to have a coffee or a bite to eat. The Latin Quarter and The Westend are also great spots to browse and bag a bargain or two.
8 – Catch a comedy night
The Irish are renowned for their sense of humour and gift for having a bit of craic. So where else to sample the cream of the crop, but at a comedy night in the heart of Galway?
Some world-famous comedians have sprouted from entertaining the lovely people of Galway and there are lots of venues to choose from with a couple of laughter hangouts offering something really special.
Róisín Dubh hosts a comedy night every Tuesday and is a super cool venue for a night out. The atmosphere lends itself well to acts of all levels within the comedy circuit and if Tuesday is no good, lots of other entertainment is on offer at the venue right through the week.
The second place to watch is Ireland's Smallest Comedy Club hosted in The Dew Drop Inn every Thursday night. Just minutes from Eyre Square it is another great location but can get jammed and considering it is probably no bigger than your living room at home, it is a somewhat intimate experience.
Address: Róisín Dubh, 9 Dominick Street Upper, Galway City & The Dew Drop Inn, Mainguard Steet, Galway
7 – Where Wilde meets Vilde
Oscar Wilde and Eduard Vilde, two men from very different countries but who represented such similar literary genius as well as style. They may not have even rubbed shoulders when they were alive but they now sit side by side in Shop Street, Galway City.
It is a statue that represents the friendship between Ireland and Estonia after former Irish President, Mary McAleese, was presented with it following her visit to the Republic of Estonia in 2001.
Address: Shop Street, Galway City
6 – Take a walking tour
There are lots of walking tours to take in Galway. Food lovers, culture vultures or historians can all get their quota from a well-informed guide. There are taste tours, beer tours, medieval tours and even ghost tours.
So if you are tired of reading maps and trying to work out where to go next in an unfamiliar city then why not get someone else to lead you around. That way you won't miss any of the good stuff.
5 – Attend a Festival
Catching a festival can take some planning but if you are taking a trip to Galway this year why not see if you can squeeze in at least one? We promise you won't be disappointed.
There are lots of very different festivals going on in Galway this year so I'm sure you can stick around for a couple of them. The Summer Street Festival in the Westend is on June 3 and a super way to kick-start the season.
The Fringe Festival and Galway Arts Festival are both in July and definitely worth a visit. The city comes alive with talented musicians and artists with a good chance the sun will shine.
If you miss the main events there are Brass Band concerts every Saturday in July in Eyre Square so you won't feel too left out.
4 – Galway City Museum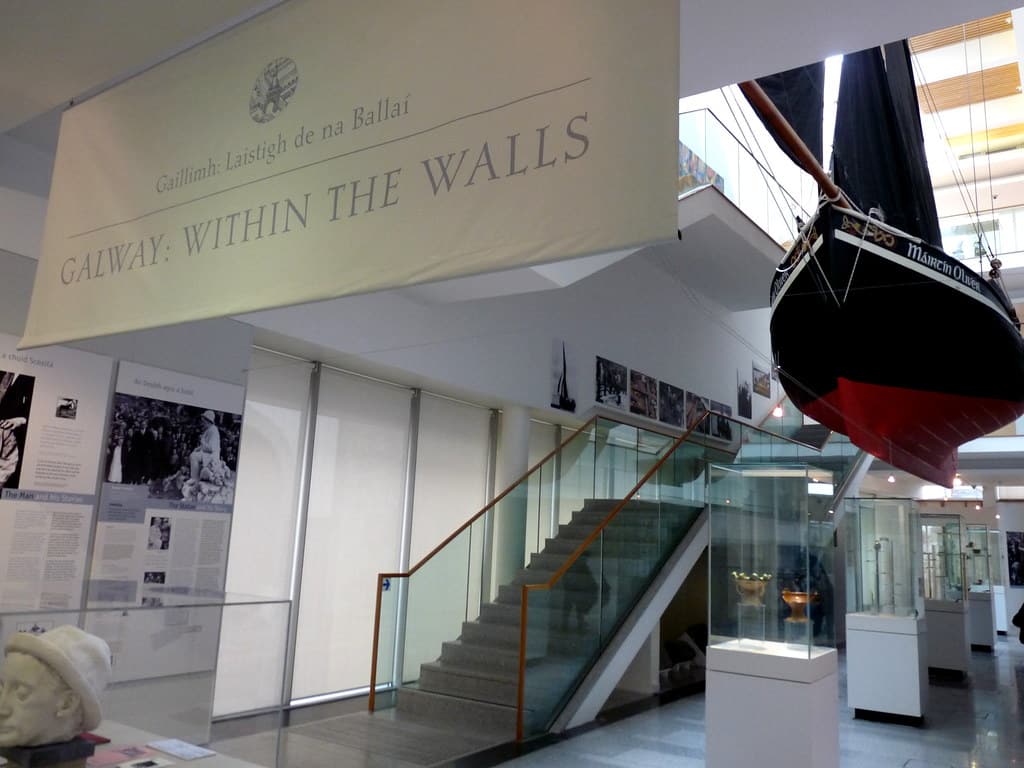 This is another cultural hub of impressive exhibitions over three floors in a fantastic building suitably located beside the Spanish Arch. It caters for everyone and has a great children's area making it one of the top things to do in Galway.
The winner of TripAdvisor's Certificate of Excellence for five years running, Galway City Museum is perfect for families and a must-see for history buffs.
Address: Spanish Parade, Galway, H91 CX5P, Ireland
3 – Sample the local brew
'When in Rome' as they say! And what better way to blend in with the locals than to sample some of the local beer. Brewed in Galway Hooker Brewery in Oranmore, Co. Galway, Galway Hooker is Ireland's first pale ale and is a blend of natural, yet full-bodied flavours.
Served in most pubs and bars in the city it is only right to sample it in its homeland. And if you are lucky enough to catch a traditional Irish music session in the pub then the beer is sure to taste even better.
2 – Explore Medieval Galway
Galway is a perfect example of where 'old' meets 'new'. Its medieval walls have been transformed into Eyre Square Shopping Centre while the old city structure can still be very much admired.
From the 16th century Spanish Arch to St. Nicholas's Church where Christopher Columbus is believed to have prayed, Galway is one city that embraces history and remains proud of its colourful journey so far.
Address: Church Ln, Galway, Ireland
1 – Great Escape Rooms
For a group activity with a twist, the Great Escape Rooms is a thoroughly thrilling experience. Located in the heart of the city it is the ultimate team building exercise and perfect for any party group.
The aim of the game is to escape from one of the rooms within the designated time. Everyone has to work together and heart rates will be pumping by the time you leave. It may not be for everyone but if the new 'escape room' trend is something on your bucket list then this Galway venue has been described as one of the best.
Address: 27 Abbeygate Street Upper, Galway, Ireland