Seaweed from the Irish coast has been used by locals for some time now for its incredible properties. Want in on the act? Here are the best places you can indulge in a relaxing seaweed bath in Ireland.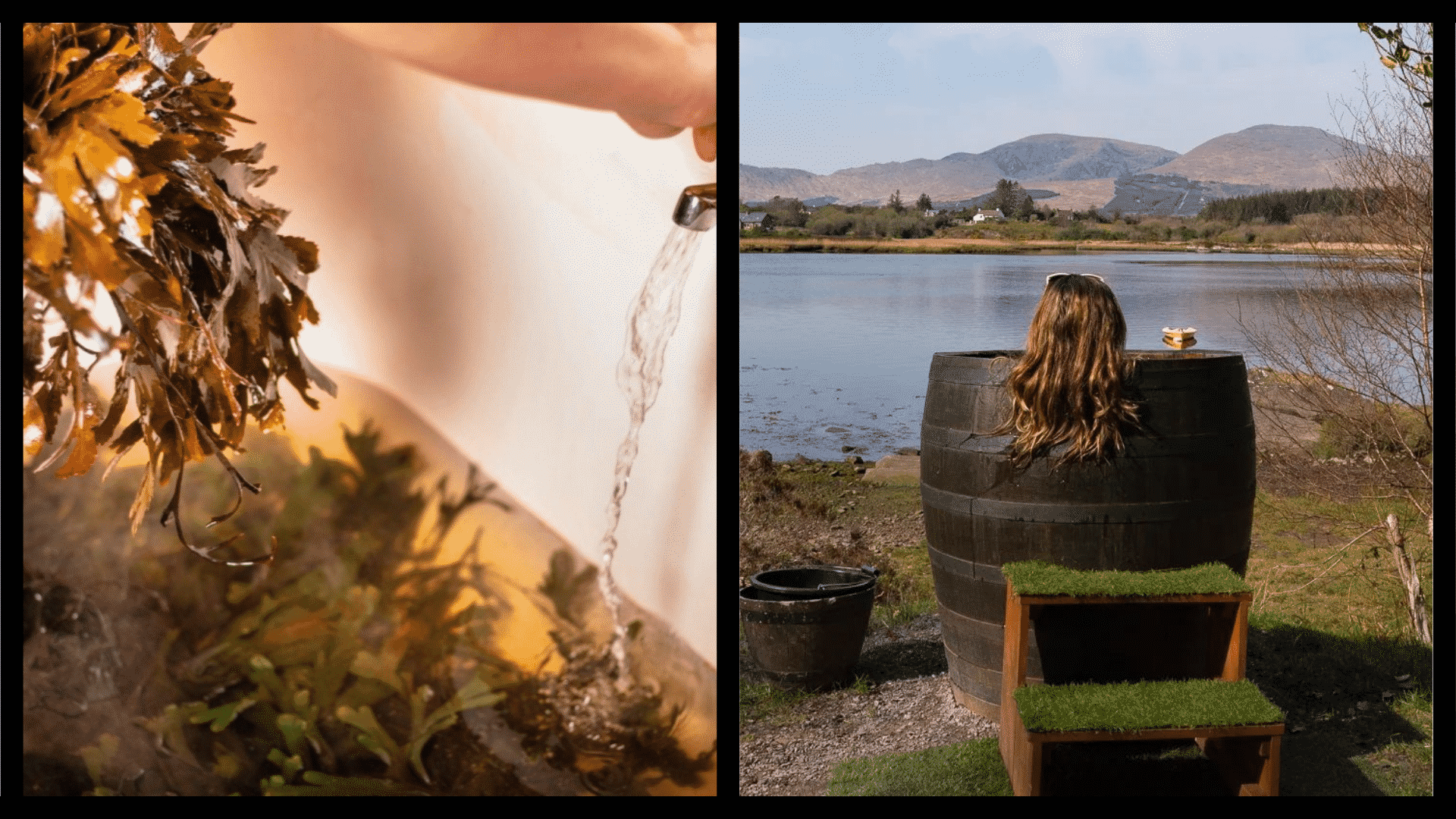 Most of us may know seaweed as the unusual slippery sea plant that we often see on our trips to the beach. However, seaweed actually offers a tonne of amazing benefits to our health and wellbeing.
There are plenty of advantages to soaking in a bath of hot water and natural Irish seaweed. Boasting anti-inflammatory properties and a wealth of mineral elements, it is a great holistic treatment.
It is proven to lower stress levels, act as an effective treatment for many skin conditions, help muscle aches and joint stiffness, and release unwanted toxins from the body. Now, doesn't that sound good?
If you want something different from the classic spa experience, here are the ten best seaweed baths in Ireland.
10. The Seaweed Centre, Co. Galway – a long-standing tradition
Their motto goes,'The magic of the shoreline, seaweed, and sea'. This sounds like absolute heaven to us.
This seaweed bath is located on the Connemara coast, not far from Galway city, which is ideal if you fancy exploring the city either before or after your detox experience.
Address: Lettermullan, Co. Galway, H91 CH7X
9. Luxe Spa @ Four Seasons Hotel, Co. Louth – a Japanese style seaweed bath
Located in Carlingford, County Louth, you will find the beautiful and ultra-relaxing oasis that is the Luxe Spa.
Providing heavenly seaweed spas in their Japanese-style soaker baths, perfect for a couple or two friends, this is a truly magical spa experience.
Not only this, but they also offer complimentary bubbles to accompany your day of pampering while you indulge in a seaweed self-care bath.
Address: Liberties of Carlingford, Carlingford, Co. Louth
8. The Peninsula Spa @ The Dingle Skellig Hotel, Co. Kerry – a seaweed focused spa menu
With a range of incredible seaweed body treatments, facial treatments, and seaweed baths, you will be completely detoxified and rejuvenated after a trip to the Peninsula Spa.
Located in Dingle, a popular stop-off in County Kerry, this is an ideal spot to melt all your stress away and learn more about the benefits of the local seaweed that you will soak in.
Address: Farran, Dingle, Co. Kerry, V92 D5X2
7. Solas Na Mara, Co. Waterford – one of the best seaweed baths in Ireland
Translated from Irish as 'Solace of the Sea', this seaweed bath, located in Waterford on Ireland's Ancient East, is unique in this part of Ireland and uses piped warm saltwater for its lovely baths.
Solas Na Mara provides one of Ireland's oldest natural therapies to ensure you feel more energetic, detoxified, and completely relaxed.
Address: Helbhic Head, Ring, Dungarvan, Co. Waterford
6. Connemara Seaweed Baths, Co. Galway – organic, hand-harvested Atlantic seaweed daily
The Connemara Seaweed Baths pride themselves on having the only saltwater seaweed baths in the west of Ireland (Mayo, Galway, Roscommon). With their new location overlooking Clifden Bay, you would be mad not to visit them.
Just like what you would read on a seafood menu, their seaweed is fresh and hand-cut every day, ensuring it has the best minerals and essential nutrients to help your body.
Address: Market Square, Clifden, Co. Galway
5. Collins' Beach Café and Seaweed Baths, Co. Kerry – a family-run bathhouse since the 1920s
Having opened in the 1920s, this business was initially set up by a husband and wife in their house nearby until they purchased the site that it is on now. To this day, it is still run by the same family.
They harnessed the seaweed that was found on the coast and used it in the baths for its therapeutic properties. These days, the seaweed is still collected from the same black rocks as it was back then.
Address: Ballybunnion, Co. Kerry
4. Soak Seaweed Baths, Co. Down – a multi-award-winning seaweed bath
Located in County Down, this is an award-winning seaweed bath experience that you cannot overlook.
With hot seaweed baths, seaweed treatments, and a range of natural seaweed products to choose from, you can indulge and take the experience home with you.
Oh, and did we mention that it has a captivating seafront location to make your time there even more idyllic?
Address: 5A South Promenade, Newcastle Co. Down
3. Sneem Seaweed Baths, Co. Kerry – a truly unique experience
In the heart of Kerry, you will find Sneem Seaweed baths directly behind the popular Sneem Hotel. Sneem Seaweed Baths offer a unique outdoor setting involving wooden barrels filled with warm water and fresh seaweed, of course.
If you are looking for an amazing experience, whatever the weather brings, all topped with a tranquil, scenic setting and fresh country air, then this is the one for you.
Address: Goldens Cove, Drimna Beg, Sneem, Co. Kerry, V93 XV44
2. Kilcullen Seaweed Baths, Co. Sligo – a bathhouse with a story
Located in Enniscrone, County Sligo, this traditional bathhouse dates back to 1912 and is set in an Edwardian building that was modern for its time.
This establishment has opened every year for the last 100 years during the summer and is an amazing place to get the impression of how it all began from the same family that still owns it all these years later.
After your experience, you can even brave a cold shower to rinse the oils from your skin.
Address: Cliff Rd, Carrowhubbuck South, Enniscrone, Co. Sligo, F26 D729
1. Voya Seaweed Baths, Co. Sligo – the best traditional bathhouse
This popular day spa is located in Strandhill, County Sligo, and harnesses the power of nature to help you feel your best.
Voya Seaweed Baths is a traditional seaweed bathhouse that provides the perfect place to have your first seaweed experience, considering they really know what they are doing.
Having even been featured in many national publications, they are undoubtedly one of the best seaweed baths in Ireland. You might have even seen their Voya seaweed oils and skincare products worldwide – it's really that good!
Address: Shore Rd, Carrowbunnaun, Strandhill, Co. Sligo, F91 FYW3
So, there you have it, the ten best seaweed baths in Ireland for a perfect way to detox, relax, take time away, and reap the benefits of the Irish coast.
Notable mentions
Delphi Spa, Connemara, Co. Galway: Delphi Spa is the organic seaweed peat foaming bath.
Le Petit Spa, Co. Galway: Where you're 'Bath Butler' prepares your seaweed bath.
The Spa at No.1 Pery Square, Co. Limerick: Home of the 'lazy days' seaweed bath.
Wild Atlantic Seaweed Baths: Originating in the seaside village of Enniscrone, Wild Atlantic Seaweed Baths is a mobile seaweed bathing company.
FAQs about the best seaweed baths in Ireland
What are the benefits of seaweed bathing?
Natural, fresh seaweed is detoxifying for the body, nourishing for the skin, and is an effective treatment for aches and ailments. It also boasts a number of natural beauty benefits.
Is seaweed bathing native to Ireland?
Yes, seaweed baths are Ireland's indigenous therapeutic ritual, which has been undertaken for years by the locals.
Where is the seaweed from?
The seaweed is harnessed from the west coast of Ireland, from various traditional regions.