Belfast's Cathedral Quarter is an upbeat and vibrant district in the heart of the city, known for its wealth of pubs, restaurants, hotels, and live music venues.
The perfect blend of old and new, the Cathedral Quarter is the place to be if you're looking for a great night out in the city. So, here are the ten best restaurants in Belfast Cathedral Quarter.
Offering innovative dishes inspired by worldwide cuisine, you can encounter almost any dining experience in this lively neighbourhood.
From laid-back pizza parlours to upscale hotels, casual burger joints to a full-blown culinary journey. The Cathedral Quarter has it all.
Ireland Before You Die's tips for the best restaurants in Belfast's Cathedral Quarter
Make sure to book in advance, especially for popular restaurants, to ensure you secure a table.
Check for any special promotions, deals, or events happening at the restaurants during your visit.
Do your research, as Belfast has many options to choose from, such as fine dining, a taste of Spain, traditional Irish cuisine and more!
Consider exploring the Cathedral Quarter beyond just the restaurants by visiting nearby attractions or taking a stroll through the lively streets before or after your meal.
10. House of Zen – for fantastic Asian cuisine
Located in the classy St Anne's Square, the first on our list of best restaurants in Belfast Cathedral Quarter is House of Zen.
Known for its delicious Asian-inspired dishes and Oriental-themed décor, House of Zen has proved a hit among locals since its first opening in 2012.
Address: 3 St Anne's Square, Belfast BT1 2LR
Related: Cathedral Quarter Belfast.
9. Top Blade – for steaks to die for
This one is for any meat lovers out there. If you fancy a steak cooked just as you like it with a side of fries, sweet potato, champ, or onion rings, then Top Blade is the spot for you.
Don't worry if you're vegan or vegetarian, though, as they also offer a delicious seitan steak.
Address: St Anne's Square, Belfast BT1 2LD
8. The Muddlers Club – a hidden gem in the city
This Michelin star restaurant is tucked away in a laneway between Waring Street and Exchange Place. Easy to miss if you're passing through, this hidden gem is well worth stopping off at.
Head chef and owner Gareth McCaughey has curated a simple but expertly crafted menu that is sure to leave you coming back for more.
Address: 1 Warehouse Ln, Belfast BT1 2DX
7. Pizza Punks – for pizzas like you've never seen before
If pizza is your thing, then you simply must visit the funky Pizza Punks restaurant in Belfast's Cathedral Quarter.
With a variety of toppings and flavour combinations, accompanied by an inventive cocktail list, this laidback spot is the perfect place to catch up with friends.
Address: 20-22 Waring St, Belfast BT1 2ES
6. Six by Nico – for a culinary experience
As the name suggests, the concept at Six by Nico is based around sixes. Namely, a six-course set menu that changes every six weeks.
Offering menus inspired by world cuisine or nostalgia, you're sure to discover something magical here.
Address: 23 – 31 Waring St, Belfast BT1 2DX
Read also: Top 20 best restaurants in Northern Ireland for all tastes and budgets.
5. The Cloth Ear – one of the best restaurants in Belfast Cathedral Quarter
Part of the swanky Merchant group that covers much of Cathedral Quarter, The Cloth Ear certainly lives up to the brand name.
This upscale restaurant offers a range of Irish cuisine, giving off a traditional feel with a refined atmosphere.
Address: The Merchant Hotel, 16 Skipper St, Belfast BT1 2DZ
4. 2Taps – for amazing tapas
If it's a taste of Spain you're after, then you need to visit 2Taps. Home to a large outdoor terrace, delicious food, and amazing drinks, the atmosphere here is electric, especially throughout the summer months.
This is a dining experience you won't soon forget and definitely one of the best restaurants in Belfast Cathedral Quarter.
Address: Cotton Court, 30-42 Waring St, Belfast BT1 2ED
Check out: Our guide on the best vegan restaurants in Belfast ranked.
3. Made in Belfast – for high quality, locally sourced food
With various locations across the city, the Cathedral Quarter branch of this popular local is a must-visit.
With a homely feel and constantly changing interior made up of second-hand décor, this spot serves up delicious food in a great location. They also focus heavily on high-quality, locally, and, where possible, ethically sourced ingredients.
Address: 25 Talbot St, Belfast BT1 2LD
2. Hadskis – for a chic and modern dining experience
This award-winning restaurant has gained an excellent reputation in the city in recent years, and it's not hard to see why.
Serving classic European cuisine and an array of daily specials, the dishes here are a flavour explosion that you won't want to miss.
Address: 33 Donegall St, Commercial Ct, Belfast BT1 2NB
1. Coppi – for a contemporary Italian experience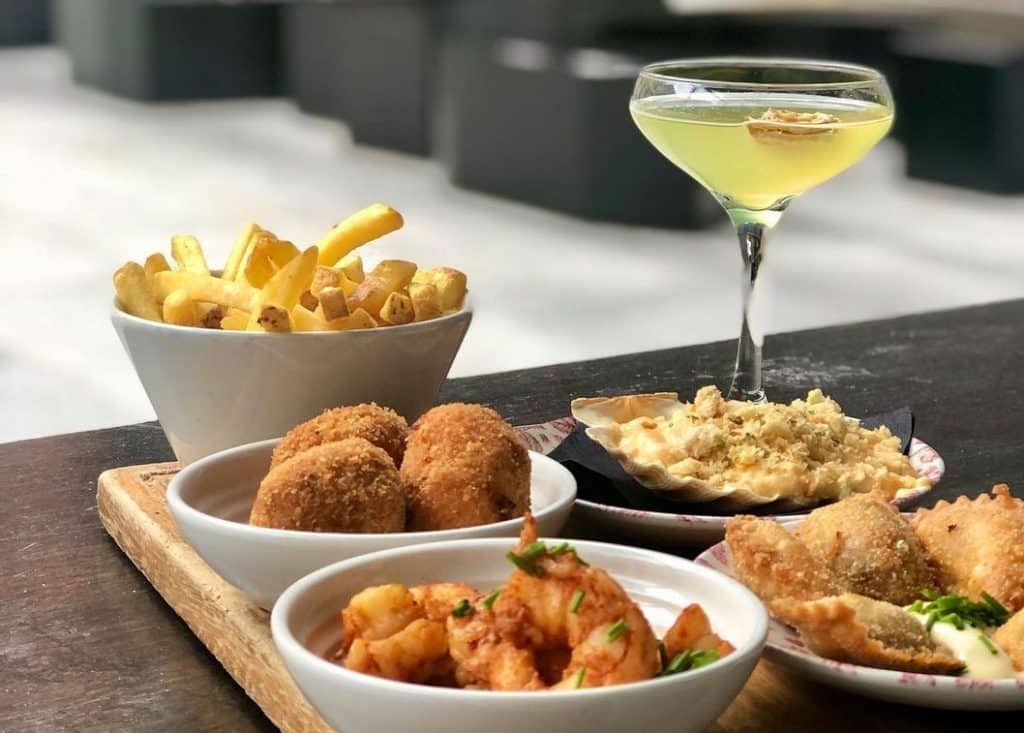 If Italian food is your go-to, then Coppi will be one of the best restaurants in Belfast Cathedral Quarter for you, as it is one of Belfast's best Italian restaurants.
Known for its contemporary twist on traditional Italian dishes, a trip here will leave you coming back for more time and time again.
Address: Belfast BT1 2LR
Your questions answered about the best restaurants in Belfast's Cathedral Quarter
What is the Cathedral Quarter in Belfast best known for?
The Cathedral Quarter is home to many arts and cultural venues, from art exhibitions to music tours, you can soak up the best of art in Belfast in the Cathedral Quarter.
What is the history of the Cathedral Quarter in Belfast?
Traditionally, the Cathedral Quarter was the centre of Belfast's trade and warehousing district, which sprung up directly from the prosperous linen and shipbuilding industries. The quarter still retains some of Belfast's oldest buildings and thoroughfares, including Waring Street and Hill Street.
What are the quarters in Belfast?
Modern-day Belfast is divided into seven quarters. These quarters include Cathedral Quarter, Titanic Quarter, the Gaeltacht Quarter, Smithfield Market and Library Quarter, Linen Quarter, Market Quarter and Queen's Quarter