Full of stunning coastal towns and breathtaking mountain peaks, Ireland is a haven for those who want to watch the sun come up.
If you're an early riser, then you cannot miss out on our top ten best places to watch the sunrise in Ireland.
It has to be said; not everyone is as keen on waking up with the sun. Some would rather stay cosied up in their bed and catch a bit more shut-eye.
However, many others love the idea of waking up early, when the world is still asleep, and just enjoying the peace and bliss that comes with a sunrise.
There are so many great places to watch the sun come up, so let's check out our favourite places to watch the sunrise in Ireland.
10. Newgrange, Co. Meath – for an ancient sunrise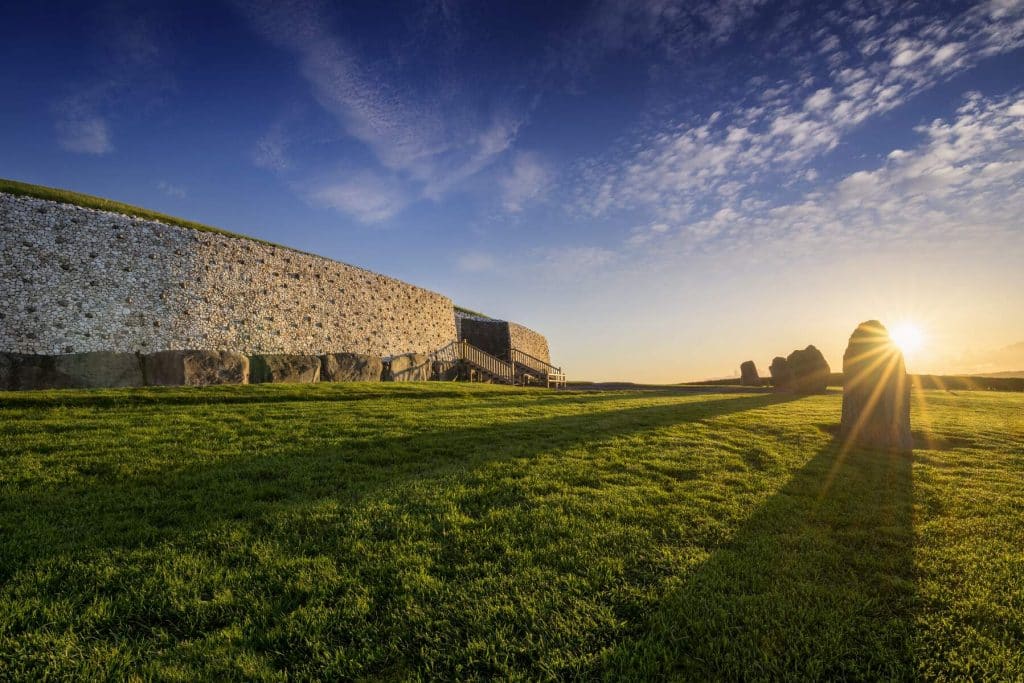 Older than Stonehenge and the Pyramids of Giza, this mesmerizing sight in Ireland's Ancient East is famed for its passage tomb beam of light during the winter solstice.
This place is captivating when sunlight is involved, and we think it's one of the top places to watch the sunrise in Ireland.
Address: Newgrange, Donore, Co. Meath, Ireland
9. Lahinch, Co. Clare – for surfing and sunrises
Lahinch is probably the most famous surf beach in County Clare and one of the most popular in Ireland.
So, we can safely say that this is the perfect spot to see the sunrise, especially if you are a keen surfer. We can only imagine what the view would be from the board.
Address: Ennistymon Rd, Dough, Lahinch, Co. Clare, Ireland
8. Ballydowane Bay, Co. Waterford – for a picture-perfect sunrise
Located at the foot of some huge cliffs, this sheltered, picturesque bay is a fabulous, secluded spot for a sunrise experience in County Waterford.
Address: Ballydowane Beach, Co. Waterford, Ireland
7. Greystones, Co. Wicklow – for a sunrise dip
If you head down to the beach in Greystones for a gorgeous and refreshing sunrise dip, you'll no doubt run into the brothers who run the famous Happy Pear café. The brothers are keen sunrise swimmers, as are with many locals in the area.
The views here are superb as the sun comes up and should be followed up by a snack at the Happy Pear café in the town centre.
Address: Killincarrig, Greystones, Co. Wicklow, Ireland
6. Bull Island, Co. Dublin – for an island sunrise
Watching the sunrise from an island located in Dublin Bay, you will be forgiven for thinking you are miles away from any big cities. However, this place is in the vicinity of Dublin City, making it very accessible.
The long white sandy beach is perfect for local city dwellers to watch the sunrise before the capital starts to wake up.
Address: Co. Dublin, Ireland
5. Long Strand Beach, Co. Cork – for a majestic sunrise
A popular spot to take a stroll, play in the sand dunes, and surf, Long Strand Beach is also a wonderful location in the majestic region of West Cork to take in some breathtaking sunrise views.
We just had to include this stunning spot on our list of the best places to watch the sunrise in Ireland.
Address: Long Strand, Castlefreke, Co. Cork, Ireland
4. Giant's Causeway, Co. Antrim – sunrise on the Causeway Coast
Being one of the biggest tourist attractions and natural wonders in the whole of Ireland, this unusual and very special landscape is the ultimate place to enjoy a sunrise.
You can beat the crowds and have an experience you'll never forget here if you arrive bright and early.
Address: Bushmills BT57 8SZ
3. The Forty Foot, Co. Dublin – for a traditional sunrise experience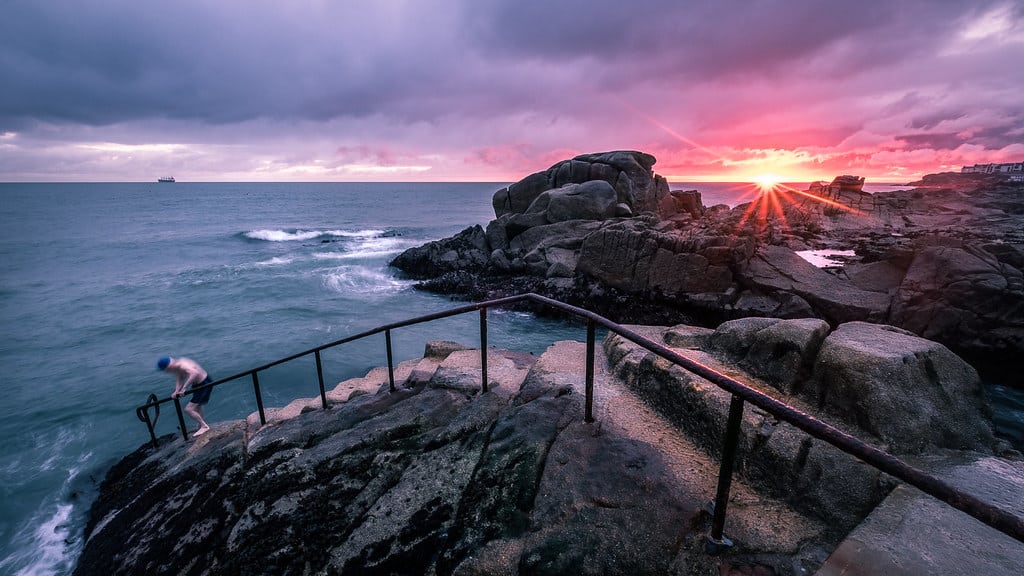 If you fancy a sunrise dip, this is the perfect option if you are in Dublin.
This swimming spot has been used for over 250 years and is still as popular as ever. It's common practice to join the locals for a dip and then warm up with a local tea or coffee.
Address: Sandycove, Dublin, Ireland
2. Curracloe Beach, Co. Wexford – for a sunrise fit for the movies
Curracloe Beach, famed for being the starring beach in Saving Private Ryan and Brooklyn, is famous for a reason.
The long stretch of sandy beach is a local favourite but more and more are discovering it, making it a very popular spot to watch the sunrise in County Wexford.
Address: Coolrainey, Curracloe, Co. Wexford, Ireland
1. Brittas Bay, Co. Wicklow – for a sunrise to yourself
Topping our list of the best places to watch the sunrise in Ireland is the stunning Brittas Bay beach in County Wicklow.
This beach is heaving with crowds when the sun is shining, but if you head here for sunrise, you might just be the only one there.
Brittas has long been a destination for holidaymakers because of its fluffy white sand and beautiful coloured waters. This is the perfect scene as the sun begins to wake up.
Address: Brittas, Co. Wicklow, Ireland
If you've not experienced an Irish sunrise yet, then you will not be disappointed. From beaches to ancient monuments to natural heritage areas, each sunrise experience will differ but will be just as wonderful as the next. The best way to start the day!