Have those shamrocks at the ready; St Patrick's Day is back, and we are so ready for a fun-filled day of Irish celebration.
Who would have thought that there would be no St Patrick's Day celebrations in Ireland for two whole years? Thankfully, we can celebrate in style this year, with parades and a wide range of events planned all around the country to mark our Irish holiday.
As is the tradition in many Irish cities and towns, street parades are held to kick off the festivities with music, dance, and many more forms of entertainment taking place throughout the day.
It's a public holiday to champion all the wonderful things that make us Irish and embrace our heritage. We think this year will be even more special as we have lost time to make up for.
If you're not sure where to spend St Patrick's Day, don't worry. We have rounded up the ten best places to celebrate St Patrick's Day in Ireland.
10. Cork City, Co. Cork – a grand parade on Grand Parade
This year, the Cork parade is back with Lord Mayor of Cork, Cllr Colm Kelleher, hoping it will be "a bumper weekend for hospitality and tourism in the city."
As Cork is Ireland's second-largest city, it's sure to have a huge turnout with the streets and pubs packed with people.
If you're looking for a more low-key affair, you need to visit the town of Dripsey, which is 30 minutes outside the city centre
. This holds the title of the world's shortest St Patrick's Day parade, where it travels only 100 yards.
So whether you'd prefer a grand parade or 100 yards, Cork will have something for you on this public holiday.
9. Limerick City, Co. Limerick – a St Patrick's Day festival with a difference
If there's one thing Limerick knows how to do, it is celebrating St Patrick's Day. Around 70,000 people will come out to watch the lively parade in Limerick City, which will take a new route this year due to ongoing works on O'Connell Street.
It will go down Henry Street, finishing in Arthur's Quay Park. As well as the annual parade, the Treaty City will play host to the 50th Limerick International Band Championship on Sunday.
This is a jam-packed weekend not to be missed, making this one of the best places to celebrate St Patrick's Day in Ireland this year.
8. Waterford City, Co. Waterford – where it all began
Did you know Waterford was the first city in Ireland to declare St Patrick's Day a public holiday? Up until 1903, St Patrick's Day was not considered a national holiday in Ireland until the City Council in Waterford decided to mark the day.
Today, Waterford's St Patrick's Day is one not to be missed with music, arts and crafts, and many performances taking place all around the city.
7. Dingle, Co. Kerry – the earliest St Patrick's Day parade in Ireland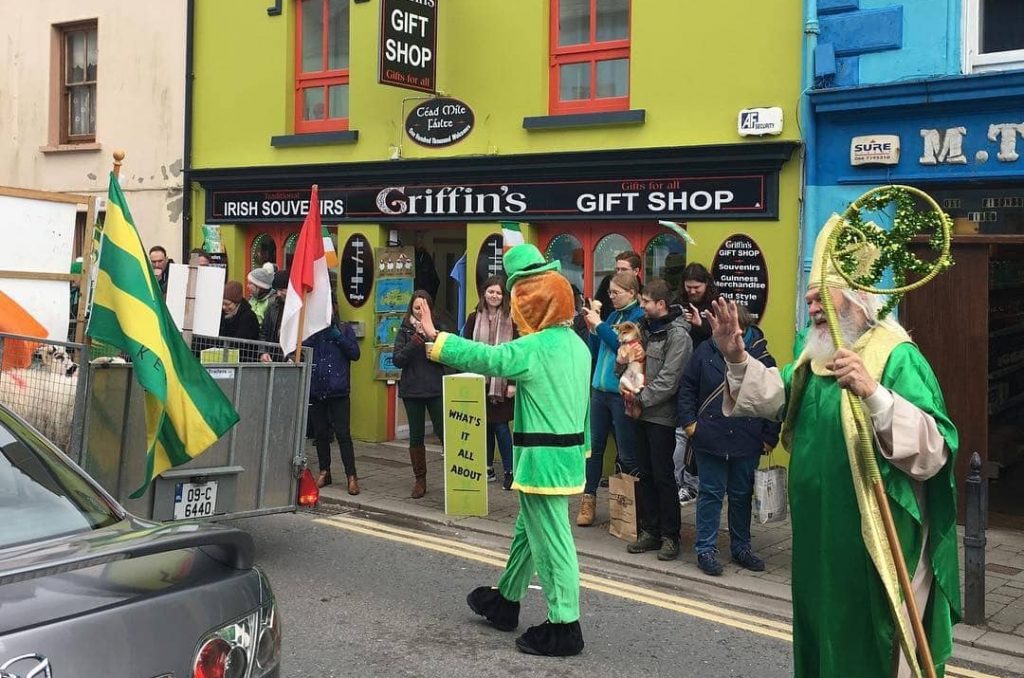 Located on the scenic Dingle Peninsula, Dingle has a unique St Patrick's Day tradition. The celebrations kick off at 6 am with the Dingle Fife and Drum Band marching down the streets.
The parade route will take you all around the traditional Irish town, through the small streets, passing the vibrantly-coloured buildings and unique, quaint shops Ireland is well-known for.
The fun doesn't stop there as there are pubs around every corner where you can experience a real Irish session, which is a St. Patrick's Day tradition.
6. Galway City, Co. Galway – one of the best places to celebrate St Patrick's Day in Ireland
It's no surprise that the cultural capital of Ireland hosts an unmissable St Patrick's Day. Galway's Paddy's Day festival is used to showcase the talents of many artists and performers.
If you take a walk down Shop Street, you'll find an abundance of musicians and street performers to take in. A great place to celebrate the holiday.
5. Killarney, Co. Kerry – the most colourful St Patrick's Day parade in Ireland
One of the most picturesque towns in all of Ireland, located in County Kerry, Killarney goes green for St Patrick's Day… literally. The buildings, the people, you name it, it's going green.
The parade itself is bursting with fun and excitement as street performers and dance acts provide entertainment for the crowd. The pubs are packed and the Guinness is flowing after the parade, so make sure to get down to Kerry to take it all in.
4. Downpatrick, Co. Down – the last resting place of St Patrick
Downpatrick is a symbolic place for our patron saint as it was where he built his first church and where he is buried.
People are asked to come to St Patrick's Square, where there will be a host of fun free activities like face painting, arts and crafts, and live performances.
The parade itself will be one to behold, with floats, street performers, and a cohort of vintage cars among the participants. Sounds like an excellent day to us!
3. Belfast, Co. Antrim – back with a bang
Belfast is upping the ante this year with an 11-day citywide extended St Patrick's Day celebration from 10 to 20 March.
During these days, there will be a live concert, a St Patrick's Day carnival pageant, a trad music trail, and a community showcase event. They are definitely making up for the last two years.
So, if you want to make a nice holiday out of Paddy's Day, Belfast is certainly one of the best places to celebrate St Patrick's Day in Ireland this year.
2. Kilkenny City, Co. Kilkenny – the medieval capital
This St Patrick's Day festival is guaranteed to be a culture-filled event.
Over the five-day festival, there will be street entertainment, traditional music, music workshops, street food, and not forgetting the magical St Patrick's Day parade through the heart of Kilkenny City.
If you're interested in Irish music, Tradfest takes place alongside the St Patrick's Day festivities. So, what's not to love?
1. Dublin City, Co. Dublin – the big smoke goes green with plenty of Irish spirit
The largest parade and biggest celebration in Ireland take place in the Irish capital, Dublin. The parade this year will be led by Ireland's Olympic heroes, Kellie Harrington and Ellen Keane.
Starting off in Parnell Square, the Dublin parade promises to be a spectacle, full of colour, incredible floats, performers, and lots more. The city's Festival Quarter will see an abundance of exciting activities take place there throughout the day.
Then you can finish the day sipping on a Guinness (or a few) in one of Dublin's many famous pubs, like the iconic Temple Bar.
Other notable mentions
Towns around Ireland will hold festivals and special events throughout St Patrick's Day and the weekend. Places like Wexford, Tullamore, Derry, Sligo, and Skibbereen will be decked out in green with numerous events and traditional parades to attend.
FAQs about St Patrick's Day
Where is the biggest St Patrick's Day parade?
The biggest St Patrick's Day parade is actually held in New York City. Almost two million people attend this lively annual event.
What do you wear on St Patrick's Day?
Many people will pin shamrocks onto their clothes. However, if you wear some green clothing, that's great too!
Is Saint Patrick Irish?
Surprisingly no. The Irish patron saint, Saint Patrick, was actually born in Britain.
Get featured on Ireland Before You Die
Do you want to get your Irish business more online exposure? Especially to those interested in travelling the best places in Ireland? Then why not get a dedicated feature on Ireland Before You Die. Find out more 
here.