When it comes to outdoor dining, Cork is paying the way.
Cork is streets ahead when it comes to outdoor dining. With a vast array of options for outdoor dining available in both Cork City and County, there is something for everyone in the 'Rebel County'.
Whether you are looking for somewhere to enjoy all the views that Cork has to offer, a place to enjoy a meal with friends, or are looking for something a little more romantic, County Cork is the place for you.
Here are our top ten best places for outdoor dining in Cork.
10. Sophie's – for rooftop views
Having only opened earlier this year, Sophie's is fast becoming an extremely popular outdoor dining venue.
With a sister restaurant in Dublin, Sophie's offers magnificent views over Cork City. Take in the views and the atmosphere as you enjoy great food and delicious food.
Address: Level 6, The Dean Cork, Horgan's Quay, Railway St, Northern Quarter, Cork
9. Customs House – for fine dining
Nestled in the seaside town of Baltimore, those who enjoy the finer things in life will enjoy a meal here. This award-winning restaurant attracts customers from all across the Emerald Isle.
Using Irish ingredients to create a taste of Turkey, this outdoor dining experience is extremely relaxing.
Address: Customs House, Baltimore, Co. Cork, P81 K291
8. 14A – for an intimate experience
Passionate staff serve simple yet beautiful dishes that are incredibly affordable, making 14A a must for outdoor dining in Cork.
Sourcing ingredients from the nearby English Market, the quality of food on offer here is second to none. They serve brunch until 4 pm every day, which is perfect if you have a late start.
Address: 14A French Church St, Centre, Cork, T12 KVN6
7. Market Lane – an award-winning restaurant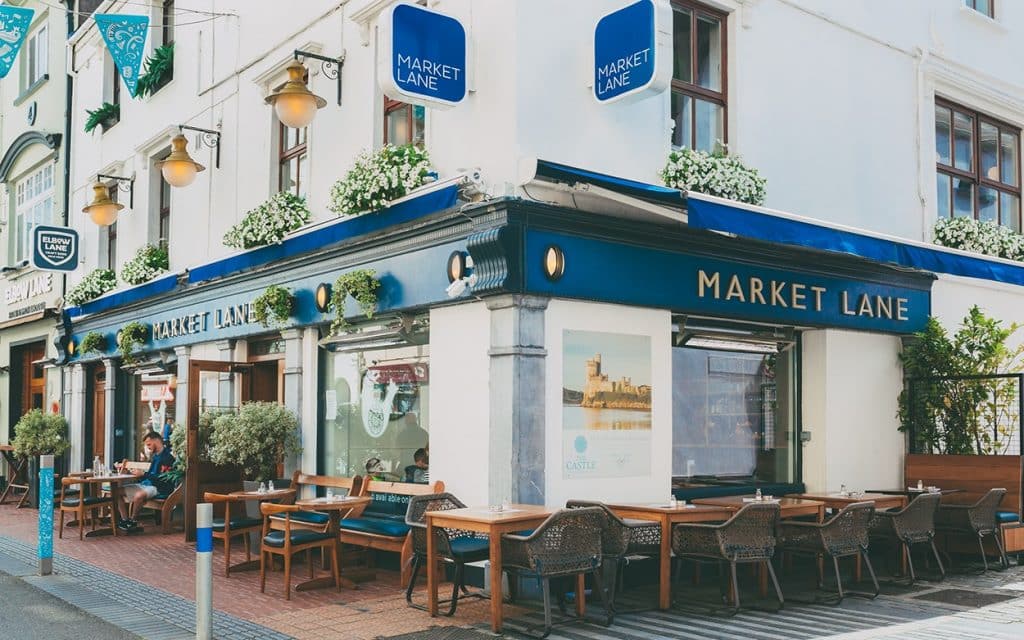 Situated in the heart of Cork City, Market Lane is extremely popular with locals and visitors alike. This family-friendly restaurant regularly changes its menu to reflect the seasonability and availability of its local ingredients.
Their outdoor dining area is the perfect place to watch the world go by while enjoying your meal.
Address: 5-6 Oliver Plunkett St, Centre, Cork, T12 T959
6. Orso – for bold flavours
Serving delicious Mediterranean, Moroccan, and Lebanese dishes, Orso is a great place for a spot of lunch.
They pride themselves in sourcing local ingredients from a variety of Cork producers. There are some brilliant options here for those who are vegetarian.
Address: 8 Pembroke St, Centre, Cork, T12 YY90
5. Greenes – for a true taste of Cork's culinary scene
Hidden behind a wrought-iron gate is an absolute beauty of spot for outdoor dining in Cork.
The selection of dishes on offer here will delight even the pickiest of eaters, with options to suit all taste buds. If the food isn't enough, we think their outdoor dining location is absolutely picture perfect and oozes romance.
Address: Greenes Restaurant, 48 MacCurtain Street, Victorian Quarter, Cork, T23 F6EK
4. O'Mahoney's of Watergrasshill – a hit with foodies
Having served food for over 200 years, this family-run restaurant knows how to serve a delicious meal. This establishment has become a beacon for local suppliers and producers as it has won multiple awards for its food.
If you're a fan of fish and chips, this is up there with serving the best fish and chips in the country!
Address: Main St, Meenane, Cork, T56 Y9F4
3. Tom Barry's – a pizza lover's delight
Tom Barry's is no stranger to outdoor dining, having boasted a wonderful outdoor beer garden for many years.
Serving up cracking pizzas and refreshing pints, it is no wonder why Tom Barry's is a huge hit with locals. This spot is renowned for its pizza and wine deals, which are perfect for enjoying beneath the summer sunshine.
Address: 113 Barrack St, The Lough, Cork, T12 RT44
2. Tequila Jacks Mexican Restaurant – for a taste of Mexico
Overlooking the beautiful River Lee, this Mexican inspired restaurant is perfect for sipping on margaritas.
With a vibrant and exciting atmosphere, you can expect only the finest of Mexican cuisine here. We suggest trying their Queso Fundido followed by their house speciality Tequila Jacks Burger.
Address: City Quarter, Lapp's Quay, Centre, Cork, T12 KCW0
1. Bramley Lodge – a hidden gem
Having recently renovated their outdoor dining area, Bramley Lodge tops our list of the best places for outdoor dining in Cork.
Using only the finest high quality, locally sourced ingredients to create mouthwatering and nutritious food, Bramley Lodge knows how to whip up a flavoursome dish.
Nothing is quite like enjoying a cocktail or two while being served a beautifully presented meal by a member of their friendly staff.
Address: Tullagreen, Carrigtwohill, Co. Cork