Paris has a range of fun Irish pubs for all occasions. So, here are our favourites for when you next find yourself in the City of Love.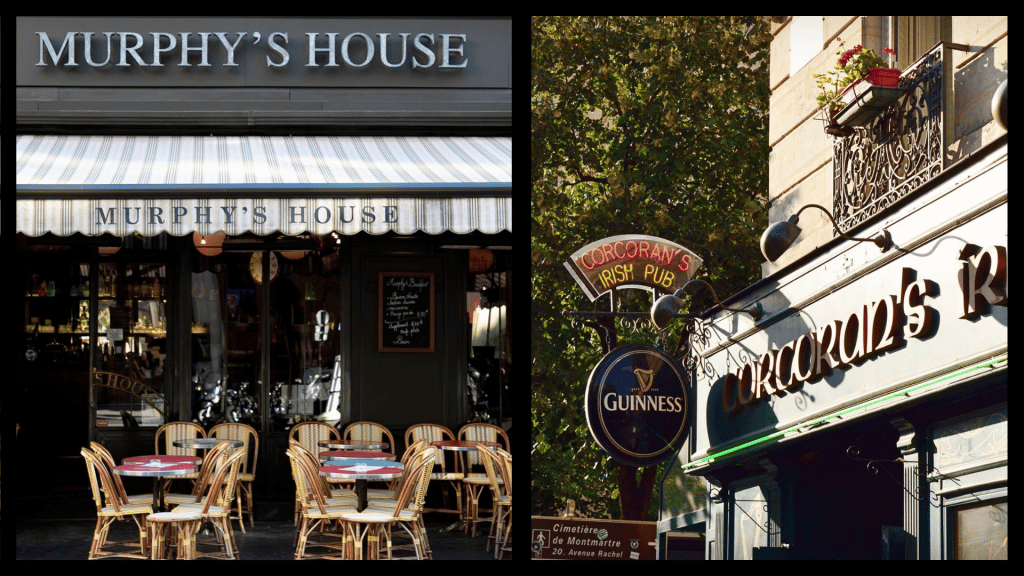 Paris, the French capital city, is known to have some of the best restaurants, bakeries, and iconic landmarks in the world, but what about their epic Irish pubs?
Paris is home to some of the most fun Irish-themed bars, which are undoubtedly worth a visit for a pint, some live entertainment, or a spot of some authentic Irish grub after a day of sightseeing.
There may be quite a few to choose from. So, to help you avoid the tourist traps, we have narrowed down our ten best Irish pubs in Paris, which you should add to your list when visiting the City of Love. 
10. Murphy's House – for great pints and tasty burgers in a convenient location
Located just a few blocks from the Louvre Museum, you will find this warm and welcoming Irish pub.
It serves up some delicious burgers and has a great selection of Irish whiskies affordable beers, for Paris standards anyways.
Address: 10 Rue de la Chau. d'Antin, 75009 Paris, France
9. The Harp Bar – a fantastic spot for sports and Guinness fans
This Irish pub may have a small and simple bar menu, but they offer an excellent pint of Guinness, draft and bottled beers, and some delicious cocktails. So, what more can you ask for?
On top of this, it makes for an ideal stop-off for sports fans. Here, you can watch live sports or before or after an evening at the nearby Moulin Rouge.
Address: 118 Bd de Clichy, 75018 Paris, France
8. The Cork and Cavan – the chilled-out Irish pub in Paris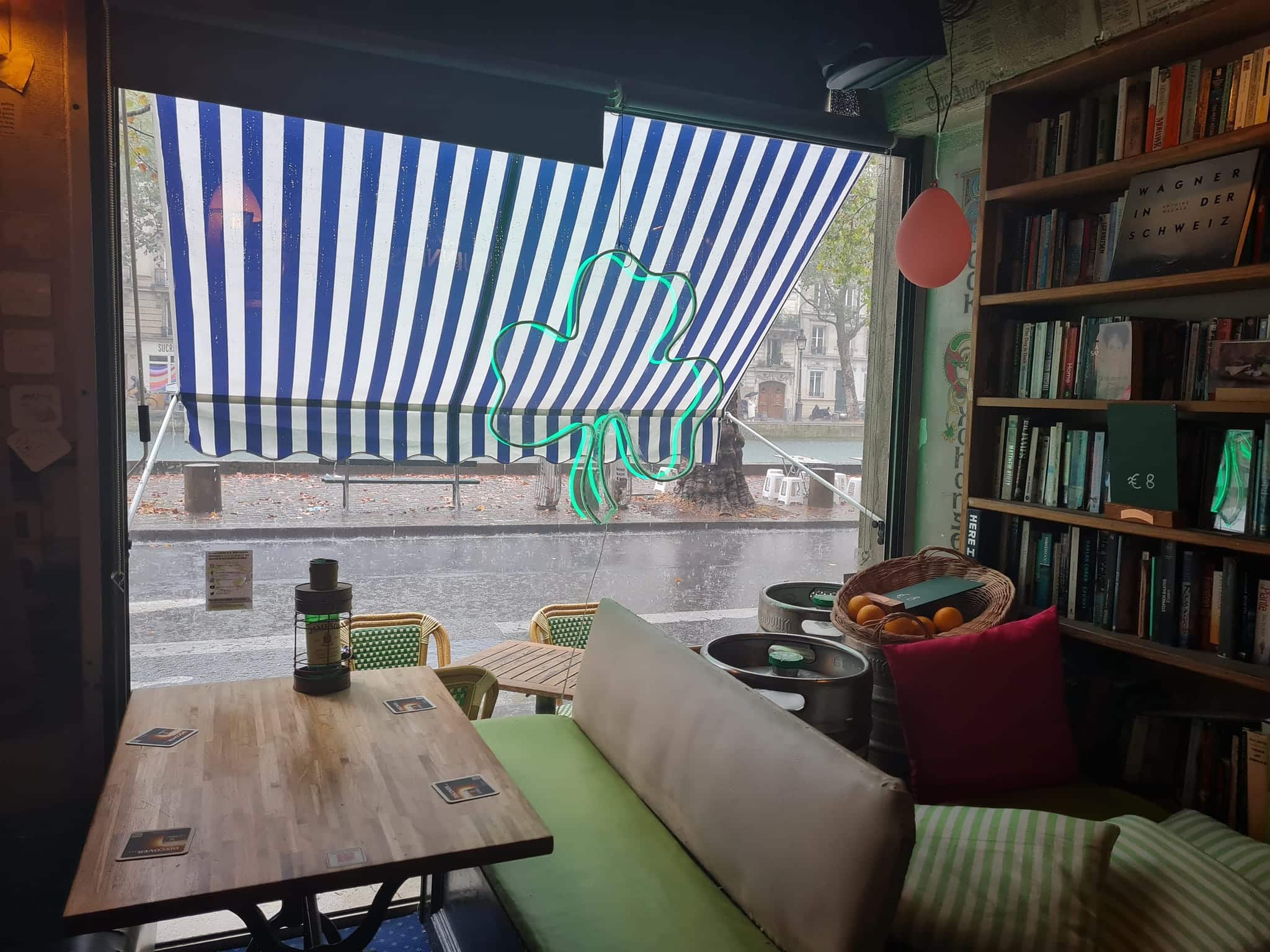 This super easy-going spot is one of the best Irish pubs in Paris to meet new people, have the craic, and ultimately feel at home with a welcoming atmosphere.
This hidden gem within the city is a perfect place to drop into during happy hour to try a selection of their choice of beers.
Address: 70 Quai de Jemmapes, 75010 Paris, France
7. O'Jason – for games night and an extended happy hour
With a brilliant happy hour from 4 pm to 9 pm, as well as attentive staff and a selection of board games for a fun evening with friends, O'Jason is a top choice for an Irish pub in Paris.
For a cheerful atmosphere, an eclectic music playlist, and reasonable prices, this typical Irish pub has to be considered.
Address: 12 Rue de la Huchette, 75005 Paris, France
6. The Green Linnet – an old-fashioned pub with great vibes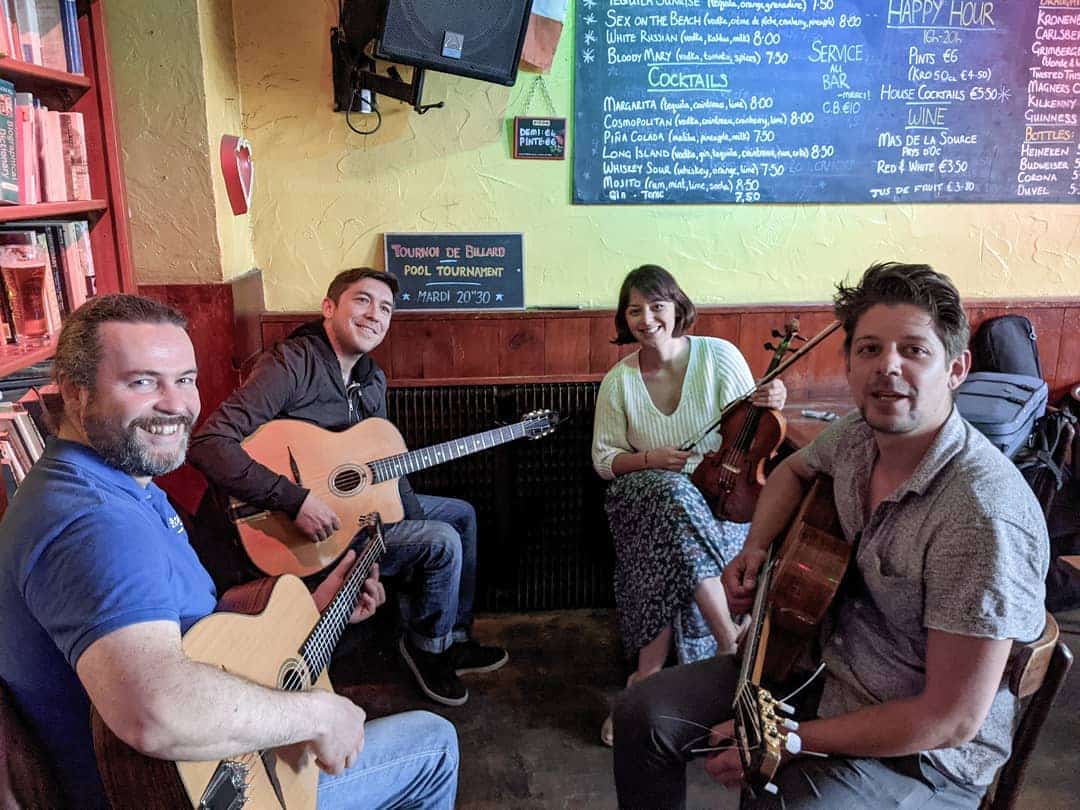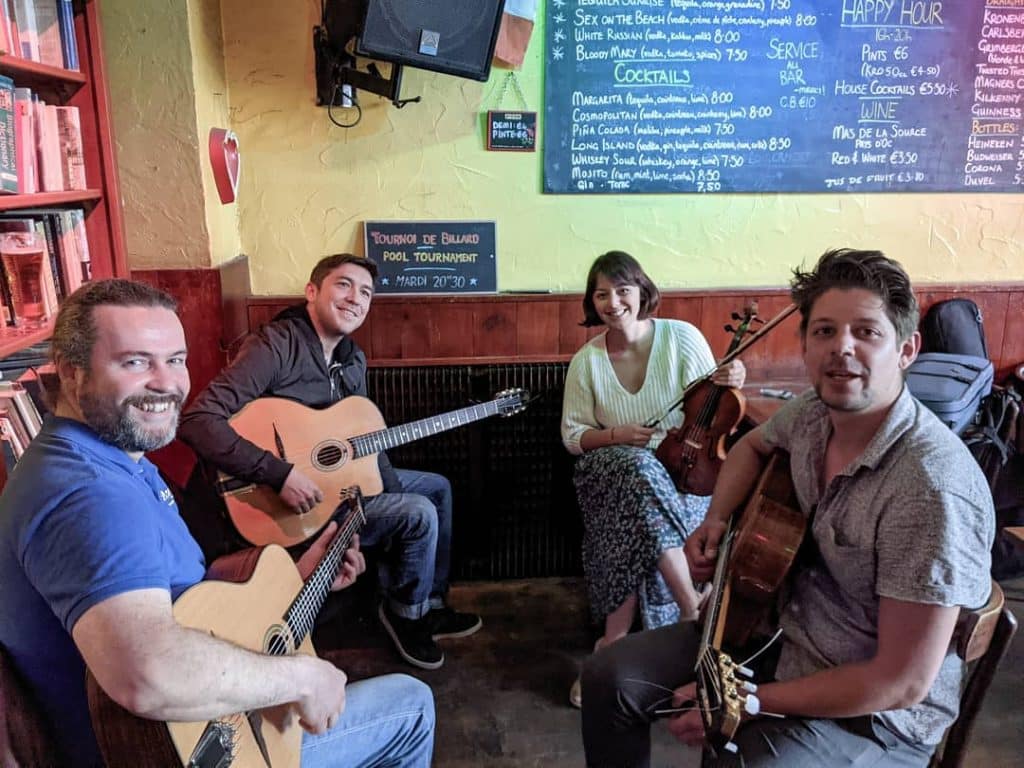 This old-fashioned bar is an ideal place to hang out, play darts, or even participate in a fun trivia night with friends.
Saturday is the night when the pub comes alive and the crowds pour in, making it a great time to pay a visit, try Irish beer, and listen to great music.
Address: 8 Av. Victoria, 75004 Paris, France
5. McBride's Irish Pub – one of the most central Irish pubs in Paris
McBride's is the place to be for Irish vibes, a warm welcome, some hearty dishes, and creamy pints.
Located right in the heart of Paris, this is an ideal spot for a full Irish breakfast before a day of exploring, a tasty dinner when the day is done, or a place to drop in for a pint and some live sports on the big screen.
Address: 54 Rue Saint-Denis, 75001 Paris, France
4. Galway Irish Pub – home of the best Sunday Roast in Paris
This is the pub to have a great time any day of the week, with open mic nights, Tequila Tuesday, live sports, and regular music events, which make for a fantastic evening of fun.
For those keen to have a taste of Ireland, don't miss their tantalising Sunday Roast, which they claim is the best in Paris.
Address: 13 Quai des Grands Augustins, 75006 Paris, France
3. Corcoran's – a one-stop shop for any occasion
Corcoran's is a fantastic choice if you want to get your hands on some tasty Irish grub, soak up the atmosphere during matches, or enjoy a casual pint.
However, it is also ideal for a night out, which makes this pub a great all-rounder. With live music on the terrace each day, you will be kept thoroughly entertained at Corcoran's.
Address: 110 Boulevard de Clichy Paris, 75018 Paris, France
2. Guinness Tavern – the ultimate Irish pub for rock music lovers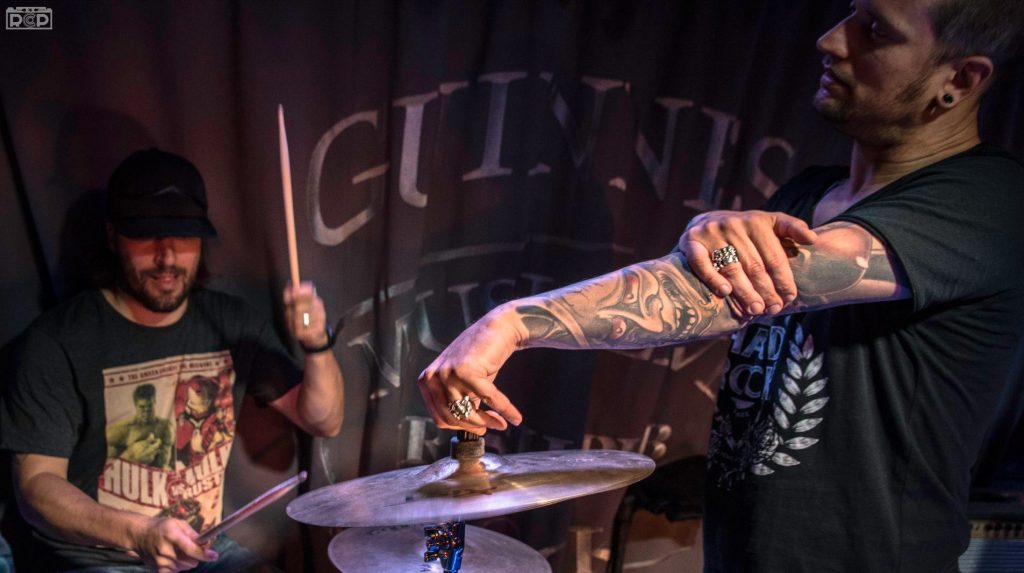 With an extensive range of draft beers, live rock music every single night, and their very own app to keep up to date with the goings on at the Guinness Tavern, this is a place you need to step foot in when in the city.
Featuring a happy hour that lasts until 10 pm, you can enjoy a great range of amazing drink deals. This has to be one of the best Irish pubs in Paris.
Address: 31bis Rue des Lombards, 75001 Paris, France
1. O'Sullivans – one of the best Irish pubs in Paris
This is not just one epic Irish pub. Rather, there is a whole chain of them scattered throughout France, and each one offers something unique.
This Irish pub on Montmartre Street provides a fantastic location, mouthwatering finger food, a dance bar, and regular DJ sets for the ultimate party.
Address: 1 Bd Montmartre, 75002 Paris, France
Notable mentions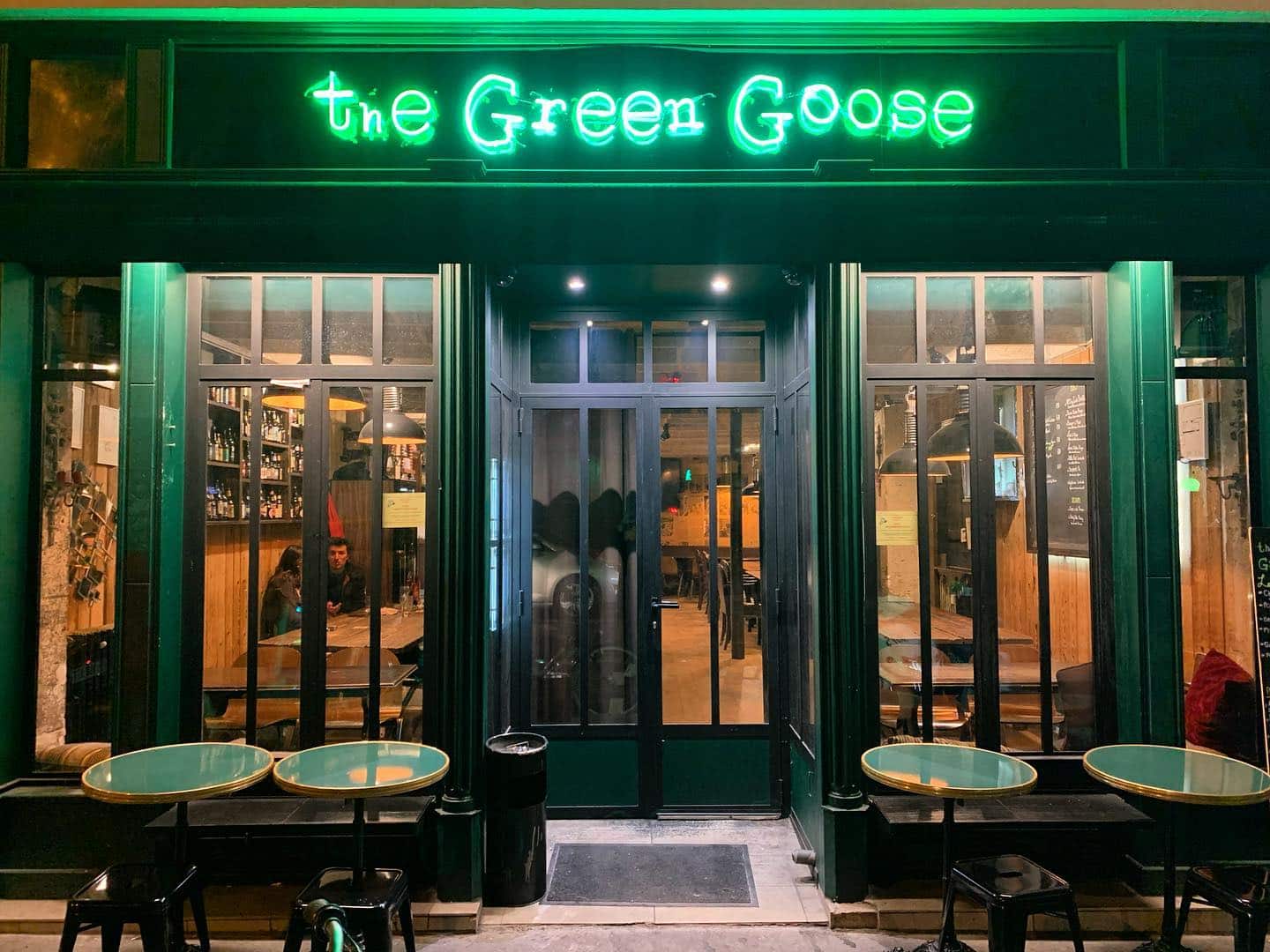 Celtic Corner:With two locations in the city, Celtic Corner has a wide range of Irish beers on tap and yummy cocktails, which they serve in a welcoming atmosphere.
The Green Goose:This Irish pub and restaurant serves up some of the yummiest homemade Irish food and Irish craft beer in the city – need we say more?
The Irishman:There are many Irish pubs in Paris where Irish communities love to hang out, and this is one of them, especially for the food and beer options available.
HaPenny Bridge Pub:This is a grand old spot for a creamy pint of Guinness to watch sports or play darts. It is well deserving of a special mention on our list.
FAQs about the best Irish pubs in Paris
What's the best Irish bar in Paris?
O'Sullivans is undoubtedly one of the best bars, considering there are so many of them to choose from, all of which have something unique to offer.
What's the closest Irish bar to central Paris?
The Green Linnet and McBride's Irish Pub both enjoy a central location in the city.
How many Irish bars are there in Paris?
There are at least 30 Irish pubs in Paris to choose from.
So, there it is, our ten best Irish pubs in Paris. Did your favourite make the list?
Next time you find yourself seeking out some fun events, great homemade food, or a pint of Guinness, be sure to add these Irish pubs to your list.
Get featured on Ireland Before You Die
Do you want to get your Irish business more online exposure? Especially to those interested in travelling the best places in Ireland? Then why not get a dedicated feature on Ireland Before You Die. Find out more 
here.