Missing Ireland in the German capital? Let us help you out with our list of the ten best Irish pubs in Berlin.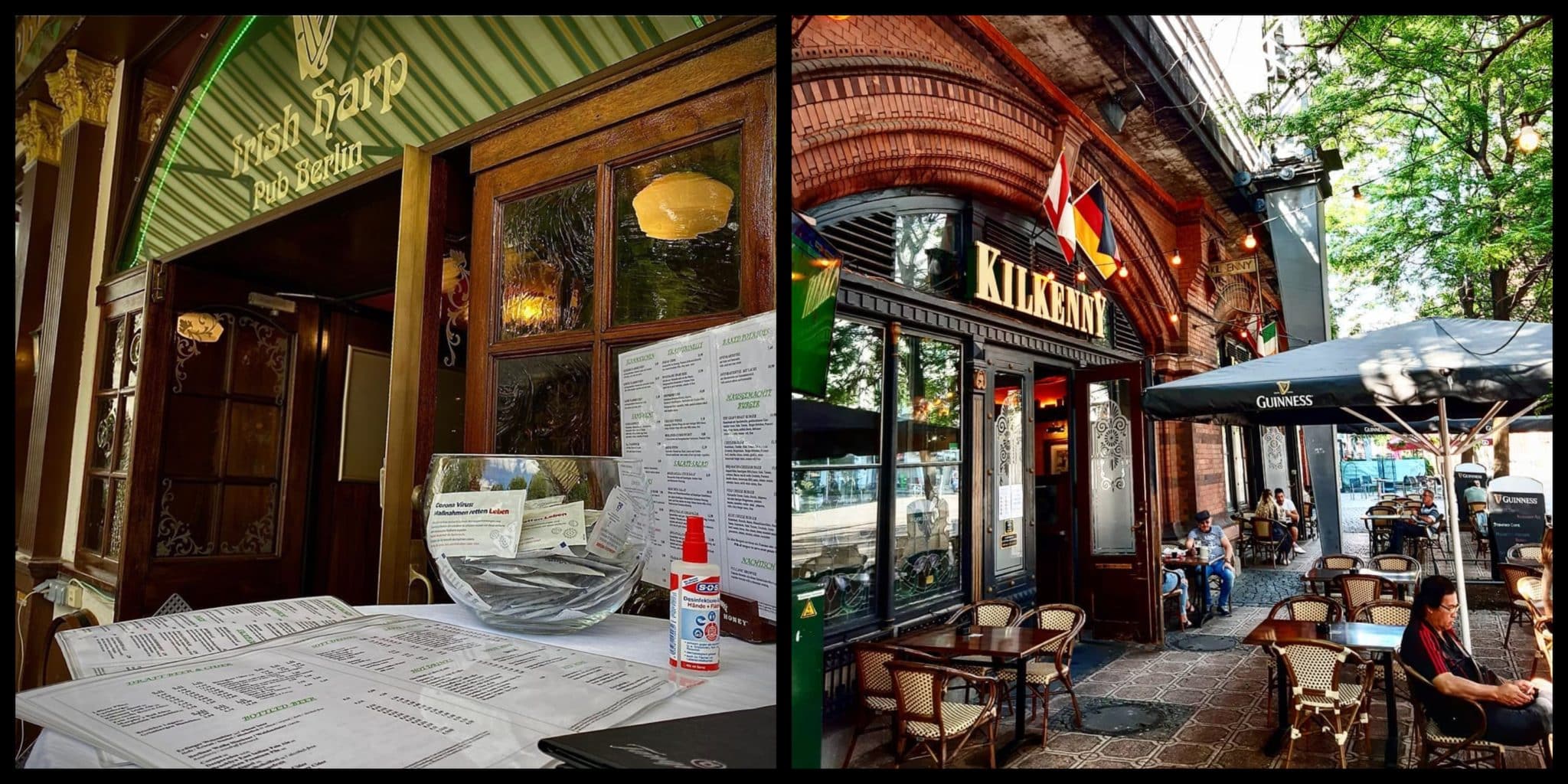 Irish pubs are massively popular around the world, and there are some excellent reasons for it: think about the pints, the live music, and the craic.
If you find yourself in Berlin, think yourself lucky because the city has some of the best and most authentic Irish pubs we can find outside of the Emerald Isle.
Get your mates together and head to these Irish pubs, order a round of pints, and forget about the grim reality for a bit.
And if you feel like we've missed out on an Irish place that is absolutely fabulous, drop us a line, and we will make sure to pay it a visit as soon as we can!
10. Victoria Celtic Pub – a friendly place to enjoy a Guinness or take part in a talent show
"There are no strangers here, only friends who never met," says their website and it perfectly sums up the atmosphere at this pub in Spandau.
One of the cosiest Irish bars in Berlin, Victoria Celtic Pub offers a welcome atmosphere, a large selection of beers and food, as well as events such as open mic nights, quizzes, and talent shows.
Address: Ritterstraße 9-10, 13597 Berlin, Germany
More info: HERE
9. Molly Malone's – a traditional Irish pub run by an Irish-German couple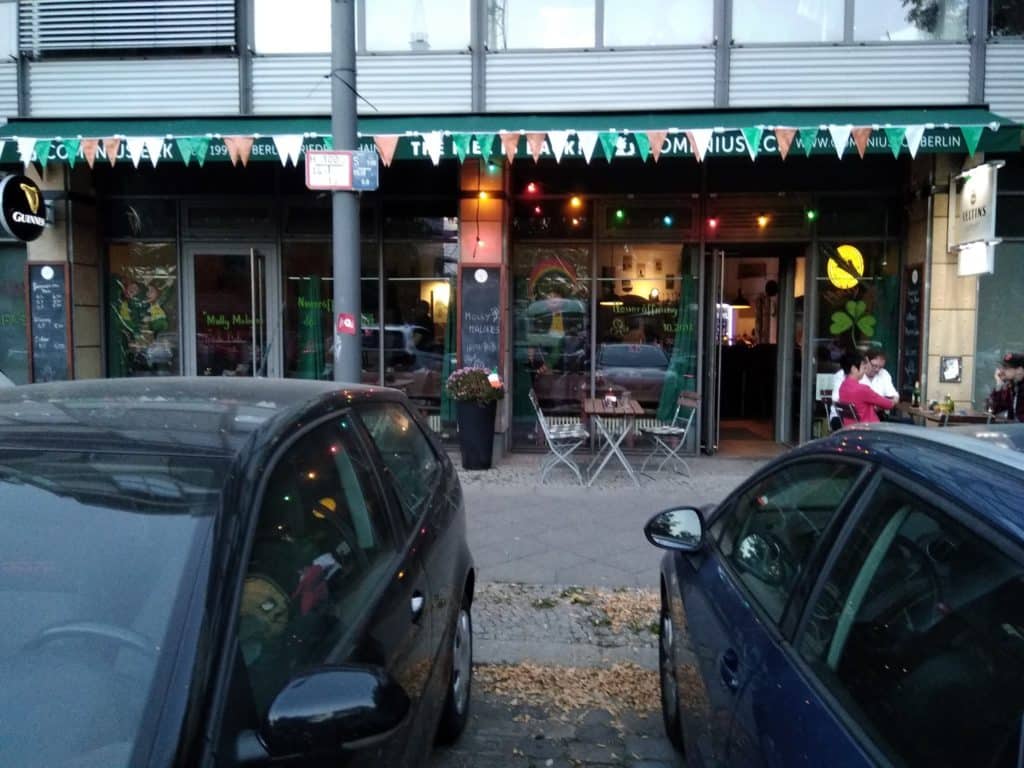 As the name suggests, Molly Malone's in Friedrichshain is a classic Irish pub coming with all the jazz you'd expect – live music on selected days, good vibes, and plenty of pints.
The owners, an Irish-German couple, are experts on both Irish drinks and travel tips. So, if you are planning to visit Ireland sometime in the near future, this place makes a pretty great starting point.
Address: Torellstraße 1, 10243 Berlin, Germany
More info: HERE
8. Murphy's Berlin – a buzzing Irish bar at the river
Located right at the Spree river, this pub near Friedrichshain station features its own patio, making it especially great for summer nights. However, winter days can be just as fun.
They offer nine different beers on tap and nearly 40 different whiskeys from Ireland, Scotland, and the United States.
Foodwise, there's a vast selection of club sandwiches and baked potatoes, as well as all the pub classics from Irish Stew to Shepherd's Pie.
Address: Schiffbauerdamm 1, 10117 Berlin, Germany
More info: HERE
7. Celtic Cottage – an institution amongst Irish pubs in Berlin
One of the oldest and best Irish pubs in Berlin, Celtic Cottage has been around since 1979 and has attracted a loyal crowd ever since.
Regulars rave about the pub quiz on Mondays, the live gigs several times a week, and the incredible selection of 80 types of whiskey.
There's also a large patio for the warmer months, regular sports broadcasts and, should you visit after a long night out, daily Irish breakfast served until three in the afternoon.
Address: Markelstraße 13, 12163 Berlin, Germany
More info: HERE
6. The Lir – a classic Irish pub with a modern twist
This cosy pub in a historic building in Hansaviertel has been around for over 25 years.
Sporting a lovely mix of traditional Irish charm with a modern twist, this is the place to come if you are torn between a pint of Guinness or a fancy Long Island Iced Tea. Here, you can have both.
There's an open fireplace to warm you up during the colder months, a leafy green palm tree beer garden for the summer, and sports broadcasts on XXL-screens all year round.
Address: Flensburger Str. 7, 10557 Berlin, Germany
More info: HERE
5. MacLaren's Pub – a hipster pub with a "How I Met Your Mother" theme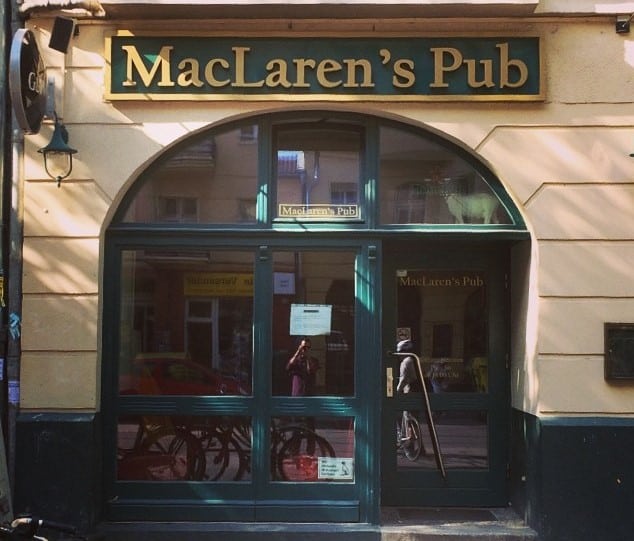 Founded by a former architecture and law student, MacLaren's Pub in Friedrichshain is probably one of the most unusual Irish bars in Berlin – it even runs a How I Met Your Mother theme!
The place is full of memorabilia and inside jokes, including a nude painting of character Marshall, so fans of the series will undoubtedly have a blast.
Besides its signature theme, the pub is also well-known for its massive and delicious burgers and extensive drinks selection.
Address: Boxhagener Str. 16, 10245 Berlin, Germany
More info: HERE
4. Irish Pub inside Europa Center – a hotspot for artists and fans of live music
While spending your pub night in a shopping mall might not be the most attractive choice at first glance, this place has a reputation for being one of the best Irish pubs in Berlin.
Located inside the Europa Center in Charlottenburg, this Irish pub was opened in 1982 and is especially beloved for its extensive live music programme.
Drinks are a great deal too, so if singalongs and checking out new bands over a pint or two are your cup of tea, this might be your new happy place.
Address: Tauentzienstraße 9, 10789 Berlin, Germany
More info: HERE
3. Finnegan's – a home away from home for the Irish and fans of the Emerald
Finnegan's has been serving up Guinness (and more) since 1986, and it is widely considered one of the most popular and best Irish pubs in Berlin.
Dublin-born Colm Costello, who owns the place, has brought a little piece of his home into the German capital, so it comes as no surprise that it's wildly popular with Irish ex-pats.
Expect quiz nights, jam sessions, and great craic every day of the week.
Address: Bergstraße 8, 12169 Berlin, Germany
More info: HERE
2. Kilkenny Irish Pub – one of the longest-running and best bars in Eastern Berlin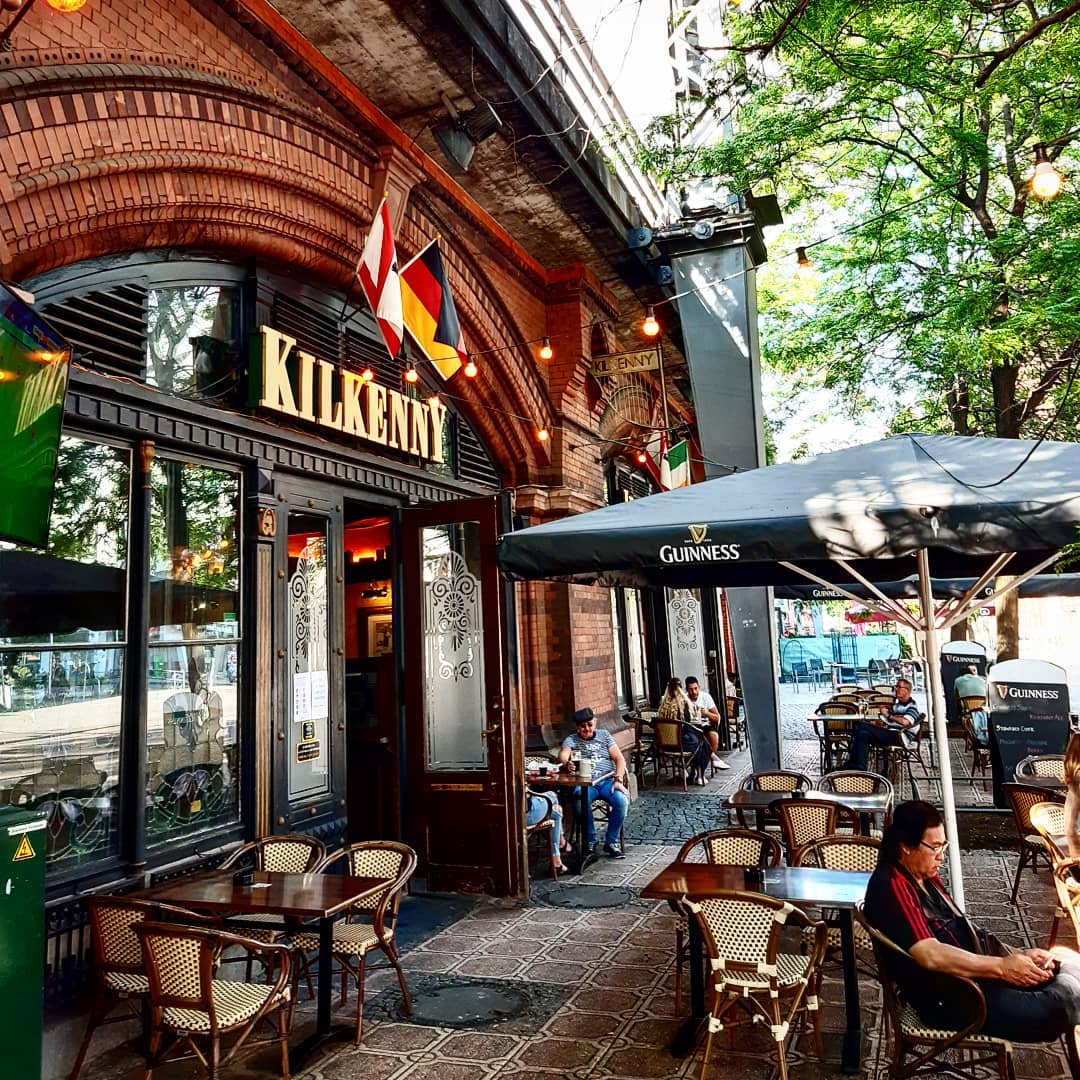 Located right in the heart of Berlin at Hackescher Markt, Kilkenny was one of the first Irish pubs to open in the former East Berlin in 1992. Not to mention it's also one of the largest ones in the capital.
Regulars love the lively atmosphere, the friendly service, and the quiz and live music nights. It's also a great place to watch your favourite sports, from football to rugby, horse riding to Formula One.
Address: Am Zwirngraben 17-20, 10178 Berlin, Germany
More info: HERE
1. The Harp – our top pick of the best Irish pubs in Berlin
Tucked away on a quiet street in Charlottenburg, yet just a minute's walk from famous Kurfürstendamm, The Harp is one of the oldest, most beautiful, and popular Irish bars in Berlin.
And as the luck of the Irish would have it, The Harp serves a mix of Irish and German beers as well as traditional Irish food with live music, pub quizzes, and sports broadcasts, it attracts an international, fun-loving crowd.
There's also a massive outdoor terrace perfect for catching some sun.
Address: Giesebrechtstraße 15, 10629 Berlin, Germany
More info: HERE
Get featured on Ireland Before You Die
Do you want to get your Irish business more online exposure? Especially to those interested in travelling the best places in Ireland? Then why not get a dedicated feature on Ireland Before You Die. Find out more 
here.