Ireland has long been home to some of the best breweries and distilleries the world has ever known. From centuries-old to the modern day, let's take a look at the top ten best Irish breweries and distilleries.
When you think whiskey, you're bound to think of the big players in the game, Irish whiskey, Scotch, and American bourbon. There are some truly incredible distilleries all over the world.
When it comes to breweries, the variety and notoriety is a little more diverse and widespread. Let's delve into the best Irish breweries and distilleries on offer.
10. Waterford Distillery – innovative and inventive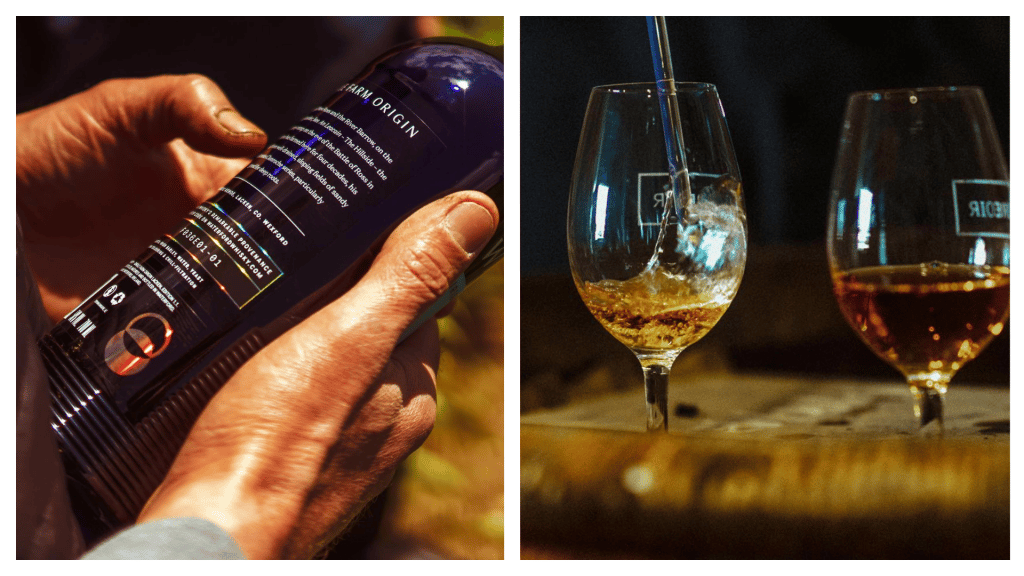 Waterford Distillery is an Irish whiskey distillery with a difference. They are the world's biggest producers of organic and biodynamic whiskey.
The distillery actually sits in a converted brewery where Guinness used to be produced. With a focus on local barley, their product shows that terroir really does have a huge impact on the final spirit.
Address: Grattan Quay, Waterford, Ireland
9. Kinnegar Brewing – a Donegal brewery
Kinnegar Brewing, based out of Letterkenny, has proven to be one of the best Irish breweries and distilleries.
The brewery takes its name from the beach down below the old brewery location near Rathmullan, which loosely translates to 'rabbit warren'.
Once the smallest brewery in Ireland, they now run a large operation that produces a range of finely crafted, all-natural beers.
Address: K2, Ballyraine Industrial Estate, Letterkenny, Co. Donegal, F92 R263, Ireland
8. Whitewater Brewery – IPA, ale, and lager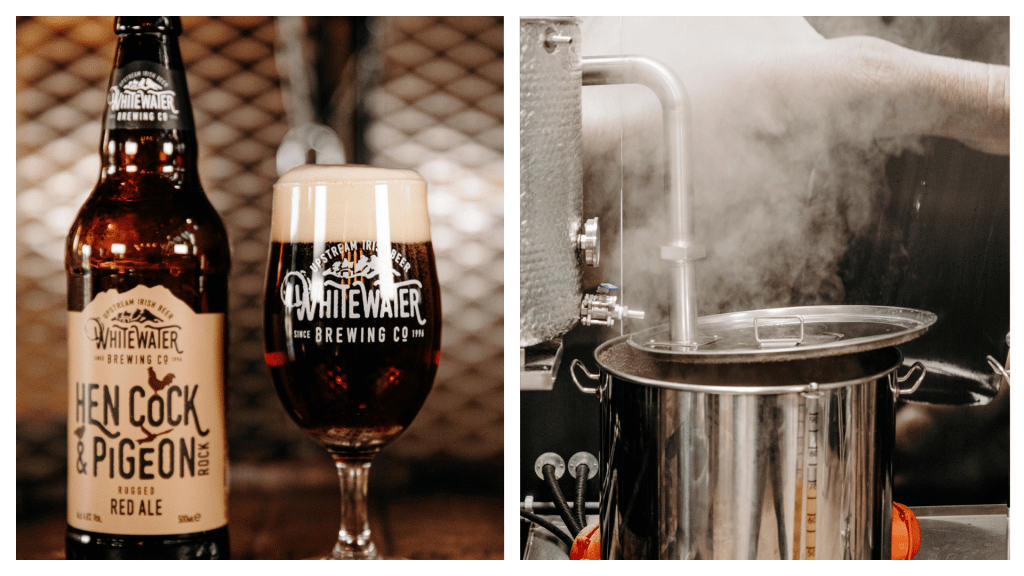 Established in 1996 amidst the beautiful Mourne Mountain range in County Down, Whitewater Brewery is an amazing brewery that produces some spectacular IPAs, ales, and lagers.
A particularly tasty India Pale Ale you might have tried before being Maggies Leap.
Address: Whitewater Brewery, Lakeside Brae, Castlewellan, Northern Ireland, BT31 9RH
7. Boundary Brewing – fantastic selection of craft beers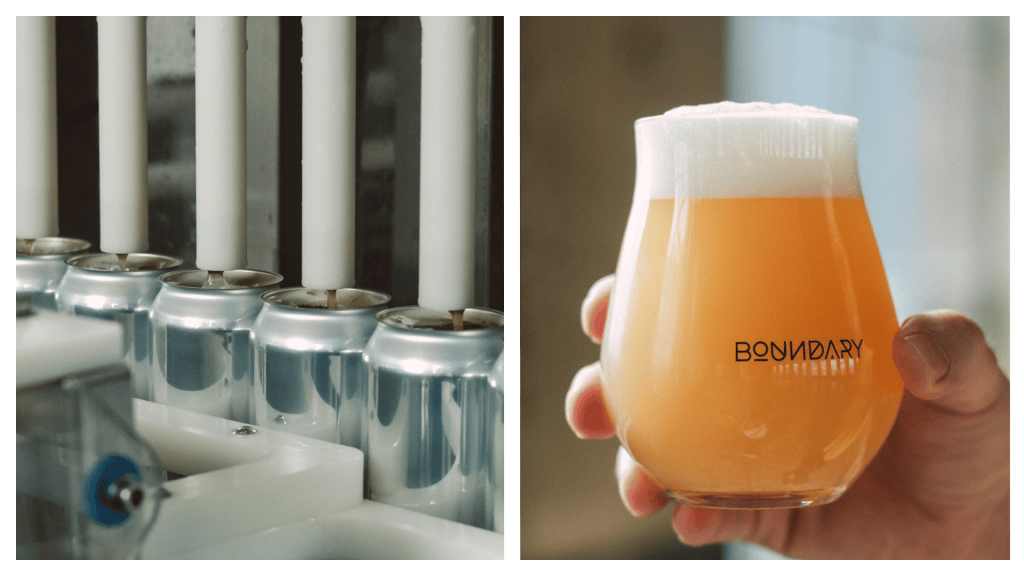 Boundary Brewery is a cooperative brewery based in east Belfast.
It is becoming one of the best craft breweries in Ireland, using only the best ingredients in its IPAs, American Pale ales, Imperial Stouts, and many more.
Address: PortView Trade Centre, 310 Newtownards Rd, Belfast, Northern Ireland, BT4 1HE
6. Tullamore Distillery – Irish whiskey like no other
Ireland's famous Tullamore Dew is distilled in County Offaly at Tullamore Distillery, established in 1829.
You can take a tour of the distillery, where you can explore the whole process from distillation to maturation. Warm up with a delicious Irish coffee or from the soothing heat from the bubbling stills.
Address: Ballard, Tullamore, Co. Offaly, R35 E027, Ireland
5. Walled City Brewery – a beer masterclass
Walled City Brewery is a small gastropub in Derry.
They don't offer official tours, but they put on a cracking beer masterclass where you can sit back, relax, and learn all about the age-old process of brewing.
Address: 70 Ebrington St, Derry BT47 6FA
4. Bushmills Distillery – 400-year-old whiskey
Bushmills is one of the most famous Irish whiskeys known and respected around the world. Made in County Antrim, Bushmills Distillery uses water drawn from Saint Columb's Rill, a tributary of the River Bush, as part of its distillation process.
Bushmills Distillery is a very popular Irish tourist attraction that sees around 120,000 visitors per year. The town of Bushmills itself has so many lovely bars and restaurants, so you can really make a day of it.
Address: 2 Distillery Rd, Bushmills,Northern Ireland, BT57 8XH
3. Teeling Whiskey Distillery – combining traditional and unconventional methods
Teeling Distillery is a relatively new distillery in the grand scheme of things, opening in Dublin in 2015.
While Dublin was once a world whiskey distilling capital, at its inception, Teeling was the first whiskey distillery to open in Dublin in over 125 years.
At the distillery, they use both traditional and unconventional methods to make their stunning small batch whiskey.
Address: 13-17 Newmarket, The Liberties, Dublin 8, D08 KD91, Ireland
2. St James's Gate Brewery – the home of the black stuff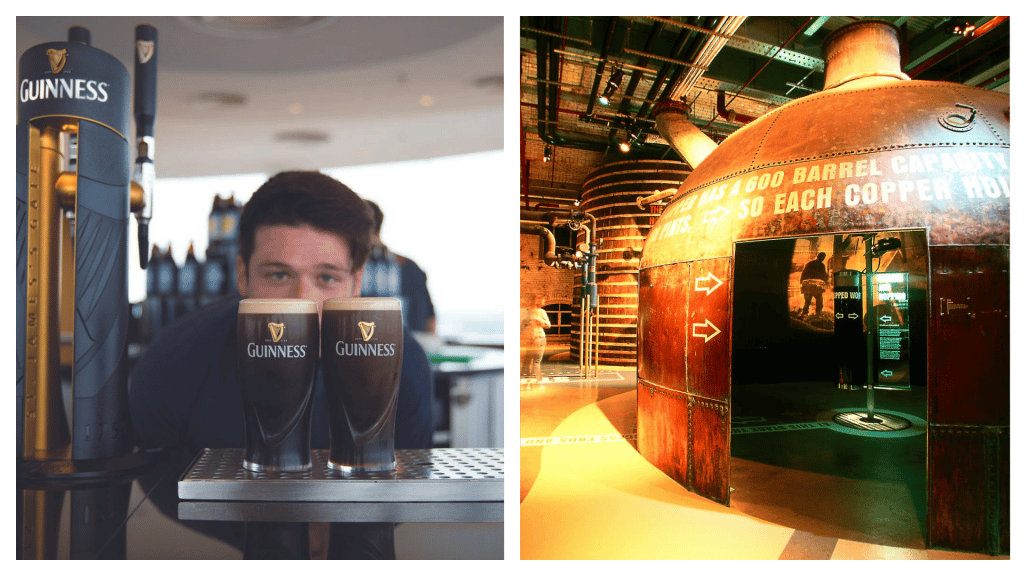 This brewery was founded in 1759 in Dublin by the mighty Arthur Guinness. St James's Gate Brewery is home to one of the most famous alcoholic beverages known and celebrated around the world.
You won't get a pint as smooth, creamy, and delicious as those at the St James's Brewery. This is certainly one of the best Irish breweries and distilleries.
Top top it all off, you can even enjoy a pint at the Guinness Storehouse Gravity Bar, which offers offers 360-degree views of Dublin city.
Address: St. James's Gate, Dublin 8, D08 VF8H, Ireland
1. Midleton Distillery – fastest growing whiskey brand in the world
Midleton is Ireland's largest whiskey distillery and is home to Ireland's most well-known brands. These include Jameson, Powers, and Redbreast, to name a few.
Midleton is to thank for there being over 40 new Irish whiskey distilleries built or being built in the last ten years. The Irish whiskey revolution is truly underway.
Address: Midleton, Co. Cork, Ireland
Notable mentions
Hinch Distillery: Hinch Distillery is somewhat of a new kid on the block in the world of whiskey distilleries. Located on the beautiful Killaney Estate in County Down, Hinch Distillery is surely becoming one of the best Irish distilleries.
Lacada Brewery: Lacada Brewery is a community-owned cooperative brewery in Portrush.
Killowen Distillery: Killowen Distillery is a craft Irish single pot still distillery distilling from the Mourne Mountains.
Wicklow Brewery: Wicklow Brewery is a micro-brewery in the heart of Wicklow that brews premium craft beer.
Galway Bay Brewery: Galway Bay Brewery is independently owned and operated brewery on the west coast of Ireland.
Hilden Brewery: Located just outside of Belfast, Hilden Brewery is a fantastic craft brewery you need to visit.
Spadetown Brewery: A County Armagh brewery whose beers first became available to purchase in late 2021.
Jameson Bow St Distillery Tour: Founded by John Jameson in 1780, today, the former factory acts as a monument to Irish whiskey. At the Jameson Bow Street tour, visitors can learn all about the historic whiskey-making process.
FAQs about the best Irish breweries and distilleries
What is the biggest brewery in Ireland?
St James Gate Brewery, home to Guinness, is the biggest brewery in Ireland
What is Ireland's oldest brewery?
Smithwick's Brewery is Ireland's oldest brewery and has been brewing beer since 1710.
Does Ireland have craft beer?
Absolutely! There are lots of breweries and bars in Ireland that make and serve craft beer.