We are here to spill the Indian butter beans on the best Indian restaurants in Cork to dine out for all you lovers of Indian cuisine.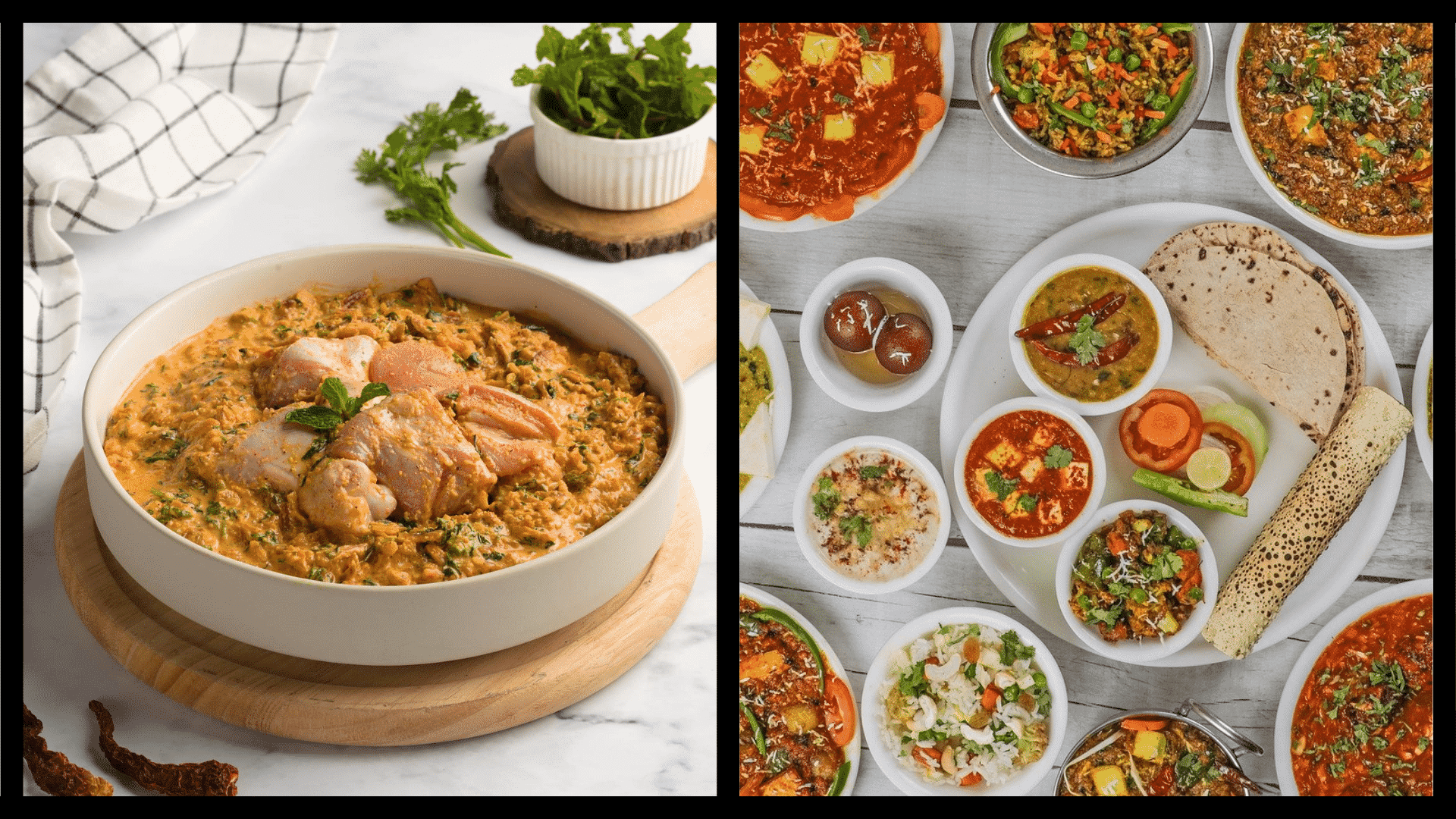 If you love an excellent slap-up Indian meal full of flavour, authentic spices and covered in delicious sauces, you are in the right place because we will unveil the best Indian restaurants in Cork so you can satisfy your cravings.
If we say so ourselves, some of these spots are fantastic, but the choice is yours, and here are ten unbeatable culinary options for you if Indian food is on the menu.
10. Spice Inn – the place for the best curry
Spice Inn is renowned for their fantastic curry, which keeps patrons coming back. They also have many other lovely meals which are perfect for those looking for spicier options.
Spice Inn deserves a moment of your time to prove just how consistent they are. Offering fast delivery and service with a smile, this Indian restaurant in Cork is one to add to your list.
Address: 87 N Main St, Centre, Cork, T12 H59D
9. Mahi Tandoori – for good quality & affordable takeaway
If you are looking for value for money without skipping on quality, then give Mahi Tandoori a try, with classic dishes and set meals for one/two/four people available.
This is an excellent choice for a takeaway with fast delivery, great service and some yummy authentic Indian delights.
Address: 50 Thomas Davis St, Blackpool, Cork, T23 A093
8. Saffron the Finest Indian Cuisine – a Midleton favourite
Located in Midleton, this popular Indian restaurant is a favourite of locals who love their dishes bursting with authentic flavours. If you want a true taste of Indian cuisine in this region, stop by Saffron, where the skilled chef will whip you up something sensational.
Address: Midleton, Co. Cork
7. Indian Aagrah – a hidden gem in Cork
This hidden gem, located a little outside of the city centre, is a fantastic spot to try out superb Indian dishes in a beautiful setting.
You can expect a great ambience, experienced chefs, welcoming staff, and so many choices, that you will need to return a few times to try everything on offer – which isn't a bad thing.
Address: 89 Sunday's Well Rd, Sunday's Well, Cork, T23 EH58, Ireland
6. Mirch Masala – for huge, tasty portions in Clonakilty
Featuring a massive menu with vegan and vegetarian options and your usual favourites, Mirch Masala is the place to drop in to for excellent service, great food, and large portions – so make sure to arrive hungrily.
Foodies will love the Chicken Tikka, fresh naan bread and Tandoori mixed grill, while those looking for that next food challenge should try the hot vindaloo.
Address: 3/4 Connolly Street, Maulnaskehy, Clonakilty, Co. Cork, P85 XC53
5. Lal Quila – for an extensive menu variety
This Indian takeaway is the perfect option if you are looking for high-quality food to take home and enjoy.
It will be hard to know what not to order here with an array of favourite lamb, beef, paneer, rice and chicken dishes, and tandoori specials.
Address: 2 E Douglas St, East Douglas Village, Cork, T12 Y98A
4. Bombay Palace, Indian Restaurant – for Indian food in a central location
Strategically located close to English Market, this is a fantastic option for contemporary Indian food in the heart of Cork city.
This ultra-comfortable eatery is where customers enjoy a pleasant atmosphere and menu specials, all down to the attentive staff and skilled chefs.
Address: Emmett Pl, Centre, Cork
3. Eastern Tandoori Indian Restaurant – the place for all occasions
Operating since 1994, Eastern Tandoori has long been where friends and family gather over a delicious meal with a view over the river Lee.
Ideally located in Emmet Place, this is ideal for Indian food lovers to enjoy a quiet dinner or a celebration accompanied by some Indian beer.
Address: Emmett Pl, Centre, Cork
2. Coriander Nepalese & Indian Restaurant – for two culinary delights under one roof
Here, you can avail Nepalese and Indian cuisine to get the best of both worlds, with a range of delicious dishes. As one of the best Indian restaurants in Cork, this traditional establishment is an Indian food lovers' paradise.
Address: Tramway Terrace, E Douglas St, Douglas, Cork, T12 AW88, Ireland
1. Haveli Indian Restaurant – for authentic Indian cuisine
With an Indian Head Chef who hails from New Delhi, you can guarantee that you are getting genuinely authentic Indian dishes here. All of these usual dishes are suited to each individual.
The staff will guide you towards spicy, mild, vegetarian, coeliac and low-fat options from their unique menu, making this place stand out from the crowd.
In our opinion, this is the best restaurant on Cork's Indian food scene.
Address: Morris House, Church St, Douglas, Cork, Ireland
So, suppose you are after some high-quality sit-down dining or a quick and affordable takeaway without lacking in flavour and quality. In that case, you can rest assured that there are plenty of options in the best Indian restaurants in Cork.
Other notable mentions
The Spice Route: For great takeaway Indian food at affordable prices
Jimmys House of Spice: This Carrigtwohill favourite offers a range of delicious dishes and healthy food for takeaway.
Spice of India: For modern and classic Indian dishes made fresh daily.
Raj Gaylord Indian Restaurant: Serving superb Indian cuisine and notably fast service.
FAQs about the best Indian restaurants in Cork
Where is good Indian food in Cork?
Haveli Indian & Coriander are two popular spots for outstanding Indian cuisine in Cork.
Is Indian food popular in Cork?
While Irish people love their own Irish food, they definitely have a soft spot for Indian food. So naturally, you will find plenty of restaurants and takeaways to choose from, both in the city and around Cork where you will find some of the finest cuisine around.
What are some unique places for Indian food in Cork?
Coriander is a great spot to enjoy two cuisines in one place – both Nepalese and Indian, which makes it a unique location.