From the Giant's Causeway to the Titanic Exhibition, Northern Ireland is brimming with exciting things to see and do.
However, it is also full of many other lesser-known locations deserving of equal recognition.
So, if you're looking for something off the beaten track, here is our list of the top ten best hidden gems in Northern Ireland.
10. C.S. Lewis Square, Co. Antrim – where adventure awaits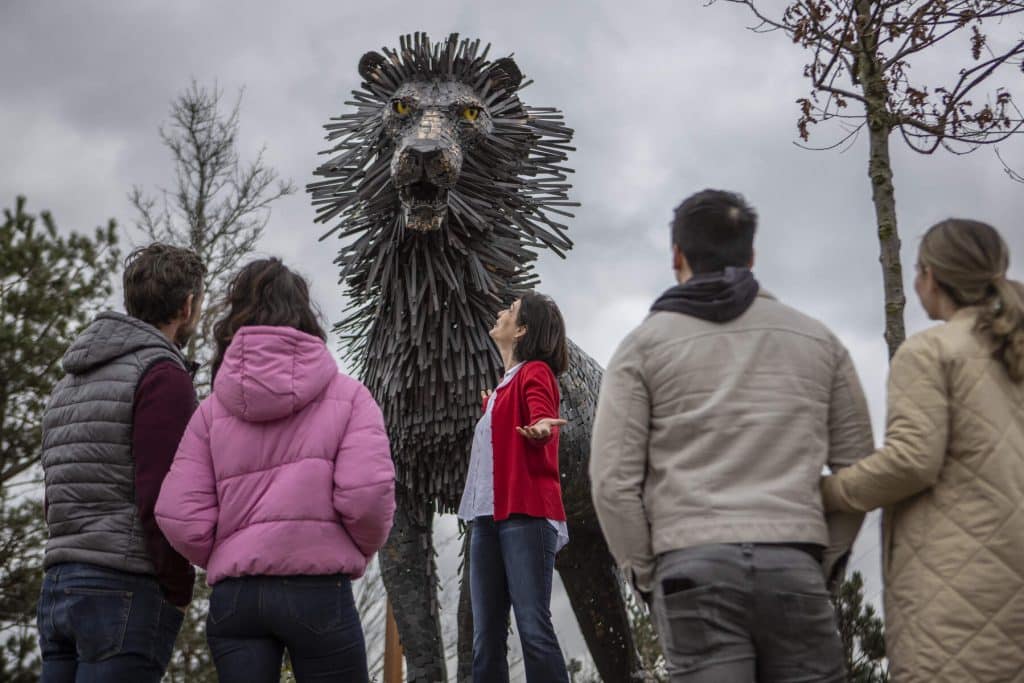 Dedicated to the iconic Belfast-born author, C.S. Lewis Square consists of seven bronze statues of characters from The Lion, The Witch and The Wardrobe designed by Irish artist Maurice Harron.
Open 24/7, this fully illuminated outdoor public space also holds concerts, markets, and street theatre performances.
Address: 402 Newtownards Road EastSide Visitor Centre, Belfast BT4 1HH
9. Garvagh Forest Pyramid, Co. Derry – an empty edifice
Within a bluebell wood in the 200 hectare Garvagh Forest lies a 21ft (6.4 m) high 19th-century freestone pyramid.
Designed as Lord Garvagh's burial chamber, this abandoned yet stunning piece of architecture never served its intended purpose and was eventually sealed up.
Address: Garvagh, Coleraine BT51 5GA
8. Sunflower Field, Co. Antrim – a summer spectacle
Despite growing in popularity in more recent years, the sunflower field in Portglenone remains one of the best hidden gems in Northern Ireland.
Open on a seasonal basis, it is the perfect place to soak up nature and snap some cool pictures. As an added incentive, proceeds are also donated to the owners' chosen charity.
Address: 173 Gortgole Rd, Portglenone, Ballymena BT44 8AU
7. Navan Centre and Fort, Co. Armagh – where mythology and reality collide
This ancient ceremonial monument and significant archaeological find is believed to have been one of the great royal sites during pre-Christian Gaelic Ireland.
Nowadays, visitors to the Navan Centre and Fort can get a unique insight into life during the Iron Age.
Address: 81 Killylea Rd, Armagh BT60 4LD
Have you ever wanted to go mining for gemstones, fossils, or arrowheads? If the answer is yes, then you're in luck.
Located at the Jet Centre in Coleraine, this outdoor activity is fun for all ages. And, the best part is, whatever hidden treasures you find are yours to keep!
Address: 1 Riverside Park S, Coleraine BT51 3A
5. Colin Glen Forest Park, Co. Antrim – fun for all the family
Within this 200-acre forest park lies numerous adventure and sports attractions accessed across three different entrances: River Entrance, Leisure Entrance, and Mountain Entrance.
From high-ropes and laser tag to a 3G sports dome, ziplines, and Ireland's first alpine coaster, this site is certainly one of the best hidden gems in Northern Ireland.
(River Entrance) Address: 163 Stewartstown Rd, Dunmurry, Belfast BT17 0HW
4. Seamus Heaney Home Place, Co. Derry – tread the footsteps of a literary icon
This award-winning arts and literary centre uses immersive exhibitions and audio-visual displays to explore Heaney's life and work.
Located between his (two) childhood homes and burial site, visitors get a look at the people and landscapes he took inspiration from.
Address: 45 Main St, Bellaghy, Magherafelt BT45 8HT
3. Cuilcagh Mountain Boardwalk, Co. Fermanagh – a heavenly trail
Coined the 'Stairway to Heaven', hikers must embark upon a steep ascent if they wish to witness the famously scenic low land views first-hand.
Undoubtedly one of the best hidden gems in Northern Ireland, the payoff for this tough trek is second to none.
Address: 43 Marlbank Road Legnabrocky Florencecourt County Fermanagh Northern, Enniskillen BT92 1ER
2. Sperrin View Glamping Pods, Co. Tyrone – a window to the stars
You can find Sperrin View Glamping Pods at one of Northern Ireland's designated Dark Sky Sites.
This glamping site at the base of the Sperrin Mountains offers unparalleled views of the stars through a special 'viewing window' allowing guests to witness the spectacle from the comfort of their bed.
The site also lies close to other popular spots, including the Beaghmore Stone Circles and Davagh Forest Trails.
Address: 71 Blackrock Rd, Cookstown BT80 9PA
1. Flagstaff Viewpoint, Co. Down – the ultimate viewpoint
For unbeatable and breath-taking views, look no further than the Flagstaff Viewpoint atop Fathom Hill in Newry, County Down.
Easily one of the best hidden gems in Northern Ireland, visitors can peruse Carlingford Lough whilst revelling in the glorious sight of the Cooley and Mourne Mountains.
Address: 98 Flagstaff Rd, Newry BT35 8GP