Whether you're local to Northern Ireland or travelling there specifically to golf, you have to check out our list of the ten best golf courses in Northern Ireland.
In Northern Ireland, there are some amazing golf clubs with courses that boast stunning views, excellent facilities, and well-kept greens that will feel so good to play on.
Whether you're from here and looking to improve your put, or travelling to Northern Ireland to check out what's happening in the golf scene here, we'll make your life a little easier by listing the best golf courses in Northern Ireland.
Wondering where to head for a game? If so, here are some incredible spots to check out.
10. Galgorm Castle Golf Club, Co. Antrim – an outstanding venue for golf
Galgorm Castle Golf Club in Ballymena has one of the finest parkland courses in Northern Ireland. It is set right in the heart of Galgorm's castle estate, so golfers here can enjoy stunning surroundings.
Once you're finished with a day of golf, you can indulge in reasonable yet delicious food and drinks at the upscale bar and grill located at the club.
Address: 200 Galgorm Rd, Ballymena BT42 1HL
9. Lough Erne Golf Resort, Co. Fermanagh – championship courses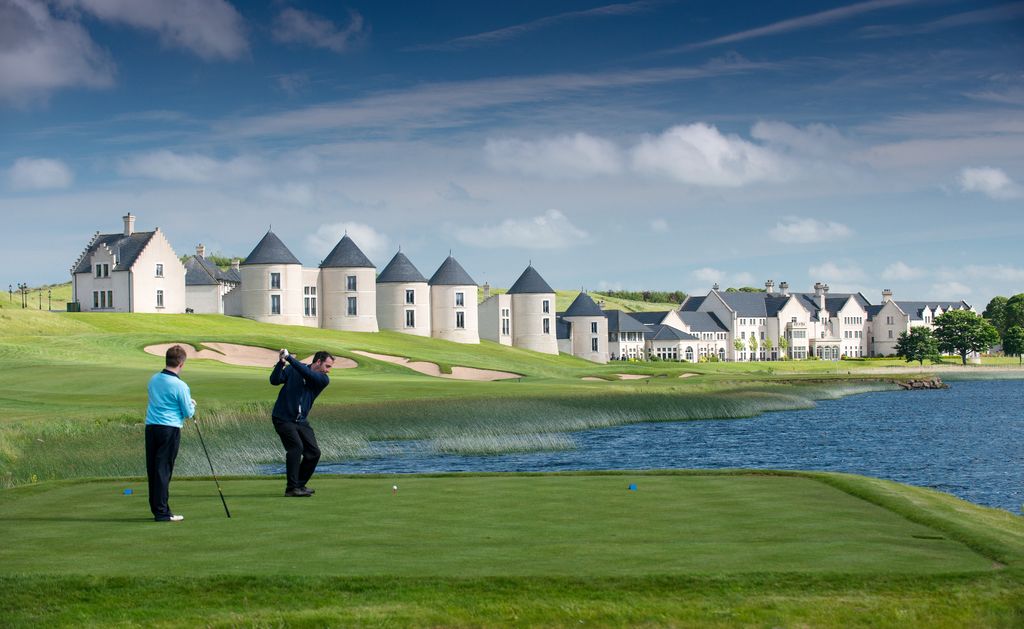 The courses at Lough Erne Resort consist of The Faldo Course and the Castle Hume course. The Faldo Course, designed by six-time Major Championship winner Sir Nick Faldo, provides superb all-year-round playing conditions.
The Castle Hume is a parkland course that boasts stunning views, neat and tidy greens, and manicured fairways. It has been host to ten Ulster PGA Championships.
As you'll be on the grounds of Lough Erne Resort, why not treat yourself to the spa after your game!
Address: 93 Lough Shore Rd, Ross Inner, Enniskillen BT93 7ED
8. Royal Belfast Golf Club, Co. Down – Ireland's oldest golf club
Located just outside of Belfast, Royal Belfast Golf Club is one of the best, and oldest, golf clubs in the whole of Ireland and provides excellent golf experiences.
As soon as you step foot on the tee here, you're treated to great course conditions and beautiful surroundings.
The course is situated on the edge of Belfast Lough, so when you reach certain spots of the course, you can breathe in the fresh air that the lough below provides.
Address: Station Rd, Holywood BT18 0BP
7. Portstewart Golf Club, Co. Derry – three fantastic courses
Portstewart Golf Club in County consists of three 18-hole courses. The club is an old one, dating way back to 1894. It is renowned around the world and hosted the Irish Open in 2017.
The courses are set on a beautiful landscape. During your game, you can delight in incredible panoramic views across Lough Foyle to the Inishowen Peninsula. Be sure to dine in one of the club's top of the range restaurants to really appreciate the view.
Address: 117 Strand Rd, Portstewart BT55 7PG
6. Belvoir Park Golf Club, Co. Antrim – famously praised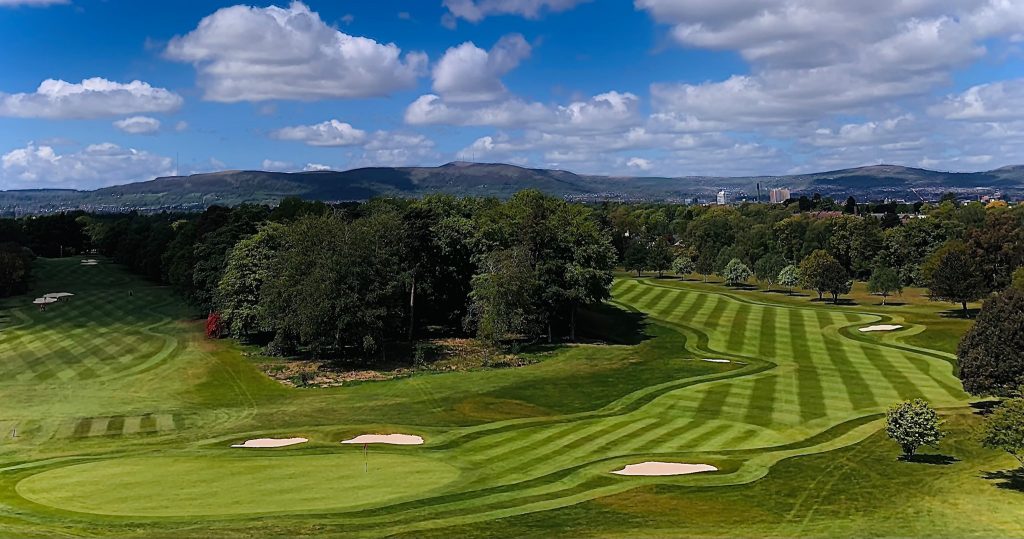 Just 3.2 km (2 miles) from Belfast City Centre, Belvoir Park Golf Club is rated as one of the best golf courses in Northern Ireland, as well as the whole island of Ireland.
The course is set on a beautiful landscape and the holes have been carefully thought out, with new varieties of plants and trees being planted to shape the course.
After your game, you can enjoy a meal in the club's restaurant, The View, with stunning panoramic views of Belfast. This is one of the best venues in all of Irish golf.
Address: 73 Church Rd, Castlereagh, Belfast BT8 7AN
5. Castlerock Golf Club, Co. Derry – golf among the dunes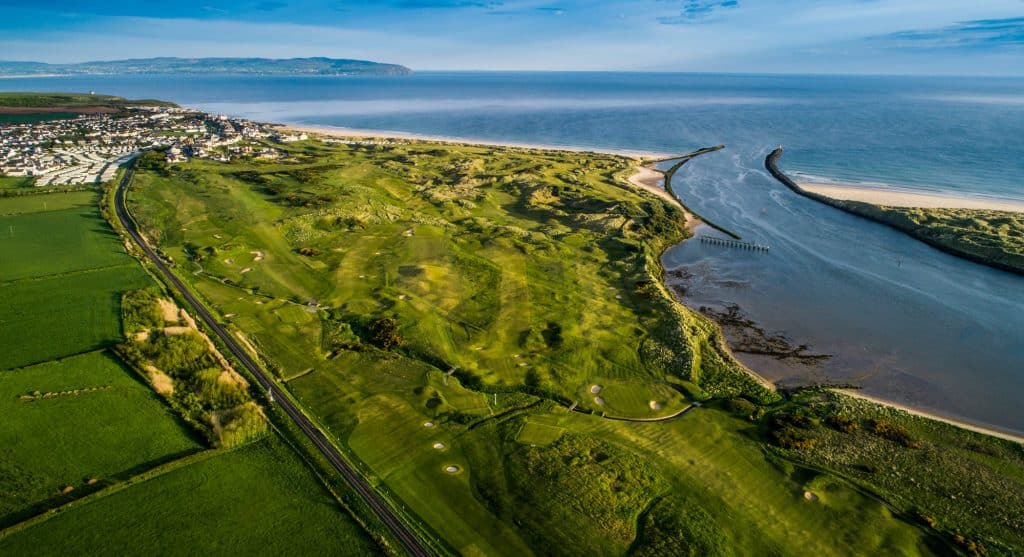 Castlerock Golf Club has a classic links course in the beautiful natural setting of the towering dunes. The course can be tricky and challenging, providing the perfect place to practice your swing.
A beautiful setting with narrow fairways, you will not be disappointed if you take a visit to this excellent golf course with stunning scenery.
Address: 65 Circular Rd, Castlerock, Coleraine BT51 4TJ
4. Malone Golf Club, Co. Antrim – the best inland course in Northern Ireland
Although Malone Golf course doesn't command huge length, it is widely referred to as one of the best golf courses in Belfast. Boasting 27 holes, the course is set on a stunning landscape around the lake on the 330-acre Ballydrain Estate.
When you come to the 13th hole, that's when you'll really take in the beauty of landscape as this is where you first see the lake. The 15th hole is over water. Is that a challenge you'd be up for?
Address: 240 Upper Malone Rd, Dunmurry, Belfast BT17 9GA
3. Ardglass Golf Club, Co. Down – cliff-top holes
Easily one of the most visually pleasing golf clubs in Northern Ireland, you'll be treated to views of the Irish Sea and St. John's Lighthouse along this stunning cliff-top course. 'Golf Advisor' name the uphill first among the scariest opening holes in golf.
You are in for an absolute treat when you come here. Another thing that makes Ardglass Golf Club a unique must-see is the clubhouse. Dating back to 1405, it is the oldest clubhouse in the world.
Address: Castle Pl, Ardglass, Downpatrick BT30 7TP
2. Royal Portrush Golf Club, Co. Antrim – beautiful North Coast views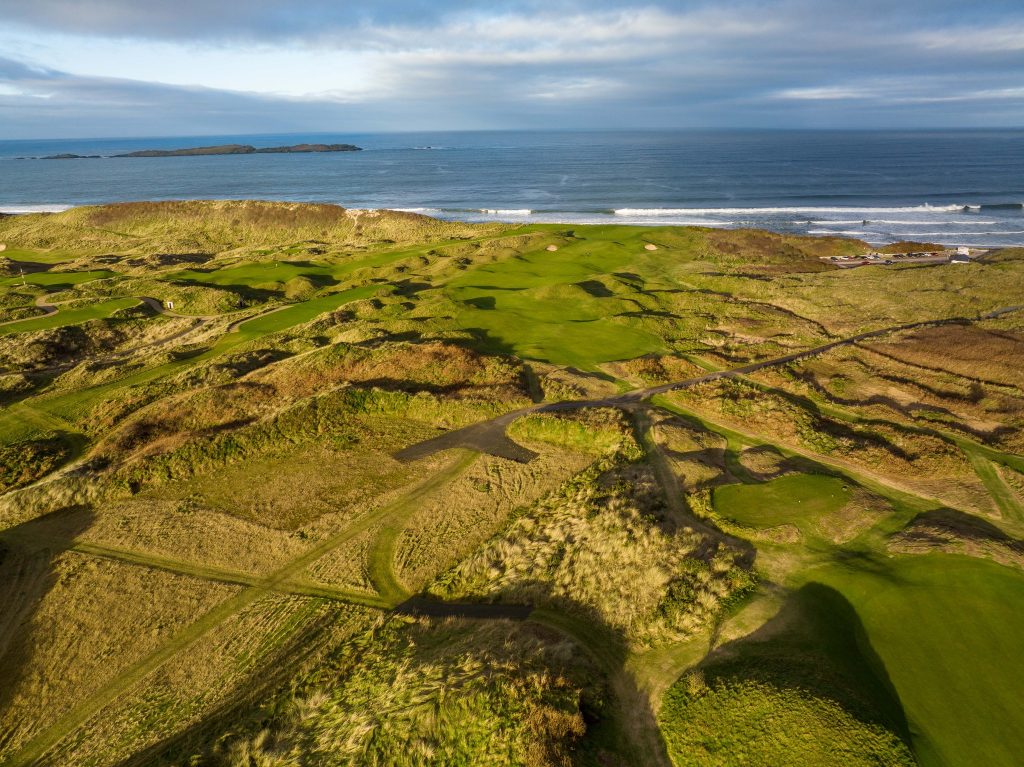 Hosts of the Irish Open in 2012 and 2019, the 36-hole club has two links courses, the Dunluce Links and the Valley Links. The Dunluce Links is rated as one of the most challenging and spectacular links courses in the world.
The views are outstanding. The tremendous landscape is set beside the Atlantic Ocean on Ireland's North Coast. Here, you will be treated to distance views of the hills of Donegal as well as the island of Islay.
Royal Portrush Golf Course is certainly one of the best golf courses in Northern Ireland.
Address: Dunluce Rd, Portrush BT56 8JQ
1. Royal County Down, Co. Down – the best golf course in Northern Ireland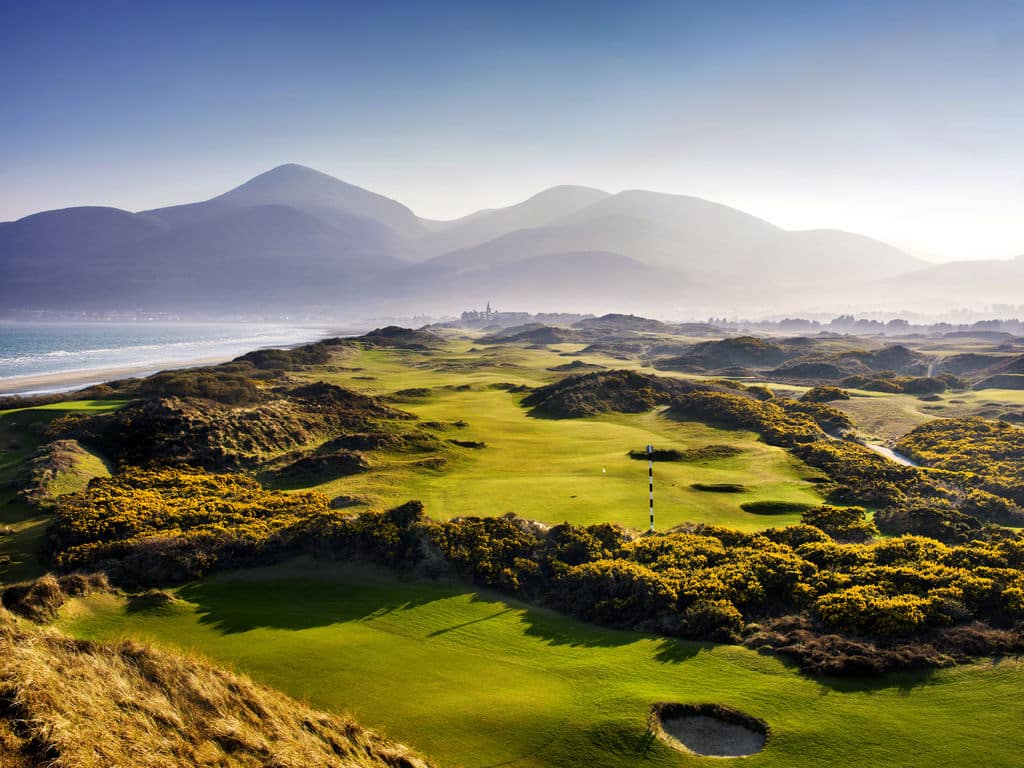 For anyone who appreciates natural beauty, you are going to love Royal County Down. Situated in the Murlough Nature Reserve, this golf course has unparalleled magnificent views.
It has two 18-hole links courses, the Championship Course and the Annesley Links. Rory McIlroy touted it as his favourite golf course in the world. Now that's impressive.
Address: 36 Golf Links Rd, Newcastle BT33 0AN
Other notable mentions
Clandeboye Golf Club: Located in Bangor, Northern Ireland, Clandeboye Golf Club offer two golf courses of international standing and is the perfect place for a game of golf.
Balmoral Golf Club: Balmoral Golf Club is an 18-hole course with a par of 69. The course is over 100 years old, founded in 1914.
Scrabo Golf Club: this is one of Northern Ireland's best clubs found in Newtownards not far outside of Belfast with a great golf course design.
Portadown Golf Club: Portadown Golf Club is set on a wonderful location in the heart of Orchard County. The club has been open since 1900, has gone from 18-holes to nine and back again in a partial woodland setting.
FAQs about the best golf courses in Northern Ireland
How many golf courses are there in Northern Ireland?
There are almost 100 fantastic golf courses in Northern Ireland.
Can you play golf in Northern Ireland?
Yes! You can play on any number of the great golf courses around Northern Ireland.
What is the oldest golf course in Northern Ireland?
Royal Belfast golf course is not only the oldest golf course in Northern Ireland but in Ireland as a whole.
Who are some of the best golfers from Ireland?
The best golfers from Ireland would be Shane Lowry, Darren Clarke, Graeme McDowell and Rory McIlroy.
What are the best golf courses in the rest of Ireland?
These would be Portsalon Golf Club, Lahinch Golf Club, Killarney Golf & Fishing Club, Ballyliffin Golf Club, Rosapenna Hotel & Golf Resort, Galway Bay Golf Resort, and Fota Island Hotel & Golf Resort.
Get featured on Ireland Before You Die
Do you want to get your Irish business more online exposure? Especially to those interested in travelling the best places in Ireland? Then why not get a dedicated feature on Ireland Before You Die. Find out more 
here.
Legal Disclaimer
We cover articles relating to many activities. Some of our articles showcase gaming and gambling as activities. While we do not take money for bets or own any gambling venues, we feel it is important that our readers know the risks of such venues or sites that we may mention in our articles. Gambling involves risk. Please only gamble with funds that you can comfortably afford to lose. See our legal disclaimer for more info.