The so-called City of Tribes held the title of European Capital of Culture in 2020, and for great reason. Let's take a look at the ten best free things to do in Galway.
Anyone who has been to Galway knows that it is a true gem of our little country and captivates almost everyone that visits it.
Galway has a reputation for being an artsy, alternative city with many quirky places to explore, much like Melbourne or Camden Town close in London.
Each city in Ireland is different, of course, but each one has something special about it, and every time you go back, you will discover something new.
With that being said, it doesn't cost an arm and a leg to explore, discover, and have a great time in Galway. In fact, there are many free things to do that you may have overlooked.
So, here are the ten best free things to do in Galway, ranked.
10. Eyre Square – the place to people watch
Also known as the JFK Memorial Park, Eyre Square is the best meeting spot in the city and a great place to rest, relax, soak up the sun, or have a picnic.
Address: Eyre Square, Co. Galway
9. St Nicholas Church – for a free music event
Watch one of the many free concerts here or purely admire the church for what it is – the largest medieval church in Ireland.
It holds regular concerts, so be on the lookout if you're looking for one of the best free things to do in Galway.
Address: St. Nicholas Collegiate Church, Lombard St, Co. Galway
8. Soak up the vibes of Quay Street – the street for the senses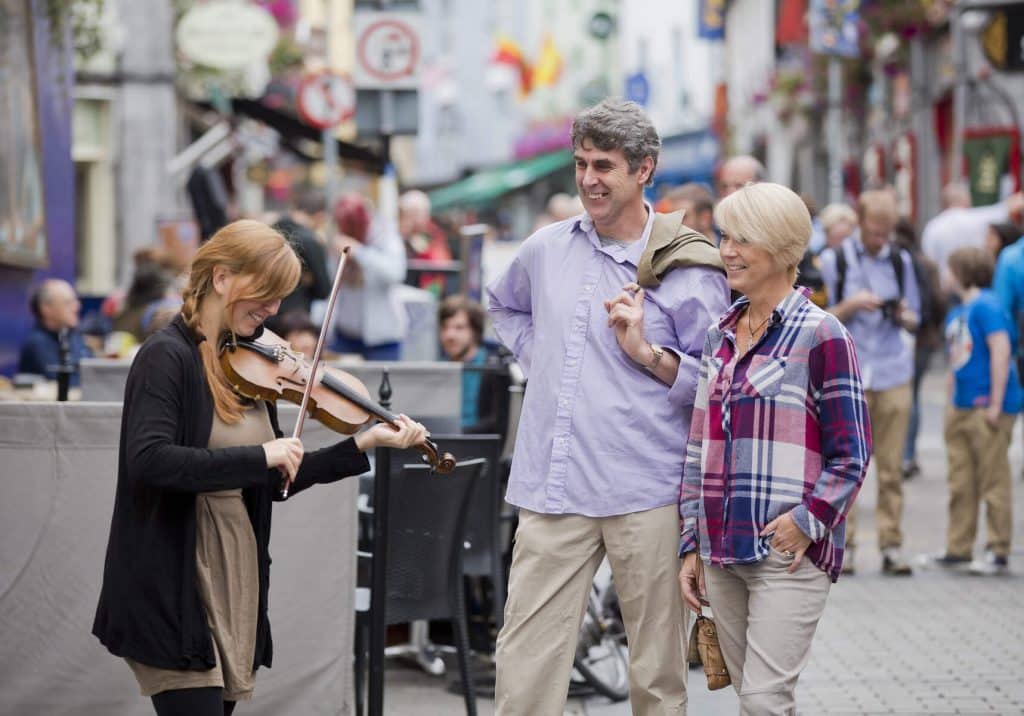 Galway's bustling Quay Street is where you can surround yourself with the vibrant Galway atmosphere.
With many pubs, cafes, people, live music, and much more, your senses will be delighted here, and it's one of the best free things to do in Galway for sure.
Address: Quay Street, Co. Galway
7. Visit Galway Market – a local favourite
To get a glimpse into local life and pick up some treats, head to the city's market held every Saturday and Sunday, year-round.
If you find yourself in Galway leading up to Christmas, watch it transform into a traditional festive market.
Address: 7 Lombard St, Galway
6. Take a stroll on the Salthill Promenade – for a breath of fresh air
This is the spot to take in the vibes and the fresh sea air, all while listening to the waves as you stroll along the famous Salthill Promenade, featured in many famous songs and movies.
Address: Salthill, Co. Galway
5. Take in the sight of the Spanish Arch – a great piece of Galway's history
Also known as Ceann an Bhalla or Head of the Wall, the Spanish Arch should, in fact, be called 'arches' considering there are two.
It is one of Galway's last remaining parts of the old city walls, and part of it was even destroyed during the tsunami that came after the Great Lisbon Earthquake.
Address: 2 The Long Walk, Co. Galway
4. Marvel at the Galway City Museum – a family favourite and one of the best free things to do in Galway
For the history and culture enthusiast, the Galway City Museum cannot be missed.
Admission is free to all the permanent exhibitions and if you're travelling with kids, check out the interactive exhibits on the top floor. This is a great free activity for all the family.
Address: Spanish Parade, Co. Galway
3. Galway Cathedral – a glorious place to discover
There is no admission to this fantastic monument in Galway City, so take your time in here exploring one of the city's most iconic buildings.
Complete with beautiful stained-glass windows, floor patterns, and hand-crafted stations of the cross, this is a glorious place to discover.
Address: Gaol Rd, Co. Galway
2. Galway Arts Centre – the perfect day out
Well, a trip to the Galway Arts Centre will certainly keep you busy with its 3000 sq ft (280 sq m) Irish art gallery, regular events, and exhibitions. This is the place to spend the day surrounded by visual arts and culture.
Address: 47 Dominick St Lower, Co. Galway
1. Enjoy a trad session at Tig Choili – for the music lovers
Tig Choili is the home of 'trad' or traditional music in Galway and is the ideal spot for an evening out enjoying the beautiful sounds of Irish music.
This is one of the best free things to do in Galway and one you won't ever forget.
Address: Mainguard St, The Latin Quarter, Co. Galway
So, there you have it, the ten best free things to do in Galway. There's no need to break the bank when visiting Ireland's capital of culture as these activities will certainly keep you busy while saving those few euros. What could be better?