Irish cities are where the country comes alive, and with the lively hustle and bustle, you can get a great understanding of Irish culture. So here are ten of the best cities in Ireland to visit.
The island of Ireland may be small in comparison to other countries, but that doesn't mean there are limited things to see; this country packs a punch despite its size.
Not only are there a host of major attractions along the vast coastline and in the Midlands, but there are also a host of vibrant cities that deserve some of your time.
If you were wondering which cities to add to your Irish bucket list, besides the main contenders, here are a few of the best cities in Ireland to visit.
10. Bangor City – Northern Ireland's newest city
Having only recently gained city status in 2022, Bangor is the newest city in Ireland. Located on the coast, just 30 minutes from Belfast, this seaside town is the perfect place to spend an afternoon by the sea.
With great cafes, plenty of nearby coastal walks and friendly locals, Bangor is a one of the best locations for day trips in Northern Ireland.
Where to stay in Bangor
Luxury: Clandeboye Lodge Hotel
Mid-range: The Salty Dog Hotel and Bistro
Budget: Shelleven House, Award Winning Accommodation
9. Armagh City – a city full of fascinating Irish history
Located close to the border where Northern Ireland meets the Republic of Ireland, Armagh is undoubtedly one of the best cities in Ireland to visit.
Boasting a wealth of history and important links to Ireland's Patron Saint Patrick, there is plenty to discover in the city centre for history buffs.
Where to stay in Armagh
Luxury: Killeavy Castle Estate
Mid-range: Blackwell House
Budget: Armagh City Hotel
8. Waterford City – the home of Waterford Crystal
This city in Ireland's Ancient East is famed for its art culture, proximity to some fabulous beaches, and its epic Viking past.
Discover the famous House of Waterford Crystal, learn a fact or two at the Medieval Museum, or follow the street art trail here in Waterford, all of which will keep you happily engaged.
Where to stay in Waterford
Luxury: Cliff House Hotel
Mid-range: Waterford Marina Hotel
Budget: Woodlands Hotel & Leisure Centre
7. Derry – a fine example of a Walled City
This Walled City in the north of Ireland is the fifth-largest city on the island and is a place steeped in history. A walk around this vibrant city, which lies alongside the River Foyle, will provide a truly unique experience, considering this is one of the best examples of a Walled City in Europe.
Derry is one of the oldest inhabited places in Ireland, meaning you will have plenty of historic landmarks to see when visiting.
Where to stay in Derry
Luxury: Bishop's Gate Hotel Derry
Mid-range: City Hotel Derry
Budget: The Waterfoot Hotel
6. Limerick City – an island city full of culture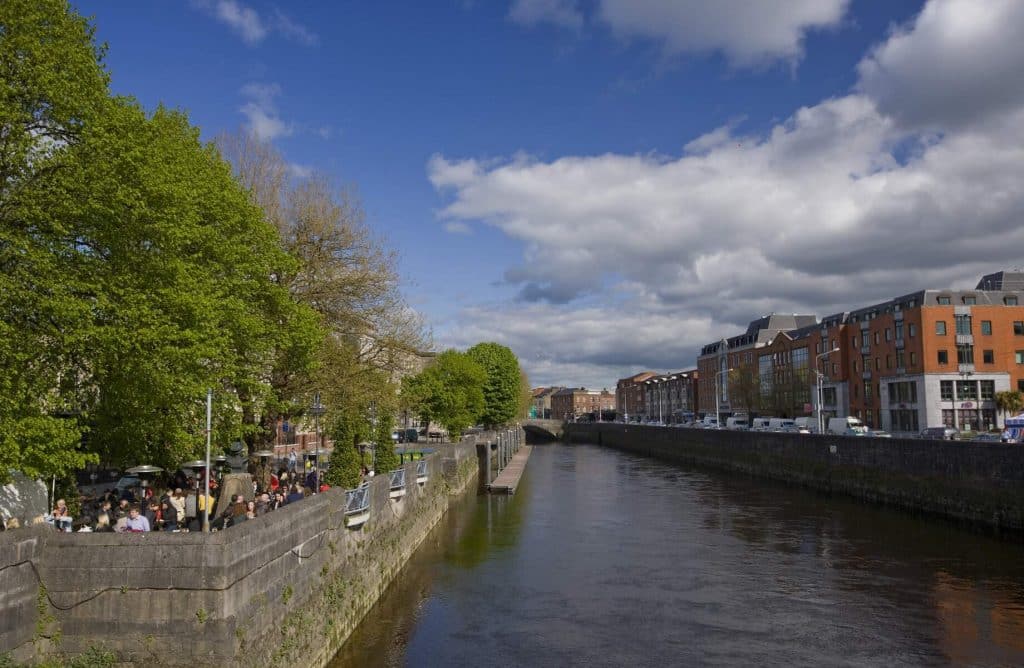 This sometimes-overlooked city is worth visiting if you want to experience a real Irish city off the beaten path. Limerick City has so much to offer, including street art tours, a bustling waterfront, historic castles, and an endless list of attractions to keep you busy.
No wonder this was Ireland's first City of Culture. There are over 1,000 years of history to be uncovered here, and if you are a history lover, you will thrive here, with plenty of ancient gems to be found.
Where to stay in Limerick
Luxury: Fitzgeralds Woodlands House Hotel & Spa
Mid-range: The Savoy Hotel Limerick
Budget: Kilmurry Lodge Hotel
5. Cork City – the foodie capital and one of the biggest cities in Ireland
Cork city is not only the gateway to colourful towns such as Kinsale, beautiful landscapes in West Cork, and the Titanic's last port of call at Cobh Harbour. Rather, the city itself is also well worth discovering.
Highlights include the Franciscan Well brewery, the English Market, and the vibrant waterfront, all of which will keep you entertained. Plus, the city is known as the foodie capital of Ireland. So, you'll have no shortage or great places to eat.
When you're in Cork, why not do a self-guided audio tour to learn more about the city?
Where to stay in Cork
Luxury: Fota Island Resort
Mid-range: The Montenotte Hotel
Budget: The Imperial Hotel and Spa
4. Belfast City – the home of the Titanic and so much more
Belfast is the capital city of Northern Ireland, and when taking a tour of the island of Ireland, a visit here cannot be overlooked. You can stop by plenty of noteworthy attractions, including Titanic Belfast and the city's famous murals.
Alternatively, you can learn about the city's turbulent past and enjoy a night in the town at one of the many vibrant bars and pubs in the Cathedral Quarter, many of which have great pub grub and live music scenes.
Where to stay in Belfast
Luxury: Grand Central Hotel
Mid-range: Malmaison Belfast
Budget: Holiday Inn Belfast City Centre
3. Dublin City – it's all in the capital
Dublin is the capital of the Republic of Ireland and is where many begin their Irish adventure. However, it's best not to leave too quickly to avoid missing out on the best attractions here.
Home to the Guinness Storehouse, Trinity College, a host of pretty coastal towns, many museums, and the iconic area of Temple Bar, the Irish capital makes for one of the best cities in Ireland to visit.
Where to stay in Dublin
Luxury: The Merrion Hotel Dublin
Mid-range: The Devlin
Budget: Clayton Hotel Leopardstown
2. Kilkenny City – a city with a rich history and endless attractions
Home to the impressive Kilkenny Castle, a stunning example of a Medieval Castle, as well as the Medieval Mile and a host of shops and eateries to be enjoyed, Kilkenny City makes for a fabulous stop-off on a tour of Ireland.
Grab the best view from the Round Tower, stroll through the quaint city streets, and marvel at the many Georgian buildings scattered along the River Nore.
Where to stay in Kilkenny
Luxury: Lyrath Estate Kilkenny
Mid-range: Newpark Hotel Kilkenny
Budget: Kilkenny River Court Hotel
1. Galway City – one of the best cities in Ireland to visit
Known locally as the City of Tribes, Galway City is renowned for its alternative vibes, quirky culture, and fantastic nightlife, making it one of the best cities in Ireland to visit.
Here, you can enjoy trad sessions at notable Irish pubs, stroll down the cobbled streets of the famous Latin Quarter, take in stunning views of Galway Bay, and eat in top-notch restaurants and cafes. What more can you ask for?
Where to stay in Galway
Luxury: The g Hotel
Mid-range: The Hardiman
Budget: Swuite Galway
Notable mentions
Athlone: Home to Ireland's oldest pub, Sean's Bar, Athlone has many more attractions to discover. While Athlone is not a city, it is still a town worth visiting!
Westport: This awesome spot is in the centre of Mayo and has a lot to offer visitors, from traditional pubs to fantastic eateries and more.
Sligo: Having been put forward numerous times to receive city status, Sligo is worth mentioning on our list of cities in Ireland to visit. This vibrant and scenic town has plenty to see and do, which is why visitors come back time and time again.
Killarney: The gateway to Killarney National Park in Kerry, Killarney town cannot be missed. While it is not officially a city, it does boast great nightlife and traditional vibes, so everyone will enjoy their time spent here.
FAQs about the best cities in Ireland to visit
What is the most beautiful city in Ireland?
Galway is a stunningly beautiful city.
What is Ireland's number one tourist attraction?
The Guinness Storehouse and Titanic Belfast are Ireland's most popular attractions.
Should I go to Belfast or Dublin?
Both have their charms, but Dublin is slightly bigger, offering more to see and do for a longer trip.
So, next time you plan a trip to the Emerald Isle, be sure not to miss a stop-off and a pint at one of these ten best cities in Ireland to visit.