Fancy a taste of the Orient while in Belfast? Here are the best Chinese restaurants in the city you need to check out.
Belfast is famous for its must-see tourist attractions, including Titanic Belfast, and filming locations from one of the most-watched TV shows of all time, Game of Thrones. However, Belfast is also the perfect destination for Chinese food lovers.
Why not ditch the takeaway and opt for a dine in Chinese experience? With an abundance of Chinese restaurants to choose from, we have compiled a list of our top ten.
So, whether you're in the mood for steamed buns, fried rice, or spicy noodles, here are the top 10 best Chinese restaurants in Belfast. Let's dig in!
10. Lee Garden – great value for money at this gem of a Chinese
You won't need to worry about cooking when you can enjoy a three-course meal for £8. Yes, that's correct, only £8!
We believe this to be a perfect place for those looking to indulge but at a reasonable price.
Don't forget to try the traditional Chinese dim sum, a selection of snack dishes completed with their much-loved dumplings.
Address: 14-18 Botanic Ave, Belfast BT7 1JQ
9. Abacus Chinese Restaurant – karaoke fanatics, this is the place for you
Craving crispy spring rolls or succulent chow mein noodles? We have got you covered, with none other than one of the best Chinese restaurants in Belfast, Abacus.
Make a night out of it and have a singalong in the private rooms available for karaoke hire.
Address: 115 Eglantine Ave, Belfast BT9 6EU
8. Red Panda Restaurant – in the heart of Belfast City
You will be spoilt for choice at this fantastic spot on Belfast's Great Victoria Street.
The wide selection on offer ranges from Northern Chinese Style sweet and sour ribs to an ample dessert menu, including their popular deep-fried ice cream.
Address: 60 Great Victoria St, Belfast BT2 7BB
7. Mandarin City, Ballyhackamore, Belfast – head east in East Belfast
With attentive staff and gorgeous food, Mandarin City is one of the best Chinese restaurants in Belfast.
Due to its popularity, it tends to get quite busy, so booking is essential to avoid disappointment.
Address: 269 Upper Newtownards Rd, Belfast BT4 3JF
6. Good Fortune – one of the best Chinese restaurants in Belfast
We cannot recommend the chilli ribs from Good Fortune enough. Secret tip: it's a bring your own restaurant, so why not make a meal and drink out of it?
It makes our list due to its friendly staff; even on busier evenings, the team always make sure you are well looked after.
Address: Good Fortune, Eastleigh Drive, Belfast, BT4 3GE
5. Joy Inn – try the succulent roast duck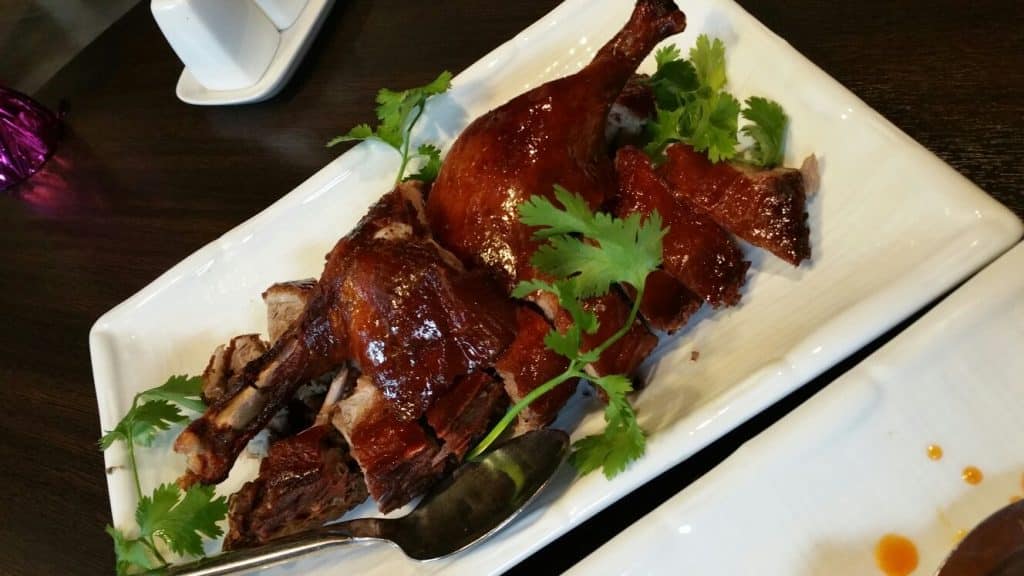 Situated in the centre of Belfast, we could not hold back on adding Joy Inn to our list.
The roast duck is to die for in this carefully designed restaurant with booths for a more intimate experience.
Address: Joy Inn, Dublin Road, Belfast
4. Steamboat Oriental BBQ – for the BBQ lovers
Steamboat Oriental BBQ is a quirky spot making our list of the best Chinese restaurants in Belfast.
This hidden gem allows you to barbeque your own food at the table, making this a winner for all those willing to put their cooking skills to the test.
Address: Steamboat, Donegall Pass, Belfast
3. The Welcome Restaurant – a delicious spot for Chinese lovers
The Welcome Restaurant is the longest established Chinese restaurant in Northern Ireland, dating back to 1982.
Its handy location makes it the perfect excuse for a day out with the Ulster Museum only minutes away. Why not visit before your meal?
Having won countless awards, such as the Irish Restaurant Awards for Best World Cuisine, this is a guaranteed spot to satisfy hungry mouths.
Address: 22 Stranmillis Rd, Belfast BT9 5AA
2. 3 Levels Asian Fusion – for a unique Chinese restaurant experience
The ever-popular 3 Levels is in the centre of it all, close to Queens University. Prepare for a fun evening and watch the chefs prepare your food in front of you.
The entertainment from the chefs is what makes this spot one of the best Chinese restaurants in Belfast. You don't want to miss it!
Address: 31 University Rd, Belfast BT7 1NA
1. House of Zen – top of our list for best Chinese restaurants in Belfast
Our number one spot must be the award-winning restaurant, House of Zen. Walk along the cobbled streets of Cathedral Quarter to be tempted by the smell of barbequed ribs.
From intimate booths to alluring lighting and a relaxing atmosphere, you will not want to leave this fantastic Chinese restaurant!
Address: 3 St Annes Square, Belfast BT1 2LR